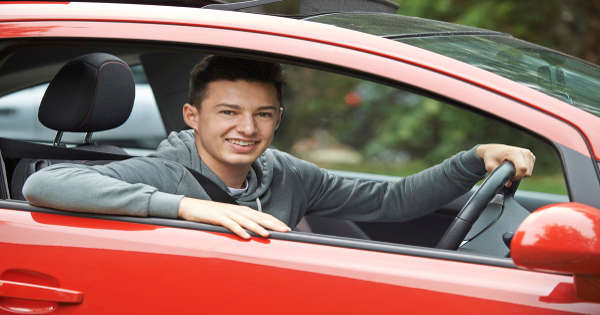 How long should you stay on your parents' car insurance policy?
There's no definitive answer to the question of how long you can remain on your parents' car insurance policy. There's no age at which a child is forced to purchase their own policy.
Most people leave their parents' policies when they move out of the house. There isn't a defined age when this occurs of course; it varies from person to person. Often it's when people graduate high school, or college. But it's usually when you're financially stable.
Car insurance can be expensive for a young person (less than 25 years old). So it's important that you're financially stable before you take on the challenge. As long as you're still living with your parents and driving their vehicles, most insurance providers will actually require a household to have all vehicles under one policy.
According to Nasdaq, the reasoning behind this practice is that insurance companies assume all licensed drivers in a household are driving each other's cars. That's why everyone should be on one policy. It minimizes the amount of risk for the insurance provider because they're able to accurately calculate the amount of coverage each family member and vehicle will need.
Some insurers will make your parents exclude you from their policy when you get your own insurance. It's important that you and your parents are on the same page about this. That's because you wouldn't be covered if you borrowed your parents' car and got into an accident.
Get affordable car insurance quotes for young adults.
Find low rates with top insurance providers!
Compare and save!
Click Here to Begin
How much coverage should you buy?
Young adults purchasing auto insurance on their own for the first time should put a good deal of research into the selection process. It's a complicated decision. There are many insurance companies, coverage types, and factors that can affect what your rates. You want to make sure you're getting the best deal on the right coverage, and there are a few ways to do this.
Your first step in picking a policy is to determine what type of coverage you need. There are at least seven coverage types that a car insurance policy may contain, depending on the state you live in. Click here to see which coverage types and amounts are required in your state.
It is important to note that the minimum insurance coverage requirements in each state are just that: the bare minimum legally required coverage. Very few states have minimum coverage amounts that provide adequate protection. Almost all drivers will want a policy with more than their state minimum coverage amounts. Learn more about why state minimum coverage is rarely enough here.
How much coverage to purchase beyond the minimum requirement is a personal preference, and it depends on your current needs, as well as what your provider requires. For example, as an employed young adult, you might not need to purchase an extensive amount of personal injury liability because your health insurance and disability insurance through your employer might already cover most of that.
However, it's wise to purchase more than the minimum uninsured or underinsured motorist coverage because you want to be protected if you get in an accident with an uninsured motorist. It's wise to explore your options, and to fully understand what type of coverage you're purchasing and how much of it you're getting. For this reason, it's a good idea to get quotes and speak with insurance agents and brokers about your insurance needs.
Shop around for the best rates
Car insurance is more expensive for younger and older drivers, meaning that the rates you're quoted will be relatively high when purchasing your first policy, probably much higher than the rates you were charged when on your parents' policy. While 16-year-olds have the most expensive premiums, your rates will remain high until your 25th birthday.
There are several reasons young adults pay more for insurance than drivers over age the age of 25
Younger drivers are more likely to have accidents and file insurance claims
Most young drivers don't have an established a credit history
Most young drivers aren't married and can't take advantage of the marriage discount
Very few young drivers own their own home. So they can't bundle their car insurance with homeowners insurance
All of these are factors insurance companies will take into consideration when determining rates. That's why young people have higher premiums than the average driver.
That's why we recommend shopping around and comparing auto insurance quotes to find the best rates. Don't accept the first insurance quote you receive, because you can save hundreds of dollars on your premium depending on the policy and insurance company you choose
Auto insurance discounts
Auto insurance can be expensive, especially if you're a young driver. Luckily there discounts you may qualify for. If you've been driving a few years with minimal accidents or blemishes to your record, you might be able to qualify for a "good driver" discount. Depending on your provider, the qualifications and discount itself may vary. Also, if you've filed few or no claims over an extended period of time, you might qualify for a discount. If you're a college student and have a good GPA--typically 3.0 or above--you may be eligible for a good student discount.
If you choose to stay with the same company your parents use when buying your own policy, your insurer might give you a loyalty discount. Different companies offer different discounts with different eligibility requirements. So be sure to ask your carrier about any discounts you might be eligible for. They can add up and significantly reduce your rates. It's also a good idea to compare quotes from multiple insurers in case one of them offers a discount the other doesn't.
Frequently Asked Questions
Q: How long can I stay on my parents car insurance?
A:  Techically, you can stay on your parents car insurance as long as you, and your parents, want. It doesn't matter if you live them or you've moved out. But most people purchase their own car insurance policies once they've moved out on their own.
Q: What are some tips to reduce my insurance rates?
A:  Generally speaking, the best way to reduce your car insurance premiums is to make yourself less of a risk to your insurance company. If you install safety features in your car, or purchase a safer car that your current one, this might reduce your rates. Driving less can lower your premiums, too. Be sure to shop around and be aggressive about asking for any discounts you're eligible for.
Q: I can't find a policy with good rates, what do I do?
A: Unfortunately, the age group breaking away from their parents' policies are also the ones that tend to pay the most for car insurance. Some ways to avoid the paying high rates is to find a stable job before purchasing your own policy, as well as building up your credit history. Providers want people who are financially reliable, and if they see that you have minimal credit, a high claims history, and no job, they probably won't want to insure you. It is important to have your finances in order before buying your own insurance policy.
QuoteWizard.com LLC has made every effort to ensure that the information on this site is correct, but we cannot guarantee that it is free of inaccuracies, errors, or omissions. All content and services provided on or through this site are provided "as is" and "as available" for use. QuoteWizard.com LLC makes no representations or warranties of any kind, express or implied, as to the operation of this site or to the information, content, materials, or products included on this site. You expressly agree that your use of this site is at your sole risk.