Compare Auto Insurance in Birmingham
Birmingham, Alabama's largest city, is home to over 200,000 people. If you're looking to compare quotes for your car insurance in Birmingham, QuoteWizard can help.
Average Birmingham Insurance Rates
How much does car insurance cost in Birmingham, AL? It's cheaper than the rest of the country. Average car insurance in Alabama costs $722.89 per year. The national average price is $889.01.
Your exact rates may vary based on your zip code, driving history, car make and model, credit history, and more.
Alabama Average Annual Car Insurance Rates
Coverage
Rates
Liability
$394.21
Collision
$317.96
Comprehensive
$156.31
Total Cost Per Year
$722.89
Price Per Month
$60.24
Source: Facts + Statistics: Auto insurance
The graph below shows average Alabama insurance rates from 2011 to 2015. This is the most recent data available. The Insurance Information Institute found that Birmingham average car insurance rates increased from $535 in 2011 to $573 in 2015. This is a jump of $38 dollars, or 7.22 percent.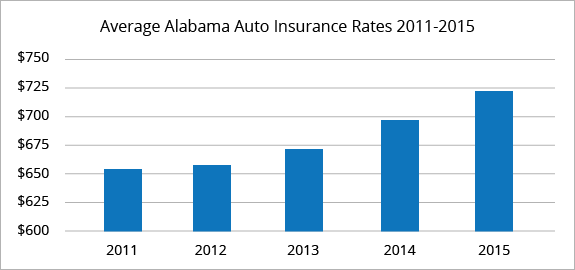 Looking for new car insurance in Birmingham can take a lot of time. QuoteWizard can help you find the quotes you need to find the best price. Just a few clicks and you're done!
Last year, 25,513 people used QuoteWizard to compare car insurance quotes in Birmingham, AL from multiple companies to find the cheapest rates..
Best Car Insurance Companies in Birmingham, AL
These are the most popular car insurers reported by QuoteWizard users in Birmingham, Alabama last year. of these users, 5,449 of them were uninsured when they requested a quote.
Top 10 Vehicles
These are the most popular makes and models owned by Birmingham, AL QuoteWizard users last year.
Nissan Altima 2.5/S
Toyota Camry/LE/SE
Nissan Versa S
Nissan Sentra S
Ford F-150
Honda Accord LX/EX
Chevrolet Impala/LT/LS
Ford Mustang
Ford Fusion SE
Chevrolet Silverado
Minimum Car Insurance Requirements in Birmingham, AL
Birmingham, Alabama requires all its drivers to carry minimum liability coverage. The minimum is 25/50/25. This means your policy must include: 
$25,000 Individual Bodily Injury Liability (BIL):
The max amount paid for a person injured in a car accident.
$50,000 Total Bodily Injury Liability:
The total amount paid for every person injured in a car accident.
$25,000 Property Damage Liability (PDL):
The max amount paid for property damage caused by a car accident
Recommended Coverage Levels
Minimum coverage may seem like a good deal short-term. But it'll cost you after an accident.
Minimum coverage pays for damages to others and their property. However, it doesn't doesn't include collision or comprehensive coverage, so it won't cover your expenses. If you have an accident with only minimum coverage, your expenses are out-of-pocket.
On top of that, it's easy to exceed your liability limits if you cause an accident. Given that, we recommend the following coverage: 
Individual Body Injury Liability: $100,000 
Total Bodily Injury Liability: $300,000 
Property Damage Liability: $100,000 
Birmingham, AL Drivers
Insurance is more expensive in areas with a high rate of accidents and bad drivers. How does Birmingham fare? QuoteWizard ranked state and city drivers from best to worst. According to our data, Birmingham came in as 56th worst city for driving.
Driving Conditions
Factors such as weather, road conditions, and traffic can affect your insurance rates. The riskier your driving conditions, the higher your premium can be.
Weather
Birmingham weather gets especially dangerous for driving during the winter time. While they don't get a lot of snow, they do get 56 inches of rain annually. This is 17 inches above the national average. Extreme rain like this can affect road control and visibility.
Road Conditions
TRIP reports that 38 percent of Birmingham's roads are poor or mediocre. Driving on bad roads in Alabama costs drivers $485 a year in extra car operating costs.
Traffic Congestion
TomTom ranks Birmingham 55th for worst traffic congestion in the United States. Birmingham commuters spent an extra 74 hours driving last year.
Moving Violations
Citations and at-fault accidents can affect your driving record. People with tickets and accidents on their driving history pay more for car insurance. If you have too many tickets on your record, you may be required to purchase a non-standard policy for high-risk drivers. 
Traffic Tickets
Birmingham Police issued 139 driving offenses in 2016. This is a 31 percent increase from the 97 citations written in 2015. Traffic tickets can contribute to higher insurance rates.
DUI and OWI Arrests
A DUI can affect your insurance rates badly. Our study found that car insurance costs drivers with a DUI an extra $830 per year. In 2016 Birmingham Police made 65 OWI arrests. This is down 36 percent from the 107 OWI arrests made in 2015.
SR-22 DUI/DWAI Insurance
Alabama drivers with a suspended license due to DUI must file an SR-22 form. The minimum SR-22 coverage Alabama requires is:
$25,000 of bodily injury or death of 1 person in any 1 accident
$50,000 of bodily injury or death of any 2 people in any 1 accident
$25,000 of injury to or destruction of property of others in any 1 accident
You are required to carry the SR-22 for 36 straight months. However, it could be required for up to five years.
Car Accident Statistics
Drivers pay more for insurance in areas with high accident rates. There were 152,532 crashes in Alabama in 2016. This is a 2.1 percent increase over 149,339 crashes in 2015.
Traffic Fatalities
Jefferson county reported 94 crash fatalities in 2017.
Vehicle Theft Rates
Drivers in high car theft areas pay more for car insurance. There were 3,860 auto thefts in the Birmingham-Hoover metro area in 2017.
Car Insurance Discounts
Are you looking for affordable car insurance? Discounts are one of the best ways to lower insurance rates. Looking for ways to get a discount? Birmingham, AL drivers have many options:
If you're 55 or over, see if a senior driver discount is available 
There are discount rates for active and retired members of the Military, National Guard, or Reserves
Take a certified defensive driving course 
Make sure your car as up-to-date safety features and anti-theft devices
If you live in a safe neighborhood in Birmingham, you could save money
Bundle your car insurance with your home or renters insurance, you can cut up to 20 percent off your total bill
QuoteWizard.com LLC has made every effort to ensure that the information on this site is correct, but we cannot guarantee that it is free of inaccuracies, errors, or omissions. All content and services provided on or through this site are provided "as is" and "as available" for use. QuoteWizard.com LLC makes no representations or warranties of any kind, express or implied, as to the operation of this site or to the information, content, materials, or products included on this site. You expressly agree that your use of this site is at your sole risk.