Compare Homeowners Insurance In Nebraska
We reviewed the best homeowners insurance companies in Nebraska to make shopping around as easy as possible. Our research found the average cost of homeowners insurance in the state is $1,791 a year — far above the national average. Finding an affordable home insurance company you trust can give you peace of mind when tornado and thunderstorm season rolls around in the spring, so here are our top picks for Nebraskans:
Cost of homeowners insurance in Nebraska
Homeowners in Nebraska pay an average of $149 a month for insurance, which is more than 47% above the U.S. average. In fact, Nebraska is the fifth most expensive state for homeowners insurance according to our study of the average cost of home insurance in the U.S. One of the biggest contributing factors to Nebraska's high average rates is its severe thunderstorm and tornado season in the spring and summer months.
Average home insurance rates in Nebraska
  
Today
2017
2016
Nebraska annual average
$1,791
$1,481
$1,402
Nebraska price per month
$149
$123
$117
U.S. annual average
$1,215
$1,211
$1,192
U.S. cost per month
$101
$101
$99
Note: Average rates for today are based on non-binding estimates provided by Quadrant Information Services. Your rates may vary. Data from 2016 and 2017 is sourced from the National Association of Insurance Commissioners (NAIC).
Nebraska has high average rates, but that doesn't mean you cannot find an affordable company. Rates vary widely — here's how some of the top companies in Nebraska compare: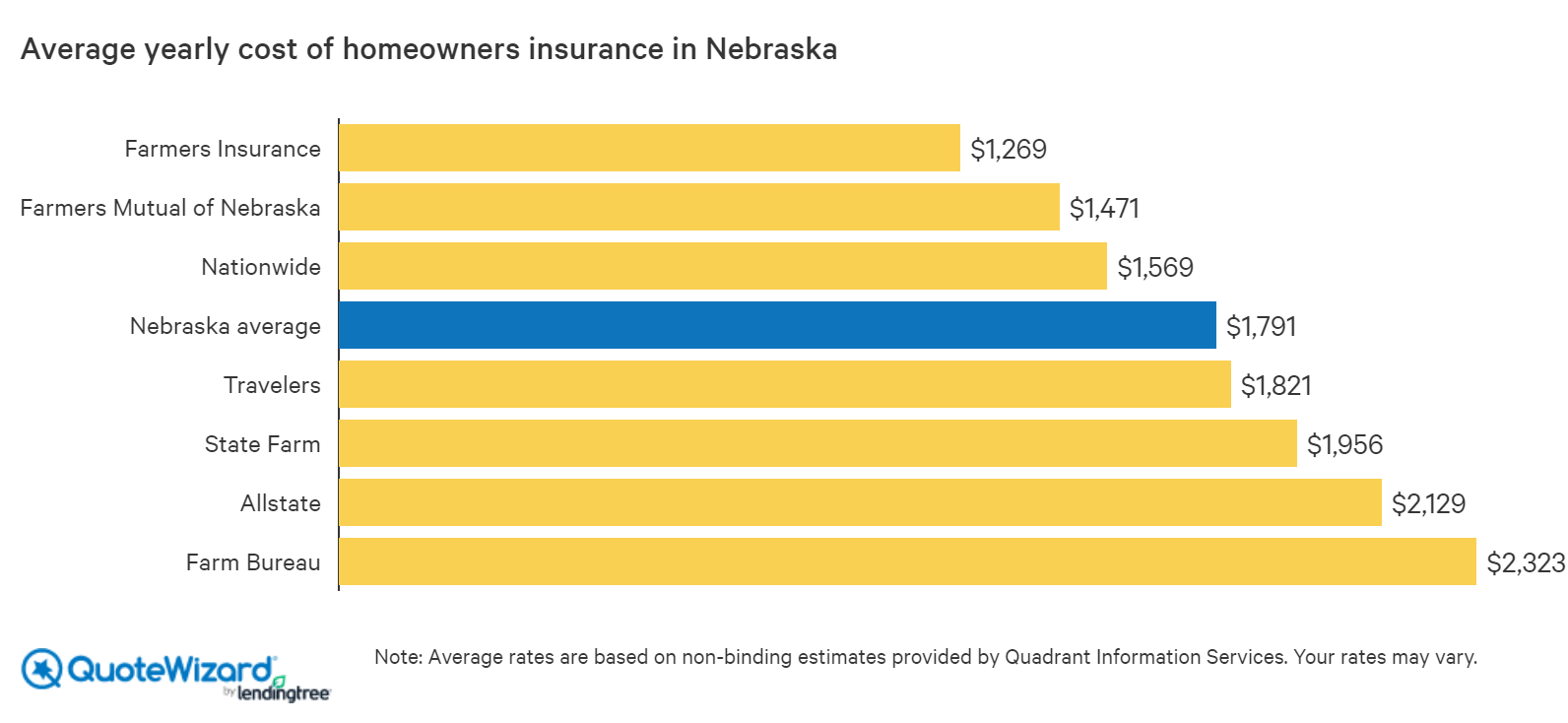 Best homeowners insurance companies in Nebraska
We rank home insurance companies in four categories: price, coverage, customer service ratings and availability. In Nebraska, Farmers Mutual of Nebraska, Farmers, State Farm and Auto-Owners all stood out to us.
Farmers Mutual of Nebraska: best overall
Our top pick in Nebraska goes to Farmers Mutual of Nebraska for its affordable rates, above-average customer service and standard coverage. Farmers Mutual is the second-largest insurer of homes in the state, writing 11% of all home insurance policies. Farmers Mutual has operated in Nebraska since its founding in 1891, giving it a long history of serving Nebraska homeowners and farmers.
We found that a standard HO-3 homeowners insurance policy from Farmers Mutual costs $1,471 a year. That's more than $300 below the state average and makes Farmers Mutual an affordable option. Its reasonable rates don't come at the cost of customer service; Farmers Mutual had an NAIC Complaint Index of 0.36 in 2018, which is a measure of how many complaints a company receives relative to its size. Lower numbers indicate fewer complaints, and Farmers Mutual had one of the lowest numbers in Nebraska.
Farmers Mutual has some of the perks of a large insurance company to supplement its local experience. For example, Farmers Mutual advertises discounts for home security systems and bundling multiple policies, among others. However, its size does show when it comes to its technology — you'll have to go through one of its 1,500 independent agents to manage most of your policy.
Farmers: cheapest rates
Farmers offered the cheapest rates we saw in Nebraska, with an average of $1,269 a year, which is about 29% below the state average. It remains above the U.S. average, but with high home insurance premiums industry-wide in Nebraska, finding opportunities to save is always a good idea.
Farmers received middle-of-the-road customer satisfaction ratings, indicating that its customer experience is about average. Farmers received a 3/5 from J.D. Power's 2019 home insurance survey, which is "average." Its NAIC Complaint Index was 0.37, which is a decent showing for the state. This is good news for folks looking for cheap rates, as it suggests that you won't have to sacrifice much on customer experience.
There are a handful of ways to save on your homeowners insurance rates, including taking advantage of your insurance company's discounts. Farmers offers the standard discounts like bundling but also includes a few we see less often in Nebraska, including discounts for:
Being a member of certain professional and affinity groups
Having a roof made of UL-approved impact-resistant materials
Having a new home (built in the past 13 years)
State Farm: best for bundling home and auto
Bundling your homeowners and auto insurance policies with the same company is a great way to save on both premiums and interact with only one company. State Farm is our top pick for bundling in Nebraska, due to its customer satisfaction ratings for both types of insurance and bundling savings.
State Farm advertises average savings of $854 a year for customers who switched to State Farm and bundled home and auto, or 17% on their auto insurance premium. It does not advertise a percentage that you can save on your homeowners insurance premium by bundling, however. Nevertheless, saving over $800 is substantial and warrants adding State Farm to your list of companies to consider.
State Farm performed well in J.D. Power's home and auto insurance satisfaction surveys, with a 4/5 for homeowners and 3/5 for auto. We looked for strong ratings in home and auto when making our pick for the best company to bundle home and auto because bundling is only worth your while if both services are up to par.
Auto-Owners: best customer satisfaction ratings
We recommend Auto-Owners for people looking for best-in-class customer satisfaction, due to its strong consumer ratings and agent base. Auto-Owners received a 4/5 in overall satisfaction from J.D. Power in 2019. Additionally, it scored average or better in every other J.D. Power survey category. Auto-Owners' Complaint Index of 0.20 is one of the very lowest (and therefore best) in Nebraska and supports its high J.D. Power ratings.
Auto-Owners sells insurance in 26 states including Nebraska through more than 47,000 independent agents, meaning you'll likely be able to find an agent who lives in or close to your community. That means you can expect to interact with someone who is in touch with the unique insurance needs of your home and neighborhood and can provide a local touch.
Compare Quotes From Companies in Nebraska!
See How Much You Can Save
The biggest homeowners insurance companies in Nebraska
Homeowners insurance companies in Nebraska are a mix of local and national insurers. State Farm accounts for almost one in four home insurance policies in the state and is also the largest insurer in the U.S. But there are regional insurers like Farmers Mutual and Farm Bureau in the mix.
Nebraska home insurance market
Company
Overall satisfaction rating* (higher is better)
2018 NAIC Complaint Index (lower is better)
Market share (%)
State Farm
4/5
0.20
24%
Farmers Mutual of Nebraska
N/A
0.36
11%
American Family
3/5
0.32
9%
Farm Bureau
N/A
0.32
9%
Nationwide
2/5
0.38
6%
Allstate
3/5
0.29
5%
USAA
5/5
0.15
5%
Farmers Insurance
3/5
0.37
4%
Travelers
2/5
0.30
4%
Liberty Mutual
2/5
0.45
4%
Auto-Owners Insurance
4/5
0.20
2%
*According to J.D. Power's 2019 home insurance survey.
To read more about the big national players, check out our list of the best homeowners insurance companies in the U.S.
Homeowners insurance rates in Nebraska by county
Our study found average county rates ranging from $1,415 to $2,336. More than half of all Nebraskans live in Douglas, Lancaster or Sarpy county in the eastern part of the state. All three of these counties have below average rates for the state. As a rule of thumb, eastern counties see lower rates, while middle and western counties see higher rates.
Average yearly homeowners insurance premium by county
County
Average yearly rate
Difference from state average ($1,791)
Adams
$1,976
10%
Box Butte
$2,148
20%
Buffalo
$1,982
11%
Cass
$1,634
-9%
Colfax
$1,763
-2%
Custer
$2,281
27%
Dakota
$1,634
-9%
Dawson
$1,905
6%
Dodge
$1,708
-5%
Douglas
$1,759
-2%
Gage
$1,694
-5%
Hall
$1,971
10%
Holt
$1,677
-6%
Lancaster
$1,415
-21%
Lincoln
$1,990
11%
Madison
$1,787
0%
Otoe
$1,550
-13%
Platte
$1,727
-4%
Red Willow
$2,216
24%
Saline
$1,711
-4%
Sarpy
$1,539
-14%
Saunders
$1,670
-7%
Scotts Bluff
$2,336
30%
Seward
$1,658
-7%
Washington
$1,806
1%
York
$1,759
-2%
Note: Average rates are based on non-binding estimates provided by Quadrant Information Services. Your rates may vary.
Homeowners insurance rates in Nebraska by city
Home insurance rates in Nebraska's largest city, Omaha, were 2% below the state average. The second and third largest cities, Lincoln and Bellevue, also saw below-average rates.
Average yearly homeowners insurance premium by city
City
Average yearly rate
Difference from state average ($1,791)
Bellevue
$1,557
-13%
Columbus
$1,720
-4%
Fremont
$1,705
-5%
Grand Island
$1,980
11%
Hastings
$1,948
9%
Kearney
$1,963
10%
Lincoln
$1,404
-22%
Norfolk
$1,801
1%
North Platte
$1,991
11%
Omaha
$1,761
-2%
Note: Average rates are based on non-binding estimates provided by Quadrant Information Services. Your rates may vary.
Nebraska home insurance perils
Homeowners in Nebraska know that spring and summer storms are no joke in the heart of Tornado Alley. Home insurance can provide some protection from weather events, but it won't cover everything.
Tornadoes
Nebraska averaged 57 tornadoes a year between 1991 and 2010, according to the National Oceanic and Atmospheric Administration, making Nebraska the state with the fifh-most tornadoes in that period, behind Texas, Kansas, Florida and Oklahoma. Most tornadoes strike between April and July, with May and June being the most active months.
Homeowners insurance generally covers damage to your home and personal belongings from tornadoes. Your insurance policy should give you peace of mind, but there are steps you can take to protect your home. For example, we recommend reinforcing your roof, windows and doors with straps, clips or storm shutters. These measures can help prevent damage in the first place.
Thunderstorms
Nebraskans also have thunderstorms to worry about, as they can bring high winds, hail, rain and flooding. Homeowners insurance usually covers damage from windstorms and hailstorms but almost never protects you from flooding. We suggest getting in touch with your agent or company to know exactly how far your coverage extends so that you are always prepared.
Methodology
We analyzed 2,583 quotes from seven of the top homeowners insurance companies in Nebraska: Allstate, Farm Bureau (IA), Farmers Insurance, Farmers Mutual of Nebraska, Nationwide, State Farm and Travelers. We used the following home profile, based on the median home value in Nebraska of $177,934:
Dwelling coverage: $177,934
Personal property coverage: 50% of dwelling ($88,967)
Other structures coverage: 10% of dwelling ($17,793)
Loss of use coverage: 20% of dwelling ($35,587)
Liability coverage: $100,000
Deductible: $1,000
The home was built in 1972 and the homeowner was 56 years old, which are the median build year and age of homeowner. All demographic and market data came from S&P Global.
Frequently asked questions
Q: Does homeowners insurance cover tornadoes?
A: Yes, homeowners insurance typically covers your home and belongings from tornadoes.
Q: How much does homeowners insurance cost?
A: Home insurance costs $1,791 on average in Nebraska, according to our study.
Q: What's the best home insurance company in Nebraska?
A: There is no best insurance company for everyone. However, our review of homeowners insurance in Nebraska found that Farmers Mutual of Nebraska, Farmers, State Farm and Auto-Owners are all worth considering for their own reasons.
Q: Is home insurance required in Nebraska?
A: Not by law, but your mortgage lender will likely require you to purchase homeowners insurance.
QuoteWizard.com LLC has made every effort to ensure that the information on this site is correct, but we cannot guarantee that it is free of inaccuracies, errors, or omissions. All content and services provided on or through this site are provided "as is" and "as available" for use. QuoteWizard.com LLC makes no representations or warranties of any kind, express or implied, as to the operation of this site or to the information, content, materials, or products included on this site. You expressly agree that your use of this site is at your sole risk.