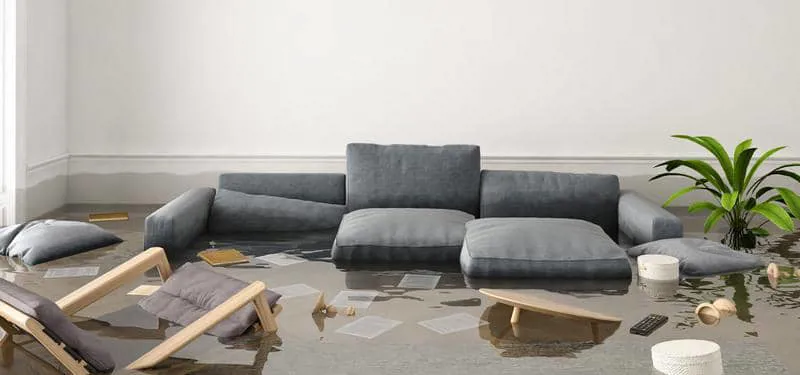 Water damage can be an incredible threat to your home. The amount of damage that even a brief leak or burst can do to your house can cost thousands of dollars. There are many types of water damage, yet not all of them are covered by home insurance.
Whether water damage is or isn't covered by your home insurance often depends on where the source of the water comes from. Sudden and accidental damage like a burst pipe is often covered. Water damage from outside the home, such as a flood, is not covered by homeowners insurance.
Another factor is how long the water damage has been building up. A sudden leak in your water heater in the basement would likely be covered for repair and water removal. However, if your water heater flooded your basement because of corrosion building over time, you would have to pay for the damages yourself.
This article will cover:
Types of water damage covered by home insurance
The following incidents are often covered by an HO3 policy, the most common homeowners insurance form:
Bursting or frozen pipes
After a pipe in your home bursts, your insurance should cover it. Note that your home insurance will only take care of damage due to the burst piping, not replacing the piping itself.
Damage due to rain, snow or ice
If heavy precipitation causes damage to your house, your home insurance should help pay for it.
Sprinkler system
Water damage from a sprinkler system in the course of putting out a fire is generally covered by home insurance. Furthermore, it should also cover damages if the water from the sprinkler causes mold damage later.
Vandalism
If someone damages the piping in your home with malicious intent, your home insurance policy would cover it.
Faulty plumbing parts
Water damage due to defective plumbing parts is covered as long as the damage has not been occurring over time or is due to negligence.
Septic tanks
If your septic tank backs up, your home insurance should cover it. Keep in mind that sewers are a separate system and can be covered differently.
Appliance overflow
If your toilet overflows, homeowners usually covers the resulting water damage. This includes overflow damage from washing machines, dishwashers and tubs.
Excluded water damage
The following are examples of water damage that are normally excluded from HO3 home insurance policies:
Long term water damage
Water damage to your home will not be covered if the damage was not caused by a sudden and/or accidental event. If the damage is caused by a frozen pipe bursting, your home insurance will probably cover it. The regular wear and tear on pipes that naturally occurs is excluded as well. Home insurers expect you to handle the responsibility of ongoing home maintenance.
Improper work
If the water damage happens because of uncertified repairs or installation, or just improper installation in general, your home insurer will probably reject your claim.
Flood
No standard home insurance policy covers flood damage.
If you need to file a claim on a burst pipe, refer to the problem as "water damage" rather than "flooding". Insurance providers have very different meanings for the two terms, and you do not want to exclude yourself from coverage accidentally.
This doesn't mean you can't get insurance coverage for flooding, however. You can purchase flood insurance through the National Flood Insurance Program (NFIP) and some private insurers.
External backup
Water backups from external drains and sewer systems usually aren't covered on the basis that the damage source started outside the covered premises. You can add coverage for events like this with a sewer endorsement to your home insurance.
Seepage
Seepage is when water leaks into the house due to external cracks and fissures that have gradually formed in the structure of the house. Home insurers consider water damage due to ground seepage to be a personal maintenance issue. It will most often not be covered by homeowners insurance.
Under foundation damage
Most home insurers consider the slab of your home to be the coverage cutoff point. Water damage under the house is usually excluded.
Mold damage due to water
Home insurance coverage of mold damage is a complicated subject. Home insurance companies usually only cover mold if it's the result of a covered peril, such as sudden and accidental water damage.
If a pipe bursts or leaks and causes a mold outbreak in your ceiling, the damage should be covered. Mold damage resulting from a damp and humid room is excluded. And mold damage that results from an excluded peril is usually
How much mold damage your insurance company will cover can vary. Cleaning up mold damage can cost thousands of dollars. To cut back on costs and keep premiums low, home insurers might put a limit on mold damage repair. This limit is usually between $1,000 to $10,000. If your home insurer's limit on mold coverage is lower than the repair bill, you could be on the hook for a lot of money.
Another issue is what parts of the mold damage your home insurer will cover. Some insurers will only cover specific mold-related services. Some may only cover clean-up, while others might only cover testing and remediation.
If coverage for mold is a concern of yours, look into a mold endorsement. It increases the limits of mold coverage after a covered peril. Look at your home insurance policy to see under what conditions mold is covered, then ask your home insurer how a mold endorsement might improve your coverage.
Filing a water damage claim
There steps you can take to help your water damage claim process be successful and get paid out quickly:
Clean and mitigate: Remove any excess water and make repairs needed to stop further damage. Move undamaged items to an area not affected by water. Do not throw anything away until the adjuster can inspect it.
Check your home insurance policy: Make sure that your claim is covered. You do not want to waste time with a claim that'll be denied automatically. Also, filing a claim could raise your home insurance rates even if it isn't covered.
Document: Make an inventory list of items that were water damaged, along with pictures. Your home insurer will need this information in order to compile an accurate payout.
Contact insurer: Call your home insurance provider and start the claim process. Let them know what steps you have made so far. They will let you know what further actions you need to take.
Inspection: An adjuster will be sent out by your provider to assess the damage. Be at home when they're supposed to be there in order to show the damaged areas, answer questions, and to show them any areas that they might otherwise miss.
If your claim is valid, your home insurer will send you the first half of the claim payment to start the repairs. The second half will be paid out when the repairs are completed. Make sure to ask your home insurer which payment your deductible will be subtracted from.
If your water damage claim is denied
If your home insurance provider denies your claim, this is not necessarily the end. The denial should come in written form. This will give you an opportunity to see if there was a miscommunication in the claims process. If it still isn't clear to you, request a full explanation of what grounds led to the denial.
In the event that the explanation proves there was a mistake with your inspection, contact the insurer and explain the mistake. Have any documentation that shows the mistake available and ready to share.
Still feel your claim denial is unjustified? Consider hiring a public claims adjuster to help. Just like insurance companies have their own adjuster, a public claims adjuster can advocate your claim and possibly get you a better result.
Afterwards if you still feel the denial should be disputed, you can consult a lawyer and contact your state's insurance commissioner.
References:
QuoteWizard.com LLC has made every effort to ensure that the information on this site is correct, but we cannot guarantee that it is free of inaccuracies, errors, or omissions. All content and services provided on or through this site are provided "as is" and "as available" for use. QuoteWizard.com LLC makes no representations or warranties of any kind, express or implied, as to the operation of this site or to the information, content, materials, or products included on this site. You expressly agree that your use of this site is at your sole risk.