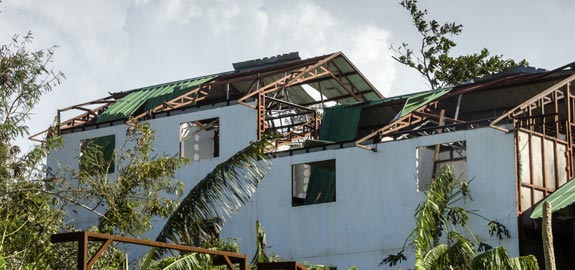 Wind causes a staggering amount of home insurance claims. The III reports that State Farm alone spent $2.4 billion on wind and hail claims in 2014. Fortunately, wind damage is one of the perils that a standard home owners insurance plan covers. The extent to which your home insurance covers your wind damage depends on a few different things.
Your policy specifics
Which parts of your house were damaged
The quality and condition of your home
How the wind caused damage
 This article touches on those scenarios, and more.
How Home Insurance Covers Wind Damage
Wind is dangerous on its own. So too is the damage that can follow it – whether it's a downed power line or a falling tree limb. Fortunately, a normal homeowners policy covers standard wind damage to your home.
Homeowners insurance covers the structure of your home. That includes the roof, siding, and windows. It also normally covers other structures such as the fence, a gazebo, or a shed.
Roof
Your roof is an extremely important part of a home insurance policy. Most policies cover roofs against wind damage. However, the extent of coverage depends on the age of the roof and the type of policy you have.
The two main coverage types are Actual Cash Value and Replacement Cash Value.
Actual Cash Value (ACV)
If you have ACV coverage, your payout after a claim is based on the material type and remaining life of your roof when it was wind damaged.
Say, for example, your roof shingles are rated for 30 years. They were installed 20 years old ago. The actual cash value of your roof is based on their remaining 10-year lifespan. This also assumes the shingles are in their average expected condition for their age.
It's good to know the age of your roof for times like this. If the age is unknown, your insurer will estimate it. The age of the roof can be found on the real estate disclosure form from your purchase of the house.
A roof past its rating date will result in a claim denial because it's past its expiration date. As a result, there would be zero payout. The insurer will argue that the wind damage occurred because the roof was in bad condition.
Replacement Cost Value (RCV)
With RCV coverage, your insurer pays out for complete roof repair once you've paid your deductible. This type of coverage does not factor in any decrease in value due to age.
Let's use the 20-year-old roof from above to illustrate the difference. With ACV coverage, out-of-pocket cost is the deductible plus whatever isn't paid out due to depreciation. With RCV, all you pay is the deductible.
If you're not sure what type of coverage you have, look over your policy. It should outline. ACV policies are cheaper.
Your Siding
Wind damage to the exterior of your home depends on the type of siding you have. Vinyl and aluminum are two of the more popular siding options today.
Vinyl siding
A lot of people go with vinyl siding is because it's durable and doesn't require a lot of upkeep. However, just because they're durable doesn't mean they're invulnerable. A hard wind can cause cracks, chips and other damage to vinyl siding. In extreme cases, whole panels can be torn off.
This type of repair/replacement is covered under your homeowner's policy.
Aluminum siding
A wind storm can dent aluminum siding. If the wind is strong enough, whole pieces of aluminum can be completely dislodged and sent flying.
Damage to aluminum siding is almost always covered by insurance. The caveats to this are usually just a specific rider or added exclusion clause. The exclusion would be listed in your policy.
In both cases, if you only have some minor damage, such as chipped paint, you should hold off on making the claim. Chances are it wouldn't be worth your deductible, and there would more than likely be a premium increase as well.
External Structures
Your homeowner's insurance should cover all structures on your property. This includes your garage, workshop, shed, or gazebo. How much of it is covered depends on your policy limit.
External structures are covered under the Coverage B section of your policy. The standard payout is a max of 10 percent of the face value of your policy. If your homeowners policy's face value is $300,000, the max payout you will get for a wind-damaged shed or garage is $30,000.
Windows
If your windows are broken by a heavy wind, your homeowners insurance should cover it. Repairing a window or window frame can cost a lot of money. According to HomeAdvisor, repairing a window costs $319 on average. If you have multiple broken windows, those costs will add up quickly. Remember: if your loss estimate is close to your deductible, you may want to avoid filing a claim.
Your Fence
If wind knocks down or damages your fence, you're covered to the limits of your policy. Check your "other structures" coverage noted in your policy. This will let you know to what degree your fence is covered. The average capped percentage for other structures protection is usually about 10 percent. This means that if you have $350,000 in structure coverage, your other structures coverage will max out at $35,000.
If the fence is on a boundary line between you and a neighbor, both of you might need to share the cost. If a tree falls on your fence due to wind, it is probably covered depending on if the tree is on your property or not. I say "probably" because the state of the tree can have some bearing on the payout. If the tree is on someone else's property, your insurer may hold your neighbor accountable. If the tree is on your property and found neglected or rotting, your insurer may not pay out as much. They may even deny your claim completely.
What Damage Isn't Covered in My Homeowners Policy?
There are conditions under which your homeowner's insurance will not cover a wind damage claim:
A roof past its rating date will result in a claim denial. As a result, there would be zero payout. Although it can be a hefty cost, making sure your roof is up-to-date is well worth the investment.
Debris removal usually is not covered under a homeowners policy. If a tree blows over onto your house, the damage is covered but you'd have to pay to remove of the fallen tree.
A branch breaking your window during a storm would be covered. But if the window has weak seals and water seeps in and damages the pane, that falls under wear and tear and not covered.
If you live in certain parts of Texas, wind coverage is non-standard in homeowners policies. In some areas, insurers require a separate charge to cover wind damage. 14 counties in Texas must acquire wind coverage from the Texas Windstorm Insurance Association.
In Florida, insurers may exclude wind coverage in high-risk areas. However, you can still get coverage through the Citizens Property Insurance Corporation.
How to File a Wind Damage Claim
Should you need to make a claim to your insurer for wind damage, you'll want to take some steps to keep it simple. Here are some steps to take to ease the process:
First, be aware of your insurer's requirements for filing a claim. Every insurance company can have different requirements for claims. Yours can be found by reading your policy or your insurer's website or speaking with your agent. Filing a claim can raise your rates, so you don't want to file a claim that will get denied.
Hopefully you have several photos of your house and property before the storm happens. Also, ideally, you'll have documents and paperwork behind your house, the appliances, and any repair work. After wind damage happens, take a set of "after" pictures. Document and keep any estimates and invoices related to the damage you acquire. This step alone will go a long way towards smoothing out the claims process.
After the damage occurs, contact your agent. They will review your policy with you, determine what damages are covered, and schedule an inspection if needed. If the claim is minor, there's a chance the claim can be handled with a phone call right away.
Compile any information and photos the agent requests if an adjuster is sent out to assess the damage. Having an inventory of your possessions beforehand can be valuable in cases like this.
If any repairs need to be done now to prevent further damage, let your agent know and get them taken care of. Make sure to save all receipts for the repairs, as they'll be part of the final settlement.
Find a licensed contractor to handle your repairs. Make sure to find a licensed, reputable contractor who can work with your insurer. Get a hardcopy bid from the contractor to pass onto your insurer.
Submit your claim to your insurer.
Wind Damage Prevention
As a homeowner, it's in your best interest to prevent damage from the elements before it begins. Here are some suggestions to reduce your chances of having to file a homeowner's claim:
Make sure your roof can handle extreme winds. Get your roof inspected by a licensed contractor who can advise on any immediate repairs that need doing. Replace old and broken shingles
Trim trees and remove dead branches
Anchor loose possessions (furniture, yard tools, trash cans) that can damage your home if wind knocks them into it. Also, get rid of loose rocks and debris in your yard
If you live in an area prone to extreme storms, invest in storm shutters to protect your windows
Frequently Asked Questions
Q: What happens to my premium if I make a claim?
A: With wind damage, homeowner's insurance works differently from auto or medical insurance. If your house has taken damage due to wind, your insurer will look at the damage to other houses in your area. They will then assess your claim on those findings. If the wind damage affected your neighborhood, the damage would fall under an "Act of God". Your individual rate will not increase if this is the case.
Q: Where do I look for the best contractor for the repairs?
The main answer to this is "Always go local." This can be hard after a large storm. Your local contractors are going to be up to their necks in work requests, and scheduling one can be a chore. All the same, it beats the alternative: storm chasers.
Storm chasers are out-of-area companies that will come after a damaging storm to perform repairs in the area. They then take homeowners claim payout in return for their work, then move onto the next damaged area.
The problem is storm chasers tend to do rushed, subpar repairs with low quality materials and poorly trained crews. Warranties for their work are often not offered or not honored.
Go the extra mile to find a local contractor in good standing.  You can check to make sure they're state-licensed and find out more about their reputation through the Better Business Bureau. This is also a good course of action because some storm chasers will try to present themselves as local.
Q: How many contractor quotes should I get before making a claim?
A: All you need is one. After a storm time is of the essence, both for avoiding further damage and getting an available contractor. Find a reputable, local contractor who can work with your insurer and complete the work diligently.
QuoteWizard.com LLC has made every effort to ensure that the information on this site is correct, but we cannot guarantee that it is free of inaccuracies, errors, or omissions. All content and services provided on or through this site are provided "as is" and "as available" for use. QuoteWizard.com LLC makes no representations or warranties of any kind, express or implied, as to the operation of this site or to the information, content, materials, or products included on this site. You expressly agree that your use of this site is at your sole risk.