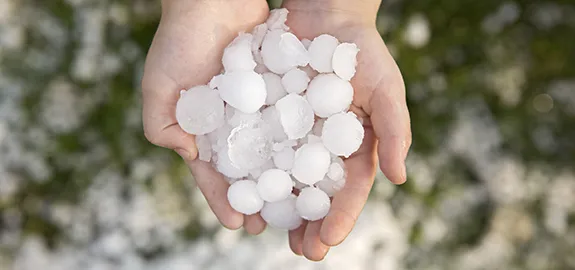 Home insurance often covers structural damage to your home caused by hail. However, if you live in an area that frequently has hailstorms, you may see some limits on your policy, such as how much cosmetic damage is covered. Some insurers require a hail deductible if you live in an area with a history of hail. This article will cover:
What hail damage is covered by home insurance?
Hail is one of the common perils covered by a standard home insurance policy, also known as an HO-3. The dwelling coverage portion of your home insurance usually covers hail damage to your home's structure. This includes hail damage to the roof, siding, windows and attached structures such as a garage or deck. Your home insurance often covers most hail damage to these parts of your house, up to the dollar limit that you set for coverage.
Homeowners insurance exclusions for hail damage
Cosmetic damage that does not reduce the integrity of the home's structure is often not covered by a HO-3 policy. Examples of this type of cosmetic damage include:
The problem here is that cosmetic damage can lead to functional damage. For instance, a few dents in the siding of your house may seem harmless, but over time, those dents could turn into weaknesses. As home insurance only covers sudden or accidental damage, the siding damage probably would not be covered.
If your home insurance policy excludes cosmetic damage due to hail or has other limits associated with hail damage, ask your home insurer what options are available. Some home insurers waive the cosmetic exclusion in return for a higher premium.
Home insurers in some regions may not offer hail coverage as part of their HO-3. In this case, you will want to talk with them and see how much it costs to get the coverage added. It might cost you more in premiums, but given the thousands of dollars that hail damage can do to your home, it may be worth it. It's also worth noting that areas with high incidents of hail can have higher home insurance premiums.
What is a hail deductible?
In regions with a history of severe hail, your home insurer may require you to pay a hail deductible instead of your regular deductible. Most perils covered by an HO-3 policy all use the same deductible. This is also known as an "all-peril deductible." This means that you pay the same deductible amount for fire, theft or any other covered peril in your HO-3 policy. Hail deductibles are different. It's not uncommon for a hail deductible to be higher than your regular homeowners insurance deductible. This could be a flat dollar amount, but they're often a percentage of your home policy's property coverage limit. Hail deductibles usually fall between 1% and 5%.
As an example: If HO-3's property coverage is $250,000 and you have a 2% hail deductible on your policy, you would have to pay $5,000 on a hail damage claim for your roof before your home insurer covered the remainder up to your coverage limit.
Filing a claim for hail damage
When making a home insurance claim for hail damage, here are some recommended steps:
Document everything
An important step to take before you even need to make an insurance claim for hail. Take a "before" photograph of the following:
Your roof
Every side of the house
Every window and its frame
Take these photos and keep them with your other home insurance files and documents. Some home insurers even have a database linked to their website where you can upload "before" pictures for storage.
Assess the damage
Next, you will want to hire a licensed contractor to assess the hail damage. Some contractors will offer an inspection for free in the hopes of gaining future business. If you do have to pay, however, make sure it's at minimal cost to you and doesn't commit you to hire them. Also, go with someone local and reputable. When a hailstorm damages several homes in an area, "storm-chaser" contractors with dubious business practices can show up, costing you more money than you really need to pay.
Decide if a claim is worth it
Once your contractor has given you an estimate for repairs, decide if you really need to make a claim. When you file any home insurance claim, you will see an increase in your rates because of it. Usually, a claim will stay on your home insurance for about five years. Your home insurance premium can go up by as much as 20% after making a claim. Add the potential premium increase over five years plus your deductible cost together. If the total is less than the repair cost, you might try to pay for repairs out-of-pocket.
Start the claim
If you decide to move ahead with a claim, contact your home insurance company and initiate the claims process. Your insurer will arrange for their adjuster to come out and examine the damage.
Dispute the settlement
Based on their adjuster's findings, your home insurer will either pay out or reject your claim. If you feel your claim is unfairly rejected or you aren't satisfied with the payout offer, you can contest it. Consider hiring a public claims adjuster to present your case to the insurer. Public adjusters are well-versed in the insurance claims process. They can increase your chances of a favorable judgment on your claim.
QuoteWizard.com LLC has made every effort to ensure that the information on this site is correct, but we cannot guarantee that it is free of inaccuracies, errors, or omissions. All content and services provided on or through this site are provided "as is" and "as available" for use. QuoteWizard.com LLC makes no representations or warranties of any kind, express or implied, as to the operation of this site or to the information, content, materials, or products included on this site. You expressly agree that your use of this site is at your sole risk.