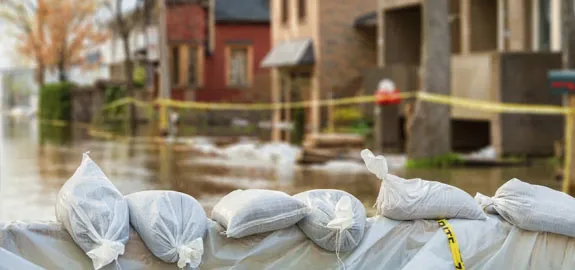 If you live in an area with a history of flooding, having flood insurance is a good idea, if not mandatory. How much flood insurance you should have depends on the chances of a flood occurring in your area, as well as the value of your home and your possessions, not just whether it's required. What you can afford is also a factor. This article will cover:
Should I Get Flood Insurance?
Your need for flood insurance is depends on how much of a flood risk your home faces. Simply put, everyone lives in a flood zone. If you live in a high-risk flood area, having flood insurance is probably required by your mortgage lender. If you live in a low-risk flood area, it may not be required, but you should still consider it.
Standard home insurance, otherwise known as the HO-3 policy, does nothing to cover flood damage. FEMA can be of some assistance after a flood but isn't a good substitute for flood insurance itself. Given the lack of assistance home insurance or FEMA provides in the event of a flood, buying flood insurance should be a strong consideration.
Is Flood Insurance Required?
Your mortgage lender may require you to get flood insurance through the National Flood Insurance Program (NFIP) if your area:
Has a one percent annual chance of flooding
Has a 26 percent chance of flooding over the life of a 30-year mortgage.
Private lenders, such as a bank, may have similar requirements although it's not mandatory by law. NFIP coverage is accepted by all private lenders.
NFIP is the federal agency in charge of the selling of flood insurance, as standard home insurance does not cover flood damage. If you're unsure whether or not you live in an area with a high risk for flood, you can find out either by checking at FloodTools.com or looking at your Flood Insurance Rate Map (FIRM) at the FEMA website.
If you live in a moderate-to-low flood risk areas, also classified as flood zone x, you may not be required by the NFIP to buy flood insurance for your home. However, it is still highly advised. Moderate-to-low flood risk areas account for 20 percent of flood claims and receive about a third of disaster relief resources in the event of a flood.
Undetermined risk areas are zones that have a chance of a flood but haven't been assigned an actual risk grading yet. The NFIP doesn't require you to have flood insurance if you live in this type of area, but still provides coverage if you choose to buy it.
If your home is on a beachfront or near a body of water like a lake or river, you may be in a Special Flood Hazard Area due to the higher chance of flooding. These areas can require mandatory flood coverage as well.
The only real way to avoid the requirement for flood insurance is to get your home rezoned out of the flood plain. This requires you to contact a licensed surveyor to perform an elevation certification for your home. You must then apply for a Letter of Map Amendment to FEMA, should the survey show your home to be above the flood plain. FEMA will notify you of their decision after they evaluate your application.
How Much Flood Insurance Do I Need?
If you live in a high-risk flood area, your mortgage or private lender will probably require you to invest in enough NFIP flood insurance to rebuild your house if it was destroyed in a flood. There is, however, a difference between how much flood insurance is required and how much you should buy.
The limits of residential flood insurance for a home is usually between $8,000 to $100,000 for contents coverage and $20,000 to $250,000 maximum for dwelling coverage. Basements are often a high risk for both home and flood insurance. If you have a basement, standard flood insurance usually only covers specific items, such as a water heater, furnace, and washer or dryer located in it.  If the cost to rebuild your home and replace its contents exceed the amount of your coverage, the remaining cost comes out of your pocket.
Supplemental flood insurance is often available to take care of whatever flood damage your standard flood insurance policy does not. The cost of supplemental flood insurance varies a great deal depending on the home's location. It's estimated that additional flood coverage could add another $300 to $400 in premiums for a $500,000 home with a basement.
How Much is Flood Insurance?
According to FEMA, an NFIP flood insurance policy quote is $700 yearly with a $1,000 deductible. Rates are tiered down to $420 yearly with a $10,000 deductible. But average flood insurance rates vary quite a bit depending on where you live.
Your price for flood insurance can further vary depending on:
The elevation of your home
The terrain the house is built upon
Recent flood history in your home's area
FEMA Assistance vs. Flood Insurance
FEMA assistance is different from both standard home insurance and NFIP coverage. While FEMA assistance can be helpful in the event of a flood, it is by no means an alternative to flood insurance. FEMA's housing assistance is available to any and all who suffer damage or loss in disaster-declared counties, regardless of income level. Aid for personal property loss, vehicle repair or replacement, and moving and storage expenses also available. However, these services are income dependent and made on a case-by-case basis. FEMA also provides grants to those who qualify to repair damage not covered by flood insurance. But it may not cover all of it.
The average FEMA check amount is $8,000. If you live in an area with any sort of real flood risk, purchasing flood coverage is an excellent idea. FEMA assistance should not be considered a suitable replacement for flood insurance, given its limitations.
QuoteWizard.com LLC has made every effort to ensure that the information on this site is correct, but we cannot guarantee that it is free of inaccuracies, errors, or omissions. All content and services provided on or through this site are provided "as is" and "as available" for use. QuoteWizard.com LLC makes no representations or warranties of any kind, express or implied, as to the operation of this site or to the information, content, materials, or products included on this site. You expressly agree that your use of this site is at your sole risk.