Our research of the average cost of homeowners insurance included more than 125,000 quotes from 121 companies for every ZIP code in the U.S. We saw average premiums as low as $55 per month and as high as $172 per month, with a national average of just over $101 per month. For information about where our numbers came from, check out our methodology.
Average cost of homeowners insurance by:
Cost of homeowners insurance by state
We saw the average cost of home insurance range from $2,058 per year in Oklahoma to $663 in Oregon, with a nationwide average of $1,215 per year.
Average cost of home insurance by state
State
Average annual premium
Average monthly premium
Difference from national average
Rank
Alabama
$1,351
$113
11%
14
Alaska
$1,141
$95
-6%
28
Arizona
$927
$77
-24%
39
Arkansas
$1,292
$108
6%
18
California
$1,684
$140
39%
6
Colorado
$1,832
$153
51%
3
Connecticut
$1,610
$134
33%
9
Delaware
$760
$63
-37%
49
Florida
$1,809
$151
49%
4
Georgia
$1,157
$96
-5%
27
Hawaii
$1,135
$95
-7%
29
Idaho
$838
$70
-31%
43
Illinois
$1,096
$91
-10%
30
Indiana
$916
$76
-25%
41
Iowa
$1,008
$84
-17%
34
Kansas
$1,668
$139
37%
7
Kentucky
$1,234
$103
2%
21
Louisiana
$1,607
$134
32%
10
Maine
$809
$67
-33%
45
Maryland
$1,198
$100
-1%
24
Massachusetts
$1,617
$135
33%
8
Michigan
$968
$81
-20%
35
Minnesota
$1,481
$123
22%
12
Mississippi
$1,203
$100
-1%
23
Missouri
$1,424
$119
17%
13
Montana
$1,321
$110
9%
17
Nebraska
$1,791
$149
47%
5
Nevada
$836
$70
-31%
44
New Hampshire
$917
$76
-25%
40
New Jersey
$1,161
$97
-4%
26
New Mexico
$1,180
$98
-3%
25
New York
$1,243
$104
2%
19
North Carolina
$1,049
$87
-14%
33
North Dakota
$1,323
$110
9%
16
Ohio
$872
$73
-28%
42
Oklahoma
$2,058
$172
69%
1
Oregon
$663
$55
-45%
50
Pennsylvania
$945
$79
-22%
38
Rhode Island
$1,489
$124
23%
11
South Carolina
$1,328
$111
9%
15
South Dakota
$1,241
$103
2%
20
Tennessee
$1,233
$103
1%
22
Texas
$1,954
$163
61%
2
Utah
$783
$65
-36%
47
Vermont
$771
$64
-37%
48
Virginia
$1,051
$88
-13%
32
Washington
$956
$80
-21%
37
West Virginia
$958
$80
-21%
36
Wisconsin
$786
$66
-35%
46
Wyoming
$1,076
$90
-11%
31
U.S. average
$1,215
$101
0%
–
Note: Average rates are based on non-binding estimates provided by Quadrant Information Services. Your rates may vary.
Insurance companies consider many factors in determining your rates, including the risk profile of your state. For example, California's climate puts it at a higher risk of wildfire New York, which is reflected in California's higher premiums.
The table above can help you get a sense of the average cost of home insurance across the country so you know what to expect when purchasing homeowners insurance. Find your state in our state guide for more information.
Cost of homeowners insurance by coverage amount
The cost of homeowners insurance changes based on how much coverage you choose. We analyzed more than 77,000 quotes for 26 different dwelling coverage amounts, which is the amount your house's structure is insured for. We used dwelling coverages ranging from $75,000 to $700,000 to find the average cost. Here are some selected values:
Average cost of homeowners insurance by dwelling coverage
Dwelling coverage
Average annual premium
Average monthly premium
$150,000
$939
$78
$200,000
$1,095
$91
$250,000
$1,251
$104
$300,000
$1,420
$118
$350,000
$1,588
$132
$400,000
$1,776
$148
$450,000
$1,973
$164
Note: Average rates are based on non-binding estimates provided by Quadrant Information Services. Your rates may vary.
Higher dwelling coverages raise homeowners insurance rates, because the insurance company must be prepared to pay out a larger sum in case of a loss. Keep in mind, your dwelling amount is the cost to rebuild your home, not your home's market value. You can think of it as the value of your home minus its location. Your dwelling amount depends on your home's materials, size and local labor costs.
How remodeling your home affects your homeowners insurance rates
Remodeling your home can lead to higher insurance rates, since a home remodel often increases the rebuild cost of a home. Your dwelling coverage limit should match the rebuild cost of your home.
The graph below shows how a remodel increases home insurance rates.
The relationship between the average home insurance premium and remodel value is linear. This means increasing your home's rebuild cost by $50,000 will come with an insurance rate hike that's twice as expensive as the rate hike after a remodel with a $25,000 increase in your home's rebuild cost.
Based on this rate of increase, you'll pay about an extra $36 for every additional $10,000 of added rebuild cost after a remodel.
If you're planning on doing a home remodel, it's a good idea to speak with your homeowners insurer before the job starts. This can help you avoid unnecessary premium costs. If you plan on using roofing materials with low fire resistance or weak window panes, you'll probably see an increase in your home insurance rates.
Cost of homeowners insurance by deductible
Your deductible is the amount of money you pay out of pocket after a loss and before your homeowners insurance kicks in. So, if your insurance company approves a claim for $5,500 and you have a $1,000 deductible, you'll pay $1,000 out of pocket and your insurance will cover the remaining $4,500.
The typical cost of homeowners insurance is $1,215 when using median and average values for all variables. However, you'll almost always have the option to customize your policy to better fit your needs, such as raising or lowering your deductible.
Average cost of homeowners insurance by deductible
Deductible
Average annual premium
Average monthly premium
$500
$1,346
$112
$1,000
$1,219
$102
$1,500
$1,178
$98
$2,000
$1,080
$90
Note: Average rates are based on non-binding estimates provided by Quadrant Information Services. Your rates may vary.
Based on our figures, increasing your deductible from $1,000 (a common amount) to $2,000 can save you $139 a year. In order for that $1,000 deductible savings to make sense, you'd have to go a little over seven years without a claim to warrant saving the $139 a year ($1,000 divided by $139 dollars a year).
You should be prepared to pay your deductible at anytime, though. For instance, if you're deductible is $2,500, you should have that cash on hand at all times should you experience a loss.
How to estimate your homeowners insurance
Your home and insurance needs are unique, which makes estimating how much homeowners insurance will cost for you a challenge. But we crunched tens of thousands of data points to help get you in the right ballpark.
To estimate your homeowners insurance cost, you'll first need to consider how much coverage you need. There are six coverages in a standard home insurance policy, which all influence the cost of homeowners insurance:
Standard coverage in HO-3 home insurance policy

| Coverage | What it covers | Typical amount |
| --- | --- | --- |
| Dwelling | Your home's structure | Estimated cost of rebuilding your home |
| Other structures | The other buildings and structures on your property, like garages or sheds | 10% of dwelling |
| Personal property | Your belongings | 50% of dwelling |
| Loss of use | Additional expenses if you're unable to remain in your home | 20% of dwelling |
| Personal liability | The cost of legal defense and medical payments if you are sued for property damage or bodily injury | $100,000 |
| Medical payments to others | Medical bills if a guest is injured on your property | $5,000 |
According to our data, the biggest factor in determining how much you'll pay for homeowners insurance is your dwelling amount. To estimate how much you'll pay, there are two steps to take: (1) get your baseline rate by estimating how much dwelling coverage you need and (2) increase or decrease your baseline rate depending on your state's risk.
Get your baseline rate according to your dwelling coverage by referring to our cost of home insurance by dwelling amount calculation. Once you have this baseline, adjust your premium up or down by the percent listed for your state in our cost by state table.
For example, say you believe you need $350,000 of dwelling coverage and you live in North Carolina. Based on the dwelling coverage graph, your baseline rate for $350,000 is $1,588. Then, because North Carolina's rates are 14% less than the national average, decrease $1,588 by 14% to get $1,366. This is the estimate of how much you'll pay for homeowners insurance
How to save on homeowners insurance
There are a handful of ways to reduce your home insurance premiums. Here are our top four.
Switch companies
Our favorite way to save money on homeowners insurance is by switching carriers. Trying to shrink your insurance premium with your current company can only go so far. By switching companies, you could possibly save hundreds of dollars.
Insurance companies want new customers, so they often attract them with new customer discounts and lower rates. That means you can take advantage of insurance companies competing for your business. It's why we always recommend shopping around and getting multiple quotes.
Bundle multiple policies
Some companies, like Allstate, advertise 25% savings if you bundle your home and auto insurance. There are other advantages to bundling besides saving a few bucks. For example, having all of your accounts with a single company can make your bills easier to manage, as you can go to one place to pay them.
Increase your deductible
Based on the previous chart, increasing your deductible from $500 to $2,000 can save you more than $250. If you choose to change your deductible, make sure you have enough cash on hand to be able to pay it in case you suffer a loss and must file a claim.
Upgrade your home's materials
Insurance companies factor in your home's materials when setting your premiums. For example, if your home is built from materials that are particularly fire prone, or you have structurally weak windows, you may see higher premiums.
Upgrading your roof and windows or reinforcing your home's structure can be great ways to lower your home insurance premiums. While these can be expensive upgrades, they are often still a good idea. Not only can these improvements lower your insurance bill, but they can reduce the chance you'll need to file a claim.
For more ideas on how to reduce your insurance bill, see our article on how to save on homeowners insurance.
Most common home insurance losses
Property damage makes up more than 98% of all homeowners insurance claims, with liability claims comprising just under 2%. Of property claims, wind, hail, fire and lightning are the most common.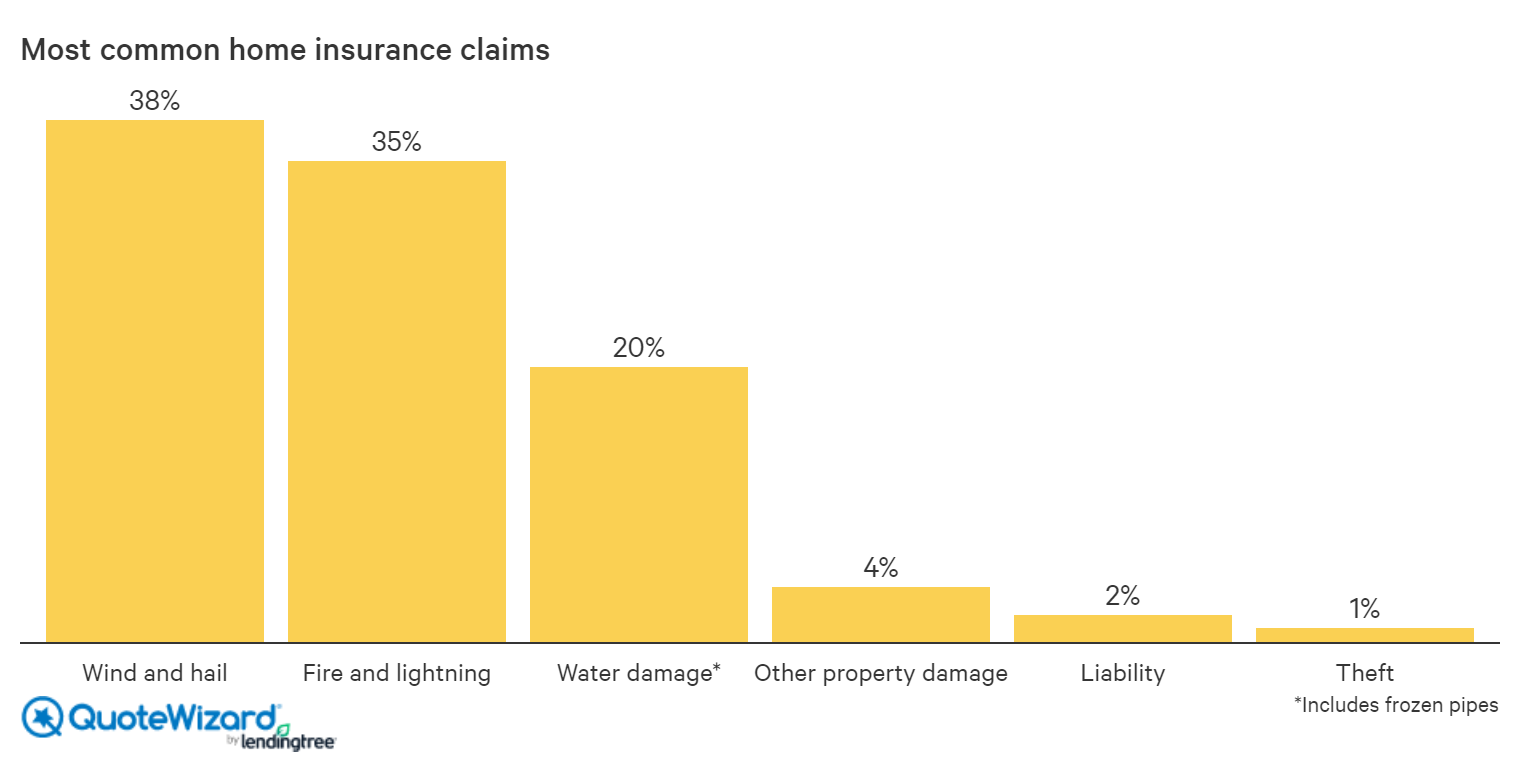 Source: Insurance Services Office (ISO)
However the cost severity varies between these claims causes. While wind and hail claims make up the largest portion of claims, their average severity is $10,182. Liability claims are more infrequent but tend to be more expensive, an average of $26,085. Fire damage is by far the most severe type of claim, averaging more than $68,000 per claim.
Rate factors
Insurance companies consider many variables, or rate factors, when setting premiums. You can think about them in three buckets: the characteristics of your home, your location and your personal profile. Here are a few important ones:
Homeowners insurance rate factors

| You | Your home | Your location |
| --- | --- | --- |
| Claims history | Value | Climate |
| Age | Age and material | Local property crime rates |
| Household size | Safety features | Proximity to emergency services |
Insurance companies track many of these factors themselves, such as crime rates and your home's value. But if someone moves in or out, or you upgrade a part of your home, we recommend letting your insurer know. Some factors may lower your rates and some may raise them, but either way, you and your insurer need to be on the same page before a disaster.
Frequently asked questions
Q: How much does homeowners insurance cost?
A: Homeowners insurance costs $1,215 a year on average, according to our study.
Q: What determines the cost of homeowners insurance?
Many factors, including where you live, your home's level of risk and how much coverage you purchase affect the cost of homeowners insurance. Our study found that dwelling coverage and location are some of the largest factors.
Q: How much homeowners insurance do I need?
A: Your unique situation determines how much homeowners insurance you need. Typically, you'll need enough dwelling coverage to cover the cost of rebuilding your home and enough personal property protection to cover your belongings.
Methodology
Average cost by state calculation
We collected quotes from every ZIP code in all 50 states, for a total of 54,124 quotes. In every state, we used the respective median home value, median householder age and median home build year. 
In all cases, the following coverages were used:
Dwelling coverage: median home value in state
Other structures: 10% of dwelling
Personal property: 50% of dwelling
Loss of use: 20% of dwelling
$100,000 personal liability
$5,000 medical payments to others
$1,000 deductible
We used the largest companies in each respective state in order to reflect local homeowners insurance markets. While there are too many to provide a complete list, here are some of the most well-known providers among the ones we used:
State Farm
Allstate
Liberty Mutual
USAA
Farmers
Travelers
American Family
Erie Insurance
Average cost by home value calculation
We analyzed more than 71,000 quotes with dwelling coverage ranging from $75,000 to $700,000, in $25,000 increments, for the seven largest homeowners insurance companies in the U.S. to find the average for each dwelling amount.
Average cost by deductible calculation
We aggregated more than 11,000 quotes from the seven largest homeowners insurance companies in the U.S. using the following deductibles: $500, $1,000, $1,500 and $2,000. The dwelling coverage used was the median home value for the U.S. in 2020, $245,219.
Geographic, housing and demographic data
All data concerning geography, housing and demography was sourced from Standard & Poor's Financial Services.
QuoteWizard.com LLC has made every effort to ensure that the information on this site is correct, but we cannot guarantee that it is free of inaccuracies, errors, or omissions. All content and services provided on or through this site are provided "as is" and "as available" for use. QuoteWizard.com LLC makes no representations or warranties of any kind, express or implied, as to the operation of this site or to the information, content, materials, or products included on this site. You expressly agree that your use of this site is at your sole risk.