Same Day Car Insurance
Need car insurance ASAP? Like, today? You can get same-day coverage from most insurance companies by following this advice.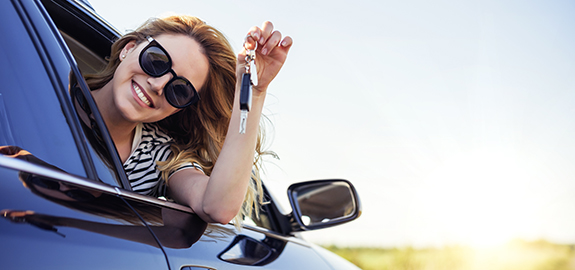 You need car insurance now. Right now. Here's some good news for you: most companies sell  "same-day"car insurance, or car insurance that goes into effect the same day you buy it.
So, whether you need immediate car insurance coverage because your old policy just lapsed or because you're about to buy a new car, you should be able to find it with a little legwork.
We'll tell you what you have to do to get instant car insurance in this article. We'll also tell you:
How do I get same-day car insurance?
The quickest and easiest way to get car insurance coverage that kicks in immediately is to buy it online or through a company's mobile app.
A few things to keep in mind about getting same-day insurance in this way:
You may be able to get auto insurance that takes effect the same day you buy it by calling an insurer, too.
No matter which method you use, you must get a quote before you can buy same-day coverage. And to do that, you need to have certain pieces of personal information at the ready. (You'll learn about them in the very next section.)
All of this can be done while you're at the dealership, so don't worry about waiting until then to buy coverage for a new car.
If you're having a tough time finding an insurer that will sell you instant car insurance coverage, focus on larger ones, such as Allstate, GEICO or Nationwide. Smaller companies are more likely to make you call or go into an office to buy a policy.
What do I need to buy same-day car insurance?
Before you can buy a same-day insurance policy, you have to get a quote from an insurance provider. And to get a quote from an insurance provider, you have to give them some information about yourself and any other driver you plan to name on the policy.
Your name, address and occupation
Your driver's license and Social Security numbers (though the latter's often optional)
Your commute distance
Your car's vehicle identification number (VIN) or its make, model and year
Details on any recent driving violations, tickets or accidents
Details on any recent claims
Details on current car insurance coverage, if you have it
Insurers will use this and other information, like your credit score, to determine your rate and produce a quote. If you like that quote, you can buy the policy and have it start right away.
How long does it take to get same-day car insurance?
Buying same-day car insurance should only take a few minutes if you already have a relationship with the company selling it to you.
If this is your first time working with a particular company, the process might take as long as an hour.
This assumes, however, you're looking to insure a fairly standard or typical vehicle. For example, if you need insurance for a classic or collector car, things may take longer — to the point where you may not be able to get same-day coverage.
The same is true if you can't provide an insurer with the information listed above when you contact them about a policy. In that case, they'll probably need more time to set your rate and come up with a quote.
Why can't I get same-day car insurance?
There are a few reasons a company may not sell you same-day car insurance. They include:
The company is small; larger ones are more likely to offer instant coverage
You want to insure a collector or classic car
You want to insure an especially expensive car
You want to insure a heavily modified car
You didn't give the insurance company all the information it needs to prepare a quote
Which companies offer same-day car insurance?
Most of the biggest and best car insurance companies will sell you same-day coverage. That means companies like:
Allstate
American Family
Amica
Farmers
GEICO
Progressive
State Farm
USAA
So, if you want or need car insurance that kicks in immediately, check out several companies'websites and apps before settling on one.
Does same-day car insurance cost more than other kinds of car insurance?
In general, no, same-day car insurance doesn't cost more than car insurance that takes effect a week or more after you buy it.
To put it another way, you'll almost always pay the same amount for a same-day insurance policy as you'll pay for a policy you buy in advance.
One exception: you might pay up to 10% less for an auto insurance policy you buy in advance if you get it from a company that offers discounts for thinking ahead.
Is same-day car insurance retroactive?
No, you can't backdate auto insurance to cover an accident you got into or a ticket you received, say, earlier in the day.
Even same-day insurance only covers you from the moment it kicks in —not a minute before then.
QuoteWizard.com LLC has made every effort to ensure that the information on this site is correct, but we cannot guarantee that it is free of inaccuracies, errors, or omissions. All content and services provided on or through this site are provided "as is" and "as available" for use. QuoteWizard.com LLC makes no representations or warranties of any kind, express or implied, as to the operation of this site or to the information, content, materials, or products included on this site. You expressly agree that your use of this site is at your sole risk.