Antique, Collector and Classic Car Insurance
If you have a vintage car, protect it with specialized auto insurance coverage. Here's why, plus where you can get it.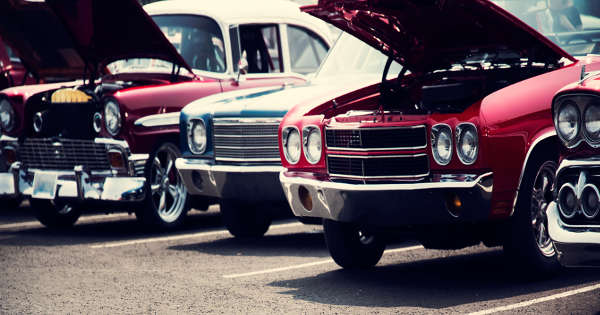 If you own a collector, classic or antique car, you need more than a standard auto insurance policy.
Why? Most cars depreciate in value over time, but antique, classic and collector cars maintain or increase in value over time. Specialized auto insurance policies that target owners of vintage vehicles often pay out a negotiated "agreed value" if their older cars are damaged, destroyed or stolen. Standard policies, on the other hand, pay out the actual cash or stated value in such situations. If you get a standard car insurance policy for your classic auto, it may not fully reimburse you if the vehicle is harmed in some way.
That's why you should find classic car insurance that provides special coverage for your collectible auto. This article covers all you need to know about insurance for everything from hot rods to muscle cars to historic vehicles, including:
Is antique car insurance different from classic car insurance? Is classic car insurance different from collector car insurance?
Although many car enthusiasts define words like antique, classic, collector and vintage differently, insurance companies are less likely to do so.
As such, a particular company's classic car insurance policy may well cover any older vehicle — as long as it meets certain requirements, like the ones listed below.
Most insurers don't offer different kinds of coverage if your car is antique, classic, collectible or vintage. Though they may do so if it's a truck, utility vehicle or military vehicle.
On a related note, we use the terms antique, classic, collectible and vintage interchangeably here. So, classic car insurance is the same as collector car insurance and antique car insurance in this article.
Classic car insurance requirements
What is a classic car? Whether or not a car qualifies for collector, classic or antique auto insurance depends on several factors.
Although requirements vary among insurers, companies generally consider the following to determine if a car counts as a classic.
Year
How old is a classic car? Or when does a car become a classic? For most companies, a car qualifies as a classic, and thus qualifies for classic car insurance, if it was manufactured at least 25 years ago. Others won't sell you classic car insurance coverage unless your vehicle was manufactured at least 30 or 40 years ago. And some won't sell you antique car insurance unless your auto is 50 years old or older.
Condition
Most insurance providers require your vehicle be the factory original, or at least restored with original factory parts, for it to qualify for collector or antique car insurance. They also usually require it to be in good or restored condition. That said, some classic car insurance policies cover autos that are being restored.
Storage
Auto insurance companies often require you to store your vintage auto in a locked and fully enclosed garage if they sell you antique car insurance coverage.
Your driving record
Typically, providers won't sell you antique or classic car insurance if you have any major driving violations on your record. Some insurers only consider infractions from the past five years, so don't assume anything. Check with your insurer to learn about its requirements in this area.
Usage
Insurance companies usually require any auto they cover with collector or antique car insurance to be used only as a hobby vehicle. That means you can't use it daily as a commuter car. Some require every licensed household member to have a commuter car so they can verify the antique or collector auto isn't used regularly.
Collector car insurance for young drivers
Classic auto insurance policies typically require drivers to be at least 25 years old or have five to 10 years of driving experience. So, you may have a hard time finding a company that will sell you collector or antique car insurance if you're a young or new driver.
Although the minimum age for classic car insurance tends to be 25, some insurers will make an exception if you come from a family of collectors or if you have a clean driving record.
If you're a young driver and have your eye on a vintage car, look for an insurance provider that will cover your vehicle for an agreed value. They may require an appraisal for this. Or they might require you to share photos of your vehicle or be interviewed about it. Even if you're asked to do all three, it's worth it to get enough coverage for your antique auto.
Best classic car insurance companies
If you're looking for the best collector car insurance companies around, you have plenty of options these days.
In fact, all the companies below specialize in classic or antique car insurance.
Each of these providers offers agreed value coverage. Agreed value coverage means that you and your insurance company's underwriters determine the value of your vehicle together. If someone steals your antique car, or if something damages it and causes it to be declared a total loss, your insurer pays you that agreed amount. That's a far cry from what happens if you buy stated value coverage instead. In that case, depreciation and subjective valuation impact your payout after a crash.
For example, let's say you and your insurance provider decide your classic car is worth $150,000 for the purposes of agreed value coverage. Then your car is involved in an accident and the insurer declares it a total loss. You'll be paid that $150,000, no questions asked. On the other hand, if you have stated value coverage, you might only be paid $50,000 for a total loss due to depreciation and other factors. Stated value is sufficient for standard cars, but it often doesn't accurately account for an antique or collector car's rarity.
Shopping for classic car insurance? Consider the following companies:
Hagerty
Hagerty Insurance offers collector and classic auto insurance for vehicles from 1979 and earlier. It partners with Progressive through the Progressive Classic Car by Hagerty program. If you have a standard policy with Progressive, ask your agent about collector car insurance. These are some of the policy's key points:
No fixed mileage restrictions. Although you can't use your antique car for daily driving, you can use it for exhibitions, organized meets, some pleasure driving and more.
Hagerty Drivers Club. A 24/7 full-service assistance program designed specifically for collector cars.
Customized policies. Hagerty allows you to travel with your classic car, insures a car you're restoring and even covers automobilia and other valuable parts and tools.
Phone: (877) 922-9701
Grundy
Grundy offers auto insurance for collector cars if the car is kept in a fully enclosed garage, all drivers have a clean driving record and all drivers have their own car for daily driving. Grundy says it is the largest insurer of hot rods in the U.S., plus it insures modern muscle cars and exotic cars of all years. These are the policy's main points:
Unlimited miles for pleasure driving. There's no limit to the number of miles you can drive for collector car activities and pleasure driving. It still can't be used for daily driving, though.
Trip interruption. This perk reimburses you for hotel and repair costs up to $600 in the event of a breakdown. It also reimburses you for towing and labor charges up to $250.
Phone: (888) 647-8639
Infinity
For its Classic Collectors insurance coverage, Infinity requires that drivers have no major driving violations on their records, store their car in a fully enclosed and locked garage and own a car with a value of more than $5,000. Here are the main draws of the policy:
Drive-to-Work Coverage. You can select optional coverage for your classic car that allows you to commute for up to 30 days to work or school during the term limits of your policy. There is a limit of up to five consecutive days in a 14-day period.
Choose your own repair shop. If something happens to your beloved vintage vehicle, you can take it to your preferred mechanic.
Newly Acquired Vehicle Coverage. If you're an avid collector, this is a great perk. If you add more antique cars to your collection, this coverage protects them for the verifiable value or purchase price for 30 days up to $75,000.
Driver Club. Offers 24/7 roadside assistance, including towing, flat tire assistance, lockout service and more.
Customer service phone number: (800) 252-5233
J.C. Taylor
To qualify for the Antique and Classic Auto Insurance Program through J.C. Taylor Insurance, your vehicle must be the factory original, in good or restored condition, kept in a locked and fully enclosed garage, and be used as a hobby vehicle. The policy also includes an "attendance clause," which means you need to stay with your car whenever you're out and using it. These are some of the key takeaways about the policy:
Coverage while traveling. This policy covers your car in the U.S. and Canada. Special arrangements can be made if you want to take it overseas.
No mileage limitation. The policy uses a 2,500-mile limit per vehicle per year for underwriting purposes, but you'll never be denied coverage if you go over it.
Phone: (800) 345-8290
American Modern
American Modern is a specialty insurance provider for collector cars. It is partnered with GEICO. That means it could be an easy transition if you already have standard auto coverage through GEICO. These are some of the main policy points:
Variety of mileage plans. American Modern offers 1,000, 3,000, 6,000 or unlimited mileage plans. So, there's flexibility no matter how often you drive you collector car.
One flat-rate liability charge. Most standard auto companies charge liability for every car on the policy, but American Modern offers a flat rate for all vehicles on the policy.
Coverage for spare parts. Stolen and lost spare parts are covered up to $2,000 or higher.
Several additional coverage options. Coverage for roadside assistance no matter where you are in the US, full safety glass, and foreign transport are all options you can add to your policy.
Phone: (800) 543-2644
State Farm
Like most providers of collector auto policies, State Farm requires that you only drive your classic or antique car on a limited basis. If you have a standard car insurance policy from State Farm, ask your agent about this special coverage. These are some key points about the policy:
Spare parts coverage. Your spare parts are covered up to $500.
24 Hour Good Neighbor Service. No matter what time of day or night, a State Farm agent will be available to discuss your policy needs.
Phone: (888) 559-1922
USAA
USAA works with leading classic car insurance companies to offer coverage for your collector car. To qualify for a USAA classic car insurance policy, your vehicle must be driven on a limited basis, not be used for racing, and stored in a locked and enclosed garage.
Flexible mileage plan. In most states, you can choose from a 2,500-, 5,000- or 7,000-mile plan. This is a great option for collectors who drive long distances for events and shows.
Automatic coverage. Qualified vehicles will be automatically covered for up to 30 days for up to $100,000 when you add them to your collection.
Phone: (800) 531-8722
Is antique car insurance cheaper than standard auto insurance?
Yes, antique or classic car insurance typically is cheaper than standard car insurance.
This is because people who own collector cars tend to drive them less frequently. Of course, many providers require this when they sell someone a classic car insurance policy. They often don't let you drive a vintage car daily.
At any rate, the cost of this kind of coverage depends on where you get it. In general, though, antique car insurance costs 39% to 50% less than a standard auto insurance policy. Compare quotes from several insurers to find your best price.
QuoteWizard.com LLC has made every effort to ensure that the information on this site is correct, but we cannot guarantee that it is free of inaccuracies, errors, or omissions. All content and services provided on or through this site are provided "as is" and "as available" for use. QuoteWizard.com LLC makes no representations or warranties of any kind, express or implied, as to the operation of this site or to the information, content, materials, or products included on this site. You expressly agree that your use of this site is at your sole risk.