The General specializes in auto insurance for high-risk drivers. It sells policies online and offers same-day insurance for approved drivers. The General offers competitive rates for high-risk drivers who struggle to find cheap insurance elsewhere, but the company's customer service ratings leave something to be desired.
The General provides insurance in 46 states and Washington D.C., plus coverage for drivers hitting the road in Mexico. So chances are, it's an option in your area. It can offer competitive rates because everything is exclusively sold online or over the phone, keeping expenses low.
That said, insurers that cover high-risk drivers generally charge more than insurers that cover low-risk drivers. So if you have a good driving record, excellent credit score and are considered a safe driver to insure, you'll likely find cheaper coverage elsewhere.
This review focuses on:
The General offers competitive coverage options to high-risk drivers
Non-standard insurers, like The General, provide coverage to high-risk drivers. According to its website, The General says "yes" when other insurance providers say "no." If you're struggling to find an insurer that will offer you coverage because you're a high-risk driver, you may have better luck with The General. It offers non-standard insurance for applicants who usually have a difficult time finding affordable coverage. The General is a subsidiary of PGC Holdings Corp., which is an affiliate of American Family Insurance.
The General may be the right fit for drivers who:
The General offers fundamental coverage options but nothing fancy
The General offers coverage options you'll likely find at most national auto insurance companies. You'll find all the options you need for full coverage, but you may be left craving additional policy options (like rental car or gap insurance). Options may be more limited because it is a non-standard insurer. Auto insurance coverage options with The General include the following:
Liability
Liability coverage is legally required in most U.S. states and covers the cost of bodily injury and property damage caused in a car crash. It covers expenses for the other party affected in an accident, not your injuries or damages to your car.
Comprehensive and collision
Comprehensive coverage pays for damages to your vehicle caused by something other than a crash or collision with another vehicle. This is also known as an "act of God." For example, if a broken tree branch falls on your car and causes damages, this is covered by a comprehensive policy.
Collision coverage helps cover repairs to your car after it's involved in an accident with another vehicle. It also applies when your car is parked and someone hits it.
Uninsured motorist
Uninsured motorist coverage applies when you're hit in a car accident by a motorist who does not have liability insurance. It also protects the victim of a hit-and-run accident.
The General's average insurance rates compared to standard providers
The General's rates are significantly higher than other provider rates. However, that's compared to insurers that provide coverage to drivers who are not high-risk. The General offers policies to high-risk drivers (non-standard), who face more expensive rates no matter what company insures them. So, compared to a standard insurance company, The General's rates may seem high. But for a high-risk driver, The General offers rates that are similar to or better than other non-standard insurers. If you're not a high-risk driver, you'll likely find cheaper insurance at a standard company.
This is how much policyholders with The General may pay compared to policyholders with standard insurers: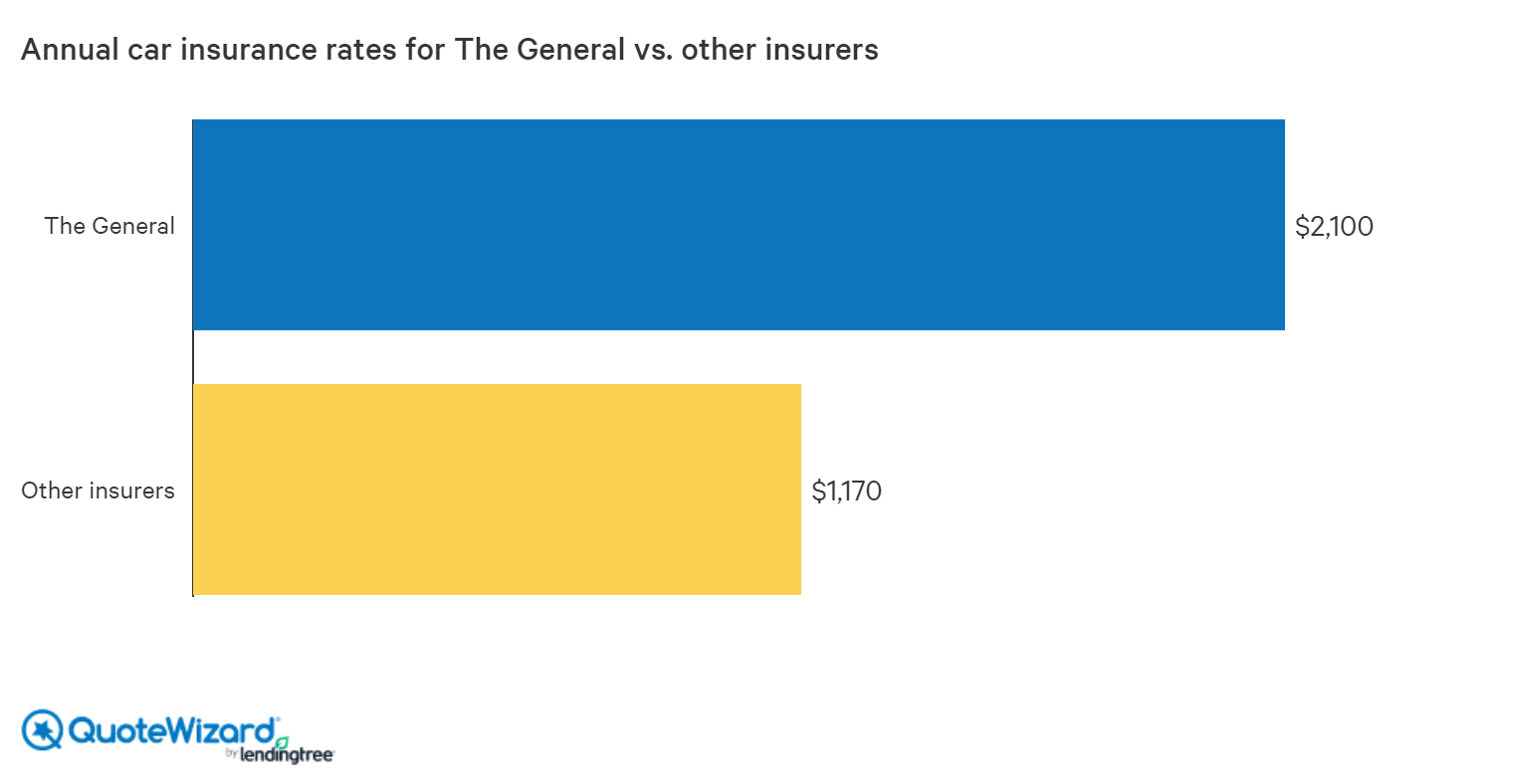 Note: These rates are based on estimates from Quadrant Information Services.
Our data shows that policyholders with The General pay $2,100 annually for car insurance, whereas policyholders with standard insurance companies pay $1,170 annually. That's a difference of $930 per year, or about $78 monthly. That's because The General insures high-risk drivers, whereas standard insurers cover low-risk drivers.
It's important to shop around for quotes from several insurance companies before landing on a provider. If you have a poor credit score, accidents on your record and are new to insurance, The General may offer the cheapest policy for you. However, if you have an excellent credit score and good driving record, The General may not offer the most competitive rates for you.
Discounts with The General car insurance
Like many insurance providers, The General offers discounts to help mitigate the cost of car insurance. These are some discounts you can access at The General:
The General has a high rate of customer complaints for a non-standard insurer
Compared to other non-standard auto insurance providers, The General had a significantly higher than average company complaint index from the National Association of Insurance Commissioners (NAIC) in 2018. The General had the highest (worst) complaint index when compared to four other non-standard insurers.
Company Complaint Index for Non-Standard Insurers (2018)

| Company | Company Complaint Index in 2018 |
| --- | --- |
| GEICO Casualty | 1.2 |
| GAINSCO | 1.57 |
| Kemper | 1.86 |
| Average for non-standard insurer | 1.9 |
| Bristol West | 2.17 |
| The General | 2.67 |
Customer service is an important element to consider when choosing your insurance provider. Being involved in a car accident is stressful enough as it is. Adding an uncooperative agent or difficult claims process only increases that stress. Good customer service makes the process significantly smoother.
The General's financial ratings
The General is underwritten by Permanent General Assurance Corporation, Permanent General Assurance Corporation of Ohio and The General Automobile Insurance Company Inc.
The insurance companies that underwrite policies for The General have a financial stability rating of A (excellent) from AM Best.
Methodology
The quotes used for the chart titled "Annual car insurance rates for The General vs. other insurers" are for a base driver who is a 35-year-old, single male who is employed and has a bachelor's degree and an excellent credit score. He drives a 2012 Honda Accord LX with an annual mileage of 16,000 miles. The driver has 100/300/50 coverage limits with a $1,000 deductible.
We used this driver profile to compare rates across several ZIP codes in Utah and New York, then found the average for The General's subsidiary provider, Permanent General Assurance Corp.
Bottom line
The General is a good option for high-risk drivers with a spotty insurance history and/or violations and accidents on their driving record. But you should shop around and compare several non-standard insurers before deciding. You might find a company with cheaper rates or better customer service ratings.
References:
QuoteWizard.com LLC has made every effort to ensure that the information on this site is correct, but we cannot guarantee that it is free of inaccuracies, errors, or omissions. All content and services provided on or through this site are provided "as is" and "as available" for use. QuoteWizard.com LLC makes no representations or warranties of any kind, express or implied, as to the operation of this site or to the information, content, materials, or products included on this site. You expressly agree that your use of this site is at your sole risk.