Car Insurance Limits
Car insurance coverage limits aren't a fun topic to read about. But you need to understand them if you want to know whether you're properly insured.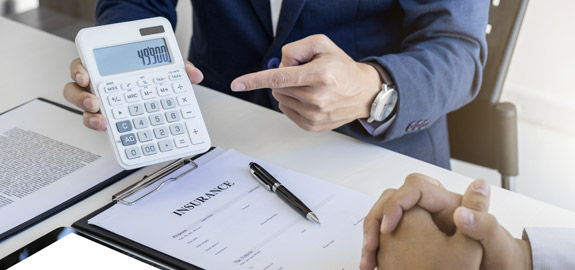 Coverage limits refer to the maximum dollar amount of coverage that an auto insurance policy provides. These policies include multiple coverage types, which can and should, have different maximum coverage limits.
The Basics of Auto insurance Coverage Limits
Below is a list of the different types of auto insurance coverage and some thoughts about coverage limits for each one. Depending on the state, some of these coverage types may be required, some may be optional, and some may be unavailable.
Bodily Injury. If you cause an accident that injures someone, they could file a lawsuit. Make sure you have enough liability coverage to protect all of your assets
Property Damage Liability - If you hit and damage an expensive car, your liability minimums may not be enough to cover the damage
Collision. This covers your own car in an accident. If you have a newer car, we suggest a higher limit and lower deductible. If it's an older car, lower the limit or consider no collision insurance. Collision insurance is usually not legally required, but lenders financing new vehicles will typically require it
Comprehensive. Covers the cost of repairs made to your vehicle that are not the result of an accident. This covers mishaps like theft, flood, or fire. Comprehensive coverage, like collision coverage, is also usually not legally required, but lenders financing new vehicles will typically require it
Medical Expenses. This coverage pays the medical expenses of the driver and any passengers in your vehicle at the time of an accident
Personal Injury Protection (PIP). This coverage pays for medical expenses for you and your passengers, regardless of who was at-fault in the accident
Uninsured/Underinsured Motorist. Some states legally require this type of coverage. It kicks in if you're in an accident and the other driver has no insurance, or not enough insurance. It usually only applies to bodily injury liability coverage, but in some states, it covers property damage liability as well
The shorthand for insurance policy limits used by insurers looks like this: 25/50/25. This means, the coverage limits would be:
$25,000 for one person's injuries
$50,000 for everyone's injuries
$25,000 for all property damage in the accident
While it's smart to have high limits, more coverage means higher rates. Make sure you compare quotes from multiple insurance companies so you don't overpay for protection you may never need.
New car versus older car
The age of your vehicle is an important factor to consider when deciding on coverage limits. This is especially true for collision and comprehensive coverage. Most states don't legally require collision and comprehensive coverage. However, you should protect the investment of your new car. We recommend keeping collision and comprehensive coverage in your policy even if you paid cash for your new vehicle. You should also keep them if your finance company didn't require it.
Be aware of your coverage limits as your car ages. At some point collision and comprehensive coverage won't make sense. We suggest dropping this coverage on cars worth less than ten times the annual cost of the collision and comprehensive coverage.
You should never drop liability coverage. An accident can lead to huge costs no matter how much your car is worth. A lawsuit due to lack of coverage could leave your assets at risk. Additionally, your state almost certainly requires liability insurance to operate a vehicle.
State mandated limits
Almost every state in the U.S. requires drivers to have a minimum level of liability auto insurance coverage. However, even in New Hampshire, where it isn't required, the majority of drivers have liability coverage.
Most drivers need more than the state mandated minimum coverage. We recommend liability coverage limits of at least $100,000 for one person injured in an accident and $300,000 to cover everyone involved.
Please visit our Minimum Car insurance Coverage Requirements by State article for more information.
Car  Insurance Limits Q & A
Q: What are typical auto insurance coverage limits?
A: The following limits are typical of well-insured drivers.
Bodily injury $100,000 per person
$300,000 per accident
Property damage $100,000 per accident
Uninsured motorists $100,000
Underinsured motorists $100,000
Q: What if a policy doesn't fully cover the property damage in an accident?
A: Many states only require a small amount of property damage coverage. Some states require as little as $5,000! That won't cover much, especially if a car is totaled. If you're the at-fault driver and your insurance doesn't cover the other driver's costs, they can sue you for the difference between what your insurance covers and their losses. That's something important to consider when making decisions about your insurance coverage limits.
Q: Do I need an umbrella policy or should I increase my liability limits?
A: It depends on your finances. We suggest adding up all of your current assets and plus the amount you expect to earn over the next five years. This is the amount you'll want an umbrella insurance policy to cover. You may or may not have a large enough amount to warrant an umbrella policy. Your agent should be able to provide specific recommendations for you.
References:
QuoteWizard.com LLC has made every effort to ensure that the information on this site is correct, but we cannot guarantee that it is free of inaccuracies, errors, or omissions. All content and services provided on or through this site are provided "as is" and "as available" for use. QuoteWizard.com LLC makes no representations or warranties of any kind, express or implied, as to the operation of this site or to the information, content, materials, or products included on this site. You expressly agree that your use of this site is at your sole risk.