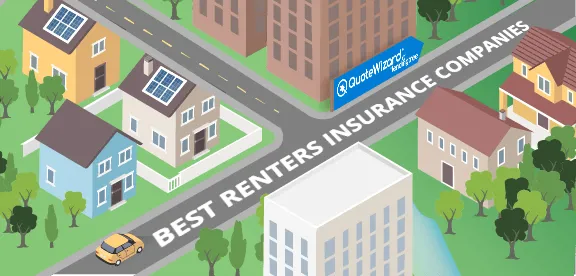 Our rankings of the best renters insurance companies in the U.S. considered 16 companies. We ranked them based on policy offerings, customer satisfaction surveys, consumer complaint information and cost. These were our top picks for 2020 and why we chose them:
Company
The best…
Overall customer satisfaction*
2018 NAIC Complaint Index (lower is better)
Minimum coverage
Maximum coverage
Erie
Overall value
3/5
0.20
–
–
Allstate
Online quote experience
3/5
0.29
$25,000
$150,000
Lemonade
Cheap option
–
–
$10,000
$250,000
State Farm
For young renters
3/5
0.20
$2,000
$1,000,000
Toggle
For college students
–
–
$1,000
$70,000
The Hartford
For senior renters
4/5
0.94
$15,000
$2,000,000
USAA
For veterans
5/5
0.15
–
–
Farmers
Runner-up
3/5
0.37
$4,000
$100,000
*According to 2019 J.D. Power property claims study.
Erie: best overall
Erie Insurance is our pick for the best renters insurance company due to its performance across all categories in satisfaction surveys and its availability. It received a 4/5 in claim servicing and damage estimation process in J.D. Power's 2019 property claims satisfaction study. Additionally, Erie had a 2018 NAIC Complaint Index (which measures complaints relative to a company's size) of 0.20. This is one of the lowest, and therefore best, numbers you'll find. 
Companies that got better customer satisfaction scores on J.D. Power's survey weren't widely available. Erie is the best-rated company that is also comparatively large. The other top-performing companies in the survey were either small or have requirements for qualifying. Erie is available in the District of Columbia and 12 states: Illinois, Indiana, Kentucky, Maryland, New York, North Carolina, Ohio, Pennsylvania, Tennessee, Virginia, West Virginia and Wisconsin.
Allstate: best for online quotes
Of the 16 companies we tried to collect quotes from online, Allstate had the best online quoting experience of any major provider. If you prefer to shop online and compare costs, or value an easy-to-use interface, we recommend considering Allstate. The online quote process involved submitting personal information like age and marriage status, and characteristics of your home like type of building and security features. 
In a matter of minutes, Allstate's site showed us three options: a basic, standard or enhanced plan, all with a quoted price. We could then alter the coverage specifics and recalculate the quote price. For example, we chose a higher deductible and saw the monthly price drop, and increased property protection and saw the price increase. This experience is what gave Allstate our top spot for online quotes.
Lemonade: best cheap option
Lemonade foregoes agents and brokers for artificial intelligence and chatbots, providing a technology-first approach to insurance. The limited agents and representatives, combined with Lemonade's willingness to undercut the renters insurance market as a new company, allows it to offer one of the cheapest renters insurance policies around.
Lemonade makes getting renters insurance a no-frills, simple and quick experience. However, Lemonade's focus on technology comes at the cost of some traditional services, like availability of live support. While Lemonade does provide it, it prefers to direct users to its mobile app for inquiries. As of January 2020, Lemonade is in 27 states, including states throughout the East and West Coasts, Southwest and Midwest. Lemonade's website says it plans to continue expanding into new states, so we recommend checking its site for updated availability.
State Farm: best for young renters
State Farm had the lowest minimum coverage options of any company we surveyed, with property protection starting at only $2,000 of coverage. Low minimum coverage limits are good for young renters who may not have a lot of belongings, as it allows you to avoid paying for coverage you don't need.
Additionally, State Farm is the largest property and casualty insurance company in the U.S., which means you'll most likely be able to find an agent close to you to help you through the process. Having an agent to answer your questions can come in handy for people who are purchasing their first property insurance policy.
Toggle: best for college students
Toggle, a brand of Farmers, is our pick for college students because it provides customizable coverage and low policy limits, and can act as a supplement to your parents' insurance. Students who live in housing owned by their university usually legally reside at their home address, meaning they're often covered by a parent's homeowners or renters insurance policy. However, if this is not the case or you need to augment your coverage, Toggle is a good option.
Toggle insurance policies do not include additional living expenses. That means if you are unable to remain in your residence after a loss and are responsible for finding your own housing, your renters insurance policy won't help you pay for the extra costs incurred. But for students in university-owned housing, this most likely won't be a problem. Toggle makes it easy to select the exact coverage you need and prevents students from over-paying for coverage they don't need.
The Hartford: best for older renters
The Hartford specializes in insurance products for customers over 50, especially AARP members, making it a great option for older renters. The Hartford's partnership with AARP makes it easy for members to take advantage of its industry-standard coverage with decent customer service. We saw coverage options starting at $15,000 and going up to $2 million, meaning you'll likely be able to find a range of coverage that fits your needs.
On the customer service front, The Hartford performed very well on J.D. Power's 2019 property claims satisfaction study. With an overall score of 4/5 and consistent ratings across all categories, The Hartford was one of the best-scoring companies. The Hartford's 2018 NAIC Complaint Index tells a slightly different story, where it had a 0.94. This is still better than the national average of 1.0, but is one of the higher numbers of the companies we surveyed.
USAA: best for veterans
USAA is only available to active military service members, veterans and their families, but USAA renters insurance is some of the best around for those who qualify. That's because USAA's coverage and customer service is top-notch, providing the unique protection veterans and service members need. Standard renters insurance through USAA covers flood and earthquake damage, which are features we rarely see, and puts USAA in a bracket of its own.
In J.D. Power's 2019 property claims satisfaction study, USAA received a 5/5 in overall satisfaction — one of only two companies with the maximum score in the category. This suggests that every part of the claims process — settlement, speed and servicing — was above average at USAA. J.D. Power's survey is backed up by USAA's 2018 NAIC Complaint Index of 0.15, the lowest of any company we surveyed.
Farmers: another solid choice
We couldn't leave Farmers off our list with its above-average customer service, policy options and availability. Farmers performed strongly in J.D. Power's annual property claims satisfaction survey, with a 3/5 in overall satisfaction and 4/5 for its repair and settlement process. This ranking is supported by its NAIC Complaint Index of 0.37 in 2018.
Renters insurance is one of the most affordable insurance products to begin with, and many companies offer further discounts. Farmers is no exception, with the opportunity to save by bundling policies, living in a smoke-free home or having a security system or fire alarm. Farmers offers insurance products in all 50 states, and as one of the biggest property and casualty insurers in the nation, you'll likely be able to find a local agent.
Renters insurance cost and coverage
We found that the average cost of renters insurance in the U.S. is $180 a year, making it one of the most affordable insurance products. Rates vary by state, ranging from $258 a year in Mississippi to $120 in North Dakota. To get a better sense of how much renters insurance costs based on your location and coverage amount, check out our comprehensive study on renters insurance costs.
For that low cost, renters insurance usually provides four coverages: personal property, personal liability, medical payments to others and loss of use, which are summarized below.
Renters insurance coverages

| Coverage | What it covers |
| --- | --- |
| Personal property | Your belongings |
| Personal liability | Legal and medical costs if you are sued |
| Medical payments to others | Medical expenses if a guest is injured in your home |
| Loss of use (also called additional living expenses) | The additional cost of living if you are unable to remain in your home after an event |
Is renters insurance required?
Renters insurance is not required by law, but your landlord can require it as part of your lease. Even if your landlord doesn't require you to have a policy, we still recommend purchasing a policy, as we think it's one of the most worthwhile insurance products around. The combination of low cost — $15 a month on average — and expansive coverage makes the value hard to beat.
Frequency asked questions
Q: How much does renters insurance cost?
A: The average cost of renters insurance is $180 a year according to our study, but costs vary based on your location and coverage amount.
Q: What's included in renters insurance?
A: Renters insurance covers more than your belongings: a standard policy includes coverage for personal property, liability, medical payments to guests and additional living expenses. Check out our renters insurance basics for more information.
Q: Can my landlord require me to buy renters insurance?
A: Yes, your landlord can require you to purchase renters insurance as part of the lease agreement. Luckily, renters insurance tends to be affordable.
Methodology
We gathered data and renters insurance quotes from the following 16 companies: Allstate, American Family, Auto Club of Southern California, Erie, Farmers, Geico, The Hartford, Lemonade, Liberty Mutual, MetLife, Nationwide, Roost, State Farm, Toggle, Travelers and USAA.
We evaluated these companies based on:
Policy limits
Cost
Consumer satisfaction surveys
Customer complaint data
Policy and cost information were collected manually for each company. The consumer satisfaction surveys used were J.D. Power's 2019 home insurance satisfaction survey and J.D. Power's 2019 property claim satisfaction survey. Complaint data was sourced from the National Association of Insurance Commissioners.
Our goal was to balance the four criteria in order to recommend companies that we think provide the best renters insurance product.
QuoteWizard.com LLC has made every effort to ensure that the information on this site is correct, but we cannot guarantee that it is free of inaccuracies, errors, or omissions. All content and services provided on or through this site are provided "as is" and "as available" for use. QuoteWizard.com LLC makes no representations or warranties of any kind, express or implied, as to the operation of this site or to the information, content, materials, or products included on this site. You expressly agree that your use of this site is at your sole risk.