Why Homeowners Need Landslide Insurance Coverage
Standard homeowners insurance policies usually don't cover landslide damage. Luckily, 'Difference in Conditions' policies do cover it. Here's what that means and how you can get it.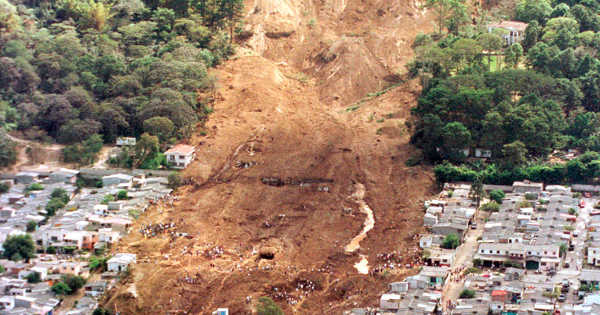 Standard homeowners insurance policies can be deceiving. While they might say they provide coverage from "all perils," landslides are often excluded. In fact, most policies exclude damage from landslides, mudslides, and mudflows.
What are you supposed to do if you live in an area prone to these acts of nature? Buy a separate catastrophic insurance policy.
We'll discuss below all that it covers, how much it costs, how you can buy it, and even how you can protect your house and property from landslide damage.
Before we get to that, though, let's first discuss landslides.
What is a Landslide?
According to the Insurance Information Institute, a landslide is "caused by the movement of destabilized land—due either to gradual erosion or an accumulation of water." It's also considered an "earth movement," which is excluded from most homeowners policies. (Also excluded from most policies? Subsidence, which the US Geological Survey describes as "gradual settling or sudden sinking of the Earth's surface owing to subsurface movement of earth materials.")
In fact, according to the Washington State Office of the Insurance Commissioner, standard home insurance policies won't cover earth or land movement or landslide damage caused by:
So living in an area prone to landslides—such as on or near the side of a cliff or hillside—often warrants buying an extra landslide insurance policy.
What is Landslide Insurance?
Landslides are unpredictable. Plus, they make the surrounding area extremely unstable. Because of those facts, and because landslides cause a lot of costly damage, most insurers exclude them as a covered peril.
Luckily, there are options for homeowners in this situation. The main one isn't actually called landslide insurance, however. Instead, it's known as a "Difference in Conditions" (DIC) policy.  
Those who live in areas susceptible to landslides should consider a DIC policy. It covers major catastrophic events not usually covered by standard homeowners insurance. That includes landslides, mudflow, floods, and earthquakes.
Keep in mind you'll only be able to purchase these policies through the surplus lines market. The surplus lines market sells high-risk insurance that standard companies won't provide. For example, they sell policies to people who live on steep slopes, or in areas prone to landslides.
The catch here? DIC policies can be quite pricey, and they often don't provide full, comprehensive coverage.
Kenton Brine, the NW Insurance Council's president, says, "The cost to include coverage for an unpredictable but potentially devastating risk in a standard homeowners or renters policy would make the premium paid by the consumer prohibitive. The great majority of property owners do not need landslide coverage—but those who are at risk … should consider it."
What Does a DIC Policy Cover?
The DIC policy covers high-risk perils that a basic homeowners insurance policy won't cover. Most standard policies don't cover loss from floods, earthquakes, mudslides, or landslides. The reason being that these catastrophic events have the potential to cause too much damage for one insurance policy to cover.
That's where a DIC policy comes into play. It covers the landslide damage that a generic policy won't cover. The downside? It's much more expensive than a generic policy.
How Much Does a Difference in Conditions Policy Cost?
Difference in Conditions policies can be expensive. A big reason for that: the deductibles tied to this policy are based on a percentage, rather than a fixed amount.
Specifically, they'll usually equal 5 percent to 20 percent of the replacement cost of your home. So if your home's replacement cost is $300,000, and your DIC policy's deductible is 5 percent, you'll pay $15,000 out of pocket before your insurance kicks in. And this is just the deductible. Premiums usually cost anywhere from a few hundred to a few thousand dollars per year.
Also, this type of policy doesn't cover the cost of stabilizing the ground after a landslide. Nor does it cover safety updates needed to ensure future damage isn't done to the home.
In plain and simple terms, it only covers the cost to rebuild the home to its original conditions, and doesn't cover the cost to add new features.
Given that, Carole Walker, executive director of the Rocky Mountain Insurance Information Association, doesn't recommend building or buying a home in an area prone to landslides. "Understand … [you] would be buying a high-risk policy, which has high deductibles and is very expensive. So you really need to consider the risk … because certainly you're going to be looking at paying out of pocket or litigation with the developer."
She has seen far too many people go through litigation with their home developer because they didn't know they were building a house in a landslide-prone area. Her advice: be cautious about where you build or purchase a home. That's the best way to avoid paying an endless amount of money on premiums, or worse, legal fees.
How Do I Purchase a Difference in Conditions Policy?
You can buy a DIC policy through a surplus line insurance agent or broker. If you're not sure how to find such a person, check with your state insurance commissioner's office.
Another option is to talk with someone at your homeowners insurance company about how you can purchase this kind of policy.
Other Landslide Insurance Coverage Options
While a DIC policy is the most popular option for homeowners worried about landslides, it isn't the only one. Another option is something known as a content coverage rider.
This is an endorsement to your standard homeowners insurance policy that covers the contents of your home. It also covers perils such as land movements—which includes landslides.
Unfortunately, not all insurance companies offer this coverage. Check with your current carrier to see if it does. If it doesn't, shop around for a new home insurer and policy.
Consider Flood and Earthquake Coverage Too
Along with a Difference in Conditions policy for landslides, you may also want to buy flood and earthquake insurance. Why? The waters can get quite murky when determining which peril damaged a home.
According to the Washington State Office of the Insurance Commissioner's Kara Klotz, "Landslides are often triggered by an earthquake or flood [or] mudflow, so making sure you are covered in the event of a landslide can be tricky."
For example, a DIC policy should cover mudslide and landslide damage. If a mudflow damages your home, though, you'll need flood insurance.
What if an earthquake causes a landslide that damages your house? Brine says earthquake coverage probably won't be of any help, as it's "a product to provide coverage for damage to your home due directly to an earthquake. It does not include damage to your home from a landslide, even if the landslide may have been the result of an earthquake."
Similarly, he adds, "if an earthquake destroys a dam and the resulting flood damages your home, only flood insurance will provide coverage."
US Regions with Highest Landslide Risk
There's no question some US regions are more susceptible to landslides than others. For example, Brine says elevated regions such as coastal bluffs and hilly areas with frequent rain are more likely to be hit by them.
If you're worried you live in a landslide hotbed, the US Geological Survey has an interactive map showing areas of high risk.
And if you're thinking about purchasing a home, Brine shares that "your lending institution may require a geological survey and DIC policy in place before they will provide financing."
Of course, it's also a good idea to do some research on your own. Then you'll know what you're getting yourself into and not be totally surprised if a landslide damages your home.
Frequently Asked Questions
Q: What's the difference between a landslide, mudslide, and mudflow?
A: Both landslides and mudslides are considered earth movement, while mudflow is from an excess buildup of water and soil.
Q: Even if I don't live in an area that's prone to landslides, could one happen anywhere?
A: Klotz says the answer is yes. "Landslides can happen in areas where they are not expected. For example, Oso, Washington, experienced a devastating and deadly landslide in March 2014 with no warning."
However, if you live on flat, arid land, your risk for landslide will be miniscule compared to someone living on a hillside.
Q: Are any parts of the US especially prone to landslides?
A: Yes, according to Brine. "In general, coastal areas, hilly regions where mountains are undercut by river valleys, and areas of the country where the soil is often damp [or] soft—like Florida, where there are many sinkholes—are more prone to non-earthquake earth movement." Meaning they are more prone to landslides.
Q: Why doesn't standard homeowners or renters insurance cover landslide damage?
A: Landslides can be catastrophic, which means they could cost insurers hundreds of thousands of dollars. For this reason, many insurers opt out of covering them. That's why you have to purchase a Difference in Conditions policy if you need landslide insurance coverage. Check with your homeowners insurance provider about how to purchase a DIC policy.
QuoteWizard.com LLC has made every effort to ensure that the information on this site is correct, but we cannot guarantee that it is free of inaccuracies, errors, or omissions. All content and services provided on or through this site are provided "as is" and "as available" for use. QuoteWizard.com LLC makes no representations or warranties of any kind, express or implied, as to the operation of this site or to the information, content, materials, or products included on this site. You expressly agree that your use of this site is at your sole risk.