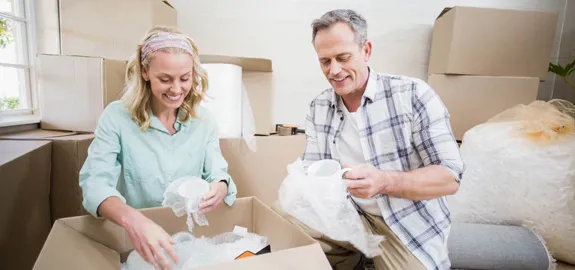 As a renter, you have the option to buy insurance that protects your valuables and offers liability coverage. Renters insurance also covers you and your valuables away from home. And it's very affordable!
As you age, it's important to take precautions when it comes to the valuables you've collected over time. Making sure you're covered if something happens to your visitors is also crucial. Most seniors have fixed incomes, meaning they don't have disposable income to cover unexpected accidents. That's why many insurance companies offer renters insurance.
Maybe you decided to sell your home as you got older or you've been renting your entire life. Either way, this article outlines what seniors need to know about renters insurance.
What Does Renters Insurance Cover
You might be surprised to find out that renters insurance covers a lot of different things. That includes damages to your personal property from theft, fire, windstorm, vandalism, hail, and lightning.
It also covers your liability, in case someone gets hurt in your home. If a guest has a painful fall in your house or gets hurt by your pet, renters insurance has got you covered.
And if you cant live in your home because of a storm, for example, renters insurance will help you pay for alternative living arrangements.
How Much Does Renters Insurance Cost?
An average renters insurance policy can start at just over $10 a month. But insurance costs differ from person to person, depending on a lot of factors.
Location: Living in an area with lower risk of natural disasters, a safer neighborhood, or outside of a city can all lower costs. See how location impacts cost here.
Crime: Do you live in an area with a high crime rate? Unfortunately, this could raise the cost of your insurance. Statistically, cities have higher crime rates, and some neighborhoods are safer than others. If you're on the rental market, try to find a safe place to keep costs low.
Safety: If your rental home has features like deadbolts, a security system, alarms, and sprinklers you're in luck. Insurance companies take these features into account and you'll have lower costs.
Coverage levels: Like all forms of insurance, coverage levels are directly linked to the price of your premium. Actual Cash Value (ACV) and replacement cost will also affect your coverage levels and costs. Your deductible is also an important factor in the price of your renters insurance.
Credit score: Your credit score is another factor in the cost of your renters insurance. If you have a low credit score, rates could be higher and vice versa. Find out how credit score impacts renters insurance here.
Why Seniors Need Renters Insurance?
First off, any person who does not own their home needs renters insurance. It's that simple. It's affordable, and it offers a wide range of coverage. Getting renters insurance is a no-brainer. But there are several reasons that senior citizens in particular need renters insurance.
You live in a senior community
Owning a home requires maintenance and upkeep, so some homeowners sell their homes as they get older. Some seniors rent for their entire lives. Many folks choose to live in assisted living or retirement facilities.
You own your furniture
Many assisted living homes provide furniture in resident rooms, but some folks choose to bring their own. If you furnish your own space, it's a good idea to get renters insurance because your senior community won't reimburse you for damage.
Physical liability protection
People who move into assisted living facilities lose their personal liability insurance. Assisted living facilities have insurance policies, but they don't provide liability protection to the tenants. Renters insurance is still a necessity.
Assisted living homes usually have their own insurance coverage, but that often doesn't extend to resident rooms. You should get your own liability coverage (included with renters insurance) if you have guests in your room. Especially if they're young (like grandchildren), or fellow senior residents.
You have a pet
Many senior living communities allow residents to bring their furry friends. But they don't cover liability costs if your pet hurts somebody.
If your pet scratches a nurse or bites a visitor, you're liable for medical and legal costs. These costs can be huge and deplete your retirement fund. Or if a family member visits with the family dog, you could be held liable for their pet's actions.
You have valuable heirlooms
Seniors tend to have heirlooms that they've acquired over their lives. These possessions don't just have emotional value. Renters insurance covers your precious objects in case of a disaster or burglary. In general, it covers up to $1,500 in valuables. If you have something more valuable, get a floater for more coverage.
You have guests over often
In addition to covering valuables, renters insurance serves as liability protection. This helps pay for medical expenses if someone's injured in your home. That includes dog bites.
Since seniors are at higher risk for accidents and falls, renters insurance is especially helpful. Renters insurance won't cover your medical expenses (you need health insurance for that), but will cover you from medical and legal costs if a friend or grandchild gets hurt.
The good news is that renters insurance is pretty affordable. According to the National Association of Insurance Commissioners, in 2014 the average renters insurance policy cost less than $16 per month.
What Renters Insurance Doesn't Cover
Yes, renters insurance covers plenty of different things. But not everything is covered, including the following:
Floods
Earthquakes
Cars
Your roommate's stuff
Personal business items
Expensive items over a set amount
Pests
Damages caused by your landlord
Acts of war and terrorism
Sinkholes
Damage caused by tenants
Who Offers the Best Renters Insurance?
J.D. Power's study found that renters insurance customers of the following companies have the highest overall satisfaction:
Frequently Asked Questions
Q: Does my assisted living center's insurance cover my possessions and liability if something happens?
A: The answer is usually no. If the center furnished your room, their insurance will cover what they own. You should insure all possessions that aren't owned by the assisted living center.
Q: My assisted living center has insurance. Do I still need renters insurance?
A: Yes. The assisted living center's insurance policy probably only covers them. Your personal property and liability aren't covered by their insurance policy. You're only covered if you buy your own renters insurance policy. It's really affordable, so do it!
Q: Are my valuable possessions covered when I take them with me?
A: Yes! Renters insurance includes covering belongings outside of the home. If you carry your phone with you and it's stolen, this can be covered by renters insurance. That's one of the big benefits of renters insurance.
Q: Can I protect high-value items like artwork and jewelry?
A: Insurance companies include an average of $1,500 to replace valuable items. If you need more coverage you can purchase additional insurance for individual items. This additional insurance is called a "floater". You will usually need to get the item appraised before you add the extra insurance on.
QuoteWizard.com LLC has made every effort to ensure that the information on this site is correct, but we cannot guarantee that it is free of inaccuracies, errors, or omissions. All content and services provided on or through this site are provided "as is" and "as available" for use. QuoteWizard.com LLC makes no representations or warranties of any kind, express or implied, as to the operation of this site or to the information, content, materials, or products included on this site. You expressly agree that your use of this site is at your sole risk.