Compare Homeowners Insurance in San Diego
Are you a current or future homeowner in San Diego, California? Are you curious about the cost of a homeowners insurance policy?
Year-round sun and beautiful beaches make San Diego an attractive place to live. The city's popularity has led to a housing shortage. On top of that, homeowners insurance rates have suffered across California primarily due to wildfires.
Rising housing prices can spike the cost of home insurance. Couple that with California's penchant for expensive disasters, and you're facing expensive insurance coverage. If you own a home in San Diego, research the unique factors that make your home insurance rates fluctuate.
Average San Diego Home Insurance Rates
How much is home insurance in San Diego? According to Zillow, the median price of a San Diego home is about $600,000. To understand the price of a home insurance policy, we used the following sample home:
1,200 square foot home
2 bedrooms and 2 bathrooms
One story
Deadbolt locks
Fire extinguishers
Composite shingle roof
We got homeowners quotes from top insurance companies for standard coverage of this sample home. Based on that, these are the average rates for a San Diego home insurance policy:
$64.50/month
$774/year
The graph below shows the change in average California home insurance rates from 2011 to 2015, the most recent year the data is available. According to the III, California homeowners insurance rates increased from $967 in 2011 to $986 in 2015, a jump of $19 dollars, or 1.96 percent.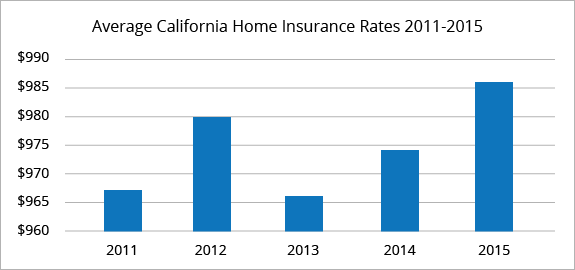 QuoteWizard helps consumers compare quotes from both national insurance companies and local agents. QuoteWizard can help you find affordable home insurance rates near San Diego, California.
Last year, many people used QuoteWizard to compare compare home insurance quotes in San Diego, CA from multiple companies to find the cheapest rates.
Best Home Insurance Companies in San Diego, CA
Most Popular Insurance Companies
Based on QuoteWizard users, these are the most popular San Diego homeowners insurance companies:
Geico
Farmers
Allstate
Liberty Mutual
State Farm
21st Century
Nationwide
AAA
Progressive
Safeco
Best Insurance Companies
The above list shows the most popular home insurers in San Diego according to our users. But popular doesn't always mean best.
Our study on the best home insurance companies focuses on top of the line companies. In no particular order, these companies stand out among the rest:
Amica: Best Overall
MetLife: Best for Bundling
Allstate: Best for Local Agents
Hartford: Best for Seniors
State Farm: Best for Pet Owners
Travelers: Best for Flexible Policies
Nationwide: Best Replacement Coverage
Farmers: Best for Eco-Friendly Homes
Liberty Mutual: Best for Quick and Easy Quotes
Auto Owners Insurance: Best Claims Experience
San Diego Home Insurance Rate Factors
Insurers use many factors to estimate your home insurance rates. Some of these factors you can control. Listed below you will find the most common components used in deciding your insurance rates:
Natural disasters: Insurance companies charge more to cover a house in a disaster-prone area. On average days, San Diego residents enjoy sunny weather without a cloud in sight. But San Diego, like most of California, endures wildfires and frequent earthquakes. In 2017 alone, the southern half of California saw an estimated 1,500 structures be destroyed. 57,000 acres burned in eight counties, all due to wildfires. California's expensive disasters raise insurance rates across the board.
Previous claims: The past doesn't always stay in the past. What does this mean? It means claims that you made on your previous house can follow you when you buy insurance for your new house. Also, if your house's previous owner filed multiple claims, you might face higher insurance rates. Why? A claim-heavy past for you or your house makes you statistically more likely to file future claims. A future claim means you will cost your insurer money in the future.
Proximity to emergency services: Fires in San Diego are common due to dry climate and severe wildfire season. The city prepares months in advanced for the wildfire season. In the event of a fire, your homes safety depends heavily on how close you live to a fire station. San Diego Fire Chief Brian Fennessy says that fires are the regions number one threat: "If you look over history the property loss and life loss has largely occurred during wildland fire," he says. In other words, expect to pay higher rates, especially after destructive wildfire seasons.
Dogs and pets: In 2015, there were over 15,000 liability claims made by homeowners for dog bites. An alarming four and half million people suffer dog bites These statistics are why insurers charge dog-owners more for insurance. Certain dog breeds are higher-risk than others and some housing complexes wont event allow them. Half of San Diego's residents own either a cat or a dog. 21.3 percent of San Diegans own dogs and 9.2 percent own both.  These numbers are close to the percentage of people in the nation who own dogs, so you could say that San Diego is a Dog-City. If you're a homeowner with a dog, particularly a risky breed, be prepared to pay more for liability coverage.
Attractive nuisances: Pools, hot tubs, and even trampolines are an expensive liability. If you own one of these, you will pay more for home insurance. The reason? Normally, trespassers can't file liability claims if they hurt themselves on your property. But exceptions are made for fixtures, like pools, hot-tubs and trampolines. And it's not just trespassers: you and your guests are much more likely to get hurt when pools and trampolines are involved.
Coverage amounts: Coverage amounts play a big part in the cost of home insurance. You can choose a basic policy that covers the homes structure, belongings, liability, and living expenses. This is a cost-effective approach that works for most homeowners. But in the event of an incident you will procure more out-of-pocket costs. Additionally, people with unique homes, collectables, or high-value assets need more coverage. Naturally, additional coverage raises the price of a policy.
Home security and crime: It costs more to insure a home in an area rife with crime – especially property crime. In 2017, San Diego residents reported 35,836 crimes. Just over 30,000 of those were property crime. In San Diego, your chances of becoming a victim of property crime are 1 in 46, which is actually safer than the California average. That's a good sign for San Diego residents. If you're in a bad neighborhood, there are several steps you can take to lower your premiums by making your home more secure.
Credit history: If you have a bad credit history, you will probably pay more for home insurance. Luckily, San Diego residents have a good average credit. Of the 100 largest cities, San Diego ranked 18th, with an average credit score of 696.
Types of Homeowners Insurance
Listed below are the most common coverage types in the most areas, including San Diego: 
HO-1: Basic insurance that covers standard damages.
HO-2: Broad homeowners insurance that covers everything in HO-1. But also covers falling objects and damages to AC units. As well as pipes, and other household systems.
HO-3: Covers damage from all perils unless they are specifically excluded. Also covers unattached structures and liability.
HO-4: Provides belongings and liability coverage for renters.
HO-5: Comprehensive policy like HO-3 but with expanded coverage and less limitations for property claims. This is a premium policy.
HO-6: Covers possessions and provides liability for condo owners.
HO-7: Similar coverage as HO-3, but for mobile homes.
HO-8: Designed specifically for older homes, this policy provides similar coverage as HO-3. It can be tailored to suit the unique needs of older homes.
8 Ways to Save Money on Homeowners Insurance in San Diego
Now that you know how your homeowners insurance is priced, let's see what we can do to save money! Below are some tried and true ways to lower your home insurance premium:
Skip the Pool, Head to the Beach: As we said earlier, pools come with a high liability. Homeowners with pools pay more for their home insurance. San Diego is surrounded by beaches. Consider sticking to the beaches instead of getting a pool. It will save you money on your monthly premium.
Add safe technology: San Diego doesn't have a high crime rate. But the majority of the crimes reported in 2017 were property crimes. Technology helps stop possible disasters or burglaries before they happen. Security alarms can help keep your home safe and lower your home insurance rates.
Be a senior: After 65, you gain more benefits than just wisdom. Seniors get a lot more discounts, including home insurance. Seniors spend more time at home, which means they can notice a fire or leaky pipe before it spirals out of control. They also take better good care of their homes. In 2016, 1 percent of San Diego residents were seniors. This percentage is expected to rise to 20 percent by 2050.
Don't smoke: Since smoking increases the chance of an accidental house fire, smokers pay more for home insurance. According to the CDC, of the San Diego residents surveyed 1,700 or 13 percent of them were smokers. This is a slightly lower rate than the rest of the country.
Shop around: If you don't shop around and compare quotes from multiple companies, you could be throwing money away. Each insurance company offers different rates and discounts. You might be paying more for coverage levels that you can purchase from another company. Plus, insurers regularly raise rates because they believe homeowners won't shop around. Be sure to compare quotes from different home insurance companies in San Diego.
Avoid claims: Avoiding claims isn't always easy. That's especially true if you live in a disaster-prone area. However, the more claims you file, the more your insurance premiums increase. If you file several claims, your insurance company may cancel or refuse to renew your policy. To save money, we encourage only filing claims when absolutely necessary.
Raise your deductible: A fast way to lower your monthly premium is to raise your deductibles. Depending on your personal needs and your risk aversion, a high deductible may make sense for you. If you think you can pay at least $2,000 in the event of a claim, it might be a good bet for you. Remember that there's a lot to consider when choosing your home insurance deductible.
Bundle: Staying loyal to one insurance company can really help lower your home insurance cost. If you buy more than one insurance policy with the same company, you can earn big discounts. Try bundling your homeowners and your auto insurance with one company and you can save 20 percent on your premium.
QuoteWizard.com LLC has made every effort to ensure that the information on this site is correct, but we cannot guarantee that it is free of inaccuracies, errors, or omissions. All content and services provided on or through this site are provided "as is" and "as available" for use. QuoteWizard.com LLC makes no representations or warranties of any kind, express or implied, as to the operation of this site or to the information, content, materials, or products included on this site. You expressly agree that your use of this site is at your sole risk.