Find The Best Homeowners Insurance Companies in California
With wildfires devastating hundreds of thousands of acres every year, California homeowners need no reminder of how important home insurance can be. But finding the best company and rates for you can be difficult.
We ranked the top companies in California based on their affordability, customer satisfaction ratings, policy coverage and availability. After reviewing policies and analyzing more than 4,000 quotes, there were a few standouts for the best homeowners insurance companies in California:
Auto Club of Southern California: best value home insurance company
Our research indicates that Auto Club of Southern California provides the best value home insurance in California, with its fair rates, above-average customer service and standard coverage. Auto Club is an AAA insurer, meaning you'll need an AAA membership to qualify. Becoming a member unlocks many benefits, like roadside assistance and travel discounts.
Auto Club's average homeowners insurance rate is $1,629 a year, according to our research, which is just below the California average. Those reasonable rates buy you industry standard coverage, and you'll also have the option to add additional coverages or reduce your rates with discounts. For example, Auto Club advertises up to 16% savings on auto insurance and 20% on homeowners insurance when you bundle the two.
Auto Club received a 4/5 in overall satisfaction in J.D. Power's 2019 home insurance study, putting it in the top five companies in the nation. That indicates a high level of customer service. The combination of fair rates, high satisfaction scores and member benefits makes Auto Club of California a great all-around insurer.
Compare quotes from the top insurers in California!
Mercury Insurance: cheapest rates
We found that Mercury Insurance had the cheapest homeowners insurance rates in California, at an average of only $1,128 a year. That puts Mercury's rates at almost 50% below the state average. Mercury writes 5% of the homeowners insurance policies in the state, making it a smaller player than some of the other companies on our list.
Mercury's rates remain affordable across many of California's most populated areas, as the graph below shows.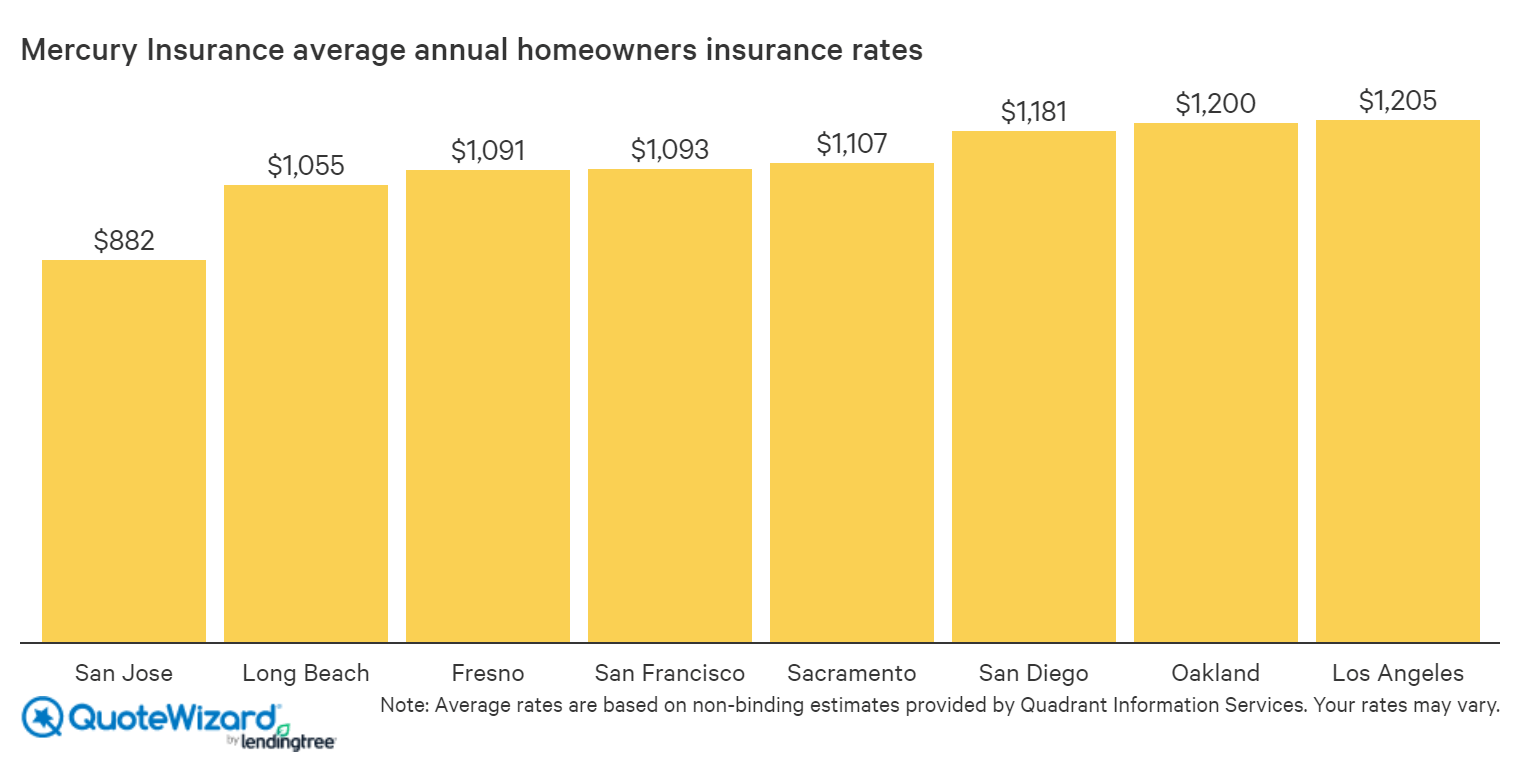 Finding low-cost homeowners insurance doesn't matter unless you're getting the coverage you need. Comparing companies is one of the best ways to save money on your homeowners insurance premiums while making sure you get the coverage you need.
State Farm: best for bundling home and auto
If you want to bundle your homeowners and auto insurance, we recommend State Farm because of its consistent service across both types of insurance. State Farm's overall customer satisfaction rating for homeowners and auto insurance was 4/5 in 2019, according to J.D. Power. Those are high scores, especially across two types of insurance.
State Farm advertises that customers who switched saved $854 a year by bundling home and auto insurance, or 17% on auto insurance. In addition to substantial savings, bundling can be a great convenience, as it puts both of your insurance policies under one roof.
USAA: best homeowners insurance for military families
USAA's services, including its homeowners insurance, are only available to military personnel, veterans and their eligible family members. We recommend USAA as the best home insurance option for those who qualify, as it offers best-in-class customer service and coverage at an affordable rate.
USAA's average rate is $1,835 a year, which is $151 above the California state average. But for that price, customers receive an excellent customer service experience: USAA had a 5/5 in overall satisfaction in the 2019 J.D. Power home insurance study, one of only two companies to receive the maximum score.
California is home to more than 1.5 million veterans — more than any other state. USAA meets the large population of veterans' unique insurance needs by providing specialized coverage. For example, USAA covers military uniforms and equipment if you are on active or reserve duty. USAA also knows that service members' living situations can change quickly, so it allows you to easily adjust your coverage.
Homeowners insurance companies in California
Many of the homeowners insurance companies in California are large, national insurers, but there are also a handful of local carriers. State Farm is the largest company in the state, accounting for 18% of all homeowners insurance policies.
Below are the top 10 most popular homeowners insurance companies in California, meaning you'll likely have at least a few of these companies as local options.
California home insurance companies
Company
Market share
Overall satisfaction rating* (higher is better)
2018 NAIC Complaint Index (lower is better)
State Farm
18%
4/5
0.94
Farmers
16%
3/5
0.46
CSAA Insurance (AAA insurer)
7%
3/5
1.12
Liberty Mutual
6%
2/5
0.53
Auto Club of Southern California (AAA insurer)
6%
4/5
0.65
Allstate
6%
3/5
0.57
USAA
5%
5/5
0.15
Mercury Insurance
5%
—
0.86
Nationwide
4%
2/5
0.67
Travelers
3%
2/5
0.62
*According to J.D. Power's home insurance study.
For information on these insurers, check out our study of the best homeowners insurance companies in the U.S.
Average California homeowners insurance rates
Homeowners insurance premiums in California are expensive compared to other states. The average cost of home insurance $1,684 a year in the state. That's $469 higher than the national average of $1,215.
California average homeowners insurance rates
  
California
U.S.
Average yearly rate
$1,684
$1,215
Average monthly rate
$140
$101
Note: Average rates are based on non-binding estimates provided by Quadrant Information Services. Your rates may vary.
The graph below shows average rates for some of the top companies in California. Premiums vary widely between companies, which is one of the reasons comparison shopping is important.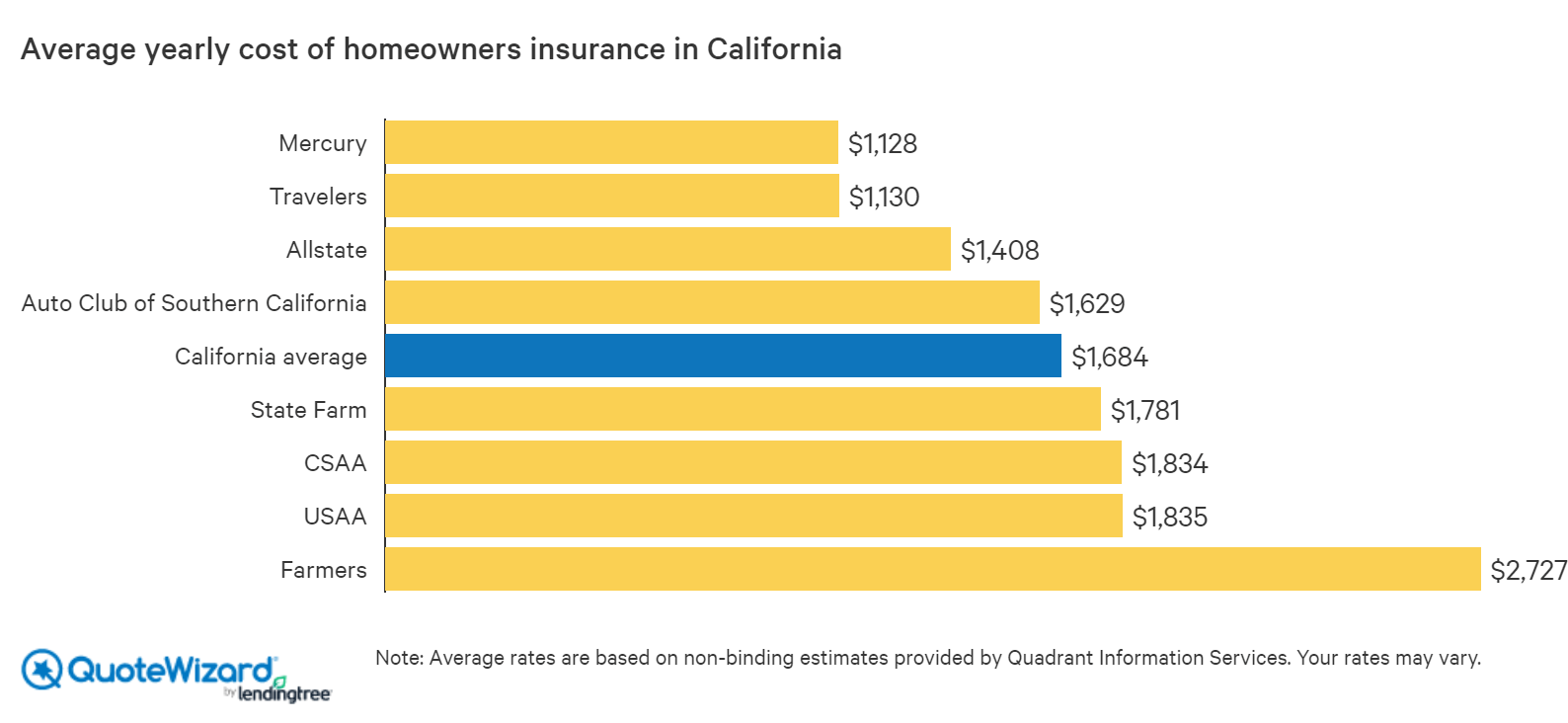 You may be able to find below-average rates with companies like Mercury and Travelers — their annual rates averaged $1,128 and $1,130, respectively. Farmers, on the other hand, was one of the most expensive companies we saw, with rates averaging more than $2,700 a year.
To learn more, check out our research on the average cost of homeowners insurance.
Homeowners insurance rates in California by city
Average home insurance premiums vary by city in California because cities have varying risk factors according to their location. For example, homes in areas that are historically prone to wildfires may see higher rates than other areas.
California's most populous city, Los Angeles, has an average rate of $1,828 a year — 9% above the state average. On the other hand, other populous areas like San Francisco, San Jose and San Diego all enjoy rates slightly below the state average.
Average cost of home insurance by city in California
City
Average annual rate
Anaheim
$1,585
Bakersfield
$1,648
Chula Vista
$1,591
Fontana
$1,711
Fremont
$1,429
Fresno
$1,692
Irvine
$1,709
Long Beach
$1,461
Los Angeles
$1,828
Modesto
$1,521
Moreno Valley
$1,807
Oakland
$1,821
Oxnard
$1,360
Riverside
$1,793
Sacramento
$1,678
San Bernardino
$1,783
San Diego
$1,641
San Francisco
$1,509
San Jose
$1,407
Santa Ana
$1,524
Stockton
$1,702
Note: Average rates are based on non-binding estimates provided by Quadrant Information Services. Your rates may vary.
Location is important in determining your premiums, but there are other factors in your control. If you're looking to save money on your monthly insurance premiums, consider upgrading your home to save.
California wildfires and home insurance
Homeowners insurance typically covers damage from wildfires. However, reasonably priced home insurance policies are becoming more difficult to come by, as insurers charge sky-high rates or do not renew policies.
There are more than two million homes in California at high to extreme risk of wildfire damage, according to Verisk Analytics – more than any other state. One of the ways insurance companies determine how great the fire risk is to a home is by using a Public Protection Classification (PPC).
The Insurance Services Office (ISO) determines a community's classification using many criteria, including the size of the local fire department and water supply systems. Lower classifications are better and indicate better fire preparedness.
California's fire preparedness is superior to the nationwide average: 47% of communities in California are class three or better, compared to 15% nationally. 83 percent of communities in California are rated class five or better, where only 56% of communities nationally are class five or better.
While having a strong ISO classification can give you some peace of mind, it is important to remember how frequent and severe wildfires in California can be. 2018 was a particularly devastating year, with the Mendocino Complex and Carr fires raging through the state.
However, the August Complex fire of 2020 has eclipsed the largest fire in California history by almost a factor of two. At the time of writing, the August Complex has burned 877,477 acres, and the SCU Lightning Complex almost 400,000, meaning 2020 is already the most devastating year for wildfires on record in California.
California FAIR plan
For homeowners who have tried to get coverage but can't, there's the California Fair Access to Insurance Requirements Plan (FAIR Plan). The California FAIR Plan provides fire insurance to homeowners, but it is limited compared to traditional homeowners insurance. Therefore, you should exhaust all of your private market options before turning to the FAIR Plan.
The California FAIR Plan protects your home from fire, but coverage from wind and hail requires extended coverage that will raise your premiums. Furthermore, FAIR Plan insurance is capped at a lower coverage limit than traditional homeowners insurance companies, meaning it may not meet every homeowner's needs.
Because FAIR Plan insurance excludes much of the coverage that standard homeowners insurance includes, like coverage for theft, water damage and liability, you may have to purchase an additional Difference in Conditions policy (DIC). DIC policies fill in the gaps in FAIR Plan insurance. Together, a FAIR Plan and DIC policy approximate the property coverage that you'll find through regular homeowners insurance.
California earthquake insurance
Homeowners insurance does not usually cover damage from earthquakes, although some companies may let you add coverage to your existing policy for an added premium. If you cannot get earthquake insurance through your homeowners insurance policy and want coverage, you'll have to purchase a separate earthquake insurance policy.
Homeowners in California should strongly consider having protection from earthquakes. According to FEMA, there are $3.7 billion in annualized losses due to earthquakes in California alone. The probability of suffering a major loss due to an earthquake in a given year may be low, but when earthquakes do hit, they can be devastating.
Frequently asked questions
Q: How much does home insurance cost in California?
A: The average cost of home insurance in California is $1,684, according to our study.
Q: Who has the best home insurance in California?
A: Home insurance is not one-size-fits-all. However, our study of homeowners insurance in California found that Auto Club of Southern California is a great option for many people.
Q: Does home insurance cover flood damage?
A: Flood damage is not covered by homeowners insurance. For protection, you'll need to purchase a separate flood insurance policy.
Q: What is the California FAIR plan?
A: The California Fair Access to Insurance Requirements (FAIR) Plan provides insurance of last resort. FAIR Plan insurance is for homeowners who cannot find coverage through the voluntary market.
Methodology
We aggregated 4,122 quotes from every ZIP code in California. We included the following eight companies in our analysis: Allstate, Auto Club of Southern California, CSAA, Farmers, Mercury Insurance, State Farm, Travelers and USAA.
The sample home we used was based on the median value and build year of homes in California — $602,474 and 1976, respectively. We used the following policy specifications:
Dwelling coverage: $602,474
Personal property coverage: 50% of dwelling ($301,237)
Other structures coverage: 10% of dwelling ($60,247)
Loss of use coverage: 20% of dwelling ($120,495)
Liability coverage: $100,000
Deductible: $1,000
Finally, all demographic, geographic and market data was sourced from S&P Global.
QuoteWizard.com LLC has made every effort to ensure that the information on this site is correct, but we cannot guarantee that it is free of inaccuracies, errors, or omissions. All content and services provided on or through this site are provided "as is" and "as available" for use. QuoteWizard.com LLC makes no representations or warranties of any kind, express or implied, as to the operation of this site or to the information, content, materials, or products included on this site. You expressly agree that your use of this site is at your sole risk.