Compare Homeowners Insurance in Los Angeles
In August 2017, Los Angeles, California home prices reached a record high for the fourth consecutive month in a row, according to CoreLogic. The report estimates that the average sale price in LA County jumped to $575,000. This is a 1.1 percent increase from July, and an 8.1 percent increase from July 2016.
Housing prices play a big role in home insurance costs. Current or future LA homeowners should know the different elements that affect their home insurance rates.
Average Los Angeles Home Insurance Rates
How much is home insurance in Los Angeles? After surveying close to 1,300 QuoteWizard users in Los Angeles, we created an 'average' Los Angeles house:
1,940 square foot home built in 1973
1 story
3 bedrooms and 2 bathrooms
Composite shingle roof
We received multiple quotes from the most popular homeowners insurance companies for this house. Using this average house, we calculated the median cost of homeowners insurance in Los Angeles, CA. Remember – home insurance rates are unique to the homeowner and their house. Your rates may be lower or higher than our sampled rates. Below you will find the average rate based on our average home:
Month: $69.25
Year: $831.00
The graph below shows the change in average California home insurance rates from 2011 to 2015, the most recent year the data is available. According to the III, California homeowners insurance rates increased from $967 in 2011 to $986 in 2015, a jump of $19 dollars, or 1.96 percent.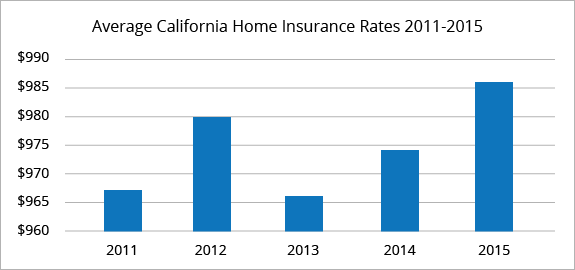 QuoteWizard helps consumers compare quotes from both national insurance companies and local agents. QuoteWizard can help you find affordable home insurance rates near Los Angeles, California.
Last year, 1,300 people used QuoteWizard to compare compare home insurance quotes in Los Angeles, CA from multiple companies, and find the cheapest rates.
Best Home Insurance Companies in Los Angeles, CA
Most Popular Insurance Companies
According to QuoteWizard users, these are the most popular homeowners insurance companies in Los Angeles, CA:
State Farm
Farmers
Allstate
Geico
21st Century
Progressive
Esurance
AAA
Nationwide
Liberty Mutual
Best Insurance Companies
The above list shows the most popular home insurers in Los Angeles according to our users. But popular doesn't always mean best.
Our study on the best home insurance companies focuses on top of the line companies. In no particular order, these companies stand out among the rest:
Amica: Best Overall
MetLife: Best for Bundling
Allstate: Best for Local Agents
Hartford: Best for Seniors
State Farm: Best for Pet Owners
Travelers: Best for Flexible Policies
Nationwide: Best Replacement Coverage
Farmers: Best for Eco-Friendly Homes
Liberty Mutual: Best for Quick and Easy Quotes
Auto Owners Insurance: Best Claims Experience
Los Angeles Home Insurance Rate Factors
When calculating the price of you home insurance policy, insurance agents use several factors to determine the cost. Some of the major factors in Los Angeles are fire protection class, natural disasters and weather, and crime rates in the area. Below are the most common elements used to decide your insurance rate:
Your home's age: The age of your home plays a major factor in your home insurance premium. Older homes are much costlier to repair in the event of an accident or disaster. Plus, older homes usually require more maintenance and upkeep, and some may not be up to code. Luckily, the average home in Los Angeles, California was built in 1973. That's about 44 years old, which isn't too old for a home. Additionally, many of these homes are renovated with new appliances and fixtures.
Previous claims: This factor is true for any insurance you may buy. The more claims you make, the more your premium will rise. Filing frequently may mark you as high-risk customer and will make your premiums higher. Or your insurance company may decide to cancel your policy.
Dogs and pets: In 2017, Los Angeles was ranked the 18th most dog-friendly place in the US. The Los Angeles area has a whopping 147 dog-friendly restaurants and four dog-friendly shopping centers. This is great news for dog owners. But according to the III, homeowners filed over 15,000 liability claims due to dog-related injuries in 2015. The CDC states that four and a half million people suffer dog bites every year. Your home insurance liability pays for dog-related injuries that happen on your property. Numbers and statistics like this are the main reason home insurance companies charge dog-owners more for a policy. Some dog breeds, like pit bulls and Rottweilers, are considered riskier than others. Homeowners with these breeds are prone to higher rates.
Attractive nuisances: Attractive nuisance is the legal term for an object that attract trespassers. Think trampolines, pools, and hot-tubs. Trespassers can take legal action if they hurt themselves on your property due to an attractive nuisance.

So, if you have a pool or a trampoline that may attract and injure people, you may be found liable. Since home insurance pays for liability claims, homes with these nuisances face higher premiums. Just four years ago there was a total of 43,000 homes with pools in the Los Angeles area. This means that many residents in the Los Angeles area can expect to pay more for insurance.
Natural disasters: Insurers charge higher rates for home insurance policies in disaster-prone areas. California has some of the most desirable weather for those who love year-round sunshine. However, California also faces major natural disasters like earthquakes, wildfires, and mudslides.

Most home insurance policies cover fire damage. That's a plus for Los Angeles residents who can see multiple wildfires in a year. Since LA is a high-risk area, most residents will need to pay for additional coverage.
Coverage amounts: It's not rocket science. The more coverage you have, the more money you pay. Basic policies cover the structure, belongings, liability, and living after an emergency. But if you have an updated home with new and improved appliances, you might want higher liability levels. And if don't have enough coverage, you may be stuck with extra out-of-pocket costs.

Los Angeles is one of the richest cities in the world, with plenty of extremely expensive homes. People with considerable assets or high-value homes need more coverage than normal.
Home security and crime: In 2017, Los Angeles residents reported a total of 95,633 property crimes. This is a lot, but their property crime rate of 24.08 is lower than the national average. In Los Angeles, property crime levels are dependent on the neighborhood. Because of the number of property crimes, some Los Angeles homeowners can expect to pay more. Fortunately, homeowners can lower their premiums by making their home safer.
Credit history: The average credit score in the Los Angeles is 668, which ranks them 52nd amongst US cities for credit scores. A 668 credit score isn't necessarily bad, but it's not great. Unfortunately, people with bad credit can almost always expect to pay more for home insurance.
Types of Homeowners Insurance
Most cities and states have very similar homeowners insurance coverage options. We have listed the main coverage options in the state of California below:
Coverage A - Dwelling
Coverage B - Other Structures
Coverage C - Personal Property
Coverage D - Loss of Use
Coverage E - Personal Liability
Coverage F - Medical Payments to Others
These are the most common home insurance types:
HO-1: Basic insurance that covers standard damages.
HO-2: Broad homeowners insurance that covers everything in HO-1 and more.
HO-3: Covers damage from all perils unless specifically excluded. Also covers unattached structures and liability.
HO-4: Possession and liability coverage for renters.
HO-5: Like HO-3 but with expanded coverage and less limitations for property claims. This is a top of the line policy.
HO-6: Covers possessions and provides liability for condo owners.
HO-7: Similar to HO-3, but for mobile homes.
HO-8: Designed specifically for older homes. Coverage is similar to HO-3. It can be altered to suit unique needs of older homes.
7 Ways to Save Money on Homeowners Insurance in Los Angeles
There are many things Los Angeles, California residents can do to lower their home insurance premiums. Here are some steps you can take to lower yours today:
Add technology: Technology helps us with a great deal of problems. It can help identify and stop potential problems in the home. As we learned earlier Los Angeles reported a total of 95,633 property crimes in 2017. This means that a Los Angeles resident has a 1 in 42 chance of becoming a victim of property crime. You can make your home more secure with new technology, security systems, and remodels.
Skip the inground pool: Nearly 43,000 residents in Los Angeles own pools. Pools are considered attractive nuisance, which can increase the cost of your liability coverage. Free up your budget and visit the local community pool instead of adding the pool to your house.
Get a Cat: As previously stated, Los Angeles is a rather dog friendly city. But, some dog breeds are higher risk than others and can raise your insurance rates. If you really want a pet companion, consider getting a cat instead. Or a non-risky dog breed.
Avoid claims: Filing claims frequently causes your monthly home insurance premium to increase. If you file more than two claims in a year, your insurance company will likely label you a high risk. If you continue to file claims, they may drop your coverage. Gaps or lapsed coverage makes it harder to move to another company as well.
Raise your deductible: This is a easy and fast way to lower your insurance premium. By raising your deductible, you take on more of the financial responsibility. It means you'll have higher out-of-pocket costs when you file a claim. If you can afford to spend $1,000 in the event of a claim, raising your deductible can save you money long-term.
Bundle: Bundling your home and auto insurance is one of the best ways to save on you home insurance fast. Think of it as a bulk buy discount. Most companies will give you up to 20 percent off for bundling your home and car insurances.
Shop around: Buying insurance is tedious. It's tempting to throw in the towel without doing much research. But if you aren't shopping around, you don't know what money you could be saving. Companies often raise your rates yearly because they know it's inconvenient to find a new insurer. Plus, each company offers different rates and discounts. So compare quotes from multiple home insurance companies in Los Angeles, find the best plan for your home.
QuoteWizard.com LLC has made every effort to ensure that the information on this site is correct, but we cannot guarantee that it is free of inaccuracies, errors, or omissions. All content and services provided on or through this site are provided "as is" and "as available" for use. QuoteWizard.com LLC makes no representations or warranties of any kind, express or implied, as to the operation of this site or to the information, content, materials, or products included on this site. You expressly agree that your use of this site is at your sole risk.