Compare Homeowners Insurance In Nevada
Our study of homeowners insurance in Nevada found that Farmers offers the cheapest rates, and State Farm is the best for bundling home and auto. We also found the average cost of homeowners insurance in Nevada to be $1,408 a year, or $117 a month. When it comes to homeowners insurance, comparing quotes from multiple companies is the best way to balance cheap rates with the right amount of coverage for you. To help with that decision, here are our top picks for the best home insurance companies in Nevada:
Farmers: Best for cheap rates
We found that Farmers offers the cheapest home insurance rates in Nevada, with an average annual premium of $1,028. Cost is an important factor when comparing homeowners insurance companies, but the cheapest company isn't always the best company. There are other considerations, such as coverage and customer satisfaction.
We calculated Farmers' complaint index to be 0.39, according to NAIC's figures. The average complaint index in the U.S. is 1. That suggests that Farmers has better-than-average customer satisfaction. However, Farmers has a slightly higher complaint index than some of its main competitors in Nevada, like State Farm and Allstate.
You won't have to compromise on quality to take advantage of Farmers' cheap premiums, as Farmers has an A rating from A.M. Best and a 3/5 rating from J.D. Power. A.M. Best's rating indicates that Farmers is financially stable, and therefore has sufficient money to pay out on claims. Even though Farmers didn't earn the highest numbers from A.M. Best and J.D. Power on our list, they are still respectable, especially when considering Farmers' cheap home insurance rates.
State Farm: Best for home and auto bundle
We chose State Farm as our pick for best home and auto bundle in Nevada because they offer the largest savings at 34%, or $402 year. For the homeowner profile we used, State Farm's competition offered less savings.
Bundling your home and auto policies is not only one of the best ways to save on your home insurance rates, but is also a big convenience. By combining multiple policies  with one company, you'll only have to interact with one agent, as everything is under the same roof.
State Farm has the advantage of being the largest home insurer in Nevada, writing almost 20% of all policies, so you'll likely be able to find an agent close to you. As a large insurance company, they can offer competitive rates. J.D. Power's annual survey gave them high marks as well, with a 4/5.
Country Financial: Best for customer satisfaction
We found that Country Financial has the best customer satisfaction in Nevada, based on its NAIC complaint index of 0.12. We based this index on the company that Country Financial operates as in Nevada – Country Mutual Insurance Company.
NAIC calculates its complaint index by dividing the percent of total complaints by the percent of market share, i.e., number of complaints relative to a company's size. Country Financial is a smaller insurer in Nevada, with only 2% of the market share. Yet Country Financial still has agents all over the state of Nevada, so its small market share shouldn't be a problem in finding an agent.
In addition to Country Financial's superb complaint index, its mobile apps for iOS and Android are well reviewed in the app stores. The simple interface lets you contact your representative, manage your billing options and view your insurance cards. If you have more than one insurance policy with Country Financial, they can all be managed together in the app.
Although J.D. Power only gives Country Financial a 3/5 for overall satisfaction (which means average), we think the combination of Country Financial's complaint index, agents, mobile app and fair rates will leave customers happy.
USAA: Best for military service members and their family
USAA is only available to active military members, veterans and their families, but offers great homeowners insurance policies if you qualify. USAA is known for top-of-the-line customer satisfaction, military-friendly policies and bundling discounts.
Our research found that the cost of USAA home insurance in Nevada is above the state average at $1,769. But comparing insurance companies isn't only about price. USAA's high-quality coverage and customer service may outweigh its above-average cost. With a J.D. Power rating of 5/5 and complaint index of 0.26, USAA is a great option for those who qualify.
It's no wonder USAA is the fifth-largest home insurer in Nevada, as nearly 22,000 active duty members and 218,000 veterans live in the state, according to the U.S. Department of Veterans Affairs and the Office of the Secretary of Defense. That means that those who qualify for USAA work with a company that has a history of providing active military service members, veterans and their families with quality homeowners insurance.
Average Nevada homeowners insurance rates
The average cost of homeowners insurance in the state of Nevada is $1,408, or $117 dollars a month, based on our survey of nine home insurance companies.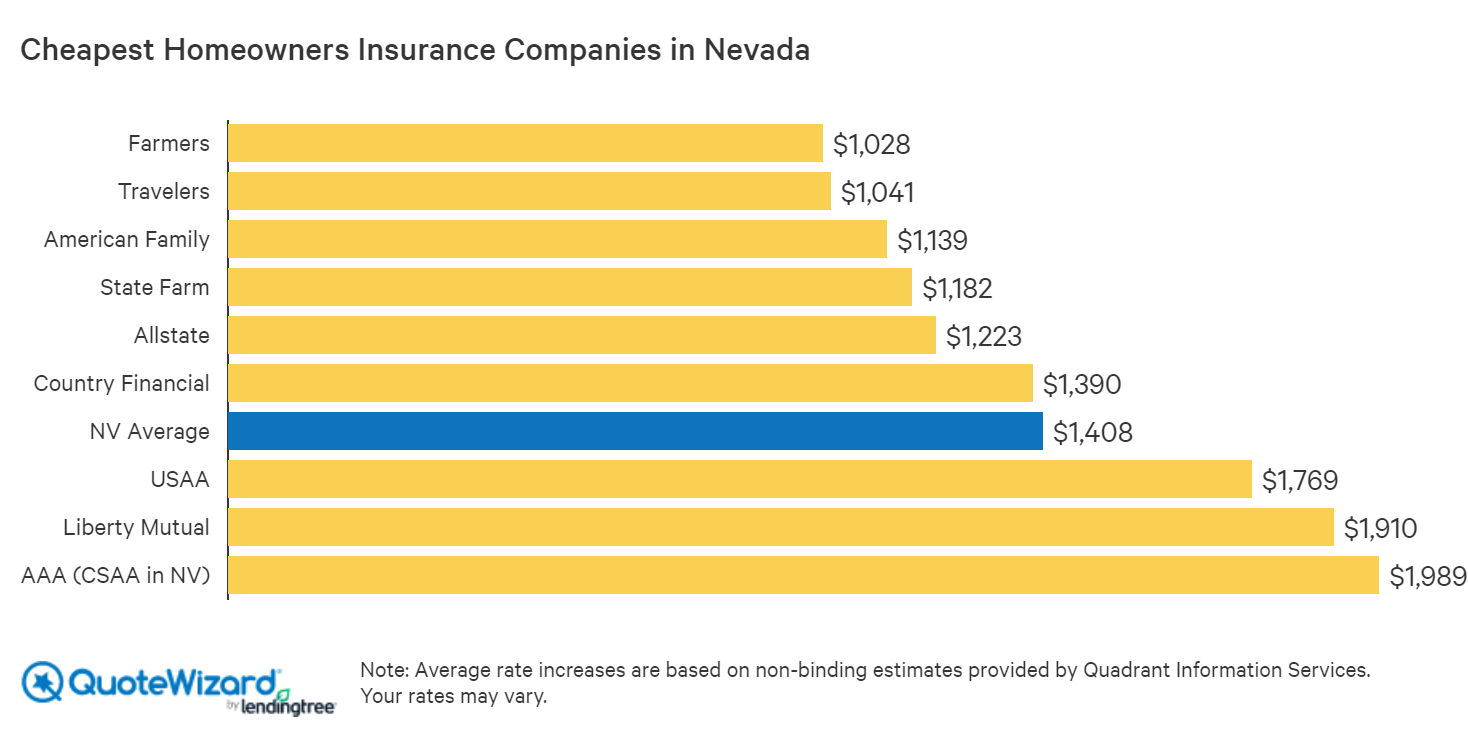 Nevada home insurance at a glance: the biggest and cheapest companies
Company
Market share
Complaint index (lower is better)
Average annual premium
J.D. Power
State Farm
19.79%
0.20
$1,182
4/5
Farmers Insurance
13.94%
0.41
$1,028
3/5
Allstate
9.38%
0.37
$1,223
3/5
Liberty Mutual
7.02%
0.46
$1,910
2/5
USAA
5.98%
0.26
$1,769
5/5
American Family
5.33%
0.47
$1,139
3/5
Travelers
5.12%
0.30
$1,041
2/5
AAA*
4.38%
1.27
$1,989
3/5
The Hartford
2.45%
0.86
 N/A
3/5
Country Financial
1.99%
0.12
$1,390
3/5
*Operates as CSAA in NV
Cost of homeowners insurance in Nevada by county
The cost of home insurance varies by county. Pershing enjoys the cheapest homeowners insurance rates in the state, at $1,273 a year. Clark County in the southeast has the most expensive home insurance premiums of $1,483 a year.
County
Monthly cost
Annual cost
Carson City
$107
$1,283
Churchill
$107
$1,280
Clark
$124
$1,483
Douglas
$110
$1,318
Elko
$114
$1,372
Esmeralda
$112
$1,343
Eureka
$112
$1,346
Humboldt
$106
$1,277
Lander
$111
$1,336
Lincoln
$117
$1,408
Lyon
$112
$1,345
Mineral
$109
$1,311
Nye
$117
$1,406
Pershing
$106
$1,273
Storey
$111
$1,329
Washoe
$113
$1,356
White Pine
$112
$1,340
Note: Average rates are based on non-binding estimates provided by Quadrant Information Services. Your rates may vary.1
Home insurance perils in Nevada
In comparison with many states, Nevada's climate does not present a wide array of insurance perils. According to FEMA, there have been 77 natural disasters since 1953, with 54 of those disasters being fires.
Fire
The most frequent insurance peril in Nevada is fire – there have been 54 disasters involving fire in Nevada since 1953, according to FEMA. Most of these fires occur in the northwest corner of the state in Washoe County, including Reno, in the months of June, July and August.
Homeowners insurance policies usually cover loss from fire. However, some insurers may exclude fire from coverage in particularly high-risk areas. To make sure you're covered, you should always check if you have cover for fire with your insurance company. Even if the fire does not stem from a wildfire, because Nevada is the driest state, fires that start in houses have a higher chance of spreading.
Flood insurance in Nevada
Some counties in Nevada have experienced flooding, mainly in the northwest corner of the state, and in the southeast corner in Clark County. Although flooding is not a large concern in Nevada, one bad flood can be costly.
The average cost of an NFIP flood insurance policy in Nevada is $721. Because Nevada has low flooding risk, you may be able to find a cheaper flood policy through a private flood insurance company. No area is immune from flooding.
Methodology
1We collected quotes for a standard HO-3 home insurance policy from every ZIP code in Nevada. We included quotes from Farmers, Travelers, American Family, State Farm, Allstate, Country Financial, USAA, Liberty Mutual and CSAA (part of AAA) in our calculation of average rates across the state and Nevada counties.
The quotes we collected were for a 2,000-square-foot home worth $258,200 (the median home value in Nevada, according to 2017 U.S. Census estimate). Information about historical natural disasters in Nevada was sourced from FEMA.
To calculate the NAIC complaint index, we considered all the subsidiaries of the company that operate in Nevada. For example, Allstate has four primary subsidiaries in Nevada. We weighted these individual companies' complaint index based on their relative size, so that our calculated complaint index is closer to what most people might expect. By weighting the subsidiaries, we avoid letting smaller subsidiaries sway the numbers.
Nevada Division of Insurance
Website:
Insurance Commissioner:

Barbara Richardson
Insurance Hotline:

(888) 872 – 3234
Office Hours:

Monday - Friday
8:00 am to 5:00 pm
File a Consumer Insurance Complaint
Sources:
QuoteWizard.com LLC has made every effort to ensure that the information on this site is correct, but we cannot guarantee that it is free of inaccuracies, errors, or omissions. All content and services provided on or through this site are provided "as is" and "as available" for use. QuoteWizard.com LLC makes no representations or warranties of any kind, express or implied, as to the operation of this site or to the information, content, materials, or products included on this site. You expressly agree that your use of this site is at your sole risk.