Compare Homeowners Insurance in Las Vegas
The 2008 financial crisis hit Las Vegas hard – one in three homes in North Las Vegas went into foreclosure. Since then, home prices have recovered and are rising quickly, as the median value of homes has ballooned from $197,000 in 2015 to over $258,000 in 2019. In the same period, the number of homeowners has increased by 8%.
This spells out two implications for homeowners insurance: a growing, competitive market, and increased premium prices. Whether you're a new homebuyer or just looking to save money, here's what to know about the best home insurance companies in Las Vegas and how much they cost.
How much is homeowners insurance in Las Vegas?
We found that the average cost of home insurance in Las Vegas is $1,483 a year, which is slightly above the state average of $1,408. Here's how home insurance quotes from some of the top companies stack up: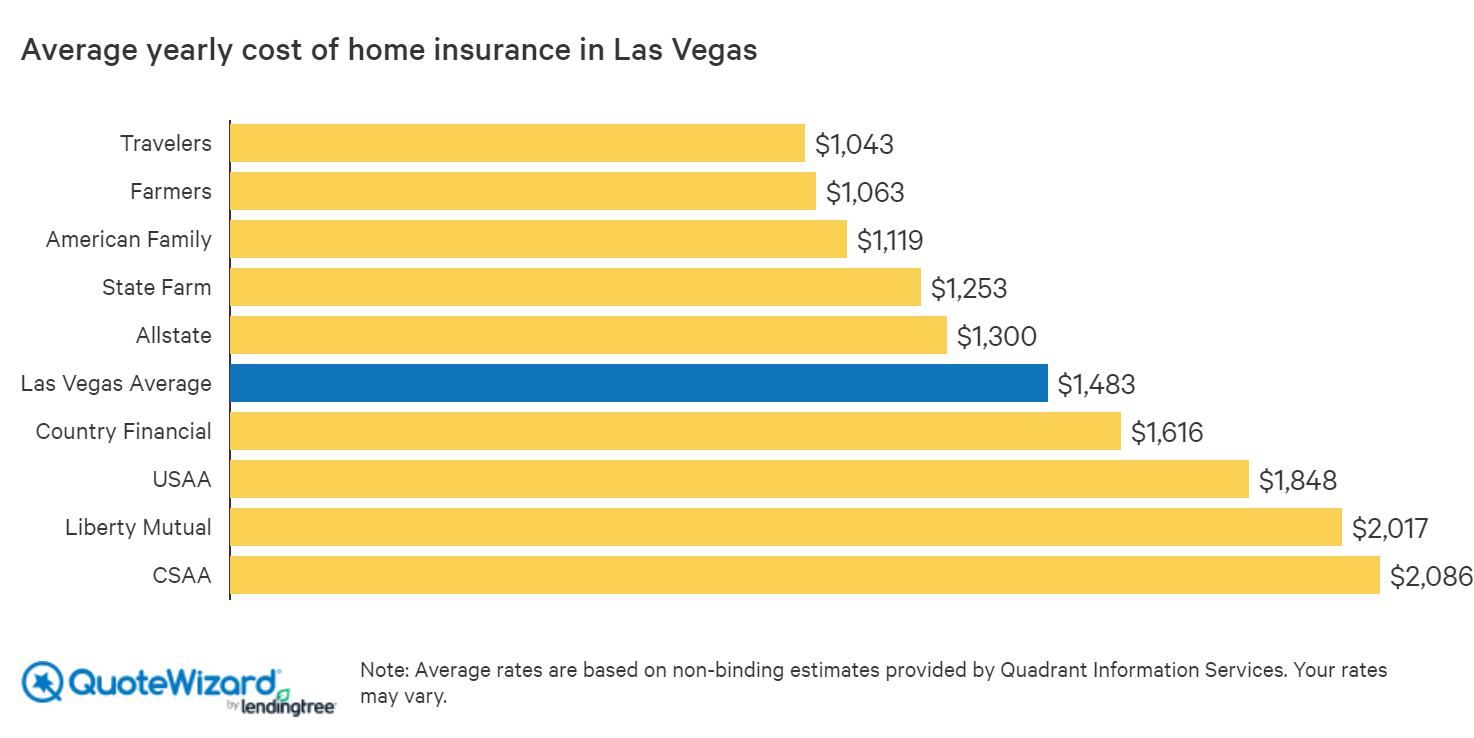 Our study found that Travelers, Farmers, American Family and State Farm offer the cheapest, below-average rates, while Liberty Mutual and CSAA are more expensive options. Prices vary greatly between home insurance companies, which is why it's important to shop around.
But cost should not be the only factor in choosing a company: it is about balancing price with coverage, customer satisfaction and other categories.
State Farm: best value
State Farm is our pick for the best homeowners insurance company in Las Vegas, on account of its below-average price, high customer satisfaction and widespread availability. State Farm is the largest home insurer in Nevada and the U.S., writing almost 1/5 of all policies in Nevada. 
Going with a large insurer has several advantages. State Farm's agent network means you'll most likely be able to find an agent close to your home, which may be important for some people. State Farm's size also means you'll have the opportunity to bundle multiple policies together, such as home and auto. This can mean big savings and a simplified experience.
State Farm's customers are generally satisfied with the level of service. State Farm had a 0.20 complaint index in 2018, outperforming most other insurers. The lower NAIC complaint index the better, as it measures how many complaints a company gets relative to its size. State Farm also received a 4/5 from the 2019 J.D. Power home insurance satisfaction survey, further suggesting its above-average customer experience.
Travelers: cheapest rates
We found that Travelers had the cheapest home insurance rates in Las Vegas at $1,043 a year, which is over $500 below the city average. While affordability is important, there are other considerations with Travelers home insurance.
In the 2019 J.D. Power home insurance survey, Travelers received a 2/5 score of "below average" for overall satisfaction. We found that Travelers had a 2018 NAIC complaint index of 0.30, which measures how many complaints a company receives relative to its size, with lower numbers meaning fewer complaints. Travelers did better than the national average of 1.0, but falls short of State Farm.
If cost is your main concern in purchasing homeowners insurance, you can take advantage of Travelers discounts such as bundling multiple policies and making your home safer. If you have a green, LEED certified home, you can save an additional 5% on your home insurance policy.
USAA: best for veterans
USAA insurance policies are only available to military service members and their family, but it's an excellent option for those who qualify. The average cost of USAA home insurance is Las Vegas is $1,848 a year, which is above the state average by about $365. However, USAA's coverage and customer satisfaction are some of the best around.
USAA is one of only three home insurance companies to receive a 5/5 in overall satisfaction from the 2019 J.D. Power home insurance survey. USAA's NAIC complaint index is among the lowest in Nevada at 0.21. These two reports together suggest that USAA offers excellent service to Las Vegas residents.
USAA's price tag gives you great perks. For example, USAA has partnerships with professional networks you can trust, so using its contractor, moving company, home builder and home security company relationships can give you peace of mind. Additionally, USAA works with active military members to match the billing date with their payment schedule, and provide on-base discounts.
Chubb: best for expensive homes
Chubb offers specialized home insurance policies that cover high value homes in Las Vegas. If you own such a home, you'll want to make sure you have the right protection. Chubb's service will most likely mean higher rates than the city average, but you'll get some perks for that extra cost.
For example, Chubb home insurance policies include identity theft protection. If your identity is compromised, Chubb will provide you a fraud specialist to help you recover quickly. Additionally, Chubb has a partnership with Wildfire Defense Systems, which is a private service that responds to wildfires. While Las Vegas is at lower risk for wildfire compared to northern Nevada, it is always better to be prepared.
Coverage for your high value home doesn't just mean protecting your home: it also means protecting your other assets. For example, if you are found responsible for $300,000 worth of damage, but only have $100,000 of liability coverage, the remaining $200,000 is recoverable from your personal assets. Therefore, individuals with a large net worth will often higher liability limits.
Summary: the best home insurance companies in Las Vegas
This is how the biggest companies in Las Vegas stack up. If you're outside of Clark county, check out our study on home insurance in Nevada.
Overview: home insurance in Las Vegas
Company
Market share
Annual premium
2019 J.D. Power overall satisfaction
2018 NAIC Complaint Index (lower is better)
State Farm
19.8%
$1,253
4/5
0.20
Farmers
14.2%
$1,063
3/5
0.39
Allstate
9.8%
$1,300
3/5
0.29
Liberty Mutual
7.6%
$2,017
2/5
0.50
USAA
6.5%
$1,848
5/5
0.21
American Family
6.03%
$1,119
3/5
0.32
Travelers
5.7%
$1,043
2/5
0.30
CSAA
5.3%
$2,086
3/5
1.27
Note: Average rates are based on non-binding estimates provided by Quadrant Information Services. Your rates may vary.
Home insurance rates in Las Vegas metropolitan area
Homeowners insurance rates vary across the Las Vegas metropolitan area. Here are how the cities and communities in Clark county compare to each other, and differ from the county average of $1,483.
Cost of homeowners insurance in Las Vegas metroplitan area
City
Average yearly premium
Difference from Clark county average
Boulder City
$1,297
-13%
Enterprise
$1,388
-6%
Henderson
$1,386
-7%
Las Vegas
$1,496
1%
Laughlin
$1,469
-1%
Mesquite
$1,393
-6%
Moapa Valley
$1,417
-4%
North Las Vegas
$1,441
-3%
Paradise
$1,564
5%
Sandy Valley
$1,444
-3%
Spring Valley
$1,489
0%
Summerlin South
$1,345
-9%
Sunrise Manor
$1,530
3%
Whitney
$1,466
-1%
Winchester
$1,781
20%
Note: Average rates are based on non-binding estimates provided by Quadrant Information Services. Your rates may vary.
Methodology
We gathered quotes for every ZIP code in Clark county, as Clark county is often considered the Las Vegas metropolitan area. The profile we used was for a $258,895 home built in 1994, which are the median values in the state according to S&P Global. The companies we included in our analysis include: Allstate, American Family, Country Financial, CSAA, Farmers, Liberty Mutual, State Farm, Travelers and USAA.
Sources:
QuoteWizard.com LLC has made every effort to ensure that the information on this site is correct, but we cannot guarantee that it is free of inaccuracies, errors, or omissions. All content and services provided on or through this site are provided "as is" and "as available" for use. QuoteWizard.com LLC makes no representations or warranties of any kind, express or implied, as to the operation of this site or to the information, content, materials, or products included on this site. You expressly agree that your use of this site is at your sole risk.