Best Condo Insurance Companies: How To Choose The Right Coverage
The best condo insurance company for you will supplement your HOA's master policy. Here's how to find the right coverage.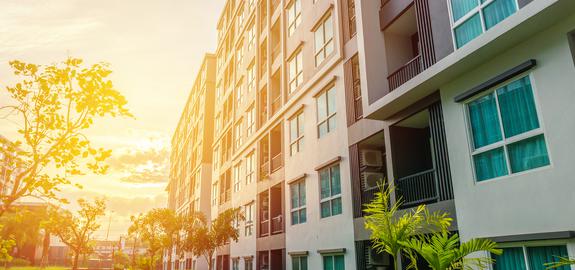 Choosing the best condo insurance company isn't easy, because it relies on two main factors: your condo association's level of coverage and your own needs. Condo home insurance, called an HO-6 policy, covers only the interior of your unit — the rest of the complex is covered by your HOA's insurance, which is called the master policy. However, not all master policies are the same; some provide more coverage than others, which will determine the level of protection you'll want in your personal HO-6 policy. Here are our picks for the best condo insurance companies and how to choose the right amount of coverage.
Our picks for the best condo insurance companies
Insurance is not one size fits all — there is no one best company. But that does not mean that there aren't differences among providers. In our review of the top companies, these insurers stood out among the rest.
Country Financial: The best for customer satisfaction
Our review showed that Country Financial had the lowest number of complaints relative to its size in 2018. Country Financial provides clear-cut coverage options, offering "basic" and "premier" condo insurance. The basic plan covers damage due to fire, theft, wind or hail, or frozen plumbing. The premier policy expands the basic plan to encompass paint spills, countertop burns and damage to appliances from power surges.
Country Financial's versatile policy options ensure that you'll be able to work with your HOA's master policy and fill in the gaps. Country Financial offers the standard amount of coverage limits — $1 million in liability and $250,000 in medical payments to others. If those limits aren't high enough, you can always extend your coverage with an umbrella policy.
Country Financial also provides a well-rated mobile application, which gives their customers another point of contact. The low amount of complaints, versatility of coverage and technology make Country Financial a good choice if you value customer experience. However, Country Financial isn't available in all states — it notably excludes California, Florida and Massachusetts.
State Farm: The best for widespread availability
If you value widespread availability and higher-than-average customer satisfaction, State Farm could be a great option for you. State Farm writes the most homeowners insurance policies in the U.S., accounting for 18.37% of all policies. That's more than twice as many as the second largest home insurer, Allstate.
In 2018, State Farm also had a below-median complaint ratio. That's a good sign, especially considering the size of the company. State Farm is a widely recognized name and has agents throughout the U.S., making it a good company for face-to-face interaction.
You can maximize your savings with State Farm by taking advantage of their:
Multi-line discount
Home alert protection discount
Automatic sprinkler discount
State Farm has special options for people who only use their condo seasonally or rent it when they're not there. If you aren't in your home often, you should consider individualized coverage like this.
USAA: The best for military members, veterans and their families
USAA only serves active service members, veterans and their families. USAA could be right for you if you qualify, as it has few complaints relative to its size. That means you can expect USAA's service to be above average.
USAA writes a handful of different policies, so you'll be able to work with your HOA's master policy. In addition to varying coverage options, USAA offers a handful of discounts, including:
Bundling discount
Claim-free discount
Home security system discount
Condo insurance coverage
HO-6 condo or co-op insurance policies are similar to traditional homeowners insurance, but only include the interior of your unit. Condo insurance includes coverage for damage due to:
Windstorm or hail
Theft
Fire or lightning
Smoke
Water damage from plumbing
Coverage for your condo falls into four categories: dwelling, personal property, loss of use, personal liability and medical payments to others.
Dwelling
Dwelling coverage for your condo or co-op insures the interior of your home. That means it covers things such as your floors, walls, appliances and cabinets. You may not need extensive dwelling coverage, depending on your building's master policy. For example, if your HOA's insurance covers the washing machine that your unit came with, then you won't need coverage for it on your personal HO-6 policy.
Personal Property
Personal Property coverage protects your belongings. For example, if a fire breaks out in your bedroom and your clothes are destroyed, personal property coverage will help you replace your wardrobe. You should always have full personal property coverage; master policies never cover your private property.
Loss of use
If you are unable to remain in your condo because it has been damaged, loss of use coverage will help pay for any additional living expenses you incur. That means your condo insurance will help pay for the extra expenses such as food, transportation, hotel rooms and storage units.
Personal liability & medical payments to others
Personal liability insurance through your condo insurance policy covers you if you are found liable for injuries to others or damage to their property. It applies in and out of your home, so even if you accidentally injure someone off your property, you'll be covered. This coverage includes the legal fees and medical bills that could come up in an accident.
Master insurance policies — the HOA's insurance
Your HOA's master insurance policy is what protects the shared property and spaces in your complex. This includes entryways, hallways and the exterior of the building. Before choosing your condo insurance policy, you should first identify the gaps in your HOA's master policy. Master policies are usually one of three types: bare walls-in, all-in or single entity.
Bare walls-in (minimal protection)
Bare walls-in is the most basic and common type of master insurance policy, protecting only the exterior of the building and jointly owned structures and items. This basic policy does not cover the appliances, fixtures, ceilings, walls or floors inside your own unit. So if your HOA has this type of policy, be sure that you have sufficient coverage through your personal HO-6 condo insurance policy.
Single entity coverage (more protection)
Single entity master policies are more inclusive than bare walls-in policies, providing more comprehensive coverage. They include much of the interior of the condo units, often including appliances, wiring, flooring and fixtures. If your HOA has a single entity policy, you'll be able to save on your personal condo insurance, as you will not need maximum coverage.
All-in policies (most protection)
All-in policies are the most comprehensive type of master insurance policy. They cover all property and structures in your complex, as well as fixed appliances, the interior of your unit and upgrades. That means if you add a new dishwasher and it is damaged in a fire, an all-in will likely cover it, while a single entity policy wouldn't. The only exclusion of all-in coverage is for your personal property, such as your furniture and clothes.
The takeaway
No matter how comprehensive your HOA's master policy is, we recommend always having some type of condo insurance. That's because the master policy will never cover your personal property, guests getting injured in your home, loss of use, or personal liability in and out of your home.
The first step in finding the best insurance policy for you is understanding your HOA's master policy and identifying the coverage gaps it leaves. Once you know what coverage you need, you should always compare quotes from multiple companies.
QuoteWizard.com LLC has made every effort to ensure that the information on this site is correct, but we cannot guarantee that it is free of inaccuracies, errors, or omissions. All content and services provided on or through this site are provided "as is" and "as available" for use. QuoteWizard.com LLC makes no representations or warranties of any kind, express or implied, as to the operation of this site or to the information, content, materials, or products included on this site. You expressly agree that your use of this site is at your sole risk.