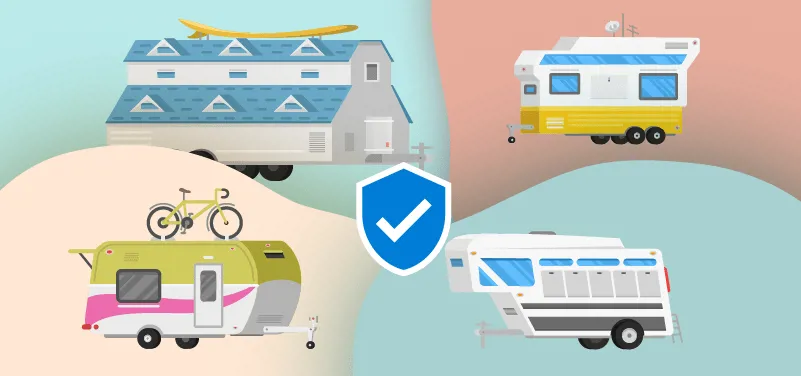 Mobile homes, also called manufactured homes, are an investment just like traditional houses, and they should have insurance coverage. Many mortgage lenders and mobile home communities even require it.
Mobile and manufactured home insurance includes protection for your home and belongings, and can help cover costs if you are liable for injuries to others or damage to their property. However, mobile home insurance can become expensive for older homes, so it's important to keep costs down. Here are the mobile home insurance basics.
What is mobile home insurance and do you need it?
Mobile home insurance covers damage to your property and liability protection, much like traditional home insurance. However, insurers classify these two types of residences differently: some protections can be excluded, as mobile homes are at a higher risk for damage due to harsh environmental conditions.
Mobile homes are not covered by RV or camper insurance policies unless the mobile home has a hitch. However, it is rare to find coverage for your mobile home this way, so you will most likely need a separate mobile home insurance policy.
There is no law requiring mobile home owners to have insurance, but most mortgage lenders and some mobile home community parks require it. However, even if your loan provider or mobile home community doesn't require insurance, we still recommend it as a protection for your investment. For example, if a thunderstorm damages your home or property, an insurance policy can help with costly repairs.
Insurance for older mobile homes
While possible to get coverage, insurance for older mobile homes can be difficult to come by, especially if your home was built before 1976. The department of Housing and Urban Development (HUD) introduced construction standards on June 15th, 1976, and homes built prior may not be up to code. Insurers see older mobile homes as high risk, and will charge a higher premium for coverage. In fact, insurance companies see any old home — mobile or not — as an insurance liability. The best way to find coverage for your older mobile home is by contacting insurance companies directly.  
Mobile home insurance companies
Not every major insurance company offers mobile home insurance, however many have partnerships with insurers that specialize in it. For example, Foremost Insurance Group is one of the largest providers of insurance for mobile homes, and it is owned by Farmers Insurance. The following major providers offer their own manufactured home insurance policies:
State Farm®
Allstate Insurance Company
American Family Insurance
Assurant specializes in mobile home insurance, and partners with the following providers:
Liberty Mutual
GEICO
Progressive
USAA
As is true with all types of insurance, it is always best to compare rates to find coverage that fits your budget and needs. There are significant differences in what different companies cover. We recommend contacting your agent for a complete coverage list.
What does mobile home insurance cover?
Mobile home insurance includes dwelling, other structures, personal property and liability coverages, much like traditional homeowners or renters insurance. Below is an in-depth look at your coverages.  
Dwelling Coverage
Dwelling coverage is what most people think of when they think of home insurance – it is protection for the physical structure of your home. Policies differ in the types of events they cover. For example, some providers may not cover damage to your residence caused by wind. We'll go over common dwelling coverages, called perils, but it's important to look over your specific policy rather than assume you'll have coverage. Dwelling coverage protects you against:
Theft and vandalism
Windstorms and tornados
Fire or lightning
Hail and other falling objects
Some companies may also include coverage for:
Landslides
Explosions
Food spoilage
Credit card and check forgery
Debris removal
Other Structures
Other structures coverage protects structures on your residential premises separated by clear space from your home, such as gazebos and sheds. This is a common coverage in mobile home insurance policies, and the perils listed above for dwelling coverage apply to other structures as well.
Personal Property: 
As the name implies, personal property protection insures your belongings. This includes furniture, electronics, and above-ground pools. If this property is stolen or damaged by a covered peril, your insurer could help pay for it.
Liability
Liability protection covers you if you are liable for bodily injury or damage to somebody else's property. For example, if your dog bites someone on a walk, you can be liable for the medical and legal costs. Or, if your son or daughter throws a baseball through your neighbor's window, your mobile home insurance could help replace it. Liability can help pay for costs associated with:
Medical bills
Property damage
Pain and suffering
Legal fees
Lost wages
Mobile home insurance usually comes with a set amount of liability coverage. If you don't think you have enough liability coverage through your mobile home insurance provider, you can extend your coverage with an umbrella policy.
What mobile home insurance does not cover
Like traditional homeowners insurance, mobile home policies won't cover damage from floods or earthquakes – you'll have to buy these coverages separately. While earthquake coverage can be pricey, flood policies are relatively cheap.
It's important to research your location and find out what the most common natural disasters are. This will help you determine what kind of coverage is worth shelling out extra money for.
There are several other extra coverages you might consider getting. These policies, like earthquake and flood insurance, would require you to pay an extra premium. Extra coverage on mobile homes could include:
Builder's risk to protect your home from damage between the time your loan closes and you occupy the home
Coverage when your home is in transit
Replacement cost coverage to insure your home for the full amount it would take to buy a new home
Scheduled personal property, also known as riders, for items you want extra protection for like jewelry, furs, or antiques. Your insurance may also refer to this as a floater
Cost of mobile home insurance
Mobile home insurance policies can go for as little as $250 and as much as $2,000 a year. Your annual premium, or rate, will depend on several rate factors, including:
Coverage amount
Home location
Deductible
Claims history
Credit history
Age of home
Most mobile home insurance companies offer actual cost value (ACV) policies, as opposed to replacement cost (RC) policies. ACV policies pay out based on the depreciated value of your home or item, while RC policies pay for the cost to replace your home or item. This makes ACV policies more affordable. 
You may be able to receive a discount for bundling policies. If you already have home, car or life insurance, explore other policies from the same company by asking your agent if there are multi policy discounts. Additionally, you can always reduce the cost of your insurance by following these steps.
Eligible residences: mobile vs. modular homes 
The terms "mobile home" and "manufactured home" refer to the same thing, but are different than modular homes, and are therefore insured differently. Manufactured and modular homes both share the benefit of being built in a factory, allowing them to avoid weather delays, and often making them more affordable than traditional homes. Although mobile and modular homes share a similar construction process, they conform to different building codes. 
Mobile Homes: Mobile homes are constructed following the standards introduced by the Department of Housing and Urban Development (HUD) in 1976. Mobile homes built after June 15, 1976, follow HUD standards and are considered manufactured homes. Nevertheless, the term "mobile home" has remained in use. Manufactured homes are often not attached to a fixed foundation. They instead utilize anchors or are tied to the ground.
Modular Homes: Modular homes are built following the regulations of their final location. For example, if a modular home is destined for Florida, its construction will have to conform to local Florida standards.
Modular homes are shipped in pieces to their desired location, where the final assembly, wiring, and plumbing is completed. At the final location, they're often build on a fixed foundation.
| Mobile/manufactured homes | Modular homes |
| --- | --- |
| Covered by mobile home insurance policies | Covered by regular home insurance policies |
| Built to HUD requirements | Built to local and state regulations |
| Assembled in a factory | Assembled in a factory |
| Typically tied or anchored to the ground | Typically sit on a foundation or basement |
QuoteWizard.com LLC has made every effort to ensure that the information on this site is correct, but we cannot guarantee that it is free of inaccuracies, errors, or omissions. All content and services provided on or through this site are provided "as is" and "as available" for use. QuoteWizard.com LLC makes no representations or warranties of any kind, express or implied, as to the operation of this site or to the information, content, materials, or products included on this site. You expressly agree that your use of this site is at your sole risk.