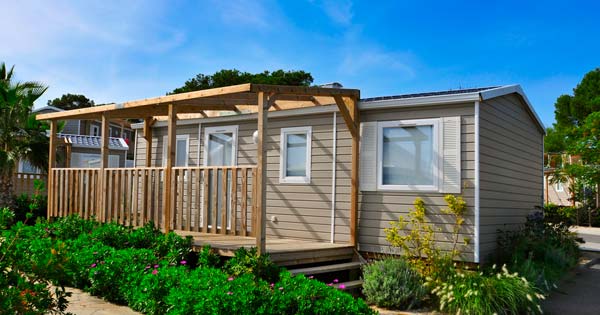 With rising rents and home prices, more and more Americans are ditching traditional houses and instead buying mobile homes. In fact, according to the Census Bureau, more than seven million people in the United States live in a mobile or manufactured home.
Retirees who are looking to cut costs, find mobile homes are much more affordable than the bigger houses they no longer need. And for people wanting to buy a second home or vacation house, they often are the best fit for their budgets. The Manufactured Housing Institute stated that manufactured homes cost 10-20 percent less than traditional houses in 2015.
Although mobile home owners aren't always required to have insurance, they do need proof of coverage if they get a mortgage. In addition, a mobile home community or park can require insurance in order to live there.
If insurance isn't necessary by law, is it worth the money? Generally, yes. Even if you're not legally required to purchase a mobile home policy, owners will be grateful they have it if anything happens to their home.
What qualifies for mobile home insurance?
Since mobile home insurance isn't as well-known as homeowners coverage, you might be wondering what qualifies for this type of insurance? And would a mobile home ever be included in a car rather than a home insurance policy?
Mobile and manufactured homes are usually considered to be the same thing. They are both covered under a mobile home policy. Modular homes, however, are generally covered under a homeowners insurance policy. Some insurers may have different policies for a modular home, separate from mobile insurance and homeowners insurance.
Technically, there is a difference between mobile and manufactured homes. Both mobile and manufactured homes are constructed entirely in a factory environment. But according to the Housing and Urban Development (HUD) Code, mobile home is the term used for homes built before June 15, 1976. This was the date the HUD Code went into effect.
Homes that are built after 1976 are considered "manufactured homes." Despite this, the terms are used interchangeably. Manufactured homes are built to follow the HUD Code, rather than specific building codes. They are also usually not attached to a fixed foundation.
Modular homes are built in a factory and then transported. It is built to follow the building codes of its final location. They are shipped in pieces to the desired location, rather than in its entirety like a manufactured home. They are also generally built on a fixed foundation once shipped.
According to Amanda Genneken, Assistant Manager at Anderson & Associates Insurance Group, an insurer may cover a mobile home under RV or camper insurance if it has a hitch. She warns that this is very rare and that manufactured homes are difficult to insure in this way. Chances are, you'll need to have mobile home insurance in order to get coverage.
It is important to note that this insurance isn't always offered. Availability depends on your state. To find out if you can get this type of coverage, contact your insurance company or your state's insurance department.
Different Types of Coverage
According to the Insurance Information Institute, there are two types of coverage you can get with a manufactured home insurance policy. They are physical damage and personal liability.
Personal Liability
Genneken notes the most important coverage to get with any insurance policy is liability. Like other types of insurance, liability in a mobile home insurance policy protects the policyholder if someone gets hurt because of their actions. It also covers injuries if someone is hurt on their property. With liability insurance, it's important to remember that it covers injuries to someone else or damage to their property, but not injuries to the policyholder or damage to their property.
The III notes liability insurance can cover the following types of expenses:
Lost wages
Medical bills
Property damage
Pain and suffering
Manufactured home insurance usually comes with a set amount of personal liability coverage. However, you may want to consider buying extra insurance for the above mentioned scenarios.
Physical Damage
Physical damage coverage is what you want if you need to protect your home and belongings. Policies differ in the types of events they cover, such as theft or falling objects. We'll go over some of the specific things most policies usually include, but it's important to look over your specific policy rather than assume you'll have coverage.
Manufactured home insurance also won't usually cover a home if it's in transit.
Actual Cost Value vs. Replacement Cost Value
A standard mobile home insurance plan will provide coverage for the actual cash value (ACV) of your home. ACV means you'll receive payment for what your home was worth at the time of the damages.
For example, a new manufactured home is worth more than one that is 10 years old. If your home is 10 years old and destroyed in a storm, you'll receive money for whatever it is worth after 10 years of depreciation.
Policyholders will also have the option to get an insurance plan that covers the replacement cost (RC). Just like it sounds, your insurer would reimburse you for the amount it would cost to replace your home rather than its current value at the time of damages.
Standard mobile home policies are actual cash value by default. A replacement cost policy provides more protection, but will have higher premiums.
Cost and Recommended Coverage
According to Genneken, manufactured home insurance usually costs around $1,000 a year. She recommends a minimum of $300,000 stand-alone liability.
Of course, your rate will depend on a number of factors including:
Amount of coverage
Location of home
Deductible
Claims history
Credit history
Age of home
The only way to make sure you're getting the best rates on your mobile home coverage is to compare rates from several companies. Click here to get a free quote now!
You may also be able to receive a discount for bundling policies. If you already have home, car, or life insurance, try to get this policy from the same company. Ask your agent if there are any other discounts offered.
What It Does and Doesn't Cover
Mobile home insurance will typically protect your home and belongings from several unexpected events such as:
Theft
Fire
Windstorms
Tornado
Vandalism
Wind
Hail
Falling objects
Always read over your policy so you know the exact details of your coverage, as specifics can vary depending on your insurance company.
For example, some companies may also include coverage for:
Landslides
Explosions
Wild animals
Food spoilage
Credit card and check forgery
Debris removal
Like renters insurance, mobile home policies won't cover you for damages from a flood or earthquake. You'll have to buy these coverages separately. While earthquake coverage can be pricey, flood policies are relatively inexpensive.
It's important to research your location and find out what the most common natural disasters are. This will help you determine what kind of coverage is worth shelling out extra money for.
There are several other additional coverages you might consider getting. These policies, like earthquake and flood insurance, would require you to pay an extra premium. Extra coverage on manufactured homes could include:
Builder's risk to protect your home from damages between the time your loan closes and you occupy the home
Coverage when your home is in transit
Replacement cost coverage to insure your home for the full amount it would take to buy a new home
Scheduled personal property, also known as riders, for items you want extra protection for like jewelry, furs, or antiques. Your insurance may also refer to this as a floater
Frequently Asked Questions
Q: Are manufactured homes more expensive to insure than traditional homes?
A: Yes, manufactured home insurance is often more expense than standard homeowners coverage. This is because manufactured homes are generally more prone to damage.
Q: How can I save on my mobile home insurance?
A: QuoteWizard can connect you with multiple home insurance quotes from national and local insurers in minutes.
Check with your insurer about other discounts you can receive. Some companies may give you a discount for bundling policies or for adding safety features in your home.
Another way to save is by increasing the deductible on your policy. Keep in mind though, that if something does happen to your home, you'll have to pay the higher deductible before your coverage kicks in.
Q: Do I need to buy manufactured home insurance?
A: You aren't required by law to insure your mobile home. But it's usually required if you have a mortgage. People who have their manufactured home in a park may also be required to have it depending on the park's rules.
Those who aren't required to have it will likely want it regardless. Mobile homes, although less costly than a traditional house, are still an expensive investment. Besides the cost of damages to the physical mobile home, insurance will protect your belongings. It also provides liability coverage, which protects you if someone injures themselves in your home.
QuoteWizard.com LLC has made every effort to ensure that the information on this site is correct, but we cannot guarantee that it is free of inaccuracies, errors, or omissions. All content and services provided on or through this site are provided "as is" and "as available" for use. QuoteWizard.com LLC makes no representations or warranties of any kind, express or implied, as to the operation of this site or to the information, content, materials, or products included on this site. You expressly agree that your use of this site is at your sole risk.