Filing a Home Insurance Claim After a Robbery
Most homeowners insurance policies will come to your aid if someone breaks into your house and damages or steals your stuff. Here are the steps you have to take to make that happen.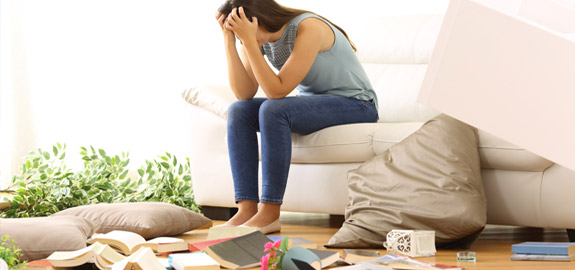 It's unlikely your first thoughts after coming home and finding you've been robbed will have anything to do with insurance.
If you're like most people, they'll probably be along the lines of: What happened? Where's my stuff? Who did this? What am I supposed to do now?
This article can't answer those first three questions for you, unfortunately. But it can answer the last one.
So, keep reading to learn everything you need to know about filing a homeowners insurance claim after a burglar breaks into your house (or condominium or apartment) and steals or damages your belongings.
How Home Insurance Covers Stolen Possessions and Damaged Property
First, though, here's a little "insurance primer" about this sort of situation.
As you may already know, most home insurance policies consist of three forms of coverage. They are: dwelling coverage, liability coverage, and personal property coverage.
You'll likely rely on two of those components--the dwelling coverage and the personal property coverage--if someone ever robs your home.
Specifically, your policy's dwelling coverage will help you pay for any repairs that need to be made in the wake of a burglary. Say the thief breaks a window or kicks in a door to gain entrance to your home; you'll use this type of coverage to fix the damage.
As for your policy's personal property coverage, it'll help you repair or replace the belongings an intruder damages or steals during a burglary. 
A few things to keep in mind when it comes to personal property coverage (especially if you're switching or shopping for home insurance plans):
There are two types of personal property coverage.
One type pays you the amount needed to replace the stolen item. It doesn't consider how the item may have depreciated in value since you first bought it. This commonly is known as replacement cost coverage, by the way.
The second type pays you an amount equivalent to what the stolen item is worth today. In other words, if a thief breaks into your home and steals a TV you've owned for 10 years, don't look for your insurance policy to pay you enough to buy a brand-new one. Regardless, this is called actual cash value coverage.
For more on this topic, read our article: "Actual Cash Value vs. Replacement Cost."
The Seven Steps to Home Insurance Claim Success After a Burglary
With those home insurance basics out of the way, here are the steps you need to take as soon as you become aware of the fact that someone broke into and burglarized your house, condo, or apartment.
Call the police

And don't stop there. File a police report, too. If you reach out to someone at your insurance company first, they'll most likely require you to do both of these things (contact the police and file a report) before they'll begin the claim process, so don't waste your time or theirs until you've roped in your local law enforcement agency.

One other thing: while you're on the phone with the police, be sure you get the names of any officers that are part of the conversation. This will make it a lot easier for you if you ever need to follow up with them about anything. Plus, your insurer may ask for this information at some point down the road.
Contact your insurer

After you talk with the police and file a report about the robbery, get in touch with your insurance agent (or someone else at your insurance company).

They should detail and explain what you need to do to get everyone involved started on your break-in and theft claim. If that's not the case, or if you feel at all confused or unsure after your chat, don't be shy about asking questions.

Some of the questions you might want to ask your insurer:



What do I do now? What should be my next steps?
Will my policy cover this incident? If so, what does it cover? And what doesn't it cover?
Will my claim exceed my deductible?
Can I go ahead and repair any property the burglars damaged? Or do you have to approve that first?
Are there any deadlines or dates I need to be aware of moving forward?

Review your policy

You might think you should do this before you pick up the phone and call your insurance company. It certainly would allow you to ask more informed questions during that conversation.

Still, bringing your insurer up to speed on the situation and getting the ball rolling on your claim are more important than almost anything else at this point, so start there.

After that, though, pull out your homeowners policy and look it over. If that leaves you with any questions that weren't answered while you chatted with your insurer, circle back around to them and make sure they're addressed.
Document or detail what was taken or damaged (or both)

Begin by making a list of all stolen items and damaged property. If you have a home inventory, refer to it. It'll help you remember things you might otherwise forget, especially in such a stressful situation. (Learn more about how you can create an inventory of your possessions for homeowners insurance claims.)

After you prepare this list, gather any receipts, credit card statements, manuals, or photographs that are related to your missing possessions. They'll help you prove to your insurer that you actually owned the items in question. They'll also help expedite the process of replacing them.

And if anything was damaged during the burglary, take photos or video footage of it. Then fix anything (like broken windows or doors) that will protect your home from another robbery or additional harm. Don't forget to keep receipts tied to these repairs. You'll need to hand them over to the insurance company later.
Fill out the claim forms your insurance company sends you

You should get these shortly after you tell your insurer you'll be filing a claim related to your burglary.

Complete and return the forms to the insurance company as quickly as possible. Dragging your feet here will hurt you more than them, as it will delay your payment or reimbursement.
Work with the insurance adjuster

Your insurer probably will send an adjuster to your home to assess the situation and your loss. Don't fight them. Be helpful. Let them inspect your home and property. Answer their questions and give them whatever information or documentation they need.

All of these things will help ensure your claim is resolved as quickly and as painlessly as possible.
Keep your receipts if you can't live in your home at any point during this process

Actually, you'll probably want to review your policy and talk with your insurer before finding alternate accommodations, too. But more important than both of those actions is to keep any receipts associated with your relocation.

Thankfully, most home insurance policies cover these kinds of expenses in this type of situation. Your insurer will still want to see proof of the costs, though, so don't delete them or throw them away.
States with the highest rates of property crime
We analyzed 2017 FBI crime data to see where property crime is most common. We look at which states had the highest rate of property crime as a percentage of total criminal arrest records. States with the highest ranking (1) are states with the highest rate of property crime. Property crimes are classified by the FBI as offenses of burglary, larceny-theft, motor vehicle theft, and arson.
| Rank | State | Property Crime Rate |
| --- | --- | --- |
| 1 | Delaware | 19.51% |
| 2 | Minnesota | 18.11% |
| 3 | Illinois | 18.05% |
| 4 | Louisiana | 17.67% |
| 5 | New York | 16.88% |
| 6 | Montana | 16.11% |
| 7 | Washington | 15.61% |
| 8 | South Carolina | 15.53% |
| 9 | Ohio | 14.73% |
| 10 | North Carolina | 14.53% |
| 11 | Oregon | 14.08% |
| 12 | Connecticut | 14.04% |
| 13 | Utah | 13.87% |
| 14 | Missouri | 13.76% |
| 15 | Maine | 13.71% |
| 16 | Pennsylvania | 13.54% |
| 17 | Georgia | 13.48% |
| 18 | Oklahoma | 13.45% |
| 19 | Maryland | 13.10% |
| 20 | Iowa | 13.00% |
| 21 | West Virginia | 12.92% |
| 22 | Florida | 12.77% |
| 23 | Alaska | 12.67% |
| 24 | Arizona | 12.57% |
| 25 | Vermont | 12.05% |
| 26 | Alabama | 11.98% |
| 27 | Indiana | 11.92% |
| 28 | Wisconsin | 11.67% |
| 29 | Colorado | 11.59% |
| 30 | Massachusetts | 11.52% |
| 31 | Mississippi | 11.09% |
| 32 | Tennessee | 10.94% |
| 33 | Rhode Island | 10.82% |
| 34 | New Mexico | 10.70% |
| 35 | Texas | 10.53% |
| 36 | Hawaii | 10.52% |
| 37 | Virginia | 10.27% |
| 38 | Michigan | 10.10% |
| 39 | Idaho | 10.05% |
| 40 | Arkansas | 9.97% |
| 41 | California | 9.67% |
| 42 | North Dakota | 9.48% |
| 43 | Nebraska | 9.16% |
| 44 | New Jersey | 8.81% |
| 45 | Wyoming | 8.50% |
| 46 | Kansas | 8.11% |
| 47 | Nevada | 7.99% |
| 48 | Kentucky | 7.78% |
| 49 | New Hampshire | 7.66% |
| 50 | South Dakota | 5.16% |
Additional Important Information About Theft Claims
Here are a few other details to keep in mind as you consider filing this kind of claim or after you go ahead and file one.
Don't file a theft claim if...
If your home insurance policy's deductible is higher than the amount of your loss, you'll probably be better off not filing a claim. That's because your insurance company will require you to pay your deductible (or it'll deduct that amount from your payment) before it sends you any reimbursement checks. 
Heads up: you might get more than one check
Speaking which, don't be surprised if your insurer sends you more than one check. For example, the adjuster may cut you a check after inspecting your home and property. That's usually not the total or final payment, however. This is especially true if you find additional property damage or remember more stolen items after that visit or after you first file your claim. Even if that's not the case, most insurance companies send separate checks for each coverage category. So, you may receive one check for dwelling damage, one for stolen possessions, and one for additional living expenses. (If you have to live elsewhere while your home is repaired.)
Cash value usually comes first
Don't be surprised if your insurance company begins by paying you the cash value (which accounts for depreciation) of your stolen belongings--even if you have replacement cost coverage. That's how most insurers operate, according to sfgate.com. They reimburse you for your items' actual cash value first, then pay you more--the difference between the cash value and the replacement cost--after you replace the stolen possessions.
Yes, you actually have to replace your stolen possessions
Or at least you do if you want your insurance company to send you a check for their replacement value. And not only that, but you have to prove you replaced them by sending your insurer receipts. If you don't, it'll only pay you only for their cash value.
Frequently Asked Questions
Q: What do most home insurance policies consider a dwelling?
A: For insurance purposes, a dwelling is more than just the physical structure of your home. It's also any structures that are attached to your home. So, the dwelling portion of your homeowners insurance policy should cover an attached garage, if you have one. And it should cover decks or porches that are attached to your house, too. 
Q: How long will it take for my insurance company to send me a check after I file a theft claim?
A: It isn't possible to give you a specific answer here, as the time it takes an insurer to pay out one of these claims varies a great deal. You can help speed the process along by filling out and returning your claim forms as quickly as possible and by going out of your way to assist any insurance adjusters who come to inspect your home or property. If a thief steals a lot of your possessions, though, or does a lot of damage to your property, the process might take a while even if you hold up your end of the bargain.
Q: How will my insurance company reimburse me for my loss?
A: In most cases, your insurer will send you one or more checks. That said, some companies now send prepaid debit cards instead. The policyholders who receive them can then use them to replace their stolen or damaged belongings.
Q: How much personal property coverage should I have to protect myself from a home burglary?
A: This depends on how much personal property you own, of course. It also depends on how much you paid for those possessions, or how much they're currently worth. At any rate, the best way to calculate how much of this kind of coverage you should buy is to catalog your belongings (and you may as well create a full home inventory while you're at it), add up what you think they're worth as a whole, and then purchase at least that much personal property coverage, if not a little more.
And don't forget: you've got to decide between replacement cost and actual cash value coverage here, too. The first option reimburses you for the cost of replacing your stolen or damaged items at current prices. The second option factors in depreciation and, as a result, only pays you what the stolen items would sell for today.
Q: Will my premiums increase after I file a theft claim?
A: It's more than possible your home insurance premiums will go up after you file one of these claims, say various sources. CNN, for example, reported a few years ago that filing even a single claim on your homeowners policy causes premiums to increase an average of about 10 percent. Filing two claims causes them to increase an average of 20 percent.
You might escape that fate if you've had your policy for a long time. Also helpful, according to thelawdictionary.org: you've never filed a claim, or you've gone a number of years without filing a claim. The cost of the claim you've just filed (or you're about to file) plays a role as well. In other words, the lower that amount, the lower your premium increase may be--or at least that's the consensus of others who've gone through this same situation.
Even if you've had your policy for ages and you've never used it, though, your insurer may raise your premiums. Given that, ask how much filing a theft claim will impact your monthly bill when you initially contact them. And if they say it'll cause an increase, shop around for a new homeowners policy and provider.
Q: Will I have a hard time finding another home insurance provider if I file a theft claim and later decide to switch insurers?
A: It's possible you will have a hard time switching to another insurance provider. That might not be due to you filing a claim, though. The real issue here: if a lot of your neighbors have filed theft claims in recent months and years, too, insurers may become wary of selling additional policies to people who live in what they consider to be a crime-ridden area.  
Q: My home hasn't been burglarized. What can I do to protect myself and my possessions as much as possible before it happens?
A: There are a number of steps you can take to protect yourself, your home, and your belongings from a thief. Here are a few of them:
Create a home inventory. In a perfect world, this would document all of your possessions. If that's not possible, at least make sure it documents your most valuable ones. (Speaking of which, get an endorsement or rider if you own expensive antiques, art, coins, home-office equipment, or jewelry.) Also, while you compile this information, gather any receipts, manuals, and photos you have of these items, too.
Buy homeowners insurance. (Or buy renters insurance, if you live in an apartment.)
Make sure you have enough dwelling and personal property coverage so it'll allow you to repair or replace all of your damaged or stolen belongings.
Invest in home security. Most insurance companies provide discounts to policyholders who invest in home security, says the Insurance Information Institute. In fact, some security measures can save you as much as 15 to 20 percent on your homeowners insurance policy premiums.
QuoteWizard.com LLC has made every effort to ensure that the information on this site is correct, but we cannot guarantee that it is free of inaccuracies, errors, or omissions. All content and services provided on or through this site are provided "as is" and "as available" for use. QuoteWizard.com LLC makes no representations or warranties of any kind, express or implied, as to the operation of this site or to the information, content, materials, or products included on this site. You expressly agree that your use of this site is at your sole risk.