If you experience a home theft, your homeowners insurance will cover stolen items up to your policy limits. Damage to the house that occurred during the robbery, such as broken windows, should be covered as well.
The process of filing a home insurance claim after a theft is fairly straightforward — as long as you follow some simple guidelines. Getting it right the first time can save a lot of backtracking and get your claim paid out more quickly as well. This article will cover:
Does homeowners insurance cover theft?
Your homeowners insurance provides coverage for your belongings and the structure of your home in the event of a robbery. Your home insurance policy's personal property coverage pays to replace stolen items. Should the structure of your home get damaged during a break-in, such as a door getting broken, the dwelling portion of your home insurance coverage will take care of repairs or replacements.
Personal property outside your house is also covered. If you have tools stolen from your shed, they should be replaced by your home insurer. Your homeowners insurance also covers robbery that happens away from your home. If you're on vacation and your laptop is stolen, you'll be paid out to help replace it.
It should be mentioned that theft outside the home is covered at a lower limit than your regular personal property limit. Stolen items outside the home are usually covered at about 10% of your personal property coverage limit, or $1,000, whichever amount is greater.
Also, some categories of valuables are paid out at lower limits. If you have cash stolen, the limit of payout is usually around $200. With jewelry, the limit of payout is usually $1,500 per item. If you have a large collection of jewelry, art or other sorts of valuables, consider getting an endorsement to increase your replacement limit.
Property crime has declined by 25% nationwide since 2010, but some cities are still struggling with high numbers of burglaries, larcenies, car thefts and arson. In 2019 alone, more than 6.9 million property crimes were reported, with losses totaling nearly $16 billion.
Cities with the highest rate of property crime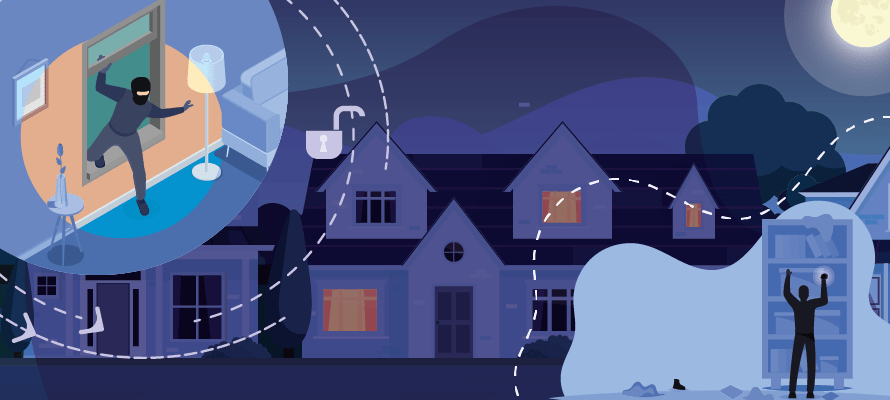 Our team of analysts looked at over 250 of America's largest cities. We found that while Memphis has the highest rate of property crime, Tennessee, Washington, Florida and Oklahoma all have multiple cities with high rates of property crimes.
Cities with the highest property crime rate
City
Property crime rate per 100k people - 2019
% change in property crime 2018-2019
U.S. Average
2,223
-7%
Memphis, TN
4,053
-5.10%
San Francisco-Oakland, CA
3,524
2.70%
Albany, NY
3,388
-9.30%
Seattle, WA
3,345
0.40%
Salt Lake City, UT
3,334
-9.00%
Tacoma, WA
3,284
0.00%
San Antonio, TX
3,281
6.10%
Tulsa, OK
3,228
-2.80%
Miami, FL
3,083
-1.10%
Oklahoma City, OK
3,070
-0.20%
Honolulu, HI
3,002
2.00%
Tallahassee, FL
2,931
-11.40%
Chattanooga, TN
2,891
-11.00%
Tucson, AZ
2,881
-22.20%
Colorado Springs, CO
2,848
7.50%
Fresno, CA
2,770
0.00%
Lexington, KY
2,719
-6.40%
Philadelphia, PA
2,698
0.00%
Detroit, MI
2,691
-0.70%
Charleston, SC
2,679
2.80%
Las Vegas, NV
2,564
-4.00%
Jacksonville, FL
2,505
-4.40%
Lincoln, NE
2,497
-5.20%
Virginia Beach, VA
2,410
0.20%
Orlando
2,400
-2.1%
Methodology: Data on property crime statistics was compiled using FBI data. Property crimes consist of burglaries, larcenies, motor vehicle thefts and arson.
Our analysts also found significant changes in property crime trends. Tucson, Arizona, had the largest decrease in property crimes from 2018-2019. Minneapolis, Wisconsin, meanwhile, had the largest increase in property crimes over the same period.
Cities with the biggest increase in property crimes

| City | Property crime rate per 100k people - 2019 | % change in property crime 2018-2019 |
| --- | --- | --- |
| Minneapolis, MN | 2,333 | 8.00% |
| Colorado Springs, CO | 2,848 | 7.50% |
| San Francisco, CA | 3,524 | 7.30% |
| San Antonio, TX | 3,281 | 6.10% |
| San Jose, CA | 2,401 | 4.50% |
| Washington D.C. | 1,700 | 2.60% |
| Honolulu, HI | 3,002 | 2.00% |
| Sacramento, CA | 2,194 | 1.50% |
| Seattle, WA | 3,345 | 0.40% |
| Virginia Beach, VA | 2,410 | 0.20% |
Cities with the biggest decrease in property crimes

| City | Property crime rate per 100k people - 2019 | % change in property crime 2018-2019 |
| --- | --- | --- |
| Tucson, AZ | 2,881 | -22.20% |
| Fort Myers, FL | 1,158 | -18.80% |
| Tallahassee, FL | 2,931 | -11.40% |
| Chattanooga, TN | 2,891 | -11.00% |
| Buffalo, NY | 1,868 | -10.50% |
| Reno, NV | 1,867 | -10.30% |
| Albany, NY | 3,388 | -9.30% |
| Tampa, FL | 1,686 | -9.10% |
| Salt Lake City, UT | 3,334 | -9.00% |
| Lexington, KY | 2,719 | -6.40% |
Home insurance theft exclusions
There are some conditions under which theft is not covered by your home insurance. If you are not currently living in the house when it is robbed, any belongings that are stolen will not be covered. Theft due to negligence, such as forgetting your computer bag outside and someone taking it, isn't covered either.
If you are renting the house out to someone and their belongings are stolen, your home insurance won't cover the loss. Your tenants would need renters insurance in order to protect their stuff against theft.
Should your driver's license or other documents with personal information get stolen, standard home insurance won't cover identity theft. However, some home insurance providers sell identity theft insurance as an add-on.
While items stolen out of your car may be covered by your homeowners insurance, the theft of your car is not. You would need comprehensive auto insurance for that.
How to file a home insurance claim after a theft
Should you experience a robbery, the process towards a quick payout is fairly simple. Take the following steps to file a home insurance claim:
File a police report
Read your policy
Contact your insurer
Document the loss
Fill out necessary paperwork
Meet the adjuster, if needed
Call the police
Call your local police department to file a report. Your home insurance company will want a copy of the report for your claim. Also, this will help increase the chance of catching the perpetrator and possibly returning your stolen property. Make sure to get the names and contact info of any police officers you deal with.
Check your policy
You'll want to look over your home insurance coverage before filing a claim for two main reasons: to see if your claim is covered and to make sure the loss is higher than your deductible. A theft that isn't covered by your homeowners insurance will get denied immediately, which is just a waste of your time. If your policy deductible is higher than the dollar value of the stolen property, you'd just be paying money to get less money back.
In both instances, you're probably going to see an increase in your home insurance rates after you file a claim. A rate increase stays on your home insurance record for five to seven years. If the dollar amount of the property stolen isn't much more than your deductible, you may want to pay out of pocket to replace it to avoid paying a lot more money over several years.
Contact your home insurer
While many home insurance providers have options to file a claim via the internet, it may actually be quicker to pick up the phone and call your insurer. This way you'll be able to answer any questions they have immediately and speed up the process. Your home insurance company will tell you what they need to file your claim and arrange for you to get the documents they'll need you to fill out.
Compile a list of stolen items
This list should contain the descriptions, makes, models, serial numbers and prices of the items lost in the theft. If you already have a home inventory list, this will make your job easy.
Complete the paperwork
Fill out the claim forms your home insurer sends you and return them as quickly as possible. Most home insurers give you 30 days from a theft to file a claim, but the sooner you file your claim, the sooner you can get paid out.
Meet the adjuster, if necessary
There's a chance your home insurance provider will send out an adjuster, especially if damage was done to your home during the break-in. Make sure to be on hand to meet the adjuster face to face and answer any questions they may have.
Getting reimbursed after an insurance theft claim
After your home insurer deems that your claim is covered by your policy, they will cut you a check for the loss and damages. How much you will get paid out depends on whether you have a replacement cost or actual cash value policy.
Actual cash value (ACV) pays out at the current market value of the item, adjusted for depreciation. Replacement cost reimburses you at the rate of whatever it costs to replace the stolen item, within the limits of your policy.
With replacement cost coverage, your home insurer may pay you the actual cash value of the item first, then the remainder of the replacement cost value after proof of purchasing a replacement is sent to your insurer.
References:
QuoteWizard.com LLC has made every effort to ensure that the information on this site is correct, but we cannot guarantee that it is free of inaccuracies, errors, or omissions. All content and services provided on or through this site are provided "as is" and "as available" for use. QuoteWizard.com LLC makes no representations or warranties of any kind, express or implied, as to the operation of this site or to the information, content, materials, or products included on this site. You expressly agree that your use of this site is at your sole risk.