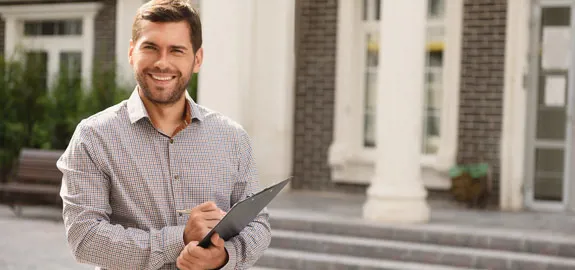 If you've filed an insurance claim and your insurance provider has denied it or made an unsatisfactory settlement offer, you have options for disputing the decision. Public insurance claims adjusters, also known as private insurance adjusters, are available to help you through the difficult claim process and fight on your behalf for a better claim decision. This article will cover:
Types of claims adjusters
First, let's cover the different types of adjusters you may encounter during the claims process:
Company adjuster
When you file a home insurance claim, your insurer can send its own claims adjuster to assess the damage. Your home insurance company will then use its adjuster's findings to decide if it will approve your claim and for how much. These adjusters are employed by the insurance company.
Independent adjuster
An independent adjuster is hired on a contract basis to handle claims for home insurance companies. These adjusters are usually freelancers.
Public insurance claims adjusters
Public adjusters are similar to independent adjusters, but they're hired by the policyholders instead of the insurance company. Public adjusters are available to help you through all parts of disputing a claim when you aren't happy with your home insurer's settlement offer.
Public vs. private insurance adjusters
While looking into a public claims adjuster for your claim, you may see the term "private claims adjuster." If you're wondering what the difference between the two is, there isn't one. In this instance, "public claims adjuster" and "private claims adjuster" mean the same thing. Both are terms for an adjuster who works for a policyholder instead of an insurer.
Benefits of a public claims adjuster
A public claims adjuster works on your behalf to get a better settlement when you file an insurance claim, essentially serving as a contractor who works for you. They can advocate on your behalf for a better settlement and act as an advisor to you.
A good insurance adjuster will look for ways to get you a better settlement. Their skillset often includes:
Policy talk: Public adjusters help you dig deep into your policy to find what is and isn't covered. Understanding the fine print of your policy is the first step toward getting a good settlement.
Property inspection: Your public adjuster can spot the flaws, subtle damages and other problems that you might miss. They can help you prepare a thorough damage report to get the most out of your claim dispute.
Liaison: During a claims dispute, you can expect a lot of back-and-forth conversation with the insurer. This can take up a lot of time. Your claims adjuster understands how an insurance dispute works. They can deal with your insurance so you can focus on other things that need to get done.
Negotiation: Negotiation is part of the claim dispute process. A public adjuster who knows how to fight for a good offer can mediate with your insurer. This takes the stress off you.
Documentation: Home insurance claim disputes involve receipts, repair estimates, dwelling scopes of loss and damage reports. That's a fraction of the paperwork that needs to be dealt with. Your public insurance adjuster will handle that mountain so you don't have to.
Estimates: A good public adjuster can get you the informed repair estimates necessary for your dispute.
Referrals: When you have home damages, you'll need a reputable professional to deal with repairs. Chances are your home insurance adjuster will have a network of contractors they know. This can save you the time spent searching for a good one. Accessing your adjuster's network can also help you avoid contractor scams.
Should I use a public insurance adjuster?
You should only call a public adjuster if you're positive your claim wasn't handled fairly. If your home insurer offers a subpar settlement or lowballs the estimate, that's the time to call a public adjuster. If you hire a public adjuster without good cause to dispute your claim, you may lose more money.
Before you officially hire a private insurance adjuster, most will assess your claim dispute for free. If they think you have a viable case, they will make themselves available for hire. However, it's important that you choose from a pool of licensed, reputable adjusters. Otherwise, you run the risk of falling prey to a scam.
If the disputed dollar amount is small, you probably don't need to call an adjuster at all. Some experts suggest that you don't need to bring in an adjuster unless your claim is over $10,000.
How to find the right public adjuster
Having your insurance claim dispute done right means finding the best public adjuster you can. Beware of adjuster scams, particularly after a natural disaster. Between inflated costs, uncertified personnel and fraudulent behavior, you need to be aware of the threat.
Thoroughly vetting any potential adjuster is vital. There are steps you can take to help make sure you're getting a good adjuster:
Any adjuster you're considering should have the proper paperwork and certification. The NAPIA directory is an excellent resource to find a certified adjuster. This is especially important if you're looking for an adjuster for a claim after a natural disaster. Post-disaster adjuster scams are such a prevalent problem that FEMA sends out notices to alert people.
Ask your potential adjuster if they can provide references. See if they've handled disputes like yours before. Verify with past clients of theirs that the adjuster's work is satisfactory. If the adjuster can't provide references, that's a red flag.
Make sure the adjuster you're dealing with is the one who will handle your claim dispute. Some companies will send one adjuster to do the inspection, then another less experienced adjuster to do the heavy work.
Where is the claims adjuster based out of? An adjuster near you will likely know more about local laws. Plus, they will probably have a network of local contractors for repairs. Make sure the adjuster has all the required local certification and licensure.
Ask what their workload currently looks like. Many adjusters deal with more than one claim at once. They may not have enough time to deal with your dispute correctly.
Make sure you're comfortable with your adjuster. You will be spending a lot of time with them, and they will be in your home a lot. You'll want to have a good relationship with them.
How much does a public adjuster cost?
Most adjusters will charge a percentage of your claim total, usually between 5% and 15% of the payout sum. This means that if your adjuster agrees to a 10% fee and helps you negotiate a $5,000 settlement, their payout is $500. It is possible to negotiate the fee with your home insurance adjuster.
Also, you may only be disputing a portion of your claim. For example, you may be fine with your home insurer's offer for dwelling damage but dissatisfied with the personal property claim offer. You can hire an adjuster to only represent you for the personal property claim. This way, the adjuster won't be entitled to what you get for the dwelling claim.
Some states cap adjuster fees. This is done to stop adjusters from artificially inflating claims to earn higher payouts for themselves. This shouldn't be an issue if you hire a licensed private insurance adjuster with good references.
References:
QuoteWizard.com LLC has made every effort to ensure that the information on this site is correct, but we cannot guarantee that it is free of inaccuracies, errors, or omissions. All content and services provided on or through this site are provided "as is" and "as available" for use. QuoteWizard.com LLC makes no representations or warranties of any kind, express or implied, as to the operation of this site or to the information, content, materials, or products included on this site. You expressly agree that your use of this site is at your sole risk.