If you are the victim of identity theft, getting your credit history and reputation back can consume time and money. Basic identity theft insurance covers the costs associated with closing unauthorized accounts and removing fraudulent transactions from your credit history. More advanced plans often include fraud prevention and detection services as well as reimbursement for stolen funds. Here are the most important things to know about identity theft insurance.
This article will cover:
What is identity theft insurance?
Identity theft insurance generally covers the expenses that can accrue as you repair the damage that identity thieves can cause to your financial and personal history. The most significant consequences include:
A lower credit score, which can impact your ability to get a loan in the future or leave you with higher interest rates.
Debts for unauthorized financial transactions.
Loss of funds from your bank, retirement or investment accounts.
Legal jeopardy for crimes committed by others using your identity.
While standard home insurance generally does not cover identity theft, you can usually purchase it as an add-on to your homeowners or renters policy.
Several companies not affiliated with home insurers also offer identity theft insurance, often in packages that also include credit monitoring and other identity theft protection services.
What does identity theft insurance cover?
A basic identity theft insurance plan primarily focuses on reimbursing you for the various fees and other costs that can arise as you try to restore your identity. These commonly include:
Identity and credit score repair costs.
Administrative and legal fees.
Government ID document replacement.
Notary and certified mail fees connected to credit repair.
Travel expenses, lost wages and certain other costs that may arise.
Services of a credit repair specialist to manage the process for you.
More advanced identity protection plans include:
Credit monitoring
Change-of-address request notifications
Dark web monitoring
Stolen funds compensation
Credit monitoring generally notifies you of changes to your credit file, including the use of your Social Security number for a loan or credit application. Some plans offer three-bureau monitoring, while others only monitor your credit with one of the three major bureaus. Three-bureau monitoring can potentially detect suspicious transactions quicker than one-bureau monitoring.
How to get identity theft insurance
You have some options to get ID theft insurance:
Check if identity theft coverage is part of your renters or home insurance policy.
Talk with your home insurance provider to see if identity theft insurance is available as an endorsement add-on.
Purchase identity theft insurance through credit bureaus or identity theft protection companies.
Identity theft insurance is also available through many credit card providers and financial institutions, like banks and credit unions, but their coverage may be limited to unauthorized transactions.
How much does identity theft insurance cost?
ID theft coverage can usually be added to your home insurance policy for an average of $25 to $60 a year according to the NAIC. This price may vary if you have a deductible. Deductibles for identity theft insurance are usually around $500.
Plans that package identity theft insurance with credit monitoring and other services range from $10 a month to $25 a month or more, depending on the company and coverage tier you choose.
Plan
Monthly cost
Plan highlights
Allstate Premier identity protection
$18
One-bureau credit monitoring, up to $1 million for ID restoration and $500,000 for stolen funds.
Āura individual fraud protection plan
$12
Combined $1 million limit for credit restoration and stolen funds, three-bureau credit monitoring, credit repair specialist and home-device security.
LIfelock by Norton Advantage Membership
$23
Three-bureau credit monitoring, $1 million identity restoration limit, $100,000 stolen funds limit and credit repair specialist.
Nationwide identity theft protection
$4
Credit monitoring, and up to $25,000 in credit repair costs and access to a case-management specialist.
State Farm Cyber Event, Identity Restoration and Fraud Loss (CEIDR)
$2
Combined $50,000 limit for credit repair and stolen funds, plus cyber protection.
Rates and program features obtained from provider websites.
Why identity theft is on the rise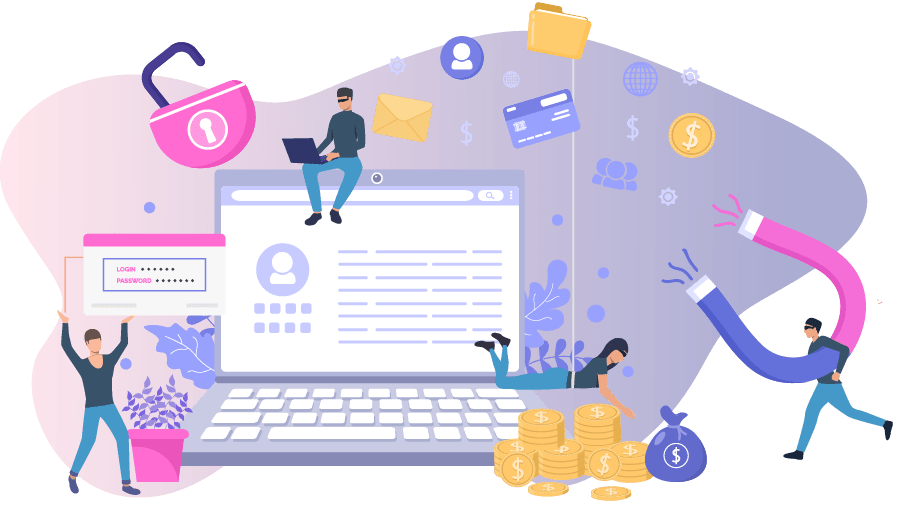 Identity theft continues to be on the rise into 2023. We found that there has been up to a 150% increase in identity theft reports in certain states since 2019.
The sharp increase in identity theft reports started during the COVID-19 pandemic, and every single state has had an overall increase in identity theft over the past 3 years. States such as West Virginia, Kansas, and Louisiana have been hit particularly hard with their identity theft reports more than doubling in the 3 year timeframe.
Identity Theft Increase by State
Rank
State
2019 ID Reports
2022 ID Reports
% Increase
1
West Virginia
1061
2657
150%
2
Kansas
2272
5651
149%
3
Louisiana
10584
24898
135%
4
Pennsylvania
20910
47143
125%
5
Ohio
13787
30950
124%
6
Mississippi
4714
10260
118%
7
Virginia
10289
22177
116%
8
Delaware
2187
4682
114%
9
Rhode Island
1145
2420
111%
10
Alabama
8439
17763
110%
11
Indiana
6387
12422
94%
12
North Dakota
448
848
89%
13
Illinois
23140
42558
84%
14
Massachusetts
8606
15518
80%
15
Kentucky
2978
5334
79%
16
Connecticut
4567
8129
78%
17
Arizona
10753
19018
77%
18
Wyoming
318
552
74%
19
Florida
64851
111221
72%
20
Maine
809
1377
70%
21
North Carolina
18586
31609
70%
22
Colorado
6275
10671
70%
23
New York
36341
60835
67%
24
Washington
7111
11877
67%
25
Vermont
338
564
67%
26
Wisconsin
5023
8319
66%
27
South Carolina
10848
17908
65%
28
Oklahoma
3705
6068
64%
29
Maryland
12679
20736
64%
30
Nevada
7762
12672
63%
31
Missouri
7406
12089
63%
32
South Dakota
412
670
63%
33
Iowa
1911
3097
62%
34
Minnesota
4499
7262
61%
35
Michigan
13534
21768
61%
36
Montana
706
1123
59%
37
New Jersey
18222
28712
58%
38
Oregon
4006
6293
57%
39
Idaho
1420
2225
57%
40
Texas
73562
113808
55%
41
Nebraska
1320
2019
53%
42
New Mexico
2089
3188
53%
43
Tennessee
10671
16124
51%
44
New Hampshire
1302
1892
45%
45
Alaska
539
767
42%
46
Hawaii
1345
1841
37%
47
Georgia
44889
60348
34%
48
California
101615
125597
24%
49
Utah
4704
5522
17%
50
Arkansas
4524
5186
15%
Methodology: Federal Trade Commission data on identity theft reports from Q1 2019 all the way to Q4 2022 were used to compile this report.
Identity theft reports are split into seven main categories:
Credit card fraud
Loan or lease fraud
Phone or utilities fraud
Bank fraud
Employment or tax-related fraud
Government documents or government benefits fraud
While there's been a dramatic rise in every category of identity theft fraud since 2019, much of the increase is directly tied to government documents or benefits fraud during the pandemic. According to Consumer Action, criminals used the COVID-19 pandemic to get a hold of people's personal information and then use it to steal benefits related to unemployment programs, stimulus payments and other newly created government relief efforts.
Identity Theft Increase by Category
ID Category
2019 Reports
2022 Reports
% change from 2019-2022
Credit Card Fraud
271,943
441,822
62%
Other Identity Theft
215,908
326,590
51%
Loan or Lease Fraud
104,778
153,547
47%
Phone or Utilities Fraud
83,647
77,284
-8%
Bank Fraud
58,857
156,099
165%
Employment or Tax Related
45,582
103,402
127%
Gov't Doc or Benefits
23,243
57,877
149%
Methodology: Federal Trade Commission data on identity theft reports from Q1 2019 all the way to Q4 2022 were used to compile this report.
Continue reading for more information on identity theft insurance and what to do if you suspect you may be a victim of identity theft.
Is identity theft insurance worth it?
Identity theft protection insurance is not perfect, but can be a great service if you have the misfortune of having your identity stolen. Without it, getting your credit history back to normal may cost a lot. Statistically, most identity thieves are not caught. This leaves the initiative to protect yourself up to you.
For all the progress that has been made in stopping identity theft, it is still a significant threat. According to Javelin's 2019 Identity Fraud Study, ID theft decreased from 16.7 million in 2017 to 14.4 million in 2018, but out-of-pocket fraud costs to victims more than doubled to $1.7 billion from 2016 to 2018.
As much as the internet age has improved our lives, it has also made the jobs of identity thieves easier. Mobile phone account theft almost doubled from 380,000 cases in 2017 to nearly 680,000 in 2018, according to Javelin's study. In 2019, Capital One experienced a breach that made 100 million records available to identity thieves. And in 2017, Equifax had a breach involving the data of 147 million people, including Social Security information. It's still considered one of the worst data breaches.
One of the major dangers of identity theft is the scope of its effect. It can affect your ability to get approved for a loan or open a credit line, and bad credit leads to higher insurance rates. Poor credit history can also affect you when you apply for a job or to rent a home.
Overall, given the pervasiveness of identity theft and the long-term financial cost that can come with it, ID theft insurance is a low-cost resource that covers a lot of ground should you have the misfortune of needing it.
"Identity theft insurance is a relatively inexpensive way to take some of the hassles out of restoring your credit if your identity is stolen. At minimum, you should consider a plan that includes credit monitoring, credit restoration expenses and the services of a specialist." - Rob Bhatt, Insurance Expert
What to do if you're the victim of identity theft
Experts from the Federal Trade Commission and other organizations recommend acting fast when you discover identity theft to minimize the damage. Here's what you should do if you discover unauthorized use of your personal data.
Contact the company or organization where the fraud has occurred. Notify them that your identity has been stolen and ask them to freeze your account.
Contact your identity theft insurance provider, if you have one, to inquire about opening a claim. If the incident is limited to the unauthorized use of your debit or credit card, you may not need to formally open a claim.
Contact one of the three major credit bureaus to place a fraud alert on your credit file. The credit bureau you contact is required to notify the other two about the alert, which makes it difficult for others to open new accounts with your Social Security number.
File an identity theft report with the FTC at identitytheft.gov or by phone at (877) 438-4338. The FTC provides a free recovery plan to guide you through the process.
File a police report. Some companies and organizations require a police report to forgive unauthorized transactions.
Review your credit report and notify creditors and credit bureaus of unauthorized charges.
Update the login credentials for your online accounts. Use secure passwords and two-factor authentication. Monitor the accounts for suspicious activity.
Consider freezing your credit file with all three credit bureaus. A freeze prevents anyone, including you, from opening a new account with your Social Security number. Just remember to unfreeze your credit when you need to open a new account.
References:
QuoteWizard.com LLC has made every effort to ensure that the information on this site is correct, but we cannot guarantee that it is free of inaccuracies, errors, or omissions. All content and services provided on or through this site are provided "as is" and "as available" for use. QuoteWizard.com LLC makes no representations or warranties of any kind, express or implied, as to the operation of this site or to the information, content, materials, or products included on this site. You expressly agree that your use of this site is at your sole risk.