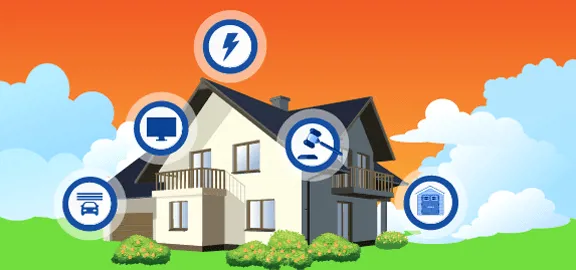 No one can predict when or where disaster will strike, but homeowners insurance can help you be prepared if it does. Homeowners insurance typically covers damage from events like fire, wind and hail, but there are notable exclusions, like flood. Here's what homeowners should know about their coverage:
What home insurance does (and doesn't) cover
Standard homeowners insurance has six coverages, which include protection for your home and your belongings. Home insurance can also help cover legal and medical expenses if you accidentally injure someone, someone is injured in your home or you damage someone else's property.
To know whether you're covered, you should ask two questions: what was damaged and what damaged it? Insurance companies call an event that damages your property a peril. Here are some perils most home insurance policies cover:
Homeowners insurance usually covers:
Fire and lightning
Wind and hail
Smoke
Theft
Vandalism
Explosion
Freezing
Falling objects
Riot or civil commotion
Aircraft and vehicles
Weight of ice, snow or sleet
Accidental discharge or overflow of water or steam
Sudden and accidental tearing apart, cracking, burning or bulging
Sudden and accidental damage from artificially generated electrical current
Volcanic eruption
Home insurance doesn't cover all perils or events, most notably excluding damage from floods and earthquakes. Homeowners insurance often doesn't cover:
Water damage from flooding
Earth movement
Ground water
Power failure
Neglect
Maintenance
War
Nuclear Hazard
Intentional loss
Government action
You should review your own policy, as coverage can vary slightly between insurers. Just one exclusion could leave you out to dry after a disaster. However, home insurance companies use a standardized policy, which means covered perils are relatively consistent between companies.
Get the coverage your home deserves at an affordable price.
Home insurance policy coverage
There are a handful of types of home insurance policies, but most homeowners have the HO-3 form. No matter what form you have, you'll probably see some or all of the following coverages in your policy. These sections should be thought of as separate coverages, which each have their own coverage limit, which is the maximum amount you'll be reimbursed after a loss.
Dwelling and other structures (Coverages A and B)
Dwelling and other structures coverages protect the buildings on your property, like your home, shed and garage. Weather events like hail, wind and lightning can damage everything from your roof, to windows, to siding, to your floors.
The coverage limit for your dwelling coverage should be high enough to rebuild your home if it were completely lost, not the market value of your home. That means things like the local cost of labor and materials should factor into your dwelling coverage amount.
Personal property (Coverage C)
Personal property protection covers your belongings, like your clothes, furniture and kitchen equipment. However there are individual coverage limits for many high value items, like jewelry, precious stones and firearms.
Frequently, your personal property coverage limit is defined as a percentage of your dwelling coverage. For example, it is common to have a coverage limit that is 50% of your dwelling coverage. So, if your dwelling coverage limit is $150,000, you'll have $75,000 of personal property coverage. However, you should increase or decrease this percentage to reflect the value of your belongings.
Loss of use (Coverage D)
Loss of use coverage helps you maintain your standard of living if you must temporarily leave your home after a loss. It can help you pay for additional living expenses and make up for lost rental income. For example, say you have to live in a hotel while your home is repaired after a fire. Loss of use can pay for those additional living expenses.
Liability (Coverages E and F)
Homeowners insurance gives you coverage for your property and liability protection. In a standard policy, there are two liability coverages: personal liability and medical payments to others.
Personal liability can help cover legal, settlement and medical costs if you are found liable of injury to someone or damage to their property. For example, if a family member hits a baseball through a neighbor's window accidently, personal liability can help cover the repair costs.
Medical payments to others coverage helps cover medical expenses if a guest is injured in your home. For instance, imagine a guest slips in your driveway and requires stitches. This coverage can help cover their hospital bill.
How does home insurance work?
Home insurance works by providing financial support after you experience a loss that is covered by your policy. Policyholders pay a monthly or annual premium, which is often included in mortgage payments if you have a home loan. Those monthly payments buy you coverage for your valuable assets, your home and liability.
If a loss occurs that you think should be covered by your policy, you submit a claim. Your insurance company may send an adjuster to your property to help determine if your policy covers the damage. If your claim is approved, most companies send checks with the reimbursement amount.
Check out our guide for tips on filing a home insurance claim for more information.
Bottom line
Homeowners insurance covers more than your home: it's an insurance policy that protects a homeowner's assets. From liability protection, to your valuable belongings, to your home, homeowners insurance can give you peace of mind knowing that your finances are protected from disaster.
At the same time, homeowners insurance does not cover everything, so it's important to know where your coverage starts and ends.
References:
QuoteWizard.com LLC has made every effort to ensure that the information on this site is correct, but we cannot guarantee that it is free of inaccuracies, errors, or omissions. All content and services provided on or through this site are provided "as is" and "as available" for use. QuoteWizard.com LLC makes no representations or warranties of any kind, express or implied, as to the operation of this site or to the information, content, materials, or products included on this site. You expressly agree that your use of this site is at your sole risk.