What is the Make and Model of a Car?
Learn more what you car's make, model, year, trim level and body style are. Plus, how they impact your insurance rates.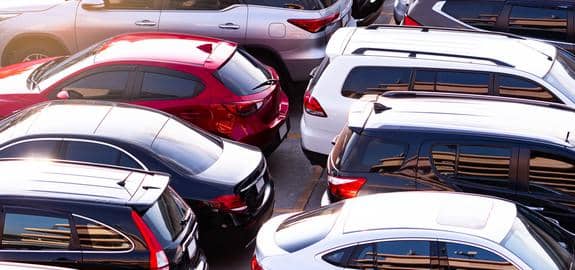 The make describes the company that manufactures the vehicle (Ford) and the model is the vehicle style (Mustang).You'll need to know the make and model of your car for everything from registering for a parking spot to filling out a form with your insurance company. Your car's make and model are used to differentiate your vehicle from others, and chances are you'll need this information on hand to fill out plenty of auto-related forms.
The make and model of your car impact not only the initial price tag, but also your auto insurance premiums. Find out more about the make and model of your car, including:
What is the difference between the make and model of a car?
Make and model represent two different things when it comes to your car. The make is the company that made the car, and the model is the style of car. For example, if you drive a Honda Civic, Honda is the make of the car and Civic is the model.
Make
The make of your car is pretty straightforward. The make is the company that manufactured the vehicle. Toyota, Nissan, BMW, Ford and Chevrolet are all examples of car makes. You can usually find the make's logo on your vehicle's exterior.
Model
Your car's model is more dynamic than the make, mostly because you may need to know the year, trim level and body style to differentiate it from another car with the same make and model. Civic, Wrangler, Escape and Outback are all examples of car models. There can be several models under one make, for example, Civic, Accord, Pilot and Element are all Honda makes.
Year
The model year of your vehicle is a good way to distinguish it from cars of the same make and model. Although it's usually the year your car was manufactured, that's not always the case. You can typically purchase next year's model during the previous year. For example, you may be able to purchase a 2018 car model in fall 2017.
Trim level
There are usually several trim levels for each make and model. For example, the 2018 Honda Accord has five trim levels: LX, Sport, EX, EX-L and Touring. The trim level is a way to further customize your car and add features like heated seats or a moonroof. The trim level is written after the make and model, for example, Honda Accord Sport. This is how insurance companies, manufacturers and dealers differentiate between different styles of cars with the same make and model.
These are common trim levels:
Standard: base model with the fewest features, usually the cheapest.
Sport: usually includes some extra features.
Luxury: a high-end level with the highest upgrade in features, and the most expensive.
Body type
Car models may also have different body styles. This means that in addition to trim level, you should also consider what body type you want your car to be. These are some examples of vehicle body types:
Coupe
Sedan
Hatchback
MPV
SUV
Crossover
Convertible
Where to find your car's make and model
You can easily find your car's make and model with the vehicle identification number (VIN) that's printed on your driver's side dashboard. Using the 17-digit VIN, you can look up your car's make and model in a vehicle report database.
You may also be able to find your car's make and model by looking on the exterior of the vehicle. Badges, decals and emblems on the outside of your car usually indicate the make, model and trim. If you can't find these indicators, use your VIN.
How does my car's make and model impact my insurance rates?
Your car's make and model influence how much you pay for auto insurance. The make, model, body style, year and trim can all greatly impact your insurance rates.
That's because the more expensive your car is to repair or replace, the pricier your auto insurance will likely be. Insurance companies take these factors into account when pricing your policy to find out how much it would cost if the vehicle were damaged. For example, according to our data, a luxury car like a BMW M5 costs around $5,543 a year to insure, whereas a Ford Escape SE costs around $1,515 annually to insure.
This is how much insurance premiums vary for a 2019 model year car with the same make and model, but varying trim and body styles:
Insurance premiums by trim and body style
Vehicle make, model and trim
Annual insurance premium
Honda Civic
1,511.06
Honda Civic EX-T
$1,631.26
Honda Civic LX
$1,563.02
Honda Civic Sport
$1,547.40

These average rates are based on our sample quote data.
Methodology
Our gathered quotes are based on the profile of a 30-year-old male living in Seattle. He has a clean driving record and 50/100/50 coverage, with $500 deductibles for both collision and comprehensive coverage. Data is collected from quotes from a top insurance company.
QuoteWizard.com LLC has made every effort to ensure that the information on this site is correct, but we cannot guarantee that it is free of inaccuracies, errors, or omissions. All content and services provided on or through this site are provided "as is" and "as available" for use. QuoteWizard.com LLC makes no representations or warranties of any kind, express or implied, as to the operation of this site or to the information, content, materials, or products included on this site. You expressly agree that your use of this site is at your sole risk.