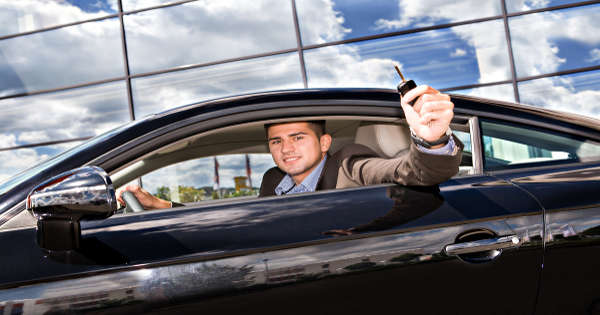 Buying or leasing a new car is an exciting—and nerve-racking—experience. Given the size and complexity of the purchase, it makes sense that insurance is likely to be one of the last things on your mind as you prepare to sign on the dotted line.
Don't forget about insurance though, as it will be a sizable portion of the total ownership cost of your vehicle.
So, what are some of the things you need to know before you head to the dealership, while you dicker with a salesperson, and even after you head home with your new set of wheels? Here are a few thoughts:
Get insurance if you don't already have it—If this will be your first car, or if you don't currently have auto insurance for some other reason, you're going to need to get insurance before you're allowed to drive it home.
Call your agent before you hit the car lot—This is a good idea for many reasons. One of them is that it'll allow you to find out if your current insurance policy (assuming you have one) automatically covers a newly bought vehicle for a certain number of days—which is very important if you decide to buy or lease a car on the weekend. Many car insurance policies offer this kind of protection, but you can't just assume yours is one of them, so check with your agent to be sure.
Checking in with your agent also gives you a chance to discuss how much the insurance for your new car will cost. It also lets you ask about discounts (such as for various safety features—like airbags, antilock brakes, and daytime running lights). You can also compare quotes from top insurance carriers so you can get the best rates.
Don't forget to contact him or her after you've completed the purchase, too—Why? Because you alone are responsible for notifying your insurance company about your new vehicle. So, take care of this vital step yourself—even if the dealership offers to do it for you.
Review your current coverage—If you're looking to have your current car insurance policy cover your new vehicle for a few days (such as if you're going to buy it over a weekend, as mentioned earlier), you'll want to make sure the two are compatible.
For example, your new car may need collision and/or comprehensive coverage (some lenders require the former), but if your current policy is for a rather old, used car, it may not include either of those forms of coverage. (In which case, your new car also won't have comprehensive and collision coverage.)
Weigh your need for gap insurance—Are you planning to lease a new car? If so, you'll likely be required by the leasing company to purchase gap coverage for your new vehicle. If your intention is to buy and finance a new car, though, you'll probably have to decide for yourself if this form of coverage is worth the added expense. (Although some financing companies also require gap insurance to be bought for purchased cars.)
In general, gap insurance is a smart purchase if you're buying a new vehicle, as it will protect you in the event that the car is totaled in an accident by covering the difference between what you still owe on the car, and what your insurance company is willing to pay you for it.
For more about gap insurance, check out this article on the subject.
Understand the many different factors that are considered when coming up with your premiums. Insurance companies look at a number of criteria to determine your rates. Here, in alphabetical order, are some of the most significant:
Age—If you're between the ages of 16 and 25, you can expect to pay more for car insurance than drivers who are a bit older than you are thanks to the fact that you're statistically more likely to get into traffic accidents than your more experienced counterparts.
Your rates probably will drop a bit after you turn 26, though, and they're sure to remain in that depressed state for the next four decades or so before being increased once again when you reach "senior citizen" status (around the age of 65).
Credit-based insurance score—Do you live in a state other than California, Hawaii, or Massachusetts? If so, most of the companies you turn to for car insurance will use what's called a credit-based insurance score—produced using some portion, if not the entirety, of your personal credit history--to help predict how likely (or unlikely) you are to file a claim or cause them a loss.
Driving record—This may be the most important factor in your auto insurance rates. The cleaner your driving record, the lower your rates are likely to be. So, keep those speeding tickets, traffic accidents, and other such offenses to a minimum if you want to keep your rates down.
Gender—Statistics suggest men are more likely than women to crash their vehicles, which of course means they tend to pay more for car insurance. (Don't get too worked up about this, fellas, as women usually pay more than you do for health insurance.)
How you use your car—The more you're on the road, the more likely you are to get into an accident. Insurance companies are well aware of this, so if you, say, use your vehicle to commute to and from work each day, you're going to pay higher rates than your neighbors down the street who only use their car less often.
Make and model of your vehicle—Actually, there's more to this bullet point than just your car's make and model. A case in point: if you purchase an expensive vehicle, it's probably going to be more expensive to insure, too—due to the fact that it's probably going to be more expensive to repair or replace than a similar cheaper car, should the need arise.
That's not to suggest, though, that cheaper cars always are cheaper to insure, as cars that perform poorly in crash tests, for instance, may also cost more to insure.
Sports cars often cost more to insure, too, by the way, as do those that are considered "desirable"--as such vehicles are at a higher risk of being stolen.
Marital status—Statistics are at play here as well (just like they are when it comes to the role age and gender have on insurance rates)—mainly because married drivers tend to get into car accidents less often than similar single drivers.
Occupation—People who have certain jobs are more likely to file a claim, which results in insurance companies charging them more for auto coverage.
Prior insurance history—Has there ever been a gap in your car insurance coverage? If not, your rates are sure to benefit from it. If you have had such a gap, you're going to pay higher rates, and mostly because statistics suggest you're more likely to be in an accident.
On a related note: the number of claims you've made in the last few years also can impact your insurance rates, with fewer being far better than more.
Where you live—In general, drivers living in large cities and other densely populated areas pay more for car insurance than those who live in more rural or suburban locations, chiefly because more traffic accidents, break-ins, and stolen vehicles occur in these areas.
A few other factors are at play here, too, though, and they can be found in our "Car Insurance FAQ."
Despite all of the above, it's important to remember that the formula that's used to calculate your rate differs from insurer to insurer. So don't forget to shop around and compare quotes from multiple companies while you work your way toward buying or leasing a new car.
References:
QuoteWizard.com LLC has made every effort to ensure that the information on this site is correct, but we cannot guarantee that it is free of inaccuracies, errors, or omissions. All content and services provided on or through this site are provided "as is" and "as available" for use. QuoteWizard.com LLC makes no representations or warranties of any kind, express or implied, as to the operation of this site or to the information, content, materials, or products included on this site. You expressly agree that your use of this site is at your sole risk.