It's easy to forget car insurance when buying a new car.
But that can be an expensive oversight. Not only do most states require car insurance, but it is a big part of the cost of owning a vehicle — especially a brand new one. According to our data, new cars cost $291 per year more to insure than older cars.
But how do you get new car insurance? Does your current insurance policy cover a new car? And how can you transfer existing insurance to a new car?
We'll answer each of these questions in this article, as well as the following:
Do you need auto insurance to buy a new car?
You don't need car insurance to buy a new car, but you do need car insurance to drive a new car off the lot.
This is because almost all states require car insurance to drive. They don't require you to have full-coverage car insurance, though. Most just require you to have at least a minimum amount of liability coverage.
That said, you might want or need to buy a full-coverage policy, which generally includes collision and comprehensive coverages, as well as liability coverage. This is especially true if you buy a brand new car as opposed to a "new to you" car.
Lenders often require one or both of these auto insurance coverage types. Consider them even if your lender doesn't, or if you didn't finance your vehicle purchase. Collision and comprehensive provide a lot of protection, and without them you and your wallet could be in for a major shock if an accident or some other event damages or destroys your new car.
How to get insurance for a new car
Here's how to get insurance for a new car if you don't have an existing car insurance policy:
Decide which vehicle make and model you want to buy.
Use that and other information to get car insurance quotes from several companies.
Compare quotes.
Choose the insurer that is best for you, your new car and your overall situation.
Buy your new car.
Use the quote number your chosen insurer gave you to retrieve your specific quote.
Send the insurer any missing details, such as your new car's VIN, to finalize the policy purchase.
Your insurer should send you proof of insurance almost immediately.
Drive your new and fully insured car off the lot.
How much is insurance for a brand new car?
Auto insurance for new cars costs about $24 per month more than auto insurance for old cars, based on our research. That's a difference of $291 per year.
Car insurance rates for new cars vs. 2010 models
Company
Annual premium for 2010 model
Annual premium for new car
Price difference between new and old models
Percent difference
Allstate
$1,914
$2,289
$375
20%
Farmers
$2,232
$2,618
$386
17%
GEICO
$1,712
$2,035
$323
19%
Progressive
$1,950
$1,946
$4
0%
State Farm
$2,284
$2,658
$374
16%
Average
$2,018
$2,309
$291
14%
Note: Average rates are based on non-binding estimates provided by Quadrant Information Services. Your rates may vary.
To boil down this data: buying a new car could raise your insurance rates by up to 20% compared to what they were for your old car.
How much your insurance rates go up with a new car depends on where you get or got your coverage.
There are several reasons new and newer cars tend to be more expensive to insure than older cars:
New cars usually need comprehensive and collision coverages, as well as liability coverage.
Newer cars typically require higher comprehensive and collision coverage limits than older cars because they're more valuable.
Replacement parts for new cars often cost more than replacement parts for old cars.
Does my current insurance cover a new car?
If you already have a car that's insured, its policy may cover your new car as well. But even then, your current auto insurance will only cover your new car temporarily.
Most car insurance companies offer grace periods to protect you in situations like this. These grace periods cover the time between when you buy a new car and when you formally add it to your existing policy.
How long do you have before insuring a new car?
If you don't currently have car insurance, you'll need to buy it before you can drive a new car off the dealership lot. If you have an existing policy, you might have anywhere from a few days to a full month to add your new vehicle to it.
Grace periods vary among insurers, so contact your insurance agent to make sure you know how long your grace period is before you buy a new car. You don't want to find yourself uninsured on the road.
Compare quotes for new car insurance from top companies.
How to transfer insurance to a new car
To transfer insurance to a new car, contact your insurance provider.
You'll likely need to give them the following pieces of information so they can complete the process and add or transfer your new car to your existing policy:
Your new vehicle's year, make and model.
Its vehicle identification number (VIN).
If you're not sure which vehicle you'll buy at this point, don't worry. You can give the missing details to your insurer after you've settled on a specific car.
The more information you can give them, though, the better. One reason for this is it allows your insurer to give you the most accurate rate quote possible. Your new car may cost more to cover than your current one. A second reason: it lets you more accurately compare quotes between your current insurer and several others.
How long does it take to get car insurance for a new car?
Getting car insurance for a new car can take as little as a few minutes or as long as several hours.
Exactly how long it takes to get insurance for a new car depends on a few factors, including whether you already have a policy or you need to buy one.
If you already have car insurance and just need to add your new car to it or transfer it to your new car, it may take a single phone call and a couple of minutes.
If you have to buy car insurance for your new vehicle and you've yet to shop around and compare quotes, the process could take a number of hours. Or it could take quite a bit less than that — if, say, you use a company that does the heavy lifting for you, like QuoteWizard.
Should I get gap insurance for a new car?
Gap insurance can be a smart purchase when buying a new car. It protects you if your new financed or leased vehicle is totaled in a crash. Gap insurance covers the difference between what you still owe on a car and what your insurance company will pay you for it.
For example, let's say you owe a leasing company $20,000 for your new car. You get into an accident that totals it. Afterward, your insurer might only pay out $15,000 because the vehicle dropped in value as soon as you drove it off the lot.
In this situation, you still owe your leasing company $5,000. Instead of having to pay the $5,000 difference out of your own pocket, your gap insurance covers it.
If you plan to lease a new car, the leasing company will probably require you to purchase gap coverage. If you plan to finance a new car, you'll likely have to decide for yourself if gap coverage is worth the added cost. Some lenders and financing companies require gap insurance, but some do not.
Insuring an electric or hybrid car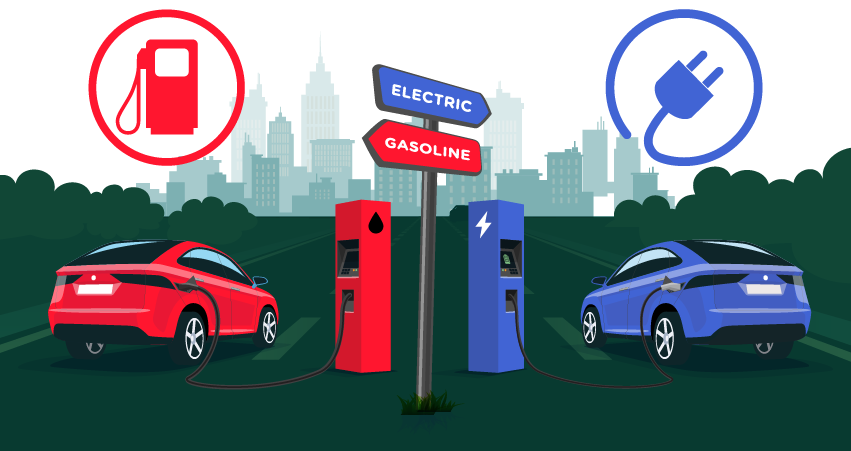 Uncertain gas prices, societal trends, and growing charging infrastructure have sparked a new demand for alternative fuel vehicles. However, insurance for an electric or hybrid car differs from traditional vehicle insurance.
Insurance for an electric or hybrid car can be 25% more expensive than for other vehicles. This is mainly because alternative fuel vehicles cost more, are more costly to repair, and feature more expensive technologies. How much you're ultimately going to pay though, depends heavily on factors like the make and model of your vehicle and your insurance carrier.
Methodology
We compared rates from several insurance companies for this article. The driver profile we used to get these quotes was of a 30-year-old male who lives in California. He drives either a 2010 Hyundai Elantra or a 2019 Hyundai Elantra, depending on the quote. He has a clean driving record and 100/300/100 coverage limits.
QuoteWizard.com LLC has made every effort to ensure that the information on this site is correct, but we cannot guarantee that it is free of inaccuracies, errors, or omissions. All content and services provided on or through this site are provided "as is" and "as available" for use. QuoteWizard.com LLC makes no representations or warranties of any kind, express or implied, as to the operation of this site or to the information, content, materials, or products included on this site. You expressly agree that your use of this site is at your sole risk.