Buying Car Insurance for a New Car
Learn more about auto insurance before you visit a car dealership to buy a new car.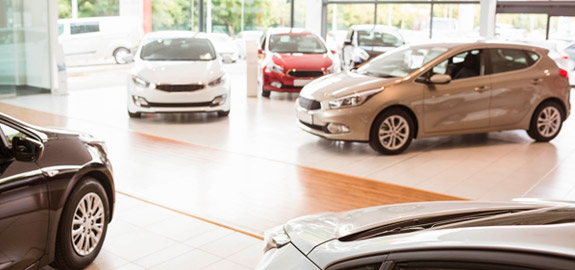 If you're buying a new car, you'll need auto insurance immediately. Nearly every state requires drivers to carry car insurance, and driving your new car off the lot is no exception. Not only that, but car insurance is a sizable part of your vehicle ownership costs. It's more expensive to insure a new car than an older car. To save money, time and stress, you should have an auto insurance policy lined up before you buy your car.
This article covers everything you need to know about buying insurance for a new car, including:
Can you buy a car without insurance?
You can buy your car without insurance, but you often won't be allowed to drive away with it until you provide proof of insurance to the dealership. That's because auto insurance is required in most U.S. states.
You don't need a full policy, just your state's minimum insurance amount. If you already have an auto insurance policy for your current or other cars, that will usually automatically cover your new car temporarily until you're able to transfer or add a new car to the policy.
How much is insurance for a new car?
It generally costs more to insure a new car versus an old car. That's because if a new car is damaged, replacement parts and repairs will cost more than they would for an old car. Insurers take that into consideration when setting premiums higher for a new car. According to our data, it costs an average of $291 more per year to insure a new car than an old car.
Car insurance rates for new cars vs. 2010 models
Insurance Company
Annual premium for 2010 model
Annual premium for new car
Price difference for new and old car models
Percent difference
GEICO
$1,712
$2,035
$323
19%
Progressive
$1,950
$1,946
$4
0%
State Farm
$2,284
$2,658
$374
16%
Allstate
$1,914
$2,289
$375
20%
Farmers
$2,232
$2,618
$386
17%
Average
$2,018
$2,309
$291
14%
Note: Average rates are based on non-binding estimates provided by Quadrant Information Services. Your rates may vary.
Depending on your insurance company, rates could rise up to 20% when you insure a new car instead of an old car. According to our data, drivers with Allstate policies see the highest jump in cost from a 2010 car model to a 2019 car model. Rates vary based on several factors, including location, gender, driving record and more.
How long does it take to get car insurance for a new car?
Most insurance companies send proof of insurance immediately after you purchase a policy. However, you should purchase auto insurance ahead of time to get a good deal. That means you'll have to research what car you want before you go to the dealership. Then purchase insurance for that car. You should also compare quotes from several insurance companies ahead of time to save money.
If you change your mind after shopping around, that's fine too. You can purchase insurance online and immediately get proof of your policy before you even drive off the lot.
Adding a new car to an existing insurance policy
If you're looking to have your current car insurance policy cover your new vehicle for a few days, make sure the two are compatible.
For example, your new car may need collision and/or comprehensive coverage (some lenders require the former), but if your current policy is for an old used car, it may not include either of those forms of coverage. In which case, your new car also won't have comprehensive and collision coverage.
Car insurance grace period when buying a new car
If you already have a car insurance policy, your insurer may extend a grace period to add your new car to your policy. That means your new car could be covered by your existing auto insurance policy for a short time. Depending on your insurer, you could have anywhere from four to 30 days to add a new car to your existing insurance policy.
Grace periods vary from insurer to insurer, so make sure you know how long yours is before purchasing a car. Contact your insurance agent before buying your car to know exactly how long you have to add a new car to your policy. You don't want to find yourself uninsured on the road.
Short-term insurance policies
In some states, you have the option to buy a temporary or short-term car insurance policy. These are a good option if you need time to compare quotes. However, these 7-day and 30-day policies are typically more expensive than a standard car insurance policy. That's why we recommend you purchase a standard policy before buying your new car.
Do I have insurance when I drive my new car off the lot?
No, you'll need to purchase coverage before you drive off with your new car. You should buy insurance before heading to the dealership. If you don't have auto insurance coverage before driving your car, you may not be able to take your new car home that same day.
That's especially true if you're financing or leasing your new car. Leasing and financing companies require proof of car insurance before they'll help you get a new car.
New car gap insurance
Gap insurance is a smart purchase if you're buying a new vehicle. It will protect you if your new leased car is totaled in an accident. Gap insurance covers the difference between what you still owe on the car and what your insurance company pays you for it.
For example, imagine you owe your leasing company $20,000 for your new car. Then, you get into a car accident and the car is totaled. Your insurance company will pay you $15,000 for the actual cash value of the car, because the car instantly decreases in value when it's driven off the lot. But even with that $15,000 covered, you still owe your leasing company $5,000. Instead of having to pay the $5,000 difference out of pocket, gap insurance covers that amount.
If you're planning on leasing a new car, you'll likely be required by the leasing company to purchase gap coverage for your new vehicle. If your intention is to buy and finance a new car, you'll probably have to decide for yourself if this form of coverage is worth the added expense. Although some financing companies also require gap insurance for purchased cars.
Rate methodology
We compared rates from several insurance companies for an employed 30-year-old male driver in California with a 2010 Hyundai Elantra and a 2019 Hyundai Elantra. Our rate profiles have a clean driving record and include 100/300/100 coverage.
QuoteWizard.com LLC has made every effort to ensure that the information on this site is correct, but we cannot guarantee that it is free of inaccuracies, errors, or omissions. All content and services provided on or through this site are provided "as is" and "as available" for use. QuoteWizard.com LLC makes no representations or warranties of any kind, express or implied, as to the operation of this site or to the information, content, materials, or products included on this site. You expressly agree that your use of this site is at your sole risk.