Exotic and Luxury Car Insurance
If you own an exotic or luxury car, you should buy full coverage car insurance to keep your investment protected.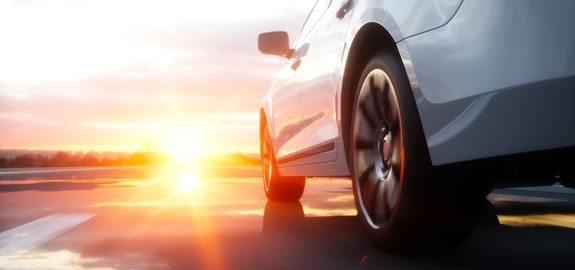 If you have a luxury car from a brand like a Mercedes-Benz, BMW, or Porsche, you'll need full coverage insurance. That's because of how costly and high-performance these cars are. We recommend purchasing liability, comprehensive, collision, personal injury protection, and gap coverage for luxury cars. If you have an exotic car—like a Ferrari or Lamborghini— consider purchasing a specialized auto policy.
Luxury and exotic cars may come with plenty of perks. But they also come with a high price tag, high risk of theft, and costly repairs. Those are all reasons why exotic and luxury car insurance is expensive. Find out how to insure your luxury, sport, or exotic car in this article, which covers:
Insurance for Luxury Cars
Luxury cars can cost more than $100,000, need special tools and knowledge to repair, and require unique parts. They're more expensive to maintain than an average car. Your auto insurance rates will reflect that by costing more than a policy for a Toyota or Honda.
There's no question – you need auto insurance for your luxury car. Because there's a lot of money at risk if you damage or total your car, we recommend purchasing full coverage auto insurance, including:
Liability: Covers the costs of related vehicle and property damage if you cause a crash. It covers the costs of injuries to other people that result from the accident. It's also the minimum auto insurance coverage required by state laws. This insurance won't cover damages to your car or injuries caused to you or your passengers. You'll need enough liability insurance to cover your assets that are at risk if you're held liable for damages. In some states, there is a maximum liability limit. That means you'll have to purchase an umbrella policy for more liability coverage. Umbrella policies are available in $1,000,000 increments and initiate after you meet your bodily injury and property damage limits.
Comprehensive: Covers damages to your own car. It's especially important to have if you own a luxury car. Comprehensive car insurance protects your car from theft, natural disasters, falling objects, fire, hitting an animal, and more. Essentially, anything other than damage caused by a collision. Having comprehensive coverage on your luxury vehicle is highly recommended. Especially because it's very expensive to fix in case of unpredictable damage.
Collision: Collision insurance helps repair or replace a car damaged in an accident. As a luxury car owner, buying this type of coverage should be a priority. If you're ever in an accident, or if someone hits your car while you're parked, collision insurance has you covered. If you don't have this coverage, you could be in the bad position of shelling out a fortune to get your Ferrari fixed or replaced entirely.
Personal Injury Protection (PIP): This type of policy covers you and your passenger's medical expenses resulting from a car accident. It also offers compensation for funeral expenses, lost compensation, and more.
GAP: GAP insurance covers the cost difference between what you owe on a leased or financed car and what's covered by your insurer in case your car is totaled. Luxury cars are expensive, and many people can't buy them with cash. You don't want to be stuck paying off a costly car you can't drive.
How to Save Money on Luxury Auto Insurance
Luxury car insurance will be high-priced, there's no way around it. However, there are some actions you can take to minimize your luxury car insurance rates. These are some ways to lower your prices:
Take advantage of discounts: Auto insurance companies offer discounts for everything from safe driving to having a good GPA. You can also get a discount if your car has high-end safety features, which many luxury cars do.
Drop unnecessary coverage: Although it's highly recommended that you purchase full coverage insurance, you don't need to have it. The only required insurance is liability. Of course, it's risky to have limited coverage with a luxury car.
Look for mileage limits: Your luxury car may not be your daily commuter car. Or, you may only drive it during certain months. If that's the case, look for a policy that limits the amount of mileage you can drive your car, it could save you money.
Compare rates: Prices vary depending on several factors like where you live, your driving record, and your age. Your rates could change drastically depending on your insurer. Compare quotes from several companies to find the best auto insurance rates.
Specialized Insurance for Exotic Cars
Exotic cars are in a different insurance game than luxury cars. While luxury cars can be insured by standard auto policies, it can be difficult to find insurers that will cover exotic cars. That's why you'll need specialized insurance. Lamborghinis, Ferraris, and Aston Martins are all considered exotic cars. Exotic cars are more expensive and rarer than luxury cars. They need an insurance policy to match.
Agreed Value vs. Actual Cash Value
One reason specialized auto insurance is favored over standard auto insurance is that the latter only pays out the "actual cash value" (or "stated value") of a car declared a total loss after an accident. The value of standard vehicles decreases the older they get and the longer they're driven. Insurers base the price of their standard policies on that depreciation. Most exotic cars, however, increase in value—or at least retain their value--over time. That's where agreed value comes into play.
When you go to take out a specialty car policy, you, your agent, and your insurer's underwriters determine the agreed value of your vehicle. Your auto's age, features, and rarity are consulted to come up with this value. Then, if your car is ever totaled, you will be paid that full, agreed-upon value.
So, if the agreed value of your vehicle is $500,000, that's the amount you'll receive if it's found to be a total loss after an accident. If you insured the car with an actual cash value policy instead of agreed value, you'd get less than that. That's because of the depreciation factored into the insurance company's calculations.
Specialty Auto Insurance Cost
It may come as a surprise, but your exotic vehicle may cost less to insure than your daily commuter car. Why would insurance providers charge you less to protect an exotic vehicle than they would to protect an ordinary one?
Exotic cars are often driven less, and for fewer miles, than everyday cars. Also, most exotic cars are well-maintained. Combine those two elements and it's easy to understand why insurance companies are willing to cut owners of these vehicles a break on their premiums.
QuoteWizard.com LLC has made every effort to ensure that the information on this site is correct, but we cannot guarantee that it is free of inaccuracies, errors, or omissions. All content and services provided on or through this site are provided "as is" and "as available" for use. QuoteWizard.com LLC makes no representations or warranties of any kind, express or implied, as to the operation of this site or to the information, content, materials, or products included on this site. You expressly agree that your use of this site is at your sole risk.