Compare Auto Insurance in Seattle
Home to Amazon, Microsoft, and Boeing, the Seattle, Washington area is famous for its high-tech companies. Now there is a high-tech way for Seattleites to shop for affordable car insurance.
Average Seattle Car Insurance Rates
How much does car insurance in Seattle, WA cost? Unfortunately, car insurance in Seattle is expensive. A high vehicle theft rate, a high accident rate, and slick driving conditions are some of the many factors that make it so costly to insure a car in Seattle. Drivers pay much more for car insurance in Seattle than the rest of the country. The average cost of car insurance in Seattle is $1,453 a year for men and $1,639 for women.
The average cost of auto insurance in Washington is $884.24 per year. The national average cost is $889.01. Prices will vary depending on your driving record and the total number of claims filed in your zip code.
Seattle Average Annual Car Insurance Rates
Coverage
Men
Women
Liability
$933
$1,160
Collision
$445
$413
Comprehensive
$75
$65
Total Cost Per Year
$1,453
$1,639
Price Per Month
$121.08
$136.58
These average rates are based on our sample quote data. 1
In Seattle, insurance rates vary based on which neighborhood you live in. The Seattle neighborhood with the most expensive insurance rates is Columbia City, where average rates cost $90 per month. Compare that to Seattle's cheapest neighborhood, downtown, where average rates are only $77 per month.
Most Expensive Seattle Zip Codes/Neighborhoods
Zip Code
Monthly Rates
Annual Rates
98118 - Columbia City
$90
$1,075
98108 - Beacon Hill / Georgetown
$87
$1,046
98106 - Delridge
$87
$1,039
98126 - West Seattle
$86
$1,037
98178 - Rainier Beach
$86
$1,034
Average rates are based on non-binding estimates provided by Quadrant Information Services. Your rates may vary. 2
Cheapest Seattle Zip Codes/Neighborhoods
Zip Code
Monthly Rates
Annual Rates
98101 - Downtown
$77
$925
98121 - Downtown
$78
$934
98103 - Fremont / Greenlake
$78
$938
98119 - Queen Anne
$78
$939
98112 - Madison Park
$79
$942
Average rates are based on non-binding estimates provided by Quadrant Information Services. Your rates may vary. 2
The graph below shows the change in Washington's average auto insurance rates from 2011 to 2015, the most recent year the data is available. According to the III, Washington's car insurance rates increased from $806 in 2011 to $884 in 2015, a jump of $78, or 9.70 percent.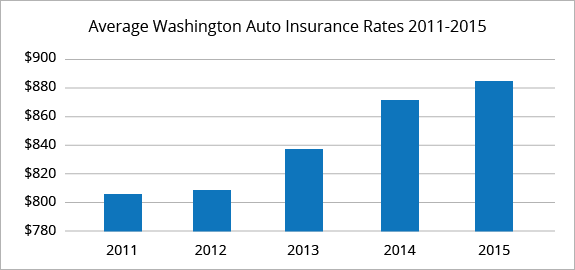 QuoteWizard helps consumers compare quotes from both national insurance companies and local independent agents. QuoteWizard can help you find cheap car insurance rates near Seattle, Washington and save up to 40% on your premium.
Last year, 9,869 people used QuoteWizard to get an auto insurance quotes comparison in Seattle, WA from multiple companies and get the cheapest rates.
Best Car Insurance Companies in Seattle, WA
This is our list of the most common car insurance companies reported by QuoteWizard users living in Seattle, WA last year.
Of the 9,869 Seattleites that requested quotes last year, 2,373 were uninsured.
Other popular Seattle, Washington car insurance companies: American Family, Nationwide, USAA, Hartford, Pemco, Country Financial, MetLife, and Washington Farm Bureau.
Cheapest Car Insurance Companies in Seattle
Company
Monthly Rates
Annual Rates
GEICO
$43
$514
State Farm
$49
$587
Progressive
$66
$789
American Family
$84
$1,014
Average rates are based on non-binding estimates provided by Quadrant Information Services. Your rates may vary. 2
Top 10 Vehicles
These are the most common car makes and models owned by Seattle, Washington drivers requesting quotes through QuoteWizard last year.
Honda Accord EX/LX
Toyota Prius
Honda Civic DX/EX/LX
Ford F150
Toyota Camry LE/XLE
Honda CR-V EX
Ford Ranger
Ford Explorer
Ford Focus SE
Toyota RAV4
Minimum Car Insurance Requirements in Seattle, WA
Seattle, Washington, drivers are required to maintain a minimum level of liability coverage known as the 25/50/10 rule. This means each policy must have at least:
Individual Bodily Injury Liability (BIL): $25,000.
The maximum amount your insurer pays for a person injured in a car accident.
Total Bodily Injury Liability: $50,000.
The total your insurance company pays for every person injured in a car accident.
Property Damage Liability (PDL): $10,000.
The most your insurance carrier pays for property damage caused by a car accident.
Recommended Coverage Levels
It's not a great idea to buy only legal minimum coverage. While it costs less, minimum coverage becomes more expensive if you file a claim. Why? Minimum coverage does not include comprehensive or collision coverage. Plus, it's easy to exceed minimum coverage levels after an accident.
Minimum coverage only pays for damages to other people, their car, and their property. Minimum coverage does not cover you, your injuries, or your property. If you have minimum coverage and you cause an accident, you're on the hook for your expenses.
With that in mind, we recommend that Seattle drivers buy the following coverage:
Individual Body Injury Liability: $100,000
Total Bodily Injury Liability: $300,000
Property Damage Liability: $100,000
Seattle Drivers
Allstate's Best Drivers Report ranks Seattle 181st out of 200 US cities for safe driving. Most US drivers go ten years without being involved in an accident. Nevertheless, drivers here are involved in crashes every 6.7 years. Of the 9,869 Seattle QuoteWizard users, 770 reported some type of incident on their driving record.
Driving Conditions
Driving conditions are factors that can affect your insurance rates.
Weather
Wet, slick roads due to near constant drizzle for half of the year can make driving treacherous. In addition, with Seattle's steep hills, good luck if it snows! Even a dusting of snow can bring traffic here to a standstill. Fortunately, it hardly ever snows and once summer arrives, the skies are blue and the streets are dry.
Road Conditions
The Washington State DOT reports that approximately 36% of Seattle's 1,574 lane miles of arterial streets are in need of repair. TRIP reports that 41 percent of the major roads in Washington State are in poor condition. Another 23 percent are mediocre. The poor condition of city streets costs local drivers an extra $684 a year due to higher vehicle operating costs.
Traffic Congestion
Seattle has worse traffic than many, much larger cities. TomTom ranks Seattle 53rd for worst traffic congestion in the world. An average commuter spends 40 extra minutes driving to or from work on roads that are usually slippery, and often poorly maintained. Both I-5 and I-90 are often gridlocked at the peak of rush hour, especially when the roads are wet.
Moving Violations
Moving violations like speeding tickets, accidents, running a red light, and drunk driving will give you a bad driving record. This will lead to higher insurance rates. The worst drivers with the most tickets are called high-risk drivers. If that happens to you, expect your insurer to require you to buy a non-standard policy designed for high risk drivers.
Traffic Tickets
The Seattle Municipal Court website allows residents to pay traffic citations. It also tells drivers how to contest tickets and provides helpful traffic court information.
Seattle Police recorded 1,757 moving violations in January 2016 alone.
DUI Arrests
Seattle Police arrested 1,050 adults and seven juveniles for suspicion of DUI in 2016.
Seattle has good public transit and offers rideshare services such as Lyft and Uber, so there's no reason to risk a DUI. Paying for a ride home will always cost much less than a DUI.
SR-22 DUI Insurance
A DUI conviction may require you to obtain an SR-22 form. Get a quote and compare rates from local agents and top companies that specialize in Seattle DUI insurance.
DWI Crashes and Injuries
Seattle reported 604 crashes involving alcohol or drugs in 2018. These accidents caused 124 injuries and four fatalities.
Car Accident Statistics
Seattle officials reported 10,920 car crashes in 2018. These crashes resulted in 1,085 injuries, 192 of them serious.
Traffic Fatalities
Seattle officials reported 18 fatal traffic collisions in 2018 resulting in 18 deaths.
With Seattle's estimated population of 724,745, this a relatively safe city in terms of traffic fatalities.
Vehicle Theft Rates
Seattle Police recorded 3,744 vehicle thefts in 2017. This works out to a vehicle theft rate of 5.17 thefts per 1,000 residents. This is more than twice the national rate of 2.37 stolen cars per 1,000 people.
Given how prolific vehicle theft is in the area, drivers should talk to their insurance agents or carriers about comprehensive insurance, which protects against vehicle theft.
Most Stolen Vehicles in Seattle
Below, you'll find the three most stolen vehicles in the City of Seattle in 2014.
Source: Seattle Police Department - SeaStat Program

| Rank | Make/Model |
| --- | --- |
| 1 | Honda Accord |
| 2 | Honda Civic |
| 3 | Subaru Legacy |
Older vehicles are the favorite target of car thieves. SeaStat data shows that nearly three out of every four stolen vehicles were made before 2002.
Car Insurance Discounts
Are you looking for affordable car insurance? Discounts are one of the best ways to lower your rates. These are only a few of the auto insurance discounts available to Seattle drivers. Get a quote and find out whether you're paying too much for your car insurance policy.
Rate Methodology
1 We compared rates from three different insurance companies for 30-year-old male and female drivers with a 2010 Honda Accord. Our rate profiles have a clean driving record and drive less than 10,000 annual miles. Coverage includes state liability minimum of 25/50/10 and 25/50/10 underinsured motorist coverage. Policies also include $10,000 personal injury protection and a $500 comprehensive and collision deductible.
2 Auto insurance rate data was provided by Quadrant Information Services. Rates are based on a driver profile of a 35-year-old, owning a 2015 Toyota Camry, drives less than 10,000 annual miles, good credit, clean record, and state minimum liability of 25/50/10. Rates are an average of the top 10 insurance companies in the state of Washington.
Sources:
QuoteWizard.com LLC has made every effort to ensure that the information on this site is correct, but we cannot guarantee that it is free of inaccuracies, errors, or omissions. All content and services provided on or through this site are provided "as is" and "as available" for use. QuoteWizard.com LLC makes no representations or warranties of any kind, express or implied, as to the operation of this site or to the information, content, materials, or products included on this site. You expressly agree that your use of this site is at your sole risk.