Your car's make and model is an important factor in determining what you pay for auto insurance.
A standard car model won't cost much to insure compared to an expensive luxury car, for example. In fact, we found that the safe and fairly economical Jeep Wrangler costs an average of $1,777 per year to insure, while the pricey and high-powered Jaguar XJR costs $5,478 per year to insure, on average.
There's more to how car make and model affect insurance rates than vehicle cost, as you'll learn in this article.
What is the make and model of a car?
The make of your vehicle is the brand that built it. The model is the specific version of your vehicle. Using the Honda Accord as an example, Honda is the make and Accord is the model.
Your car's make, model, trim, year and body type all play a role in how much you pay for auto insurance. An expensive car model with additional features and a large engine will cost more to insure than a standard car model with a high safety rating. That's why you should compare auto insurance quotes from several companies when shopping for a new car. It will show you how different trims and body types might impact your premium.
Even if your car has the same make and model as another, you can customize it with the trim. The 2018 Honda Accord has five trim levels, including LX, Sport, EX, EX-L and Touring. Trim level options often include:
Another thing you'll consider when purchasing a car is the body type. Examples of vehicle body types include: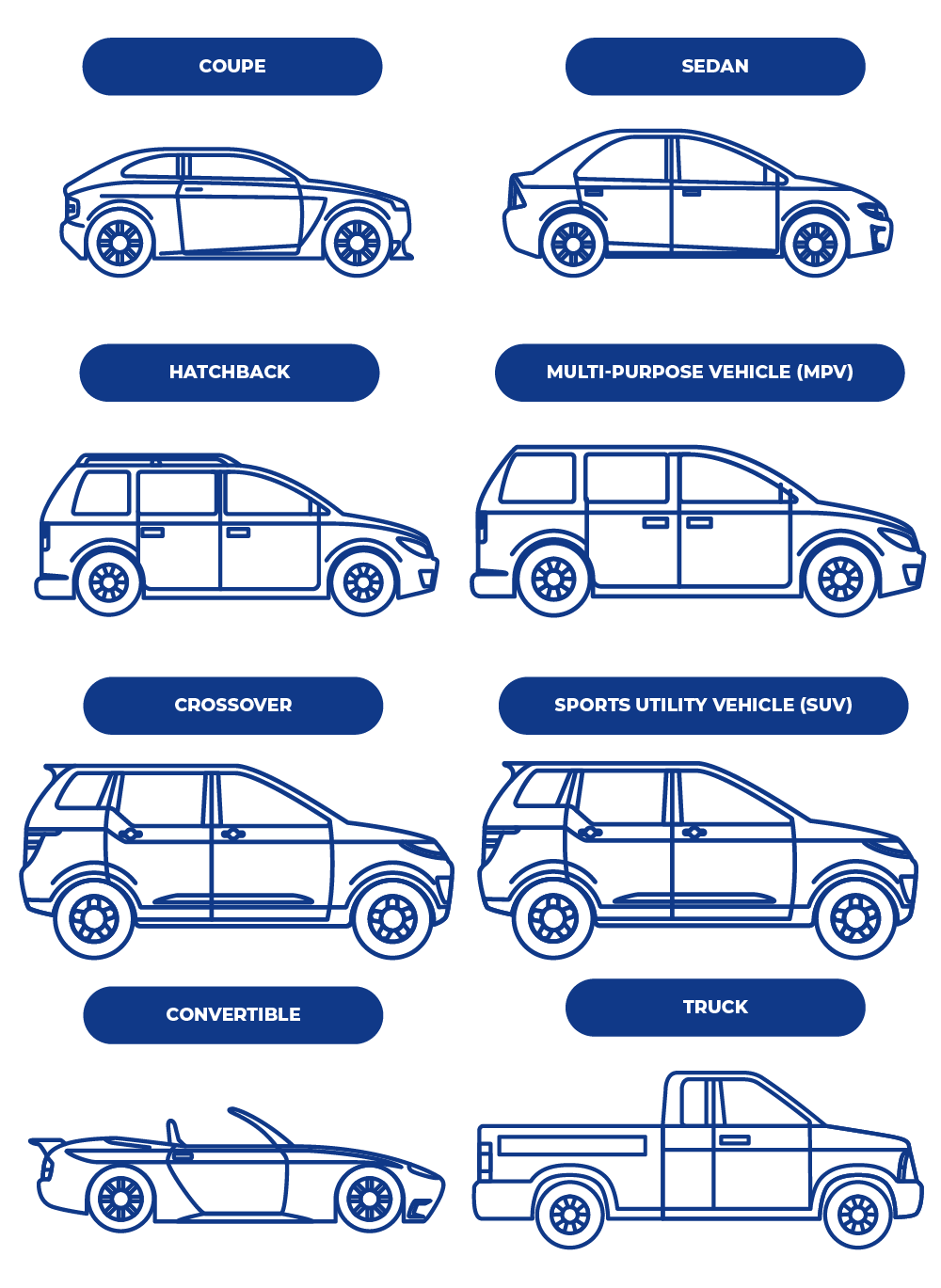 Is car insurance higher on newer cars?
New cars are more expensive to insure than old cars, generally speaking. That's because newer cars are usually worth more than older cars.
If you're in an accident in an old car, the resulting repairs will often be cheaper than they would be if you were in a new car. Depending on how old your car is, though, it may cost more than its actual cash value to repair. If you're in the market for a new car, it's important to know how trim level and body style will impact your rates for the same year, make and model car.
To show how much trim and body style impact auto insurance rates, we compared the same car model with different variations in trims.
Vehicle make and model
Year
Annual insurance cost
Honda Civic
2019
$1,511.06
Honda Civic Sport
2019
$1,547.40
Honda Civic LX
2019
$1,563.02
Honda Civic EX-T
2019
$1,631.26
These average rates are based on our sample quote data.
The difference between the Honda Civic and the Honda Civic EX-T when it comes to car insurance costs is $120.20 yearly. That's because the manufacturer's suggested retail price, or MSRP, varies by trim level. So, choosing a model with more features might make your insurance rates higher. A higher MSRP means higher repair costs if you're in an accident.
What are the most expensive cars to insure?
The Tesla Model 3 is the most expensive popular car to insure. The 2022 Tesla Model 3 starts at a moderately priced $44,990 but at $2,830 a year for full coverage, insurance is significantly more than other popular cars.
Insurance for the Model 3 and other Tesla vehicles is so expensive because as a luxury car, Teslas are more expensive to repair and are a more enticing target for thieves.
The Jeep Cherokee and Subaru Forester are the cheapest popular cars to insure. On average, insurance for those two vehicles will cost you around $1,060 a year.
Here are some more of the most expensive popular cars to insure:
Most Expensive Cars to Insure in 2022
Make and Model
Full coverage - annual cost
Minimum coverage - annual cost
Tesla Model 3
$2,830
$1,000
Tesla Model Y
$2,658
$1,038
Hyundai Sonata
$2,332
$1,170
Kia Forte
$2,328
$1,211
Hyundai Elantra
$2,295
$1,190
Nissan Sentra
$2,286
$1,220
Chevrolet Silverado
$2,275
$1,036
Nissan Altima
$2,254
$1,148
Chevrolet Suburban
$2,198
$1,106
Toyota Tundra
$2,197
$1,020
Chevrolet Tahoe
$2,169
$1,035
Toyota Tacoma
$2,162
$1,008
Lexus RX
$2,159
$921
Honda Accord
$2,112
$2,309
Toyota Corolla
$2,109
$1,072
Kia Telluride
$2,101
$1,029
Jeep Gladiator
$2,095
$1,104
Toyota Camry
$2,064
$1,036
Chevrolet TrailBlazer
$2,040
$1,064
Toyota 4Runner
$2,036
$1,038
Chevrolet Traverse
$2,035
$1,067
Ford Ranger
$2,020
$1,038
GMC Sierra
$2,020
$1,029
Honda Civic
$2,012
$1,198
Subaru Outback
$2,012
$1,020
Hyundai Santa Fe
$2,000
$1,034
Mazda CX-5
$1,965
$1,053
Jeep Grand Cherokee
$1,963
$1,006
Volkswagen Tiguan
$1,962
$958
Kia Sportage
$1,953
$1,045
Toyota RAV4
$1,934
$981
Hyundai Kona
$1,931
$1,009
Toyota Highlander
$1,928
$1,006
Ford Escape
$1,927
$890
Ford Explorer
$1,927
$1,061
Nissan Rogue
$1,924
$1,055
Chevrolet Equinox
$1,888
$1,054
Honda HR-V
$1,885
$1,031
Hyundai Tucson
$1,882
$1,026
Honda Pilot
$1,851
$985
Ford F-Series
$1,847
$1,068
Subaru CrossTrek
$1,839
$1,148
Ford Transit
$1,827
$1,006
Honda Odyssey
$1,822
$985
Jeep Wrangler
$1,777
$949
Honda CR-V
$1,769
$937
Jeep Cherokee
$1,767
$1,066
Subaru Forester
$1,760
$946
Prices quoted represent an average taken from most major insurance carriers across multiple age groups. Example used is a 30-year-old male living in Seattle, WA.
How can you tell if a car is expensive to insure? The most expensive cars to insure share these elements:
Is your car expensive to insure? Let us help you find a better rate!
What are the least expensive cars to insure?
We found the Jeep Wrangler Sahara, Buick Encore and Honda Civic to be the least expensive cars to insure. The Jeep Wrangler Sahara costs an average of $108.91 per month to insure, according to our data. Compare that to the most expensive car to insure, the BMW M5, which costs an average of $461.91 per month. This makes the Jeep Wrangler Sahara $353 per month cheaper to insure than the BMW M5.
Vehicle make and model
Year
Annual insurance cost
Jeep Wrangler Sahara
2018
$1,306.94
Buick Encore
2018
$1,417.64
Honda Civic
2019
$1,511.06
Ford Escape SE
2018
$1,514.62
Subaru Outback 2.5 I AWD
2018
$1,523.04
Honda Odyssey LX
2018
$1,555.78
These average rates are based on our sample quote data.
If you want to drive the cheapest vehicle to insure, consider the following:
What is the cheapest car to insure?
The 2018 Jeep Wrangler Sahara is the cheapest car to insure, based on our survey of insurers and the quotes we gathered from them.
On average, it costs $1,306.94 per year to insure this model. Why is car insurance for the Jeep Wrangler so cheap? Its relatively affordable MSRP, which starts at $28,045, is one factor. Its sturdiness and safety features are others.
What are the cheapest sports cars to insure?
Sports cars are the most expensive cars to insure, as we mentioned earlier. Two reasons these vehicles cost a lot to insure is they have the fastest acceleration and are the priciest to purchase. If you're looking for a sports car that garners affordable insurance rates, consider the following:
Vehicle make and model
Year
Annual insurance cost
Audi TT Quattro
2018
$2,481.66
Chevrolet Corvette Z06 3LZ
2018
$2,725.28
Nissan 37OZ
2018
$2,984.58
Chevrolet Camaro ZL1
2018
$3,243.32
Cadillac CTS-V
2018
$3,361.48
These average rates are based on our sample quote data.
We found that the 2018 Audi TT Quattro is the cheapest sports car to insure. The average annual insurance cost for this model comes to around $2,481. That's $1,175 more per year than the cheapest car to insure, and $3,061 cheaper per year than the most expensive car on our list. Auto insurance rates are higher for this Audi than they are for your average commuter car because of speed and purchase price, but lower than they are for a faster and more expensive sports car.
What are the cheapest cars to insure for teen drivers?
How much is car insurance for a new driver? We took our list of the cheapest cars to insure and compared quotes as a 19-year-old male living in Seattle as a full-time student. The car with the cheapest insurance for a teen or young driver is the 2018 Jeep Wrangler Sahara, which is also the cheapest car to insure for a 30-year-old driver.
Young men tend to have the highest insurance rates, so the premiums were significantly higher for our sample teen driver than they were for older sample drivers. The average annual insurance cost for our 19-year-old driver rang in at $3,932.32, which is $2,625.38 more than it costs to insure the same vehicle with 11 more years of driving experience.
Although your car's make and model play a major role in your auto insurance premiums, factors like your age, location and driving history also determine what you pay for coverage.
How does your car determine auto insurance rates?
According to our study, car insurance costs an average of $1,255 per year. But your rates may be higher or lower than that based on your car's specifics, including:
Age of the car
Old cars tend to be cheaper to insure than new cars. One reason for this is you may not get your old car repaired if it's totaled and the actual cash value is less than the repairs. In that case, you would only need liability coverage, which means cheaper insurance rates. Another reason is that new cars have higher value and are usually pricier to repair.
Price of the car
The cost of your car plays a large part in determining your car insurance premiums. The more expensive the car is, the more it will cost to repair or replace. If it's a sports car or luxury vehicle, it will cost even more. That's why auto insurance premiums are so much higher for expensive cars.
Size of the engine
If you drive a sporty vehicle that has a large engine, a V-8 or larger, your car insurance rates will be higher because of increased risk of a claim stemming from driving fast or recklessly.
Vehicle make and model
The make and model of the vehicle you drive can increase or decrease your insurance rates depending on crash test scores, how frequently this type of vehicle is involved in accidents and the extent of the damage.
Vehicle theft rate
When underwriting a policy, insurance companies look at the theft rate of the vehicle they are being asked to cover. A car with a high theft rate will be expensive to insure. Some vehicles are more prone to theft than others. For example, classic and collector cars cost a lot to insure because they cost a lot to repair or replace if stolen or damaged. Older vehicles often have less robust security features, making them easier for thieves to break into and raising insurance rates.
Methodology
For our data, we gathered quotes from a leading insurance company for a 30-year-old male living in Seattle with a clean driving record. This sample driver has 50/100/50 coverage with $500 deductibles for both collision and comprehensive coverage.
References:
QuoteWizard.com LLC has made every effort to ensure that the information on this site is correct, but we cannot guarantee that it is free of inaccuracies, errors, or omissions. All content and services provided on or through this site are provided "as is" and "as available" for use. QuoteWizard.com LLC makes no representations or warranties of any kind, express or implied, as to the operation of this site or to the information, content, materials, or products included on this site. You expressly agree that your use of this site is at your sole risk.