Glass Damage and Windshield Auto Insurance Claims
Windshield damage can be caused by anything from a rock to a break-in. Find out what to do if your glass chips, and when and how to file an insurance claim.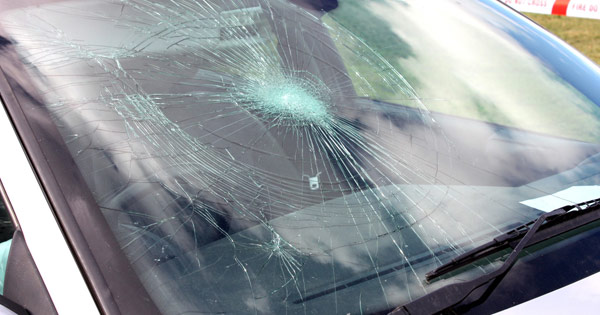 Glass damage is the most common type of auto insurance claim. According to Insurance Journal, 7.5 million glass damage claims are made every year. 80 percent of those claims are for windshields. There's a good chance your windshield will have a tough encounter with a stray rock or break-in.
Even if it's just a sliver, it's important to get any glass damage repaired quickly because even a small crack can turn into a larger "spiderweb" crack or a shattered windshield. That's why it's important to know how to make glass and windshield damage auto insurance claims.
Does Car Insurance Cover Windshield Replacement
Car window and windshield damage that isn't caused by a crash is covered under a comprehensive auto insurance policy. If you have comprehensive coverage, many insurance companies will waive or reduce the deductible for windshield repairs. You may not have to pay anything out of pocket.
Replacing a windshield could be a different story, which is why it's important to get any damage repaired as soon as possible. A small nick can quickly turn into a much larger (and more expensive) problem if it's not addressed. Cracks can easily grow due to temperature changes, potholes, or even just driving around.
This is what your comprehensive insurance will cover:
A rock or pebble hitting your windshield
Acts of vandalism
An animal hitting your windshield
Falling objects breaking your windshield (like a tree branch)
Some drivers only have liability insurance, which is the minimum car insurance required by law in most states. Liability insurance only covers what happens to another person's car, so if you want to fix your car's glass damage, you'll need comprehensive coverage.
If your glass or windshield damage came from a car crash, your collision coverage will pay for it. Unless another driver caused the accident, that is. In that case, their liability coverage should pay for your damages.
Should I Repair or Replace My Car's Damaged Glass?
Most often, windshield damage occurs from a stray rock hitting a moving vehicle. Depending on the extent of the damage, the most important question is whether to repair or replace the glass. As a good rule of thumb, always repair the glass if it's possible.
Generally, insurers say that if it's smaller than a dollar bill (or smaller than six inches), the crack can be repaired. Usually, if it's larger than that, the entire windshield will have to be replaced. Windshield damage often starts as a small crack, but that chip can quickly grow into a bigger issue.
Should I File a Claim for a Damaged Windshield?
Anytime you file a claim, you risk an increase in your insurance rates. If you've filed claims in the last three to five years (the time that claims stay on your record), it's best to avoid filing another claim.
However, glass and windshield claims are treated a bit differently. Many insurers will repair a small glass crack or chip without requiring a deductible. If that's the case, get the repairs completed immediately before the crack grows.
If your insurance provider does require you to pay a deductible for windshield repairs, compare the cost of the repair with your deductible. Many drivers have deductibles higher than the average cost of repairing or replacing a windshield. You could save money by paying for the repair out of your own pocket.
Cost to Repair or Replace a Windshield
The price to repair or replace a windshield varies depending on a few things. First, the extent of the damage. Repairing a small crack costs quite a bit less than replacing an entire windshield. And the price to replace a windshield depends on the shop doing the work, the car make and model, and the type of glass.
One survey found the following prices:
Repairing a small crack costs $50 to $150.
Repairing a small chip costs $10 to $60.
Replacing a windshield costs $100 to $400. This price can jump to anywhere between $500 to $1,500 for certain car makes and models.
As you can see, there's a big jump in cost from repairing a windshield to replacing it. That's why it's important to get a crack or chip fixed as soon as possible, before it turns into a bigger (and more expensive) issue. Extreme changes in temperature, another stray rock, or an encounter with a pothole are all it takes for to destroy a previously cracked or chipped windshield. It becomes even more of a no brainer when you consider the fact that many insurers waive deductibles to repair chips or cracks.  
Types of Glass and Windshield Damage
There are several types of damage that can occur if your windshield is hit by an object or smashed during a break-in. Different types of damage mean different levels of repair, which affects your costs.
Crack: Cracks often form as a result from a chip. Usually, a crack smaller than six inches can be repaired quickly and cheaply. Most insurers will waive your deductible to repair it, if you have comprehensive coverage.
Chip: This is when a small chunk of glass comes off. It's usually caused by impact from a rock or other object. A chip can be easily repaired if it is smaller than six inches.
Shatter: A windshield can completely shatter if a crack or chip is already in place and an accident occurs. A shattered windshield requires a complete replacement and costs quite a bit more than a repair. Insurers generally require a deductible to cover replacement.
Star break: A star break resembles—you guessed it-- a star! It is several small splinters shooting from the impact point. It's important to get star breaks repaired as soon as possible, before the break spreads into a larger, irreparable crack.
Combination break: This is when there are several types of breaks in a windshield. If you have more than one type of damage in your glass, head to an auto shop as soon as possible to prevent shattering.
Stress crack: These cracks aren't caused by any objects hitting your windshield. Stress cracks are typically the result of an extreme change in temperature. For example, if it's cold outside and you turn your heat on high or attempt to melt away ice with warm water. Stress cracks can rapidly spread, so get them repaired as soon as possible.
How Insurance Companies Handle Glass and Windshield Claims
Insurance companies have different approaches to what types of windshield damage their auto policies will cover.
FAQs
Q: Will my insurance go up if I get my windshield replaced?
A: It depends. If you have previous claims on your record, your insurance rates could increase. If the cost of replacement or repairs is less than your deductible, you should pay out of pocket instead of filing a claim with your insurance company. However, having your windshield replaced will often cost more than your deductible, so you'll usually end up having to file a claim. That's why it's important to get any glass damages repaired quickly before you need to replace the entire windshield.
Check with your insurance company directly to find out if glass damage claims count against you. If your premium will rise because of a claim, compare insurance quotes from multiple companies. There's a good chance you can find cheaper coverage elsewhere.
Q: Should I use my insurance to repair or replace my windshield?
A: You should use your insurance to repair or replace your windshield if your deductible adds up to less than how much the repair or replacement would cost. For example, if the cost of repair is $70 and your deductible is $100, you would save money by paying for the repair out of pocket instead of filing a claim. However, if you do need help from your comprehensive coverage because of expensive glass damage, file a claim with your insurance company as soon as possible. Fortunately, many insurers won't charge a deductible to repair a cracked or chipped windshield.
Q: What causes glass or windshield damage?
A: There are several ways your windshield or side windows can be damaged. These reasons include:
Rocks hitting your windshield
Hail
Rapid changes in temperature
Car break-ins
Accidents
Q: How does a glass repair work?
A: How you repair your windshield and glass damage depends on your insurance company. Some insurance companies allow you to choose your own repair shop, while others have specific auto shops they will direct you to. Many shops offer mobile repairs, where they come to your house and do the work on the spot. Cracks and chips smaller than a dollar bill usually take around an hour to fix. Check with your insurance company directly to see how glass repairs are handled.
Q: How can I prevent a chipped windshield?
A: There's a reason a chipped windshield is the most common type of comprehensive auto insurance claim—it's usually caused by something out of the driver's control. A loose pebble, a hailstorm, or a break-in can all result in a damaged windshield.
Something you can try to prevent is a rapid change in temperature, which can cause a stress crack. Never pour hot or warm water on your windshield to defrost ice in cold temperatures, and don't wash your car with cold water in hot temperatures. These rapid changes in temperature can crack your windshield.  Also, avoid gravel roads to reduce the risk of a stray rock hitting your windshield. Driving slowly can also prevent this. To limit the possibility of someone targeting your car for a break-in, park in a well-lit area and avoid keeping valuables out in the open.
References:
QuoteWizard.com LLC has made every effort to ensure that the information on this site is correct, but we cannot guarantee that it is free of inaccuracies, errors, or omissions. All content and services provided on or through this site are provided "as is" and "as available" for use. QuoteWizard.com LLC makes no representations or warranties of any kind, express or implied, as to the operation of this site or to the information, content, materials, or products included on this site. You expressly agree that your use of this site is at your sole risk.