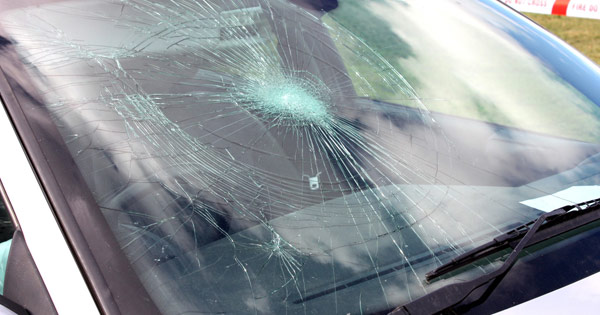 Whether you need to fix your windshield because of flying rocks or because someone broke into your car, you likely will need to repair it at some point. According to Insurance Journal, an average of 7.5 million claims for glass damage are filed per year.
Glass damage claims, specifically windshield repairs or replacements, are treated differently than other car insurance claims. It's important for policyholders to understand their options before going to a repair shop.
Why Fix It?
Drivers might view windshield damage as a minor annoyance, and not worth the money or time to fix. But a chipped or cracked windshield isn't just a cosmetic issue. It can pose a real danger to drivers.
A windshield is one of the most important safety features in a car. It is part of your car's structural stability, and even a chip could affect its stability.
According to Gerber Collision, windshields help hold a car's roof in place if the car flips during an accident. An intact windshield is also key in causing airbags to inflate.
Because windshields are so important, they're built out of special laminated safety auto glass. It is made up of two layers of glass bonded together by a layer of plastic lamination.
Laminated safety auto glass will crack rather than shatter upon impact, and is much safer as a result. But a crack or chip will hinder this effect, meaning the glass can shatter if an accident occurs. And cracks in a windshield can block a driver's vision, increasing the likelihood of a crash happening in the first place.
Even a small chip can quickly become a spider web crack. Among other causes, a chip can turn into a crack if you drive over a pothole, or if there is a dramatic temperature change. If not repaired, you may well eventually need to replace the whole windshield.
Not fixing your windshield may also result in a safety hazard ticket if it affects your view of the road. This can cost over $100.
Glass Damage and Your Insurer
Windshield claims are considered special cases by most insurers. Here are some of the ways these claims differ from other car insurance claims:
The insurance company may waive your deductible for windshield repairs. If safety isn't a big enough incentive for you to repair your glass damage quickly, then maybe this will be. If you have comprehensive insurance coverage, insurers often will waive or reduce the deductible for windshield repairs. The driver may not have to pay anything out of pocket.
If you're dealing with having to replace the entire windshield, however, most companies will require you to pay the deductible. This is another reason why fixing a chip before it becomes a crack is ideal.
Your state may have specific windshield replacement laws. In fact, some states require insurers to offer windshield replacement coverage without a deductible when a driver buys comprehensive coverage.
People who live in these "zero deductible" states won't pay a deductible to replace their windshield or sometimes all glass damage. You will still need to have comprehensive coverage in order to qualify. These states are:
Other states have specific laws regarding glass damage and windshield claims. Insurers may offer policies where the policyholder can pay a higher premium in exchange for a lower deductible on glass claims. These states are:
Your claim may not affect your rate. Windshield claims generally don't count against policyholders, meaning their premiums will remain the same. Check your policy first to see how your insurer handles glass damage.
You will need comprehensive coverage. Some drivers might only have liability insurance, which is required by law. Liability insurance only pays for damage done to another person's car, so a person would need comprehensive insurance to fix cracks and chips in their windshield.
Don't have a comprehensive policy? It's easy to get coverage. Just make sure you compare quotes from multiple auto insurers to get the best rates.
The repairs might be made on your property. Yes, you may not even need to drive somewhere to get your windshield fixed. Some glass repair companies will come to the driver's home to do the repairs.
You may not have to file the claim. To make repairing windshields easier for drivers, some insurers work directly with the car glass company. Since the glass company is working with the insurer, the auto glass company might file the claim themselves.
Be careful of this, however. Some people have found that these repair shops will attempt to make claims for an unneeded repair or replacement.
Ask your insurance company for a repair shop recommendation to prevent this from happening. When choosing your glass company, ask how their technicians are trained and what kind of adhesives are used.
What's the benefit to the insurance company?
Why would an insurance company be so generous regarding glass damage claims? In short, helping policyholders repair their windshield before it becomes worse will cost them less in the long run.
Repairing or replacing a windshield can cost from $20 to $325. Repairing a chipped windshield costs less than fixing a cracked one, while replacing it will cost much more. Repairing a windshield can be 10 times cheaper than replacing one.
Repairs can also be completed much more quickly. They generally take about 30 minutes or less.
Repair or Replace?
A person may not always know whether or not their windshield is damaged enough to warrant replacing it, or even repairing it. Usually, if the crack is larger than six inches, you'll need to replace the windshield.
If the damage is less than the size of a dollar bill, consider repairing it. Chips that create a bullseye or star shape can usually be repaired, especially if the damage is not near the edge of the windshield.
Policyholders who do have to pay a deductible for a windshield repair or replacement should compare the cost of the repair with the deductible rate. If the cost to fix the windshield is less or not much more than the deductible, the driver should probably pay for the damages out of pocket.
Damages to Windows
What about glass damage to windows? Broken or cracked windows are usually treated like a regular car insurance claim, although policies can vary. These claims would also fall under comprehensive car insurance. Check with your agent or read your insurance policy to see if window claims are treated differently.
Most likely, you will have to pay a deductible and your claim may affect your premium. Just like other repairs you make, it may be a good idea to pay for the damages yourself if your deductible is less than the cost to fix your window.
Frequently Asked Questions
Q: If I report a broken or cracked windshield and make a claim for a replacement, will my insurance rate go up?
A: This depends on your insurance company. Many insurers don't count claims for glass damage against you. Check your policy to find out how your company handles glass claims.
If your premium will go up if you file a glass claim, consider shopping around for a different policy and lower rates. Let QuoteWizard help you compare car insurance quotes from multiple companies and agents.
Q: Will I get a ticket if I have a cracked windshield?
A: It is always possible that you will be pulled over for having a cracked windshield. This is because it is considered a safety hazard.
A police officer may also stop and fine you for a different reason, and then give you an additional ticket for having glass damage.
Q: How dangerous it is to drive with a chipped windshield?
A: Probably more dangerous than you think. A windshield is more likely to shatter during an accident if it is chipped or cracked. Windshields also play an important part in your car's structural stability and proper airbag deployment. 
Repairing a windshield is easy and affordable. It's best for a driver's safety and wallet to fix it as soon as possible. A chip can quickly spread to become a large crack. While a small chip can easily be repaired, a larger crack will require replacement.
Repairs to a windshield are usually free under comprehensive insurance, while some insurers will require policyholders to pay a deductible to replace a windshield.
Q: What causes glass damage?
A: Glass damage happens for many reasons such as:
Rocks hitting the windshield (the most common cause of glass damage)
Car break-ins
Hail
Rapid changes in temperature
Accidents
Q: How can I prevent a chipped windshield?
A: Preventing chips and cracks can be difficult. One way to do so is to avoid dramatic differences in temperature between the air inside and outside of your vehicle. Yes, this means not cranking your AC or heater in the summer and winter.
Another way to avoid chips is to be aware of gravel roads. Pieces of gravel can easily fly up and hit your windshield, so driving slowly can help prevent this.
To avoid car break-ins (and broken windows), make sure to always keep your doors locked and your vehicle parked in a safe, well-lit area. Keep any valuable items stored away in the trunk or glove department.
References:
QuoteWizard.com LLC has made every effort to ensure that the information on this site is correct, but we cannot guarantee that it is free of inaccuracies, errors, or omissions. All content and services provided on or through this site are provided "as is" and "as available" for use. QuoteWizard.com LLC makes no representations or warranties of any kind, express or implied, as to the operation of this site or to the information, content, materials, or products included on this site. You expressly agree that your use of this site is at your sole risk.