Compare Auto Insurance in Augusta
Augusta, Georgia is home to the Masters Golf Tournament. If you want to take a swing at lowering your auto insurance rates, QuoteWizard has you covered. Here you can read about all of Augusta's driving laws, insurance rates, best insurers, and more.
Average Augusta Insurance Rates
How much does car insurance cost in Augusta, GA? Rates are on par with the rest of the country. Average car insurance in Georgia costs $896.50 per year. The national average price is $889.01.
Your exact rate may vary based on your driving history, claims history, and coverage level.
Georgia (GA) Average Annual Car Insurance Rates
Coverage
Rates
Liability
$557.38
Collision
$331.83
Comprehensive
$159.18
Total Cost Per Year
$896.50
Price Per Month
$74.70
Source: Facts + Statistics: Auto insurance
The graph below tracks the average Georgia insurance rates from 2011 to 2015. This is the most recent data available. The Insurance Information Institute shows Augusta car insurance increased from $754 in 2011 to $896 in 2015. This is an 18.89 percent increase.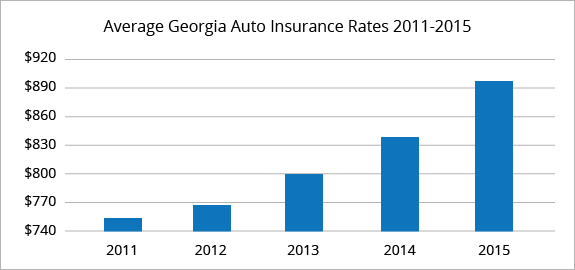 QuoteWizard helps consumers compare quotes from national insurance companies and local independent agents. QuoteWizard can help you find cheap car insurance rates near Augusta, GA and save up to 40% on your rates.
Last year, 11,235 people used QuoteWizard to compare car insurance quotes in Augusta, Georgia from multiple companies and get the cheapest rates.
Best Car Insurance Companies in Augusta, GA
These are the most popular car insurers reported by QuoteWizard users in Augusta, Georgia last year. Of these users, 2,942 were uninsured when they requested a quote.
Top 10 Vehicles in Augusta
These are the most popular makes and models owned by Augusta, GA QuoteWizard users.
Toyota Camry LE
Nissan Altima 2.5
Ford F-150
Chevrolet Malibu LS
Nissan Versa S
Honda Accord EX/LX
Ford Mustang
Chevrolet Impala/LS/LT
Chevrolet Tahoe C1500
Nissan Sentra S
Minimum Car Insurance Requirements in Augusta, GA
Augusta, Georgia requires all its drivers to carry minimum liability coverage. The minimum is 30/60/25. This means your policy must include: 
$30,000 Individual Bodily Injury Liability (BIL):
The max amount paid for a person injured in a car accident.
$60,000 Total Bodily Injury Liability:
The total amount paid for every person injured in a car accident.
$25,000 Property Damage Liability (PDL):
The max amount paid for property damage caused by a car accident
Recommended Coverage Levels
Relying on minimum coverage is tempting. After all, it's cheap, right? Yes, but it can cost you more in the long term. A minimum policy only comes with a small amount of liability. It's easy to exceed that amount after an accident, and adding more liability to your plan usually doesn't cost a lot. As such, we recommend:
$100,000 Individual Body Injury Liability
$300,000 Total Bodily Injury Liability
$100,000 Property Damage Liability
Augusta Drivers
Insurance is more expensive in areas with a history of accidents. How does Augusta fare? QuoteWizard ranked state and city drivers from best to worst. According to our data, Georgia is the 11th worst state for driving.
Driving Conditions
Local factors such as weather, road conditions, and traffic can affect your auto premium. The riskier your driving conditions, the higher your rates can be.
Weather
Augusta winters can be dangerous. Take steps to winterize your car, as the snow can lead to loss of control on the road. Average rainfall amounts to 43 inches a year. This is four inches above the national average. All of these add up to extra driving perils.
Road Conditions
TRIP reports that 10 percent of Augusta's roads are in poor condition. This isn't bad in comparison to roads in many other cities. Still, driving on bad roads costs Augusta drivers $381 a year in extra car operating costs.
Traffic Congestion
INRIX made a traffic scorecard that ranks US cities by traffic congestion. According to INRIX, Augusta commuters spent an extra seven hours driving last year. The average commute time in Richmond County is 20.1 minutes.
Moving Violations
Citations and at-fault accidents can affect your driving record. People with tickets and accidents on their driving record pay more for car insurance.
Traffic Tickets
Augusta Police are taking part in Operation Southern Shield in order to reduce speeding. Speeding is a surefire way to increase your auto premiums.
DUI and DWAI Arrests
A DUI can affect your insurance rates badly. Depending on how many DUIs are on your record, you could face a felony offense, up to five years in prison, and a $5,000 in fines. Our data shows that drivers with a DUI spend an average of $830 more per year for auto insurance.
SR-22 DUI/DWAI Insurance
Georgia drivers with a suspended license due to DUI must file an SR-22 form. You are required to carry the SR-22 for three years. If you fail to renew your SR-22, the DMV is notified and your license is suspended.
Car Accident Statistics
Drivers pay more for insurance in areas with high accident rates. Richmond County is one of Georgia's most accident prone counties. In 2016, Richmond County reported 9,957 crashes. This is a 4.3 percent increase over 9,541 crashes in 2015. This is the most recent data available.
Traffic Fatalities
Richmond County reported 74 crash fatalities in 2017. That is a fatality rate of .15 per 1,000 residents.  This is a 44 percent decrease from 166 fatalities in 2015.
Vehicle Theft Rates
Drivers who live in areas with a high rate of car theft pay more for car insurance. That's especially true if they drive a commonly stolen vehicle. Augusta Police reported 672 auto theft arrests in 2017.
Car Insurance Discounts in Augusta
Are you looking for affordable car insurance? Discounts are one of the best ways to lower insurance rates. These are some of the many auto insurance discounts Augusta drivers can use. Get a quote and find out which discounts you qualify for.
5 percent of Augusta residents are 65 or older. If you're part of that group, you may qualify for a senior citizen discount.
Bundling your car insurance policy with a homeowners or renters insurance policy earns you a lower rate. Combining policies with a single carrier can earn you 25 percent lower car insurance rates.
Car insurance companies usually offer married couple discounts. 2 percent of Augusta's 75,208 households include a married couple.
Completing a defensive driving course can quickly knock 10 percent off your premium.
Shop around and compare car insurance rates in Augusta.
QuoteWizard.com LLC has made every effort to ensure that the information on this site is correct, but we cannot guarantee that it is free of inaccuracies, errors, or omissions. All content and services provided on or through this site are provided "as is" and "as available" for use. QuoteWizard.com LLC makes no representations or warranties of any kind, express or implied, as to the operation of this site or to the information, content, materials, or products included on this site. You expressly agree that your use of this site is at your sole risk.