Flood Insurance in Texas: Cost, Coverage and Requirements
Protecting your home with flood insurance is important no matter where you live in Texas. Coverage is cheaper than you might think.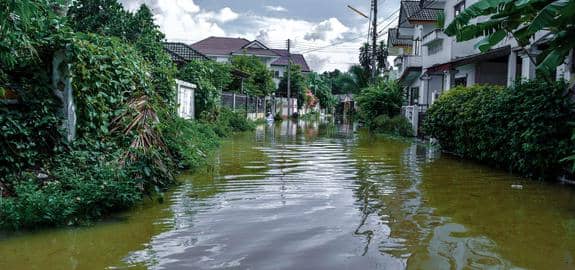 Flood insurance is different from other types of insurance in that most Americans get flood coverage through a government program, the National Flood Insurance Program (NFIP). Our study found that in Texas, flood insurance costs $595 a year on average through the NFIP.
Homeowners insurance does not cover floods, so we recommend that all Texans protect their homes with a separate flood insurance policy. Here's everything Texans need to know about the cost of flood insurance, getting quotes and requirements:
How much is flood insurance in Texas?
The average cost of flood insurance in Texas is $595 a year, or $50 a month. Flood insurance rates for some of Texas' largest cities range from under $500 a year to more than $1,000. However, the cost varies throughout the state, and not always in a predictable way.
Cost of flood insurance in Texas
City
Average annual cost per policy
Number of NFIP policies
Amarillo
$846
378
Arlington
$605
1,631
Austin
$623
7,912
Brownsville
$567
3,181
Corpus Christi
$554
19,230
Dallas
$664
5,136
El Paso
$785
3,502
Fort Worth
$829
2,568
Garland
$970
591
Grand Prairie
$579
377
Houston
$592
151,852
Irving
$843
755
Laredo
$1,165
917
Lubbock
$1,193
1,305
McKinney
$447
299
Plano
$479
791
San Antonio
$726
5,205
Source: FEMA
The average cost of flood insurance in Houston is $592 a year, which is about average for the state. Houston accounts for more flood insurance policies than any other city, with more than 150,000 homes protected by NFIP flood insurance.
Texas has some of the cheapest flood insurance rates in the country, as the national average is just over $700 a year. To see how Texas stacks up nationally, check out our study on the average cost of flood insurance in the U.S.
Flood insurance quotes
Most homeowners in Texas find flood insurance through the NFIP, but it is usually purchased through a private insurance company. Many insurance companies can provide you with flood insurance quotes for an NFIP policy. Here are some of the most popular companies in Texas.
Largest federal flood insurance writers in Texas
Company
Market share
Wright National Flood Insurance Company
29%
Assurant
15%
Farmers
13%
Allstate
12%
USAA
7%
Progressive
6%
The Hartford
5%
Source: S&P Global
Although you can get quotes from many companies, the quote prices will not differ. Rates are set by the NFIP, so no matter what company you get a quote from, you should receive the same quoted price.
Because the company you choose does not change how much you pay for flood insurance, we recommend getting a quote from the company that is most convenient for you. For example, if you already have Farmers homeowners insurance, it may be easiest to keep all of your insurance policies under one roof and get a flood insurance quote from Farmers.
There may be service differences between companies as well. Some companies may have more agents available or better online services to help answer your questions. For instance, you may want a company that provides 24/7 access to licensed agents.
If you do not want to purchase NFIP flood insurance, there is also a small market for private flood insurance in Texas. Private flood insurance currently only accounts for a very small portion of all flood insurance policies, but it is slowly becoming more popular.
SFHA flood zones in Texas
Every home is vulnerable to flood damage, no matter where it is located in Texas. However, certain areas are at particularly high risk and are called Special Flood Hazard Areas (SFHAs). FEMA designates an area that has a 1% or greater chance of flooding in a given year as an SFHA.
SFHA flood zones begin with the letters "A" or "V." You do not have to live along the Gulf Coast to be in an SFHA because severe flooding can be caused by the overflow of rivers, streams and rain. To find out what flood zone you live in, use FEMA's flood zone map.
Depending on the specifics of your home, such as whether you have a basement, your elevation and how much coverage you purchase, your flood rates can range greatly. In SFHAs, our study found that premiums can range from just over $1,000 to more than $5,000. Our guide on how flood zones affect rates can help you estimate how much you'll have to pay for coverage.
Is flood insurance required in Texas?
If you (1) have a federally backed mortgage like an FHA and (2) live in an SFHA, you are federally required to carry flood insurance. Private mortgage lenders can also require flood insurance as a condition of your loan. Flood insurance is not required if you don't have a mortgage.
We recommend that homeowners have flood insurance even if it is not required by federal law or your mortgage lender. Standard home insurance does not cover damage from floods. That means without a flood insurance policy, your home is not fully protected.
Historical flood damage in Texas
Hurricane Harvey caused more than $125 billion of damage in 2017. The devastation was not limited to homes in SFHAs — homes in areas that have less than a 0.2% annual chance of flooding still flooded. Hurricane Harvey was one of the most devastating storms in U.S. history, but there have been other substantial flooding events in Texas.
FEMA paid out more than $5 billion in NFIP flood insurance claims between 1996 and 2016 in Texas alone. That's the second-most number of claims in that time period, behind only Louisiana.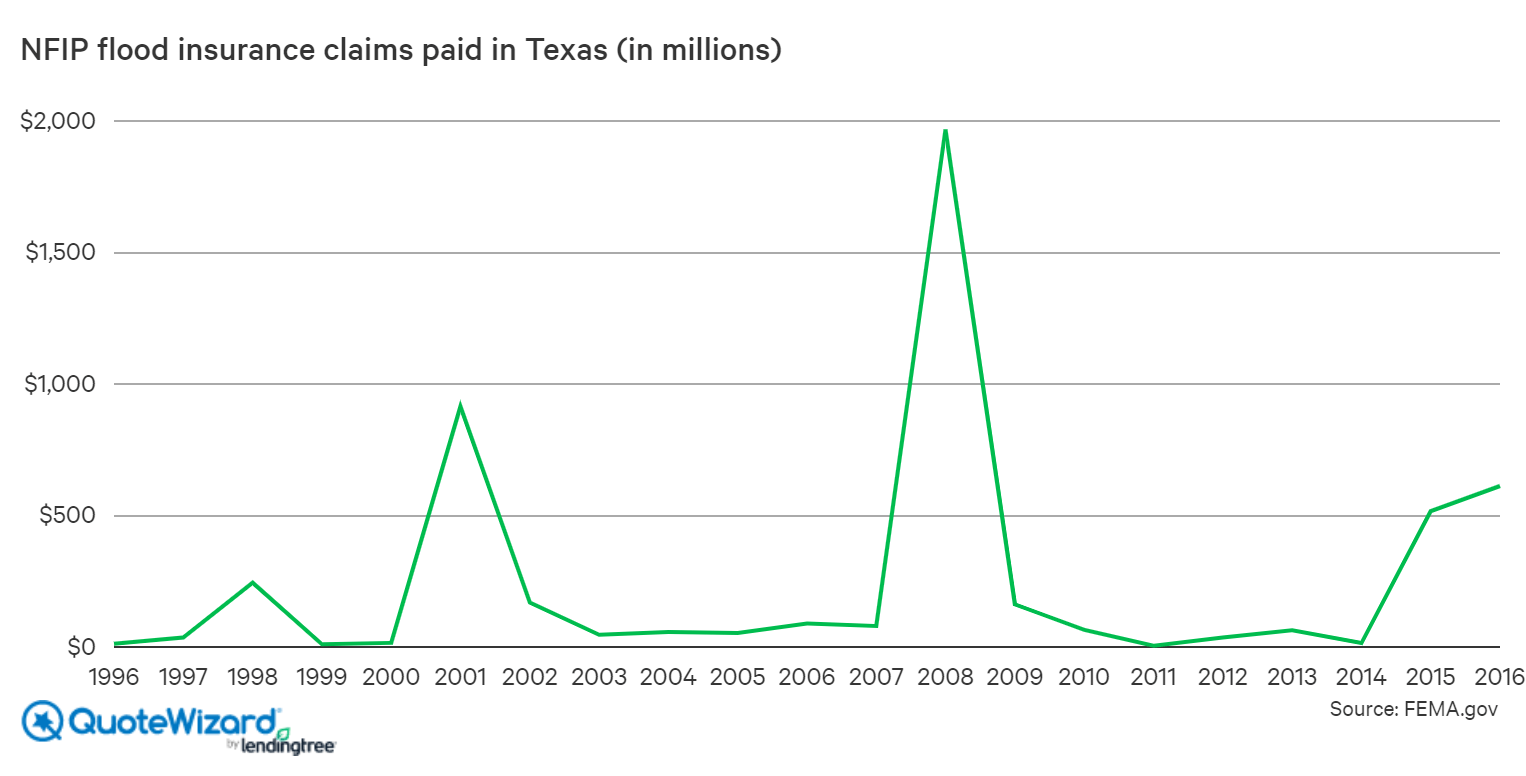 These figures represent the amount of money paid to policyholders of NFIP flood insurance, underlining how valuable flood insurance can be. While flooding may not be severe in a given year, there are inevitably catastrophic flooding events. In Texas, the most recent events are Tropical Storm Allison in 2001, Hurricane Ike in 2008 and Hurricane Harvey in 2017.
Methodology
To find the average cost of flood insurance in Texas, we used publicly available policy data from FEMA. The total written premiums were divided by the number of policies in force to find the average cost of an NFIP flood insurance policy. Claims data was also sourced directly from FEMA.
QuoteWizard.com LLC has made every effort to ensure that the information on this site is correct, but we cannot guarantee that it is free of inaccuracies, errors, or omissions. All content and services provided on or through this site are provided "as is" and "as available" for use. QuoteWizard.com LLC makes no representations or warranties of any kind, express or implied, as to the operation of this site or to the information, content, materials, or products included on this site. You expressly agree that your use of this site is at your sole risk.