Flood insurance differs from other types of insurance in that most Americans get flood coverage through a government program, the National Flood Insurance Program (NFIP). Flood insurance in Texas costs an average $624 a year through the NFIP, according to our research.
Homeowners insurance does not cover flood damage, so we recommend that all Texans protect their homes with a separate flood insurance policy. Here's everything you need to know about the cost of flood insurance, getting quotes and requirements:
How much is flood insurance in Texas?
The average cost of flood insurance in Texas is $624 a year. Your rates may vary depending on where you live in the state and your area's risk of flooding. You can find out your area's risk of flooding by using FEMA's online tool.
The rates below are for flood insurance policies through the National Flood Insurance Program. The cost of NFIP flood insurance policies is partly determined by your flood risk, the location of your structure, and the design and age of your structure.
A Special Flood Hazard Area, or SFHA, is labeled by the letters A or V. These are high-risk flood areas.
Zone X (shaded) is a moderate-risk area, while Zone X (unshaded) is a minimal-risk area.
Zone D are areas where there are possible but undetermined flood risks.
Flood zone
Average annual premium
Average monthly premium

All A zones

$1,052

$88

D

$2,157

$180

All V zones

$3,801

$317

X

$468

$39

Note: The costs of flood insurance in SFHAs were calculated using the NFIP's publicly available data.
As the table above shows, one of the most important factors in determining flood insurance costs is your home's flood zone. To see how Texas compares to the rest of the nation, check out our study on the average cost of flood insurance in the U.S.
SFHA flood zones in Texas
Every home is vulnerable to flood damage, no matter where it is located in Texas. However, certain areas are at particularly high risk. These are called Special Flood Hazard Areas (SFHAs). FEMA designates an area that has a 1% or greater chance of flooding in a given year as an SFHA.
SFHA flood zones begin with the letters "A" or "V". You do not have to live along the Gulf Coast to be in an SFHA because severe flooding can be caused by the overflow of rivers, streams and rain. To find out which flood zone you live in, use FEMA's flood zone map.
Depending on the specifics of your home, such as whether you have a basement, your elevation and how much coverage you purchase, your flood rates may vary widely. In SFHAs, our study found that premiums can range from just over $1,000 to more than $4,000 per year.
Flood insurance quotes
Many homeowners in Texas find flood insurance through the NFIP, which is managed by FEMA. You can purchase flood insurance through an insurance company that writes and services NFIP's flood insurance policy. Here are some insurance companies that write NFIP flood insurance policies in Texas:
Assurant
Selective
The Hartford
Allstate
USAA
Farmers
National General
Bankers Insurance
Allied Trust
American Strategic Insurance
Homesite
For a complete list of writers of NFIP policies in Texas, see NFIP's flood insurance company list. Although you can get quotes from many companies, prices will not differ. Rates are set by FEMA, so no matter which company you get a quote from, you should receive the same quoted price.
If you do not want to purchase NFIP flood insurance, there is also a small market for private flood insurance in Texas. Private flood insurance only accounts for a small portion of all flood insurance policies, but it is slowly becoming more popular.
Flood insurance requirements in Texas
You may be required to purchase flood insurance in Texas if you live in a high-risk flood area and if you have a federally backed mortgage and your mortgage lender requires you to purchase flood insurance.
Since Texas has a shoreline on the Gulf of Mexico, many homes are at risk of flooding. We also recommend that homeowners have flood insurance even if it is not required by federal law or your mortgage lender. Standard home insurance does not cover damage from floods. That means without a flood insurance policy, your home is not fully protected.
Historical flood damage in Texas
Hurricane Harvey caused more than $125 billion of damage in 2017. The devastation was not limited to homes in SFHAs.
Hurricane Harvey was one of the most devastating storms in U.S. history, but there have been other substantial flooding events in Texas. In 2019, tropical storm Imelda's flooding also caused serious damage in southeast Texas. According to the Texas Tribune, Imelda caused more than 41 inches of rainfall in certain areas, while Harvey's highest rainfall total was nearly 61 inches.
FEMA paid out more than $5 billion in NFIP flood insurance claims between 1996 and 2016 in Texas alone. That's the second-most number of claims in that time period, behind only Louisiana. As of March 31, there were already 306,974 claims made in 2021 in Texas that were closed with payments.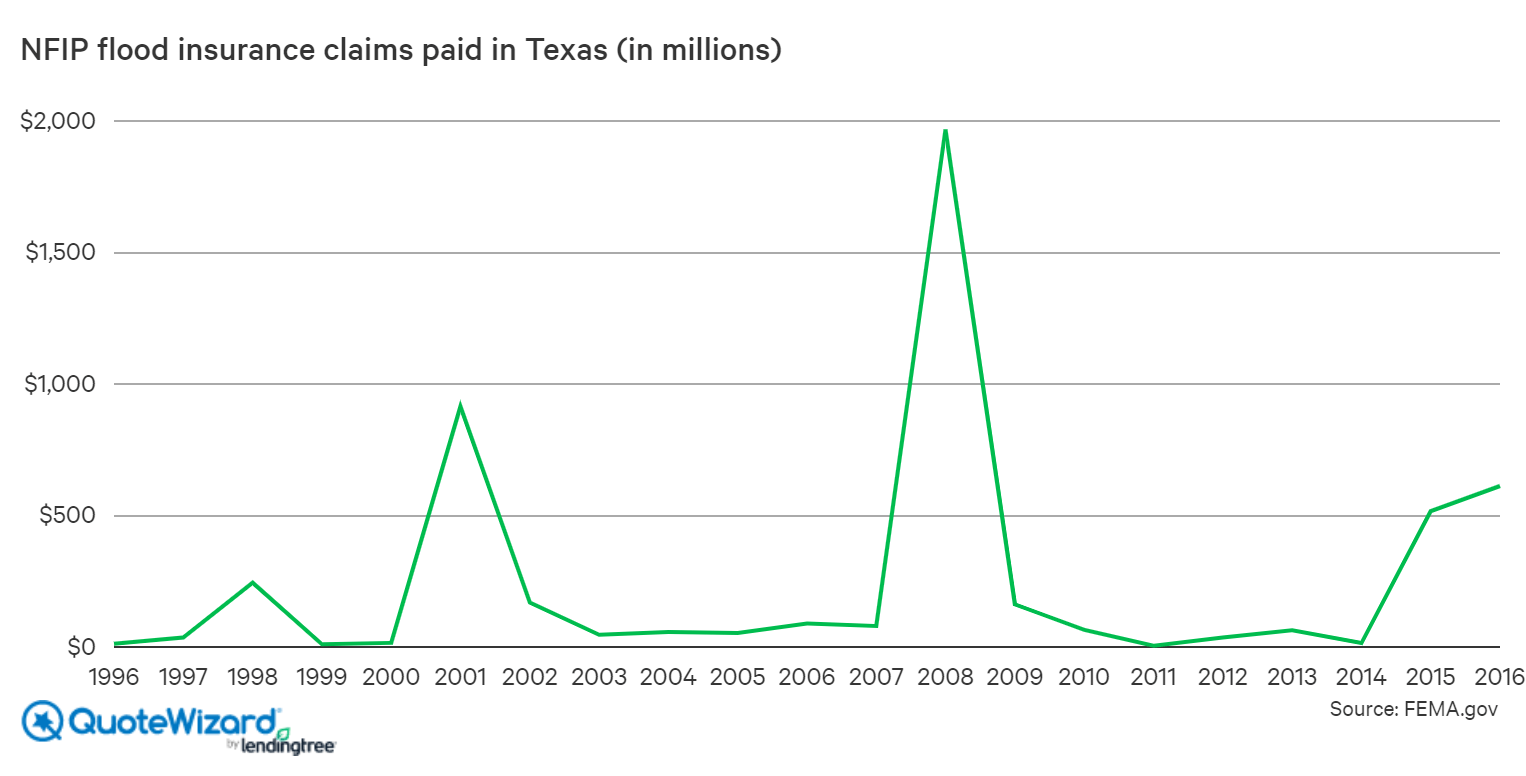 These figures represent the amount of money paid to policyholders of NFIP flood insurance, underlining how valuable flood insurance can be. While flooding may not be severe in a given year, catastrophic flooding events inevitably occur.
Methodology
To find the average cost of flood insurance in Texas, we used publicly available policy data from FEMA. The total written premiums were divided by the number of policies in force to find the average cost of an NFIP flood insurance policy. Claims data was also sourced directly from FEMA.
QuoteWizard.com LLC has made every effort to ensure that the information on this site is correct, but we cannot guarantee that it is free of inaccuracies, errors, or omissions. All content and services provided on or through this site are provided "as is" and "as available" for use. QuoteWizard.com LLC makes no representations or warranties of any kind, express or implied, as to the operation of this site or to the information, content, materials, or products included on this site. You expressly agree that your use of this site is at your sole risk.