Compare Homeowners Insurance in Seattle
Seattle, Washington is home to the nation's hottest housing market, with home prices skyrocketing as the city's population continues to explode.
As housing prices rise, so does the price of homeowners insurance. If you're a homeowner in Seattle, you should be aware of the city's unique home insurance rates and options.
Average Seattle Home Insurance Rates
How much is homeowners insurance in Seattle? Using data from nearly 1,300 QuoteWizard users in Seattle, we created this 'average' Seattle home:
1641 square foot home built in 1973
2 stories
3 bedrooms and 2.5 bathrooms
Composite shingle roof
To find out what an average home insurance policy costs, we got multiple quotes for homeowners insurance from top companies for this average Seattle house. Remember – home insurance rates depend entirely on you and your home. Your rates may vary from the average Seattle house. These are the average rate for a homeowners insurance policy in Seattle:
$88/month
$1,056/year
The graph below shows the change in average Washington home insurance rates from 2011 to 2015, the most recent year the data is available. According to the III, Washington homeowners insurance rates increased from $626 in 2011 to $811 in 2015, a jump of $185 dollars, or 29.55 percent.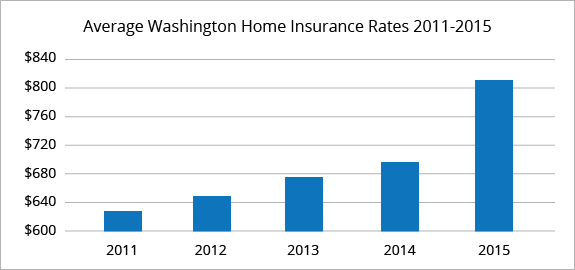 QuoteWizard helps consumers compare quotes from both national insurance companies and local agents. QuoteWizard can help you find affordable home insurance rates near Seattle, Washington.
Last year, 1,300 people used QuoteWizard to compare compare home insurance quotes in Seattle, WA from multiple companies.
Best Home Insurance Companies in Seattle, WA
Most Popular Insurance Companies
Based on QuoteWizard users, these are the most popular homeowners insurance companies in Seattle, Washington:
State Farm
Nationwide
Geico
Allstate
Progressive
Liberty Mutual
Farmers
21st Century
Safeco
MetLife
Best Homeowners Insurance Companies
The above list shows Seattle's most popular home insurers according to our users. But popular doesn't always mean best.
Our study on the best home insurance companies focuses on top of the line companies. In no particular order, these companies stand out among the rest:
Amica: Best Overall
MetLife: Best for Bundling
Allstate: Best for Local Agents
Hartford: Best for Seniors
State Farm: Best for Pet Owners
Travelers: Best for Flexible Policies
Nationwide: Best Replacement Coverage
Farmers: Best for Eco-Friendly Homes
Liberty Mutual: Best for Quick and Easy Quotes
Auto Owners Insurance: Best Claims Experience
Seattle Home Insurance Rate Factors
Insurance companies use several metrics to price your homeowners policy. "The biggest factors are the age of the home, the fire protection class, and the risk of loss in the zip code," says Devin Engelmann of Seattle's Secord Insurance Agency. Some Seattle-specific factors – like weather, crime, and construction costs – will alter your rates. These are the most common elements used to decide your insurance rate:
Your home's age: In Seattle, the construction boom means that there are many brand-new or renovated homes on the market. Since older homes usually cost more to insure, these new homes will be cheaper than Seattle's average 1973 home. Seattle's population exploded around the turn of the 20th century, meaning most homes aren't nearly as old as homes in many east-coast cities.
Previous claims: Like all insurance, your premium goes up if you file too many claims. This will raise your rates, and you may be labeled as high-risk. File enough claims, and your insurance company could cancel your coverage.
Proximity to emergency services: In the event of a fire, whether or not your home completely burns down depends heavily on how close you live to a fire station. Insurance companies will charge higher premiums to homes located farther away from fire stations, particularly those in unincorporated areas outside of fire station service zones. "Seattle has a great fire protection class," says Engelmann. Seattle earned this rank from their many fire stations:
Dogs and pets: In 2015, homeowners filed over 15,000 liability claims due to dog-related bites and injuries. The CDC says that four and a half million people suffer dog bites every year. These numbers are part of the reason why some home insurance companies charge dog-owners more for liability coverage. Some dog breeds are seen as riskier than others, meaning higher premiums and even coverage denial for owners of those dogs.

Dog-crazy Seattle has more dogs than children. If you're a homeowner with a dog, particularly a risky breed, be prepared to pay more for liability coverage. In the event of a dog bite, your liability coverage picks up the tab.

Insurers also may not cover exotic pets.
Attractive nuisances: Does your home have an attractive nuisance? This is a legal term for an object that may attract trespassers, particularly children. The most common types of attractive nuisances are trampolines and pools. Normally, trespassers cannot file liability claims if they hurt themselves on your property. But exceptions are made for attractive nuisances.

As a result, if your property has easily accessible items that may attract and subsequently injure people, you can be held liable. And since your home insurance pays for liability claims, you will face higher rates for having attractive nuisances.
Your home's replacement cost: When you purchase a home insurance policy, your insurance company gives your home a replacement cost value. If your home is destroyed by a covered incident like fire or a windstorm, your dwelling and structure coverage will pay for the replacement cost.

A replacement cost is based on the cost of rebuilding and replacing your home in today's market. A quick way to calculate the replacement cost is to multiply your home's square footage by local building costs per square foot. This gives a rough estimate – quality of materials, appliance types, custom trim and finishing, and other factors can lower or raise a home's replacement cost.

Seattle added over 25 thousand new housing units in 2016. First time homebuyers in Seattle have a good chance of purchasing a new brand-new home. However, brand new homes usually have lower replacement costs than older homes. But replacement costs are inadvertently rising because of Seattle's widespread development. "The property boom has caused an increase in contractor prices," says Engelmann. Construction in Seattle is more expensive than ever.
Natural disasters: Insurers charge higher rates for home insurance policies in disaster-prone areas. Though Seattle's wet climate is relatively moderate, the city still faces disaster risks. Chief among them are earthquakes and volcanic eruptions. With Seattle's close proximity to the Puget Sound and Pacific Ocean, the city has some inherent flood risks. Fortunately, most of Seattle's floodplain areas aren't in urban neighborhoods.
Coverage amounts: Unsurprisingly, your coverage amounts are a big factor behind the price of your home insurance policy. A basic policy covers the home structure, belongings inside, liability, and living expenses in the event of an emergency. But people with unique homes, valuable belongings, or a need for higher liability levels may want to purchase additional coverage.
Home security and crime: In 2016, Seattle residents reported over 38,000 property crimes. That's a lot. According to the FBI, Seattle has the 10th highest property crime rates per capita. Seattle residents can expect to pay higher home insurance premiums because of these crime rates. Homeowners in Seattle neighborhoods with higher-than-average crime rates will pay even more. But there are several steps you can take to lower your premiums by making your home more secure.
Credit history: It's an unfortunate fact that people with bad credit can expect to pay more for homeowners insurance. Fortunately, Seattle has some of the best average credit scores out of major cities in America.
Types of Homeowners Insurance
With Seattle's diverse available housing options, there are several different home insurance plans that may fit your specific needs:
HO-1: Basic insurance that covers standard damages.
HO-2: Broad homeowners insurance that covers everything in HO-1 but also covers falling objects and damages to AC units, pipes, and other household systems.
HO-3: Covers damage from all perils unless they are specifically excluded. Also covers unattached structures and liability.
HO-4: Provides belongings and liability coverage for renters.
HO-5: Comprehensive policy like HO-3 but with expanded coverage and less limitations for property claims. This is considered to be a premium policy.
HO-6: Covers possessions and provides liability for condo owners.
HO-7: Similar coverage as HO-3, but for mobile homes.
HO-8: Designed specifically for older homes, this policy provides similar coverage as HO-3. It can be tailored to suit the unique needs of older homes.
10 Ways to Save Money on Homeowners Insurance in Seattle
There are numerous steps you can take to lower your home insurance premium:
Don't smoke: Smokers pay more for home insurance. Why? Smoking increases the odds of accidental housefires. Fortunately, the CDC found that people in Seattle smoke less than most of the country.
Redo your roof: Your home's roof is the first layer of defense against inclement weather. A high-quality roof can be the only thing that stops damage from wind, hail, rainstorms or more. Because of this, insurance companies offer better rates to homes with high-quality roofs made of modern materials.

In areas with severe weather-risks, insurance companies offer different rates for specific roof types. For example, in an area prone to wildfire, insurers charge higher rates for homes with flammable cedar shingles instead of fireproof composite shingles. Fortunately, Seattle's relatively mild climate means the standard composite shingle roof won't hurt your insurance rates. But constant rain can wear down a roof.
Be a senior: Seniors get a lot of discounts, and home insurance is no exception. Since senior citizens spend more time at home, they're more likely to notice a leaking ceiling, electrical fire, or burst pipe before it gets out of hand. Seattle's senior population has increased considerably since 2000, and seniors now constitute over 20 percent of the city's total population.
Add technology: Technology can help you identify and stop potential disasters before they happen. From home alarms and remote door locks to modern smoke and carbon monoxide detectors, smart home tech can make your home safer. That's why insurance companies reward high-tech homes with lower insurance rates. Seattle is famous for, among other things, a high concentration of tech companies, so it shouldn't be too difficult to add a layer of futurism to your home.
Shop around: Buying insurance is a pain, so it's tempting to buy the first policy that fits your needs. But if you don't shop around and compare quotes from multiple companies, you're leaving money on the table. Each insurance company offers considerably different rates, so be sure to compare quotes from different home insurance companies.
Renovate: Beyond new roofs and smart technology, certain home improvement steps can help lower your premiums. Upgrading your wiring, plumbing, and heating make your home less at risk of electrical fires or plumbing accidents. Be aware that remodeling can increase your home's value, which can make your coverage levels inadequate.
Pick a good neighborhood: It should come as no surprise that certain neighborhoods have lower home insurance rates than others. If you can afford to buy a house in an area with low crime rates and no flood risks, your home insurance rates will reflect it. Fortunately, Seattle has many safe neighborhoods and few floodplain areas.
Avoid claims: Unfortunately filing a claim causes your insurance premiums to jump. If you file several claims, your insurance company may cancel or refuse to renew your policy. That's why you may want to avoid filing a homeowners insurance claim in some cases.
Raise your deductible: When your deductible goes up, your premium goes down. It's a simple equation. Depending on your personal needs and your risk aversion, a high deductible may make sense for you. Be aware that there's a lot to consider when choosing your home insurance deductible.
Bundle: Buying multiple insurance policies from one company is the easiest way to save money on homeowners insurance. If you bundle your homeowners insurance with your auto insurance, for example, you can quickly save 20 percent on your premium. You can also add in life insurance.
QuoteWizard.com LLC has made every effort to ensure that the information on this site is correct, but we cannot guarantee that it is free of inaccuracies, errors, or omissions. All content and services provided on or through this site are provided "as is" and "as available" for use. QuoteWizard.com LLC makes no representations or warranties of any kind, express or implied, as to the operation of this site or to the information, content, materials, or products included on this site. You expressly agree that your use of this site is at your sole risk.