Compare Homeowners Insurance In Washington
In Washington, homeowners pay an average home insurance premium of $955 a year. Allstate comes in with the cheapest homeowners insurance rate of $797 while State Farm tops out at $1,416. In Washington cities, home insurance costs average between $864 and $997 a year. The average cost range on the county level is a bit wider. San Juan County, Wash., has the state's lowest home insurance rate of $869, while Kittitas County, Wash., is the highest with an average rate of $1,137.
In order to help you find your best home insurance rate, we looked across the current Washington homeowners insurance market to compare premium costs, policy benefits and customer satisfaction trends. Here's what we found:
How much does homeowners insurance cost in Washington?
The average home insurance rate in Washington is $80 per month. This is somewhat surprising, considering that Washington has the fourth highest median home price in the country ($390,986) according to our data.
The following table breaks down average Washington home insurance rates between now and 2015 in comparison to national average rates. Washington has seen the biggest spike in home insurance costs in the last couple years, with a $101 increase in the last three years — still well below the national average.
Average cost of home insurance in Washington
 
Today
2017
2016
2015
Washington annual average
$955
$854
$822
$811
Washington price per month
$80
$71
$69
$68
U.S. annual average
$1,215
$1,211
$1,192
$1,173
U.S. cost per month
$101
$101
$99
$98
Note: Average rates for today are based on non-binding estimates provided by Quadrant Information Services. Your rates may vary. Data from 2015-2017 sourced from NAIC.
Homeowners insurance rates vary between providers. We recommend that you compare home insurance rates before you buy a policy. Here is how rates from the biggest insurance companies in Washington compare.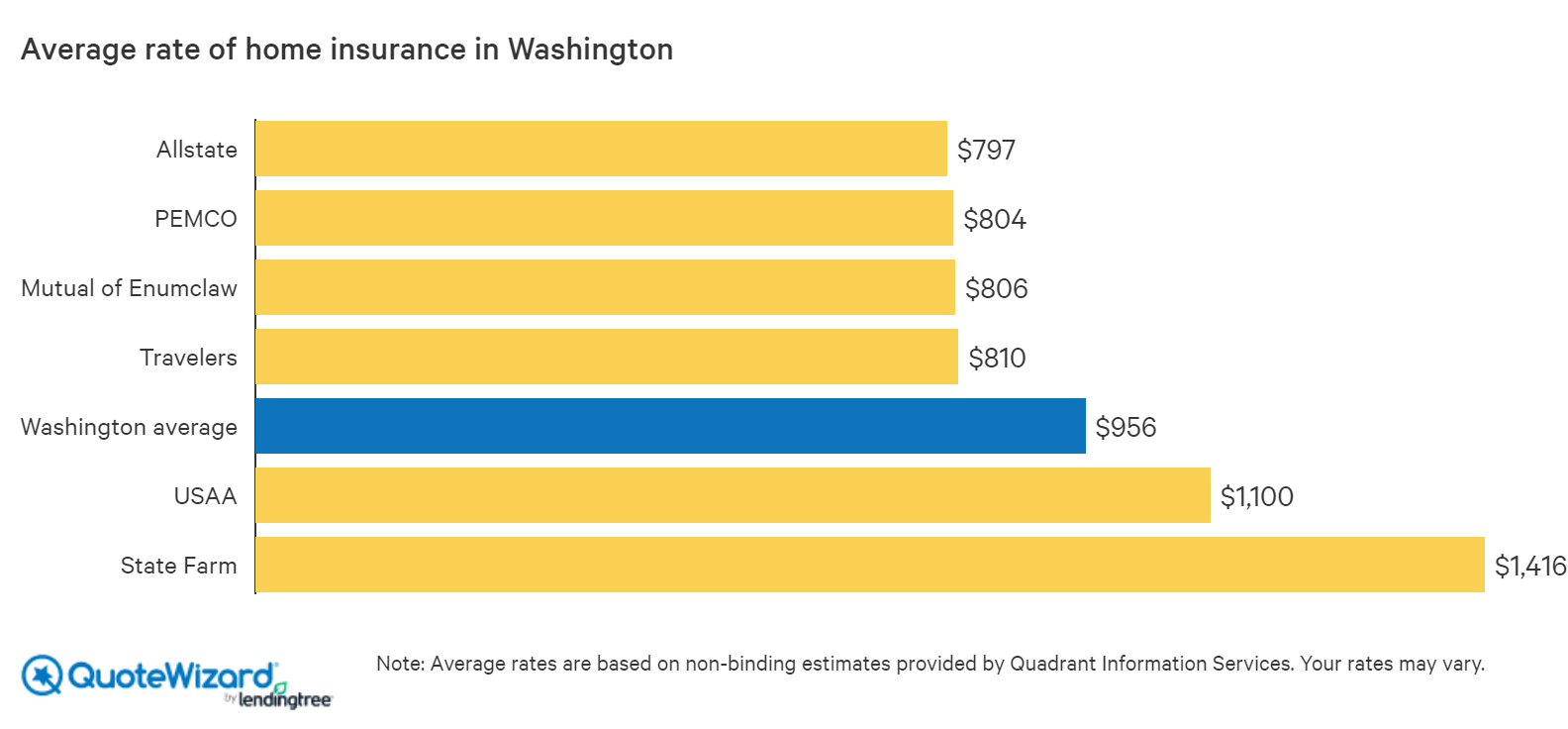 Best homeowners insurance companies in Washington.
We looked at the main home insurance providers operating in Washington. Allstate, PEMCO, USAA and State Farm came out as our top choices for Washington home insurers. Here's why:
Allstate: cheapest rates
Allstate's average rate in Washington is $797. This is $159 below the state average of $956 and $418 below the national average of $1,215.
As low as Allstate's home insurance premiums are, you may be able to save even more money on your home insurance. If you bundle a home insurance policy with your auto or life insurance policy, Allstate may give you up to a 25% discount. You might qualify for a discount just for setting up automatic payments.
Allstate received a rating in Washington state of 0.29 on NAIC's Complaint Index. The index reflects how well home insurers deal with consumer claims. The lower the score, the better the customer satisfaction. Allstate's score in Washington is below both the state complaint index average of 0.31 and the national average of 1.0.
PEMCO: second cheapest home insurance premiums
PEMCO's average home insurance rate in Washington is $804, not much more than Allstate's rates. PEMCO offers a wide range of discounts:
If your home is 15 years old or less, you may qualify for a discount. Your discount scales with how recently your home was built.
If you're a teacher or work for a public or private school, you might be able to get their educator's discount. If you have the PEMCO home insurance policy when you retire, the discount stays with you.
If you have no claims in the past three years, you may get PEMCO's claims-free discount.
PEMCO only provides insurance in Oregon and Washington. They focus on providing "preferred risk" insurance, meaning that they primarily deal with homeowners who have a claims-free history. This allows them to maintain low premiums.
USAA: best for armed forces
There are 69,125 active military members in Washington, making it sixth in the country for the number of enlisted military. USAA provides excellent home insurance coverage for both currently serving and retired Armed Forces.
USAA offers specialized home insurance for military personnel not found in standard policies. USAA covers your personal property if you live in a warzone, a peril often excluded from most home insurance policies. Also, they cover damage or destruction of military uniforms.
While USAA's average Washington premium of $1,100 is above the state average, their service ratings are best in class. In their 2019 home insurance satisfaction study, J.D. Power gave USAA a five-out-of-five rating for customer satisfaction.
State Farm: best coverage for dog owners
An impressive 62.7% of Washington homeowners have a pet — the sixth highest in the nation. Home insurers may consider specific dog breeds as insurance risks. They may consider the breed a bite risk even if your particular dog is nothing but well behaved. That's not an issue with State Farm. They don't factor in the breed of your dog when quoting you for home insurance.
On top of being an excellent home insurer for dog owners, their claims service and satisfaction ratings are exemplary. Every year, consumer analytics company J.D. Powers compiles a home insurance customer satisfaction survey. In their 2019 survey, State Farm was given an above-average 4/5 Power Circle rating for overall customer satisfaction. Considering that State Farm holds 17.01% of the home insurance market share in Washington, the highest percentage in the state, their overall popularity is evident.
Biggest homeowners insurance companies in Washington
Here's a breakdown of the homeowners insurance market in Ohio:
Home insurance companies in Pennsylvania at a glance
Company
Market share
2019 J.D. Power overall satisfaction rating
NAIC Complaint Index (lower is better)
State Farm
17%
4/5
0.20
Liberty Mutual
11%
2/5
.40
Farmers
11%
3/5
.39
PEMCO
6%
-
-
Allstate
4%
3/5
0.34
USAA
3%
-
0.37
Westfield
3.9%
-
0.62
Auto-Owners
3.1%
4/5
0.21
Farmers
2.8%
3/5
0.41
Note: Average rates are based on non-binding estimates provided by Quadrant Information Services. Your rates may vary.
While these are the most popular companies in Washington, they are by no means the only home insurance companies operating in the state. See our list of the best home insurance companies in America for more options.
Homeowners insurance rates in Washington, by city
Amongst the largest cities in Washington, there's about a $133 range in average home insurance rates. Spokane Valley, Wash., has the lowest rate at $864, while Tacoma, Wash., has the highest average home insurance at $997.
Average yearly homeowners insurance premium by city
City
Average annual home insurance rate
Bellevue
$869
Everett
$913
Federal Way
$972
Kent
$932
Renton
$892
Seattle
$898
Spokane
$888
Spokane Valley
$864
Tacoma
$997
Vancouver
$942
Average rates are based on non-binding estimates provided by Quadrant Information Services. Your rates may vary.
Homeowners insurance rates in Washington, by county
Washington's home insurance rates range more between its counties than its cities. San Juan County, Wash., has the lowest average yearly home insurance rate of $869. Kittitas County, Wash., has the highest at $1,137 a year.
Average yearly homeowners insurance premium by county

| County | Average annual home insurance cost |
| --- | --- |
| Adams | $978 |
| Asotin | $1,029 |
| Benton | $1,057 |
| Chelan | $993 |
| Clallam | $879 |
| Clark | $956 |
| Columbia | $1,011 |
| Cowlitz | $1,004 |
| Douglas | $996 |
| Ferry | $1,044 |
| Franklin | $980 |
| Garfield | $1,010 |
| Grant | $989 |
| Grays Harbor | $911 |
| Island | $914 |
| Jefferson | $887 |
| King | $920 |
| Kitsap | $895 |
| Kittitas | $1,137 |
| Klickitat | $1,068 |
| Lewis | $987 |
| Lincoln | $1,001 |
| Mason | $908 |
| Okanogan | $1,035 |
| Pacific | $996 |
| Pend Oreille | $1,012 |
| Pierce | $983 |
| San Juan | $869 |
| Skagit | $929 |
| Skamania | $996 |
| Snohomish | $934 |
| Spokane | $894 |
| Stevens | $1,016 |
| Thurston | $904 |
| Wahkiakum | $959 |
| Walla Walla | $927 |
| Whatcom | $923 |
| Whitman | $994 |
| Yakima | $1,102 |
Methodology
We compiled quotes for every ZIP code in Washington from six of the top insurers. We based our analysis on Allstate, PEMCO, Mutual of Enumclaw, Travelers, USAA and State Farm. We gathered quotes for a home worth $390,986, built in 1982 and owned by a 57-year-old. These are the median home value, construction date and homeowner age in Washington.
We picked the insurers for our study using S&P Global Market Intelligence, which ensured results as localized to Washington as possible. The largest subsidiary in Washington of every insurer was taken as a representative for the company.
QuoteWizard.com LLC has made every effort to ensure that the information on this site is correct, but we cannot guarantee that it is free of inaccuracies, errors, or omissions. All content and services provided on or through this site are provided "as is" and "as available" for use. QuoteWizard.com LLC makes no representations or warranties of any kind, express or implied, as to the operation of this site or to the information, content, materials, or products included on this site. You expressly agree that your use of this site is at your sole risk.