Compare Home Insurance in Phoenix
Phoenix, Arizona has low average insurance rates, and a low cost of living to match. That's great news for current and future homeowners in Phoenix.
It's not all roses for home insurance in Phoenix, however. On top of inclement weather and bad credit scores, Phoenix also deals with a high property crime rate. Phoenix, AZ residents should consider this when house shopping.
Average Phoenix Home Insurance Rates
How much is home insurance in Phoenix? We collected data from QuoteWizard users in Phoenix to create this 'average' home:
2,079 square foot home built in 1990
3 bedrooms and 3 bathrooms
One story
Deadbolt locks
Fire extinguishers
Tile roof
To find the average cost of a policy, we got home insurance quotes for this sample Phoenix home. Remember, home insurance depends on you and your home. Below is the average rate for a homeowners insurance policy in Phoenix:
$119.50/Mo.
$1,434.00 annually.
The graph below shows the change in average Arizona home insurance rates from 2011 to 2015, the most recent year the data is available. According to the III, Arizona homeowners insurance rates increased from $675 in 2011 to $810 in 2015, a jump of $135 dollars, or 20 percent.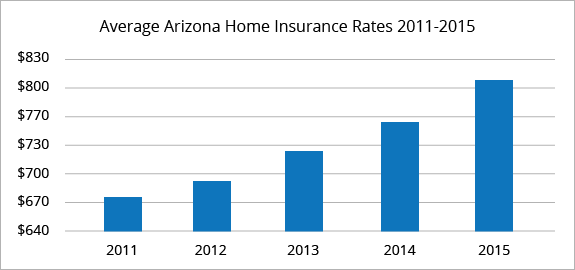 QuoteWizard helps consumers compare quotes from both national insurance companies and local agents. QuoteWizard can help you find affordable home insurance rates near Phoenix, Arizona.
Last year, many people in Phoenix used QuoteWizard to compare home insurance quotes in Phoenix, AZ from multiple companies.
Best Home Insurance Companies in Phoenix, AZ
Most Popular Insurance Companies
Among QuoteWizard users, these are the most popular insurance companies in Phoenix:
Geico
State Farm
Progressive
Allstate
Farmers
Liberty Mutual
Nationwide
Esurance
MetLife
21st Century
Best Insurance Companies
The above list shows the most popular home insurers in Phoenix, Arizona according to our users. But popular doesn't always mean best.
Our study on the best home insurance companies focuses on top of the line companies. In no particular order, these companies stand out among the rest:
Amica: Best Overall
MetLife: Best for Bundling
Allstate: Best for Local Agents
Hartford: Best for Seniors
State Farm: Best for Pet Owners
Travelers: Best for Flexible Policies
Nationwide: Best Replacement Coverage
Farmers: Best for Eco-Friendly Homes
Liberty Mutual: Best for Quick and Easy Quotes
Auto Owners Insurance: Best Claims Experience
Phoenix Home Insurance Rate Factors
There are different elements that help decide the price of your home insurance policy. In Phoenix, some of those factors include inclement weather, credit history, crime, and claim frequency. Many of these factors are beyond your control. Listed below are the most common factors that establish your monthly insurance premium:
Your home's age: It's no surprise that older homes usually cost more to insure. This is because an old house is more likely to have serious problems that require a claim. That can include a faulty foundation, out-of-date wiring, bad plumbing, a leaky roof, and more. Fortunately for Phoenix residents, their average home was built in 1990. That's new for a home, and it should equate to lower insurance premiums for many homeowners.
Previous claims: Like with any insurance, your premium goes when you file claims. If you are filing claims frequently, your insurance company may label you a high risk. That leads to skyrocketing premiums and, in some cases, cancellation or denial of coverage. In Arizona, residents should think twice about filing claims for minor damage. This could raise their premium by 17 percent after one claim.
Proximity to emergency services: The closer you live to a fire station, the easier it is for them to help you in case of an emergency. Insurers charge higher premiums to homes located far away from fire stations. That's especially true for homes in unincorporated areas outside of fire station service zones. The Phoenix Fire Department is one of the busiest fire departments in the country. Phoenix's arid climate makes fires extra dangerous and severe. Your proximity to a fire station might be the difference between your home being damaged or destroyed.
Attractive nuisances: Things that attract trespassers and cause injuries are known as attractive nuisances. The most common types of attractive nuisances are trampolines and pools. Due to temperatures in Phoenix reaching over 100 degrees, owning a pool seems like a necessity. In the Phoenix-Mesa-Glendale area, one-third of the homeowners have a pool.
However, these nuisances are a big liability. They dramatically increase the chances of an injury occurring on your property. Normally, trespassers cannot sue you if they're hurt on your property. However, that changes if you have an attractive nuisance. While a pool sounds is a great addition to a Phoenix house, be aware of the insurance implications. 
Your home's replacement cost: When you buy a policy, the insurance company estimates your home's replacement cost. If your house is destroyed by a covered incident, your policy pays that replacement cost. A replacement cost is based on the price to rebuild your home in today's market.

You can calculate your home replacement cost by multiplying the square feet of your home by local building costs. This gives a rough estimate. Remember -- quality of materials, appliances, and finishes all vary. Depending on demand, construction prices can rise. This also affects your replacement cost.
Natural disasters: Insurance companies charge more to cover homes in disaster-prone areas. Many people know Arizona for its desert like climate and expect wildfires. But, one natural disaster that's common in Phoenix is flooding. Flood insurance is sold separately from home insurance. Arizona encourages residents to purchase flood insurance.
Coverage amounts: Your coverage amounts are a big factor behind the price of your home insurance policy. The more coverage you need, the more your home insurance costs. A basic policy covers structure, belongings, liability, and living expenses. That's enough for many people. If you have a unique home, valuables, large assets, or more, extra coverage is in your best interest. Of course, enhanced coverage costs more.
Home security and crime: In 2017, Phoenix residents reported over 54,000 total property crimes. That's a lot. This means Phoenix resident's chances of becoming a victim of property crime are 1 in 29. These stats will impact your insurance rates, especially if you live in a bad neighborhood.
Credit history: People with bad credit pay more for homeowners insurance. This should worry Phoenix residents. The city ranked 80th of 100 metropolitan cities for credit score rankings. Phoenix has an average credit score of 646. While that isn't terrible, it's certainly not good.  
Types of Homeowners Insurance
Listed below are the most common coverage types in the Phoenix: 
HO-1: Basic plan covering standard damages.
HO-2: Broad homeowners insurance policy covering everything in HO-1. Also covers falling objects and damages to AC units, pipes, and other household systems.
HO-3: Covers damage from all perils unless specifically excluded. Also covers unattached structures and liability.
HO-4: Provides belongings and liability coverage for renters.
HO-5: Comprehensive policy like HO-3 with expanded coverage and less limitations. This is a premium policy.
HO-6: Covers possessions and provides liability for condo owners.
HO-7: Similar coverage as HO-3, but for mobile homes.
HO-8: Designed specifically for older homes, this policy provides similar coverage as HO-3. It can be tailored to suit the unique needs of older homes.
10 Ways to Save Money on Homeowners Insurance in Phoenix
There are many steps you can take to lower your home insurance premium. Below are some of the best steps Phoenix residents can take:
Skip the pool: You're legally responsible for injuries on your property. That makes owning a pool a big liability. A pool sounds great, especially considering Phoenix's heat. But Phoenix residents should think twice before getting that in-ground pool.
Be a senior: If you are over 55, you get a lot of discounts. That includes home insurance. Seniors, on average, keep up with the maintenance of their house. On top of that, they spend more time at home. That means they can stop a fire or a leaky pipe before it destroys the house. Phoenix has been a retiree's destination for years and it will be for years to come.
Add technology: Technology is a great way to stop potential disasters before they happen. From security systems to smoke and carbon monoxide detectors

,

there are many ways to make your home safer. Insurance companies love to see homeowners taking preventive measures. That can lead to sizeable discounts.
Shop around: Buying insurance is a pain. Consumers usually stick with the first decent insurance policy they find. But if you don't do your due diligence by comparing companies, you're leaving money on the table. Each insurer offers different rates and discounts. And if you stay with the same insurer for several years, they often raise your rates incrementally every year because they know you don't want to find a new company. So be sure to compare quotes in Phoenix, Az from different home insurance companies.
Improve your credit score: As we said earlier, the average credit score in Phoenix is 646. That's not a good score. Credit plays a major part in our financial lives, and homeowners insurance is no different. If your credit is poor, try to improve it. You can do this by paying off your bills, consolidating your debt, and staying on top of your finances.
Renovate: The age and condition of your home affects your premium. Investing money to update your house with new fixtures, appliances, plumbing, and wiring can lower your insurance rates.
Pick a good neighborhood: If you can afford to buy a house in an area with low crime rates and no flood risk, that's great! Your home insurance rates will reflect it. Phoenix has a high crime rate, so avoiding crime in your neighborhood may be inevitable. Also, the city is prone to flooding and flash floods without notice. Regardless, be sure to consider your neighborhood's security before investing in a home.
Avoid claims: It's simple. Filing a claim makes your rates go up. Always consider whether you really need to file a claim. If you can afford to pay for damages out-of-pocket, do it. It can save you money in the end.
Raise your deductible: When your deductible goes up, your premium goes down. It's like a teeter-totter or a balancing act. Consider your personal needs and budget, and a higher deductible could make sense for you. Remember, there's a lot to consider when choosing your home insurance deductible.
Bundle: The smartest and fastest way to save on insurance is to bundle insurance policies. Try bundling your home and auto insurance with one company. Doing so can save you 20 percent on your insurance premium.
QuoteWizard.com LLC has made every effort to ensure that the information on this site is correct, but we cannot guarantee that it is free of inaccuracies, errors, or omissions. All content and services provided on or through this site are provided "as is" and "as available" for use. QuoteWizard.com LLC makes no representations or warranties of any kind, express or implied, as to the operation of this site or to the information, content, materials, or products included on this site. You expressly agree that your use of this site is at your sole risk.