Compare Homeowners Insurance In Kentucky
We studied the best homeowners insurance companies in Kentucky and found that the average premium statewide is $1,157, which is about 5% cheaper than the national average. Because rates, customer service and coverage vary across the top companies, it's important to compare them on multiple levels. Here are our top picks for homeowners insurance companies in Kentucky:
Cost of homeowners insurance in Kentucky
Homeowners insurance rates have gradually risen in recent years, but remain below average: Kentuckians pay an average of $96 per month for homeowners insurance, which is less than the national average of $101.
Average homeowners insurance rates in Kentucky
 
Today
2017
2016
Kentucky annual average
$1,157
$1,109
$1,085
Kentucky price per month
$96
$92
$90
U.S. annual average
$1,215
$1,211
$1,192
U.S. cost per month
$101
$101
$99
Note: Average rates for today are based on non-binding estimates provided by Quadrant Information Services. Your rates may vary. 2016-2017 data is sourced from the National Association of Insurance Commissioners (NAIC).
We saw rates among the biggest companies in Kentucky range from $641 to more than $1,500. Here's how some of the top companies stack up: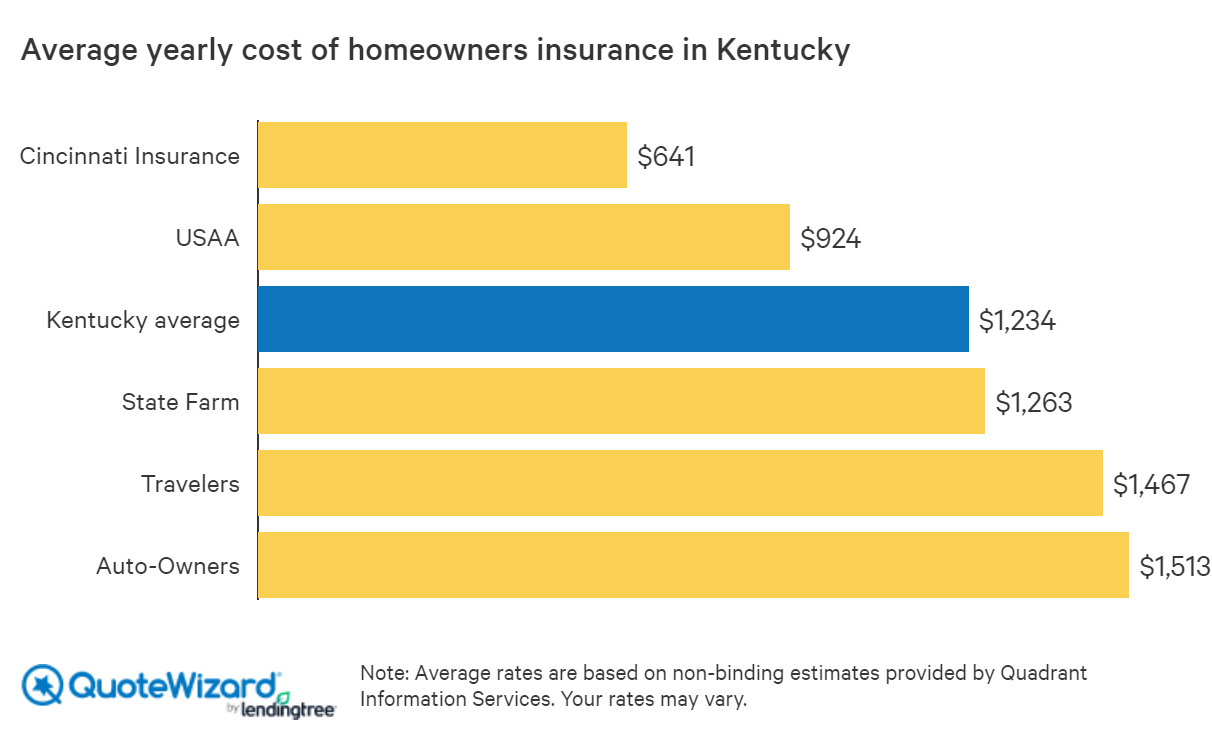 Best homeowners insurance companies in Kentucky
In order to help you find the best insurance company for your situation, we reviewed the top companies in Kentucky. State Farm, Kentucky Farm Bureau, Cincinnati Insurance, Auto-Owners Insurance and USAA stood out as great options, each for its own reason.
State Farm: best overall value
State Farm takes our top spot in Kentucky for its balance of fair rates, above-average customer satisfaction and great coverage. State Farm is the largest home insurance company in the state, controlling almost 24% of the home insurance market. That means there is likely a local State Farm option for you with one of its 19,000-plus agents nationwide.
State Farm's average cost in Kentucky is $1,263 a year, which is about $29 above the Kentucky average. For that price, you'll get standard homeowners insurance coverage, access to its claims service 24 hours a day and above-average customer service. So although it's marginally pricier than the state average, we think it provides great value.
J.D. Power's 2019 homeowners insurance satisfaction survey gave State Farm a 4/5, which is an excellent rating — it's one of only six companies to receive a 4/5 or better. State Farm's weak point, according to J.D. Power, is its price, where State Farm received a 3/5. NAIC's complaint index measures the amount of complaints a company receives relative to its size. A lower NAIC index value is better. In 2018, State Farm had a complaint index of 0.20, well below the national average of 1.0 and among the best of its competition in Kentucky.
Cincinnati Insurance: best for cheap rates
We found that Cincinnati Insurance had the cheapest rates in Kentucky, with an average annual premium of $641. Cincinnati is a smaller insurer in Kentucky, however, only accounting for about 2% of all homeowners insurance policies. While Cincinnati provides cheap rates, availability may be limited.
Cincinnati had a 2018 NAIC complaint index of 0.17, which is a highly respectable number and in line with much of its competition in Kentucky. This number was a little higher in 2016 and 2017, but not enough to be a concern. Cincinnati's consistent NAIC index suggests a good customer service experience.
If Cincinnati has cheap rates and good customer service, the primary drawback is its poor digital experience. Its website and mobile applications are outdated and difficult to use. This may be an important factor if you'd like to manage your account entirely online.
Auto-Owners Insurance: best for bundling home and auto
Auto-Owners is our pick for the best bundle because of its excellent customer satisfaction ratings for both home and auto insurance. Auto-Owners received a 4/5 in J.D. Power's home insurance survey and a 5/5 from J.D. Power's auto insurance survey. Those ratings are well above average. When researching companies to make our pick for best bundle, we prioritized companies that have exceptional home and auto services.
However, Auto-Owners is one of the more expensive options for homeowners insurance in Kentucky, with an average annual rate of $1,513. Bundling multiple policies can be a great opportunity to lower your rates, but Auto-Owners does not indicate average bundling savings on its website. Bundling is not only about saving: it also simplifies your insurance bills by having them all in one place.
Auto-Owners captures about 3% of the homeowners insurance marketplace in Kentucky, making it a smaller player. However, with more than 47,000 independent agents nationwide, there's a good chance you'll be able to find an agent close to you.
Kentucky Farm Bureau: best local insurer
Kentucky Farm Bureau is our pick for best local insurer for its local experience and knowledge and excellent customer service. KFB has been serving the Bluegrass State since 1943 and offers many insurance products, including home, auto and life insurance policies. Some may find it important to support a local company that has a history of advocating for the residents and farmers of Kentucky.
Kentucky Farm Bureau is the second-largest insurer of homes in Kentucky behind State Farm, but is the 53rd largest in the nation. KFB's small size shouldn't be a financial concern: it has an A rating from A.M. Best, indicating its financial stability and ability to pay out on claims. Kentucky Farm Bureau offers a handful of optional coverages and discount opportunities, allowing customers to tailor their policies. For example, you can add identity fraud or earthquake protection. KFB customers can also take advantage of discounts for new homes, bundling, home security systems, and new roofs.
Kentucky Farm Bureau has the lowest 2018 NAIC complaint index we saw in Kentucky, at 0.11, indicating few complaints relative to its size. KFB's complaint index has also remained consistently low from 2016 to 2018, suggesting that 2018 was not an outlier. KFB is excluded from national studies like J.D. Power's home insurance survey because of its size, but its NAIC index indicates excellent customer service.
USAA: best for service members, veterans and their families
In order to qualify for USAA insurance, you must be an active military service member, veteran or immediate family member. But for those who qualify, USAA offers best-in-class service and affordable rates in Kentucky.
USAA's homeowners insurance rates averaged $924 a year in Kentucky, more than $300 below the state average. For that price, you'll receive excellent customer service. USAA received an overall 5/5 from J.D. Power's homeowners insurance satisfaction survey. USAA also received full marks in every subcategory of J.D. Power's survey, from price to interaction to claims satisfaction. This suggests that USAA customers have an all-around great experience with the company.
USAA designed its homeowners insurance policies to provide service members and veterans with coverage that fits their unique insurance needs. For example, USAA personal property protection covers damage to military uniforms. Serving longer also opens new savings opportunities, such as 50% off installation of ADT home security systems for those who have served longer than 20 years. These are just a few ways USAA serves the more than 280,000 veterans who live in Kentucky.
The biggest homeowners insurance companies in Kentucky
It can be hard to keep track of all of your options, so we compiled this summary of the homeowners insurance marketplace in Kentucky.
Kentucky homeowners insurance market

| Company | Market share | 2019 J.D. Power overall satisfaction rating | 2018 NAIC complaint index |
| --- | --- | --- | --- |
| State Farm | 23.7% | 4/5 | 0.20 |
| Kentucky Farm Bureau | 22.4% | N/A | 0.11 |
| Liberty Mutual | 9.8% | 2/5 | 0.45 |
| Allstate | 6.5% | 3/5 | 0.29 |
| USAA | 5.0% | 5/5 | 0.15 |
| Travelers | 3.1% | 2/5 | 0.30 |
| Auto-Owners | 2.8% | 4/5 | 0.21 |
| Nationwide | 2.3% | 2/5 | 0.24 |
| State Auto | 2.3% | N/A | 0.23 |
| Cincinnati Insurance | 2.2% | N/A | 0.17 |
Check out our rankings of the best home insurance companies to see how insurers in Kentucky rank nationally.
Homeowners insurance rates in Kentucky by city
Kentucky's two largest cities, Louisville and Lexington, have average homeowners insurance rates below the state average. Lexington was among the lowest rates we saw in Kentucky, at $820 a year.
Average yearly homeowners insurance premium by city
City
Average premium
Difference from state average ($1,234)
Ashland
$1,022
-17%
Bowling Green
$1,154
-6%
Burlington
$831
-33%
Covington
$841
-32%
Danville
$1,030
-17%
Elizabethtown
$1,099
-11%
Erlanger
$845
-32%
Florence
$858
-30%
Frankfort
$910
-26%
Georgetown
$868
-30%
Henderson
$1,060
-14%
Hopkinsville
$1,133
-8%
Independence
$839
-32%
Jeffersontown
$1,057
-14%
Lexington-Fayette
$820
-34%
Louisville/Jefferson County
$1,103
-11%
Madisonville
$1,170
-5%
Murray
$1,163
-6%
Nicholasville
$936
-24%
Owensboro
$1,041
-16%
Paducah
$1,162
-6%
Radcliff
$1,141
-8%
Richmond
$907
-27%
St. Matthews
$1,083
-12%
Winchester
$960
-22%
Note: Average rates are based on non-binding estimates provided by Quadrant Information Services. Your rates may vary.
Homeowners insurance rates in Kentucky by county
In our research, we saw average homeowners insurance rates ranging from more than $1,500 in Laurel County to $819 in Fayette County. Generally, eastern and southeastern counties saw the cheapest homeowners insurance rates, while rates decreased in northern and western counties. Rate pricing is difficult to precisely pin down, but this trend mirrors the disaster risk across Kentucky. Here are rates from some of the most populous counties in Kentucky.
Average yearly homeowners insurance premium by county
County
Average premium
Difference from state average ($1,234)
Barren
$1,207
-2%
Boone
$858
-31%
Boyd
$1,035
-16%
Bullitt
$1,135
-8%
Campbell
$832
-33%
Christian
$1,160
-6%
Daviess
$1,117
-10%
Fayette
$819
-34%
Franklin
$903
-27%
Hardin
$1,157
-6%
Henderson
$1,113
-10%
Hopkins
$1,223
-1%
Jefferson
$1,090
-12%
Jessamine
$946
-23%
Kenton
$845
-32%
Laurel
$1,564
27%
Madison
$926
-25%
McCracken
$1,172
-5%
Nelson
$1,119
-9%
Oldham
$1,048
-15%
Pike
$1,505
22%
Pulaski
$1,196
-3%
Scott
$876
-29%
Shelby
$1,035
-16%
Warren
$1,171
-5%
Note: Average rates are based on non-binding estimates provided by Quadrant Information Services. Your rates may vary.
Homeowners insurance perils in Kentucky
Kentucky's climate is mild compared to some of its surrounding states. Kentucky is land-locked, meaning it doesn't experience severe storms off the Atlantic Ocean, and many of the tornadoes that its western neighbors get pass it by. But that doesn't mean Kentucky is completely safe from cold winters, tornadoes, storms and floods.
Storms and tornadoes
FEMA keeps a database of disaster declarations by state and county, which shows how disaster frequencies vary by county in Kentucky. The majority of disasters, including floods and severe storms, happen in the eastern counties, such as Pike County and Floyd County. This contributes to higher rates in the eastern part of the state. Luckily, homeowners insurance typically covers damage from storms and tornadoes.
Cold winters
Kentucky's winters aren't as cold as in the northern states, but average temperatures can still drop below freezing for long stretches. Cold snaps may concern homeowners for a few reasons: snow accumulation, frozen piping and slippery conditions.
Snow accumulation on roofs, garages and porches can cause collapse. While it is common for homeowners insurance to cover such a loss, it's always better to prevent claims in the first place. That's why we recommend keeping your home as clear from snow accumulation as possible. Freezing temperatures can put an extra strain on plumbing and even cause bursts. We recommend taking the proper precautions to prevent plumbing from bursting, but it is also frequently covered by homeowners insurance.
Flood
Kentucky is middle-of-the-pack when it comes to flood claims: the National Flood Insurance Program, or NFIP, paid just under $200 million in flood damage to Kentucky between 1996 and 2016, the 18th largest sum of any state. That indicates that Kentucky's flood risk is far from nonexistent, but isn't as severe as coastal states.
According to FEMA, there are 20,087 flood insurance policies in force in Kentucky, meaning that only about 1.6% of owner-occupied housing units in the state have an NFIP flood insurance policy. Flood insurance rates in Kentucky are among the most expensive in the country: $1,018 a year through NFIP. If NFIP flood insurance is too expensive, we recommend exploring private flood insurance, which sometimes offers more reasonable rates for lower-risk homes.
Methodology
We analyzed 1,292 quotes from every ZIP code in Kentucky from the following companies: Auto Club, Auto-Owners, Cincinnati Insurance, State Farm, Travelers and USAA. We rated a home worth $158,291 and built in 1979, which are the median home value and median build year of owner-occupied housing units in Kentucky. The homeowner was 57 years old.
Policy specifications were as follows:
Dwelling coverage: $158,291
Personal property coverage: 50% of dwelling ($79,146)
Other structures coverage: 10% of dwelling ($15,829)
Loss of use coverage: 20% of dwelling ($31,658)
Liability coverage: $100,000
Deductible: $1,000
Standard & Poor's Financial Services was used for all geographic and demographic data. National Flood Insurance Program (NFIP) statistics are publicly available through FEMA.
QuoteWizard.com LLC has made every effort to ensure that the information on this site is correct, but we cannot guarantee that it is free of inaccuracies, errors, or omissions. All content and services provided on or through this site are provided "as is" and "as available" for use. QuoteWizard.com LLC makes no representations or warranties of any kind, express or implied, as to the operation of this site or to the information, content, materials, or products included on this site. You expressly agree that your use of this site is at your sole risk.