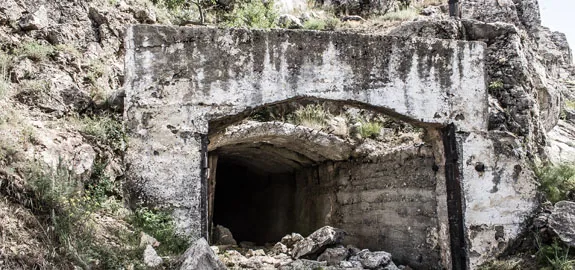 If you own a home built on an area affected by mine subsidence, you may have some very special insurance needs. Mine subsidence, or ground movement and collapses caused by mines, isn't covered by home insurance. But mine subsidence insurance is available to help protect your home. This article will detail:
Mine Subsidence Coverage
Mine subsidence provides dwelling coverage for a home structure from damage due to a sinking or collapse of a mine. Coverage includes repair or replacement costs for the foundation and underground utilities of the home. It also pays out for any excavation work needed to repair covered damages. If you wanted mine subsidence insurance for a detached garage, it would need its own policy.
Limited coverage may be available for the following additions:
Fences
Retaining walls
Driveways
Sidewalks
Private garages
In-ground swimming pools
All covered additions must be permanent fixtures and attached to the ground surface. They must also be adjacent to the insured home. Payout for adjacent fixture damage is limited to 10 percent of the policy coverage limit. The fixtures must incur damage from the same subsidence event as the home to qualify for coverage.
Also, mine subsidence insurance only applies to subsidence occurring with man-made mines. Collapse due to natural occurrence is not covered.
Mine Subsidence Insurance Exclusions
The Illinois insurance code states: "Mine subsidence does not include lateral or vertical movement caused by earthquake, landslide, volcanic eruption, soil conditions, soil erosion, soil freezing and thawing, improperly compacted soil, construction defects, roots of trees and shrubs or collapse of storm and sewer drains and rapid transit tunnels."
If your home has any past unrepaired mine subsidence damage, you may be denied coverage. The damage would have to be repaired before coverage would be considered.
Who Needs Mine Subsidence Coverage?
States where mine subsidence insurance is common include:
Colorado
Illinois
Indiana
Kentucky
Ohio
Oklahoma
Pennsylvania
West Virginia
Wyoming
Using Illinois as an example, 34 counties in IL have mine subsidence insurance as part of in standard home insurance. If you live somewhere where mine subsidence insurance isn't required but the risk is still there, your home insurer probably still offers coverage for it. If there is any chance that mine subsidence could be an issue in your location, mortgage lenders often require you to pick up mine subsidence insurance. Experts tend to agree that pillar support in mines can collapse with no real way to predict when.
How Much Does Mine Subsidence Coverage Cost?
The average mine subsidence insurance provides $195,000 of coverage for $105 a year.  Average coverage limits range from $5,000 to $500,000. There may be an inspection fee involved when you apply for mine subsidence insurance. Deductibles can vary from state to state. In PA, for example, the deductible for mine subsidence insurance claims is $250. Check with your local home insurer to learn what your exact cost is.
What is Mine Subsidence?
The Illinois Insurance Code defines mine subsidence as: "lateral or vertical ground movement caused by a failure initiated at the mine level, of man-made underground mines, including, but not limited to coal mines, clay mines, limestone mines, and fluorspar mines that directly damages residences or commercial buildings."
Mining can involve digging out space underground in a grid pattern in order to mine materials efficiently. Pillars of the material (most often coal, clay, limestone, lead, zinc, and fluorspar) are left to provide support for the mine's roof. In time, these pillars will erode and eventually collapse. As the pillars break down, the earth above can break down and weaken. The result is mine subsidence.
One of the big dangers of mine subsidence is its large area of effect. As the mine gets deeper, the total surface area affected by mine subsidence increases. Acres of land can break down around the mine. This means a house doesn't need to be on top of a mine to have its foundation threatened. In Illinois alone, mine subsidence affects at least one home a week. There are an estimated 333,000 residents with the potential for mine subsidence damage over time.
Homeowners insurance often excludes damage from underneath a house's slab. As such, damage from eroding land or sinkholes resulting from mine subsidence isn't usually covered. States with large mining industries offer mine subsidence insurance to help homeowner's protect their homes from such damage.
If you can trace the damage to the actions of a particular company or government agency, you may sue the responsible party. This can be a challenge, however. Establishing liability for subsidence is difficult if a mine changes hands over time. Proving one particular group is responsible for your mine subsidence damage is difficult.
References:
QuoteWizard.com LLC has made every effort to ensure that the information on this site is correct, but we cannot guarantee that it is free of inaccuracies, errors, or omissions. All content and services provided on or through this site are provided "as is" and "as available" for use. QuoteWizard.com LLC makes no representations or warranties of any kind, express or implied, as to the operation of this site or to the information, content, materials, or products included on this site. You expressly agree that your use of this site is at your sole risk.