Compare Homeowners Insurance In Colorado
Our study of homeowners insurance in Colorado found that the average premium is $1,832 a year, or $153 a month, which is comparatively high for the U.S. However we saw rates as low as $1,558 a year.
High premiums mean balancing cost, coverage and customer experience are important to ensure you're getting the best coverage for the lowest cost. To help you find the best company for your situation, we reviewed and ranked the best home insurance companies in Colorado. Here's our list:
Cost of homeowners insurance in Colorado
Home insurance premiums have risen steadily in recent years, from $115 a month in 2015 to $153 a month today.
Average cost of home insurance in Colorado
 
Today
2016
2015
Colorado annual average
$1,832
$1,446
$1,383
Colorado price per month
$153
$121
$115
U.S. annual average
$1,215
$1,192
$1,173
U.S. cost per month
$101
$99
$98
Note: Average rates for today are based on non-binding estimates provided by Quadrant Information Services. Your rates may vary. 2015-2016 data sourced from NAIC.
The prices above can help you ballpark what you can expect to pay for home insurance, but prices vary between companies, which is why it's important to compare multiple home insurance companies. Here's how some of the largest players stack up.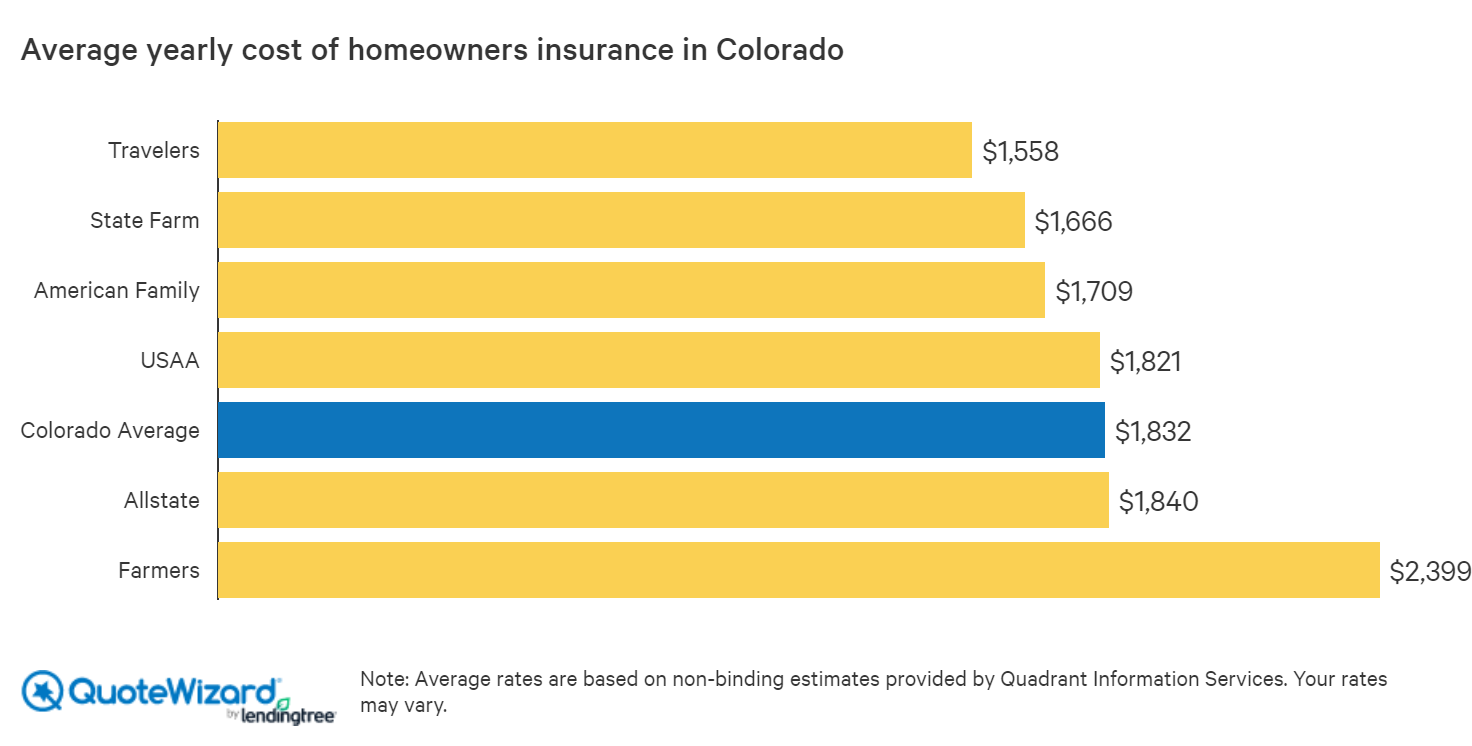 Best home insurance companies in Colorado
So, you know how expensive home insurance is, but which company should you choose? Here's why State Farm, American Family, Allstate, Travelers and USAA stood out in Colorado.
State Farm: best value
State Farm is our pick for the best value home insurance company in Colorado for its balance of three factors: cost, customer reviews and coverage. The biggest insurance provider in the nation, State Farm is also Colorado's largest home insurance company, writing 20% of all home insurance policies.
State Farm received a 4/5 in overall satisfaction in J.D. Power's 2019 home insurance survey, which is an above average rating. It also had a NAIC complaint index of 0.20 in 2018, which measures how many complaints a company receives relative to its size. Lower complaint indexes mean fewer complaints, so lower is better. State Farm had one of the lowest complaint indexes in Colorado, despite handling the highest number of customers.
You won't be charged an arm and a leg to receive State Farm's top-notch service. With an annual premium of $1,666, its average rates are more than $150 cheaper than the state average. You won't sacrifice coverage at that price either. State Farm offers the standard coverage you'd expect from a national leader.
American Family: runner-up best value
State Farm took our top spot for best value home insurance, but American Family came in at a close second. Like State Farm, American Family provides a balance of rates, customer experience and coverage. American Family gets bonus points for the transparency of its policy options, allowing you to easily understand how its policies differ from one another.
American Family received a 3/5 in J.D. Power's 2019 home insurance survey and had a NAIC complaint index of 0.32 in 2018. These are respectable numbers, but come in just behind State Farm's numbers (for NAIC complaint indexes, lower numbers are better). This suggests you'll receive average to slightly above average service with American Family.
We found that American Family home insurance averages $1,709 a year, or $142 a month. This puts American Family below the Colorado statewide average of $1,832, but above competitors like State Farm and Travelers.
Allstate: best for bundling home and auto
If you want to bundle your home and auto insurance policies, we recommend Allstate. We chose Allstate for its fair rates and customer satisfaction performance in both home and auto. We found its average premium for home insurance to be $1,840 — just a hair above the Colorado state average. This number may drop if you bundle an auto policy. Allstate advertises 25% savings on home insurance premiums and 10% on auto.
When considering a company to bundle home and auto insurance, we recommend evaluating both insurance policies separately and then looking at the bundling savings. Allstate received a 3/5 in overall customer satisfaction from J.D. Power in 2019 for its home and auto insurance services, giving it respectable scores for both. This suggests that you'll have an average to better-than-average experience with both services.
There are two perks to bundling: the potential savings and the convenience of managing your bills with one company. On the cost front, bundling multiple policies is often the best way to save money. With that said, it is not always true that you'll get the best rates by bundling, which is why it's important to compare multiple companies. As far as managing your bill, bundled policies aren't always grouped together into one payment, but you'll nevertheless be able to manage them in the same place.
Travelers: cheapest rates
Our study found that Travelers has the cheapest rates in Colorado, at only $1,558 a year, or about 15% lower than the Colorado average. Price shouldn't be your only consideration when comparing home insurance companies, so here's what else you should know about Travelers.
Travelers' affordable prices don't come at the cost of coverage: its home insurance provides standard coverage for the industry, as you'd expect from the 6th largest home insurer in the U.S. Additionally, going with a large company has its benefits, such as being able to find a local agent, access to a 24-hour claims service and a sound financial backing.
Travelers received a 2/5 in overall satisfaction in J.D. Power's 2019 home insurance survey, which J.D. Power calls "below average." Travelers' NAIC complaint index was 0.30 in 2018, which is much lower than the national average of 1.0, but a bit higher than State Farm and Allstate. Lower complaint indexes are better, because they mean fewer complaints relative to the companies' size.
USAA: best for veterans and their families
USAA is only available to current and former military members and their families, but for those who qualify, USAA provides excellent coverage and customer satisfaction at a fair price. Colorado is home to almost 400,000 veterans, according to the VA, accounting for almost 7% of Colorado's population. With such a large proportion of veterans, it's no wonder USAA writes over 11% of all home insurance policies in Colorado.
We found that USAA's average annual cost for home insurance in Colorado is $1,821, or $11 dollars below the state average. To lower the cost further, USAA offers the discounts you'd expect from a large insurance company, such as multi-policy and claims-free discounts. Considering USAA is one of only three companies that received a perfect 5/5 in customer satisfaction from J.D. Power in 2019, we think USAA provides excellent service for the price.
USAA home insurance has a few standout coverages. For example, USAA personal property coverage includes protection for military uniforms, and you won't have to pay a deductible after a loss if you are on active or reserve duty. Additionally, home insurance policies automatically include $5,000 of identity theft coverage, which is not standard: we usually will see identity theft protection as an add-on that increases rates.
The biggest home insurance companies in Colorado
We studied the largest home insurance companies in Colorado. Here's a snapshot of the companies you'll most likely be choosing from:
Home insurance companies in Colorado at a glance
Company
Market share
Average annual premium
2019 J.D. Power overall satisfaction rating
NAIC complaint index (lower is better)
State Farm
20.1%
$1,666
4/5
0.20
USAA
11.3%
$1,821
5/5
0.14
American Family
10.1%
$1,709
3/5
0.32
Allstate
9.5%
$1,840
3/5
0.29
Farmers
9.4%
$2,399
3/5
0.39
Travelers
5.7%
$1,558
2/5
0.30
Note: Average rates are based on non-binding estimates provided by Quadrant Information Services. Your rates may vary.
To get a sense of how these companies stack up nationally, check out our rankings of the best home insurance companies.
Home insurance rates in Colorado by city
Homeowners insurance rates vary by city in Colorado. Below are rates for the 25 most populous cities, ranging from $2,544 a year in Pueblo to $823 in Grand Junction. As a rule of thumb, areas west of the Rockies tend to have lower home insurance rates due to fewer risk factors.
Average yearly homeowners insurance premium by city
City
Average annual premium
Difference from state average
Arvada
$1,920
5%
Aurora
$2,161
18%
Boulder
$1,669
-9%
Brighton
$1,976
8%
Broomfield
$1,817
-1%
Castle Rock
$2,117
16%
Centennial
$2,164
18%
Colorado Springs
$2,160
18%
Commerce City
$2,079
13%
Denver
$2,109
15%
Fort Collins
$1,454
-21%
Grand Junction
$823
-55%
Greeley
$1,896
3%
Highlands Ranch
$2,170
18%
Ken Caryl
$1,958
7%
Lakewood
$1,988
9%
Littleton
$2,050
12%
Longmont
$1,672
-9%
Loveland
$1,443
-21%
Northglenn
$1,945
6%
Parker
$2,270
24%
Pueblo
$2,544
39%
Security-Widefield
$2,153
18%
Thornton
$1,966
7%
Westminster
$1,908
4%
Note: Average rates are based on non-binding estimates provided by Quadrant Information Services. Your rates may vary.
Home insurance rates in Colorado by county
The further east you go in Colorado, the more expensive home insurance becomes. This reflects Colorado's varied landscapes, from the desert to mountains to plains.
Average yearly homeowners insurance premium by county
County
Average annual premium
Difference from state average
Adams
$2,018
10%
Alamosa
$1,244
-32%
Arapahoe
$2,155
18%
Archuleta
$1,116
-39%
Baca
$2,699
47%
Bent
$2,887
58%
Boulder
$1,679
-8%
Broomfield
$1,812
-1%
Chaffee
$1,247
-32%
Cheyenne
$2,975
62%
Clear Creek
$1,551
-15%
Conejos
$1,269
-31%
Costilla
$1,307
-29%
Crowley
$2,736
49%
Custer
$1,589
-13%
Delta
$1,057
-42%
Denver
$2,119
16%
Dolores
$1,012
-45%
Douglas
$2,162
18%
Eagle
$1,116
-39%
El Paso
$2,176
19%
Elbert
$2,319
27%
Fremont
$1,518
-17%
Garfield
$983
-46%
Gilpin
$1,719
-6%
Grand
$1,157
-37%
Gunnison
$1,081
-41%
Hinsdale
$1,037
-43%
Huerfano
$1,729
-6%
Jackson
$1,243
-32%
Jefferson
$1,936
6%
Kiowa
$2,972
62%
Kit Carson
$2,946
61%
La Plata
$1,033
-44%
Lake
$1,214
-34%
Larimer
$1,456
-21%
Las Animas
$2,122
16%
Lincoln
$2,665
45%
Logan
$2,744
50%
Mesa
$885
-52%
Mineral
$1,089
-41%
Moffat
$1,067
-42%
Montezuma
$1,045
-43%
Montrose
$1,027
-44%
Morgan
$2,689
47%
Otero
$2,733
49%
Ouray
$1,037
-43%
Park
$1,458
-20%
Phillips
$2,849
56%
Pitkin
$1,066
-42%
Prowers
$2,928
60%
Pueblo
$2,519
38%
Rio Blanco
$1,020
-44%
Rio Grande
$1,176
-36%
Routt
$1,061
-42%
Saguache
$1,199
-35%
San Juan
$1,010
-45%
San Miguel
$1,048
-43%
Sedgwick
$2,774
51%
Summit
$1,137
-38%
Teller
$1,706
-7%
Washington
$2,759
51%
Weld
$1,924
5%
Yuma
$2,882
57%
Note: Average rates are based on non-binding e stimates provided by Quadrant Information Services. Your rates may vary.
Home insurance perils in Colorado
Your area plays a large factor in determining home insurance premiums, as homes in higher-risk areas typically cost more to insure. Colorado is a complicated case, as its climate is complex and has varied landscapes, so your risk factors will be different depending on where you live in the state.
Storms: hail, wind, thunder and snow
Colorado experiences many types of storms, and residents know the storms are no joke. Hail is common in the eastern and northeastern part of the state, which can cause severe damage to homes and personal property. Luckily, home insurance covers damage from hail.
The Front Range area just east of the Rockies is home to Colorado's largest cities, including Denver, Colorado Springs and Fort Collins. The Front Range benefits from the shield of the Rocky Mountains, but it is by no means immune to severe weather. Hot, dry summers bring thunderstorms, which can cause wind damage or start fires. Home insurance will most likely cover you if you experience a loss due to wind or thunderstorms, however.
Cold, snowy weather presents two insurance risks: damage to your home and property, and liability concerns. The weight of snow on roofs adds strain to your home's infrastructure, so we recommend keeping it as clear as possible. Icy driveways and footpaths can be dangerous for visitors to your home, so in case a guest falls and needs medical attention, you'll want to make sure you have enough liability coverage.
Fire
The dry summers in Colorado make wildfires a concern. Two of the worst fires in the state's history – the Hayman Fire and Black Forest Fire – happened in 2002 and 2013, respectively. According to FEMA, only five counties in Colorado have not experienced a wildfire since 1953.
The most populous areas of Colorado aren't immune to wildfires, so you should ensure that your home insurance policy covers them. Most homeowners policies cover fires, but insurance companies sometimes exclude coverage for wildfires in particularly high-risk areas.
Tornadoes
The eastern counties of Colorado are part of Tornado Alley, which is an area in midwestern and western states in the U.S. that frequently experiences severe tornadoes. These eastern counties are some of the least populous in the state, but if you do live in a tornado-prone area, you'll be happy to know homeowners insurance typically covers damage from them.
Floods and earthquakes
Home insurance does not cover damage from flood or earthquake. Colorado's earthquake risk is low, so homeowners do not have to worry too much about earthquakes. On the other hand, flooding from thunderstorms, rapid melting of snow and river overflow are concerns.
To get flood protection, you'll need to purchase flood insurance separately from your homeowners insurance. There are two flood insurance options: flood insurance through the government-funded NFIP or flood insurance through a private company.
As of June 2019, the cost of flood insurance in Colorado through the NFIP is $864 a year, but not many households have federal flood insurance. There are just over 21,000 policies in force in Colorado, which represents 1.4% of owner-occupied houses.
Private flood insurance policies are becoming more common, but still only account for 15% of flood insurance policies nationwide. You may be able to find cheaper premiums with a private company, as it may have more sophisticated risk maps.
Colorado regulations: The Homeowner's Insurance Reform Act of 2013
Following the Fourmile Canyon, High Park and Waldo Canyon Fires between 2010 and 2012, Colorado passed The Homeowner's Insurance Reform Act of 2013 to protect homeowners. The act has many provisions, but some of the most important require insurers to:
Offer extended replacement coverage
Include at least one year of additional living expenses in policies, and offer up to two years
Write insurance policies in plain language
Update replacement cost values every two years
Notify customers of changes to their policies in plain language
The law serves to protect homeowners and increase transparency between insurance companies and customers. The required coverage offerings seek to ensure that homeowners will receive ample help from their insurance providers in the event of a severe loss.
Methodology
We collected over 750 quotes from every ZIP code in Colorado for a home worth $401,226 (the median value in Colorado) according to the following criteria:
Dwelling coverage: $401,226
Personal property coverage: 50% of dwelling ($200,613)
Other structures coverage: 10% of dwelling ($40,123)
Loss of use coverage: 20% of dwelling ($80,245)
Liability coverage: $100,000
Deductible: $1,000
Market share, demographic and geographic data were sourced from Standard & Poor's Financial Services.
Sources:
QuoteWizard.com LLC has made every effort to ensure that the information on this site is correct, but we cannot guarantee that it is free of inaccuracies, errors, or omissions. All content and services provided on or through this site are provided "as is" and "as available" for use. QuoteWizard.com LLC makes no representations or warranties of any kind, express or implied, as to the operation of this site or to the information, content, materials, or products included on this site. You expressly agree that your use of this site is at your sole risk.