Compare Homeowners Insurance in Denver
If you live in the Mile High City, there's a lot you can do to avoid paying mile high home insurance rates. Colorado has seen significant rate hikes over the last decade. Current and future Denver, Colorado residents need to stay smart to get a good deal on home insurance.
Denver's housing market has remained hot for a few years now. With housing prices rising, homeowners insurance is following suit.
From Denver's competitive housing market to their high tornado risk, there are several factors propelling rising insurance rates.
Average Denver Home Insurance Rates
How much is home insurance in Denver? Using data from QuoteWizard users in Denver, we created this 'average' house:
1,969 square foot home built in 1983
One story
3 bedroom and 2.5 bathrooms
Composite shingle roof
Deadbolt locks
Fire extinguishers
To assess the city's insurance rates, we gathered various homeowners insurance quotes for this 'average' Denver house. Remember that insurance policies are unique to each person's home, history, and insurance needs. Your rates may vary from our example. These are the average rates for a Denver homeowners insurance policy:
$169.58/month
$2,035.00 annually
The graph below shows the change in average Colorado home insurance rates from 2011 to 2015, the most recent year the data is available. According to the III, Colorado homeowners insurance rates increased from $961 in 2011 to $1,383 in 2015, a jump of $422 dollars, or 43.91 percent.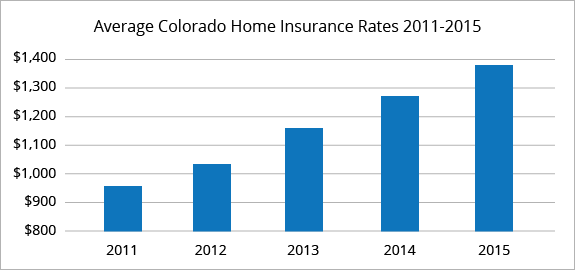 QuoteWizard helps consumers compare quotes from both national insurance companies and local agents. QuoteWizard can help you find affordable home insurance rates near Denver, Colorado.
Last year, 1,300 people used QuoteWizard to compare compare home insurance quotes in Denver, CO from multiple companies.
Best Home Insurance Companies in Denver, CO
Most Popular Insurance Companies
According to QuoteWizard users, these are the most popular Denver home insurance companies:
State Farm
Allstate
Farmers
Progressive
GEICO
Liberty Mutual
Esurance
MetLife
Nationwide
Safeco
Best Insurance Companies
The above list shows the most popular home insurers in Denver, Colorado according to our users. But popular doesn't always mean best.
Our study on the best homeowners insurance rates focuses on top of the line companies. In no particular order, these companies stand out among the rest:
Amica: Best Overall
MetLife: Best for Bundling
Allstate: Best for Local Agents
Hartford: Best for Seniors
State Farm: Best for Pet Owners
Travelers: Best for Flexible Policies
Nationwide: Best Replacement Coverage
Farmers: Best for Eco-Friendly Homes
Liberty Mutual: Best for Quick and Easy Quotes
Auto Owners Insurance: Best Claims Experience
Denver Home Insurance Rate Factors
Insurers use a variety of elements to calculate the cost of your home insurance policy. Here are the most common rate factors:
Natural disasters: Insurers charge more to cover homeowners in disaster prone areas. Many people think that Denver is safe from natural disasters and inclement weather, aside from cold winters. However, a recent study found that Denver is the sixth riskiest city for weather-related housing damage. In fact, Denver's decade of insurance rate increases is due primarily to inclement weather around the state:

In 2008, the Windsor tornado caused $193.5 million in insured losses.
In 2009, three Colorado hailstorms caused $1.4 billion in damages. That year, insurers paid out $1.68 in claims for every $1 collected through premiums
In 2010, Colorado insurers paid $1.37 towards claims per $1 in premiums.

Old houses: Buying a charming fixer upper may sound great at first. But the older your home is, the more likely it is to have expensive problems. That includes cracked foundations, building code violations, exposed wiring, faulty plumbing, and more. As a result, homeowners insurance rates are higher for older houses. Our research shows that Denver's average home was built in 1983, which is relatively new for a house.
Credit history: Insurers use your credit score to gauge your financial capability. If you have bad credit, unfortunately, you're guaranteed to pay more for home insurance. In 2017, Denver was ranked 31st of 100 metropolitan areas for credit score rankings with an average credit score of 680. That's pretty good, and it will hopefully lead to lower premiums for Denver homeowners.
Pools and trampolines: Insurance companies don't like to cover attractive nuisances. What's an attractive nuisance? Anything that may attract trespassers like pools, trampolines, and hot tubs. These nuisances cost more to insure because your insurance pays for liability in the event that a trespasser is injured on your property. Fortunately, Denver's colder climate means private pools aren't too common.
Previous claims: It's no secret that filing claims impacts your insurance rates. Like with any insurance, your premium goes up if you file claims often. If you file multiple claims, your insurance company may label you a high risk. Even claims filed by your house's previous owner can hurt your rates.
Coverage amounts: Coverage amounts play a big role in the cost of your home insurance. The more coverage you need, the more your home insurance will cost. Settling for a basic policy is a good choice if you want to save on your monthly premium. However, this leads to extra out-of-pocket costs if you need to file a claim.
Home security and crime: Denver's crime rates are moderately high, but they're increasing at a faster rate than the rest of the country. Denver averages about 2,000 property crimes per month. These statistics aren't great for Denver homeowners, and they'll factor into insurance premiums. Luckily, there are some safety measures residents can take to lower their premiums.
Types of Homeowners Insurance
There are many different homeowner insurance types. Listed below are the main forms of homeowners insurance policies:
HO-1: Basic insurance that covers standard damages.
HO-2: Broad homeowners insurance that covers everything in HO-1. This policy also covers falling objects and damages to AC units, pipes, and other household systems.
HO-3: Covers damage from all perils unless excluded. Also covers unattached structures and liability.
HO-4: Provides belongings and liability coverage for renters.
HO-5: Comprehensive policy like HO-3 but with expanded coverage and less limitations for property claims. This is a premium policy.
HO-6: Covers possessions and provides liability for condo owners.
HO-7: Similar coverage as HO-3, but for mobile homes.
HO-8: Designed specifically for older homes, this policy provides similar coverage as HO-3. It can be tailored to suit the unique needs of older homes.
8 Ways to Save Money on Homeowners Insurance in Denver
Below are some tried and true ways to lower your homeowners insurance premium:
Raise your deductibles: By raising your deductible, you take on more financial responsibility in the event of a claim. If you think that you can afford at least $1,000 in unexpected repairs, a high deductible may be a good idea. Most people with insurance would like to have little to no out-of-pocket expense when they need to file a claim. But that requires paying a higher monthly premium. Regardless, raising your deductible lowers your homeowners insurance rate.
Bundle: A great way to cut your home insurance costs is to bundle policies. Insurance companies offer bulk discounts when customers purchase multiple policies from them. Bundling your home and auto insurance can cut your insurance rates by 20 percent.  
Avoid claims: As stated above, if you file multiple claims in a year your insurer will raise your rates and possibly label you as high-risk. A high-risk designation will raise your rates, and some companies refuse to cover high-risk individuals. As a result, there's a lot to consider when deciding whether or not to file claims.
Improve your credit score: Credit scores play a major part in everything we do, and homeowners insurance is no different. Raising your credit scores can help you negotiate better insurance rates. You can do this by paying bills on time and refinancing debts.
Add technology: There are many steps you can take to make your home more secure. Technology is a great way to help stop potential disasters before they even happen. From security systems to smoke and carbon monoxide detectors, homeowners have several safety options. These safety measures can prevent problems before they happen. As a result, insurance companies reward high-tech and safe houses with lower insurance rates.
Skip the dog: Denver one of the most dog-friendly cities in the country. But in 2015, homeowners filed over 15,000 liability claims due to dog-related bites and injuries. If your dog bites someone, your homeowners insurance pays for legal and medical costs. This is the reason why some home insurance companies charge dog-owners more for coverage. Some dog breeds are riskier than others, leading to higher premiums or denied coverage.
Renovate: The age of your home plays a role in the cost of your home insurance. In Denver, the average home was built in 1983. That's not necessarily old, but problems can arise if the house hasn't been maintained. Regardless, updating your home's wiring, appliances, plumbing, roofing ,and more can help lower your monthly premium.
Shop around: Buying insurance can be a pain. It's tempting to buy the first policy that fits your needs. But if you don't shop around and compare quotes from different companies, you wont get the best deal. Each insurance company offers different rates and discounts. Plus, when you stay with one company for years, they usually raise rates annually knowing you don't want to shop around. So, compare quotes from different home insurance companies in Denver to get the best deal.
QuoteWizard.com LLC has made every effort to ensure that the information on this site is correct, but we cannot guarantee that it is free of inaccuracies, errors, or omissions. All content and services provided on or through this site are provided "as is" and "as available" for use. QuoteWizard.com LLC makes no representations or warranties of any kind, express or implied, as to the operation of this site or to the information, content, materials, or products included on this site. You expressly agree that your use of this site is at your sole risk.