Best Homeowners Insurance Companies in Arizona
Arizona's weather is mild for much of the year, giving it average home insurance rates as low as $53 a year. But wildfire and monsoon seasons are causes for concern. Disaster can strike at any time, so having a homeowners insurance company you trust can give you peace of mind.
For our study of homeowners insurance in Arizona, we only considered locally available options. We looked for companies that provide great coverage, affordable rates and good customer satisfaction in determining our rankings. Based on our research, these are the best homeowners insurance companies in Arizona:
State Farm: a great all-around option
State Farm is a great option for folks looking for affordable rates, excellent customer service and widespread availability. It is the biggest home insurance company in Arizona, accounting for 18% of all homeowners insurance policies, meaning you'll likely be able to find a local agent.
Our research found that State Farm's average rate was $832 a year, which is below the state average by 10%. Its consumer reviews are some of the best in the state also: State Farm received a 4/5 in overall satisfaction in J.D. Power's 2019 home insurance survey, which is the second-highest J.D. Power rating on our list.
The NAIC Complaint Index measures how many complaints a company receives relative to its size, so lower numbers indicate fewer complaints. State Farm had the second-lowest (and therefore second-best) Complaint Index in Arizona, 0.20. Taking its affordable rates, local availability and customer satisfaction numbers into account, we highly recommend considering State Farm.
Travelers: cheap rates, but slightly below average customer service
With an average of $927 a year, Travelers has some of the cheapest rates in Arizona, according to our research. Its customer satisfaction scores may leave something to be desired, however: Travelers received a 2/5 in overall satisfaction in J.D. Power's 2019 home insurance survey, which is below average.
Travelers' rates are consistently affordable across Arizona, with average premiums below $700 in some of the state's biggest cities. From $724 in Tucson to $900 in Phoenix, Travelers is worth considering if you're looking for the cheapest premiums.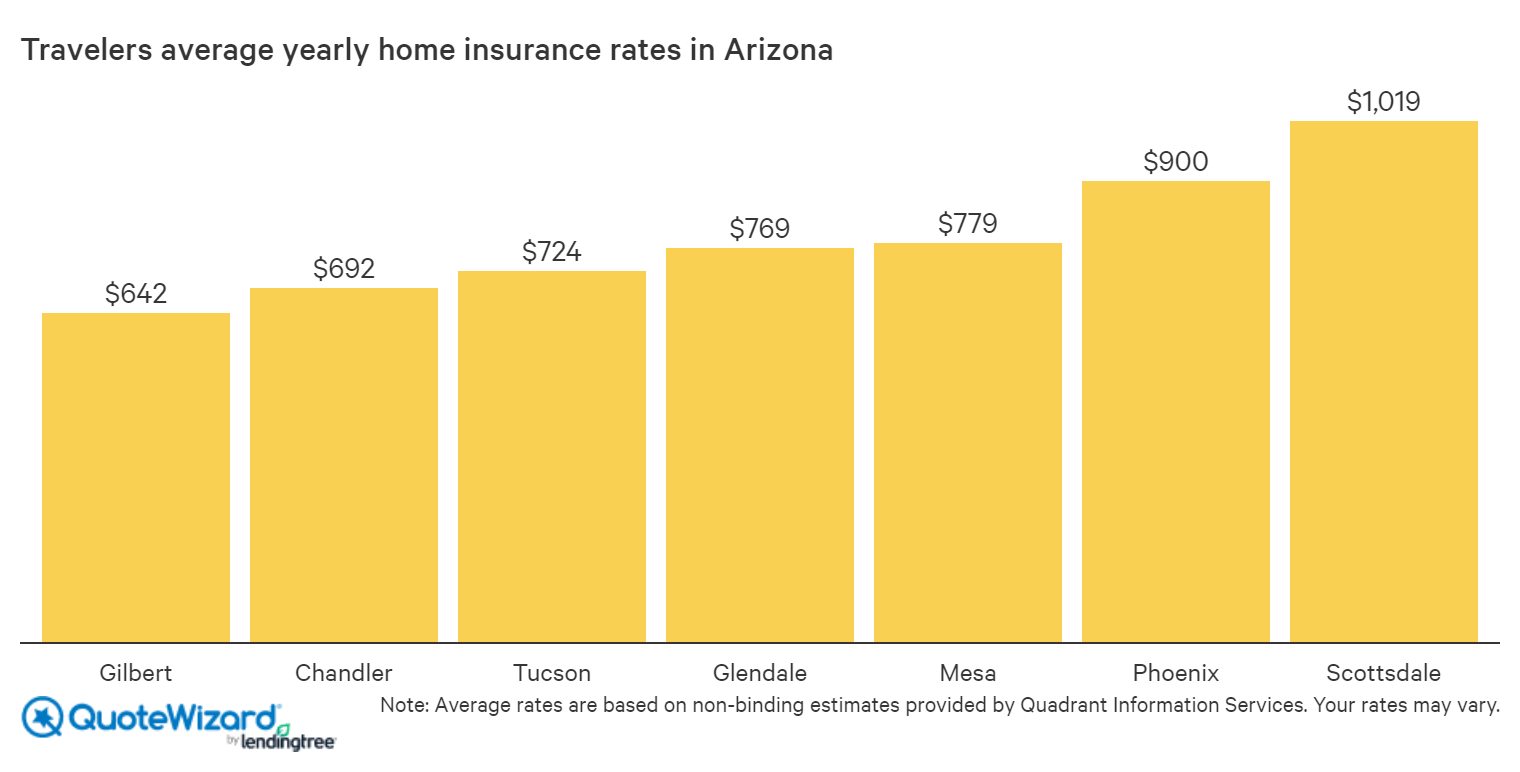 Allstate: more expensive, but above-average customer experience
Allstate's rates are slightly high in Arizona, at an average of $1,056 a year. But we still recommend it as a company that has good customer satisfaction ratings, a great online experience and the standardized coverage you'd expect from one of the largest homeowners insurance companies in the U.S.
J.D. Power ranks homeowners insurance companies based on six categories, and Allstate performed well in every category from customer satisfaction to claims experience. That indicates Allstate is consistent across the board. Additionally, Allstate's online tools and resources go above and beyond, making it easy to get quotes or manage your existing policy. Combined with its large local agent network, Allstate gives customers the flexibility to manage their policies how they want.
Allstate provides policyholders with industry-standard coverage for their home and belongings, including liability and loss of use coverage. Allstate has some common discounts, like bundling, multi-policy and claims-free discounts. While this is nothing out of the ordinary, we can't argue with a company that has strong fundamentals.
USAA: the best insurer for military families
USAA's products are only available to service members, veterans and their families. But for those in Arizona who qualify, its rates are some of the most affordable in the state, and its coverage is industry leading. With an average cost of $633, we think USAA provides great value for the price.
USAA homeowners insurance includes $5,000 of identity theft coverage standard, which is usually an add-on with most companies. Additionally, USAA takes the unique needs of service members into consideration by covering military uniforms without a deductible and providing deployment services. For example, if your family's living situation changes because you're deployed, USAA can adjust your policy if you'll be renting your home or selling it.
Homeowners insurance companies in Arizona
Where you live determines what homeowners insurance companies are available to you. In Arizona, the market is dominated by large companies with a national presence. The table below shows the largest homeowners insurance companies in the state, so you'll likely be choosing from one of these companies:
Arizona homeowners insurance companies
Company
Market share
Overall customer satisfaction* (higher is better)
NAIC Complaint Index (lower is better)
State Farm
18%
4/5
0.20
Farmers
13%
3/5
0.37
USAA
9%
5/5
0.15
American Family
9%
3/5
0.32
Liberty Mutual
9%
2/5
0.45
Allstate
9%
3/5
0.34
Travelers
4%
2/5
0.30
The Hartford
2%
3/5
0.94
CSAA
2%
3/5
1.27
Chubb
2%
2/5
0.17
*According to J.D. Power's 2019 home insurance survey.
For our rankings of some of the U.S.'s biggest companies, check out our national best homeowners insurance study.
Average cost of homeowners insurance in Arizona
The average cost of home insurance in Arizona is $927, according to our study of over 600 quotes from 10 of the top homeowners insurance companies in the state. That puts Arizona's rates at 24% below the national average of $1,215.
Average cost of home insurance in Arizona
 
Arizona
U.S.
Average yearly rate
$927
$1,215
Average monthly rate
$77
$101
Note: Average rates are based on non-binding estimates provided by Quadrant Information Services. Your rates may vary.
We found that the cheapest homeowners insurance in Arizona is through USAA and Auto-Owners, with average annual rates of $633 and $647, respectively. No company drifted too far above the state average. Allstate was the most expensive company we saw, with an average rate of $1,056, which is 14% above the state average.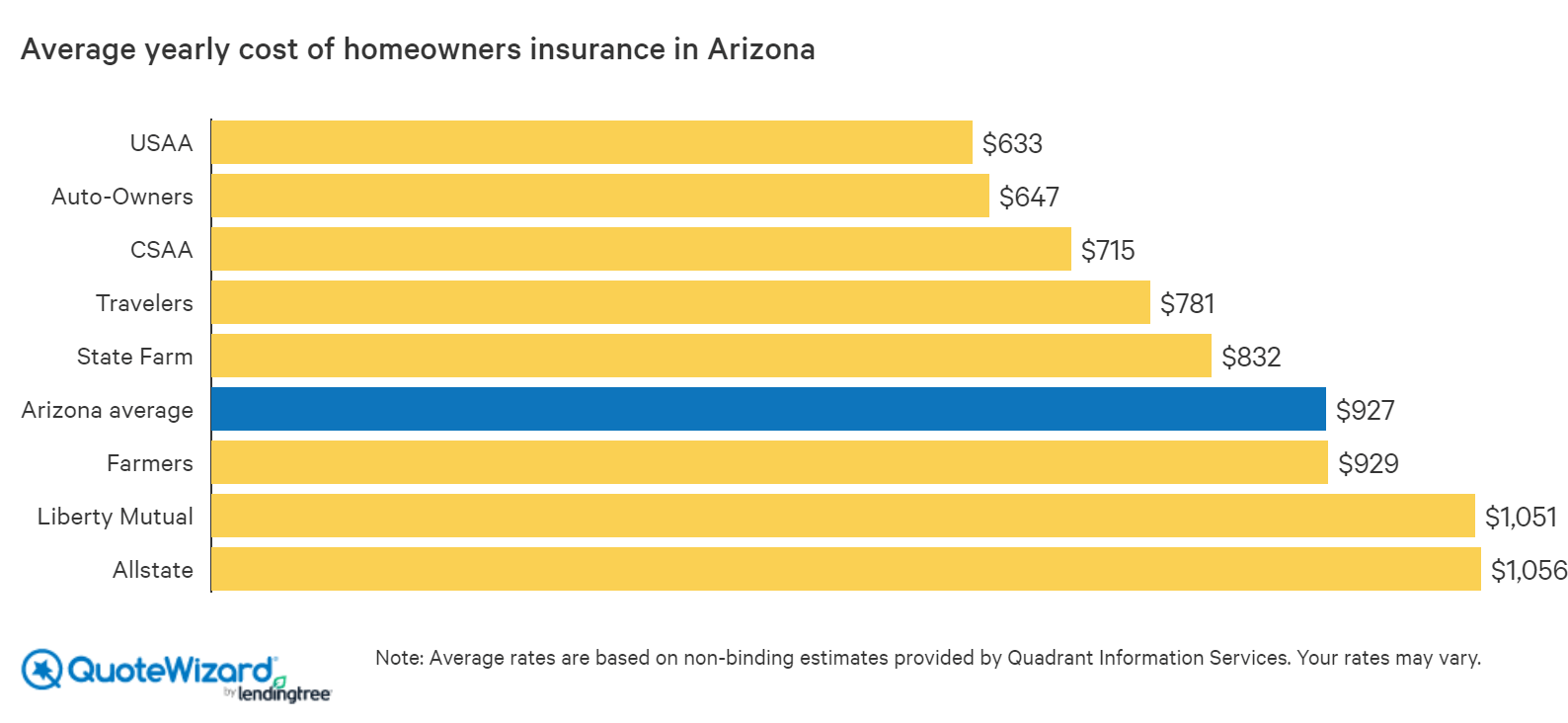 The difference in price among Arizona's top companies shows how important it is to compare quotes from numerous companies before deciding on one. Even if you don't plan on switching providers, we recommend exploring your options, as you may be able to save on your monthly premium.
Find affordable homeowners insurance in Arizona
See how much you can save!
Homeowners insurance rates in Arizona by city
The most expensive home insurance rates are found in Arizona's most populous county, Maricopa, where the average rate is $975 a year. Arizona's largest city, Phoenix, has rates 14% above the state average. Tucson's average rates of $920 a year, on the other hand, are right below the state average. Here are how rates compare among some of Arizona's largest cities.  
Average homeowners insurance rates in Arizona by city
City
Average yearly rate
Difference from Arizona average ($927)
Chandler
$918
-1%
Gilbert
$918
-1%
Glendale
$953
3%
Mesa
$992
7%
Peoria
$917
-1%
Phoenix
$1,060
14%
San Tan Valley
$918
-1%
Scottsdale
$987
6%
Surprise
$921
-1%
Tempe
$969
5%
Tucson
$920
-1%
Yuma
$822
-11%
Note: Average rates are based on non-binding estimates provided by Quadrant Information Services. Your rates may vary.
Arizona homeowners insurance perils
Arizona's climate is mild much of the time. However, homeowners should still be concerned about two large risks in Arizona: monsoons and wildfires.
Monsoons
The summer monsoon season in Arizona can bring thunderstorms, wind, increased rainfall and flooding. That presents risks to your home's integrity because storms can damage your roof, siding and windows. Luckily, homeowners insurance covers much of the damage associated with monsoon season, except flooding. For flood coverage, you'll have to purchase a separate flood insurance policy.
Wildfires
Although Arizona is not as prone to wildfire damage as neighboring California, it is still a concern. According to Verisk Analytics, there are over 237,000 homes in Arizona at high or extreme wildfire risk. Homeowners insurance usually covers fire damage, but not always. It can be excluded from policies in high risk areas. For this reason, we recommend contacting your agent to ensure you have coverage.
Arizona homeowners insurance laws
All insurance companies in Arizona must follow the regulations of the Arizona Department of Insurance. This government body helps to protect homeowners by providing guidelines. For example, it regulates how insurance companies must handle claims or nonrenewal. There are a handful of laws that you should be aware of, so that you know your rights as a policyholder.
Policy laws
Insurance companies cannot cancel a policy once it has been in effect for 30 days except under specific circumstances, like failure to pay your premium or fraud.
Your insurance company must notify you in writing that it will cancel or not renew your policy, and the reason for the cancellation or nonrenewal.
Policies can be nonrenewed for any reason, as long as it is not based on where you live or a protected group or class you belong to.
Claims laws
Home insurance companies must much acknowledge a claim within 10 business days of a claim being submitted.
After receiving a claim, insurance companies must complete its investigation within 30 business days and notify you if they cannot make that deadline.
After receiving an acceptable proof of loss, insurers have 30 days to pay out on the claim.
Lastly, it is worth noting that you are not legally required to have homeowners insurance. However, if you're like most homeowners and have a mortgage, your lender may require you to have coverage as a condition of your loan.
Methodology
QuoteWizard aggregated and analyzed 693 quotes from 10 of the most prominent homeowners insurance companies in Arizona. We created a base profile based on the median home value and build year in Arizona — $258,700 and 1990, respectively.
The policy we rated included standard coverage amounts based on $258,700 of dwelling coverage and a $1,000 deductible:
Dwelling coverage: $258,700
Personal property coverage: 50% of dwelling ($129,350)
Other structures coverage: 10% of dwelling ($25,870)
Loss of use coverage: 20% of dwelling ($51,740)
Liability coverage: $100,000
Finally, S&P Global provided all data related to demographics, geography and market intelligence.
QuoteWizard.com LLC has made every effort to ensure that the information on this site is correct, but we cannot guarantee that it is free of inaccuracies, errors, or omissions. All content and services provided on or through this site are provided "as is" and "as available" for use. QuoteWizard.com LLC makes no representations or warranties of any kind, express or implied, as to the operation of this site or to the information, content, materials, or products included on this site. You expressly agree that your use of this site is at your sole risk.