Compare Homeowners Insurance In West Virginia
How much does homeowners insurance cost in West Virginia? Home insurance in West Virginia runs an average of $958 a year. This is $257 below the national average. To help you find your best home insurance provider, we looked at premiums, policy offerings and customer satisfaction levels of home insurance companies in West Virginia. Here's who came out on top:
How much does home insurance cost in West Virginia?
Homeowners insurance in West Virginia is currently $80 a month on average. Below is a table showing the changes in West Virginia home insurance rates from 2015 to now. Annual increases in West Virginia's average home insurance rates stay fairly consistent over the years:
Average cost of home insurance in West Virginia

 

Today
2017
2016
2015
West Virginia annual average
$958
$940
$917
$907
West Virginia monthly rate
$80
$78
$76
$75
U.S. annual average
$1,215
$1,211
$1,192
$1,173
U.S. monthly rate
$101
$101
$99
$98
Note: Average rates for today are based on non-binding estimates provided by Quadrant Information Services. Your rates may vary. Data from 2015-2017 sourced from NAIC.
Homeowners insurance rates vary across West Virginia homeowners insurance companies. On the low end is Erie with an annual rate of $547, followed by Allstate at $700 per year. Liberty, on the other hand, has an average premium of $1,862 per year.
We recommend that you compare home insurance rates before you decide on a company and policy. Here is how rates from the biggest insurance providers in West Virginia compare: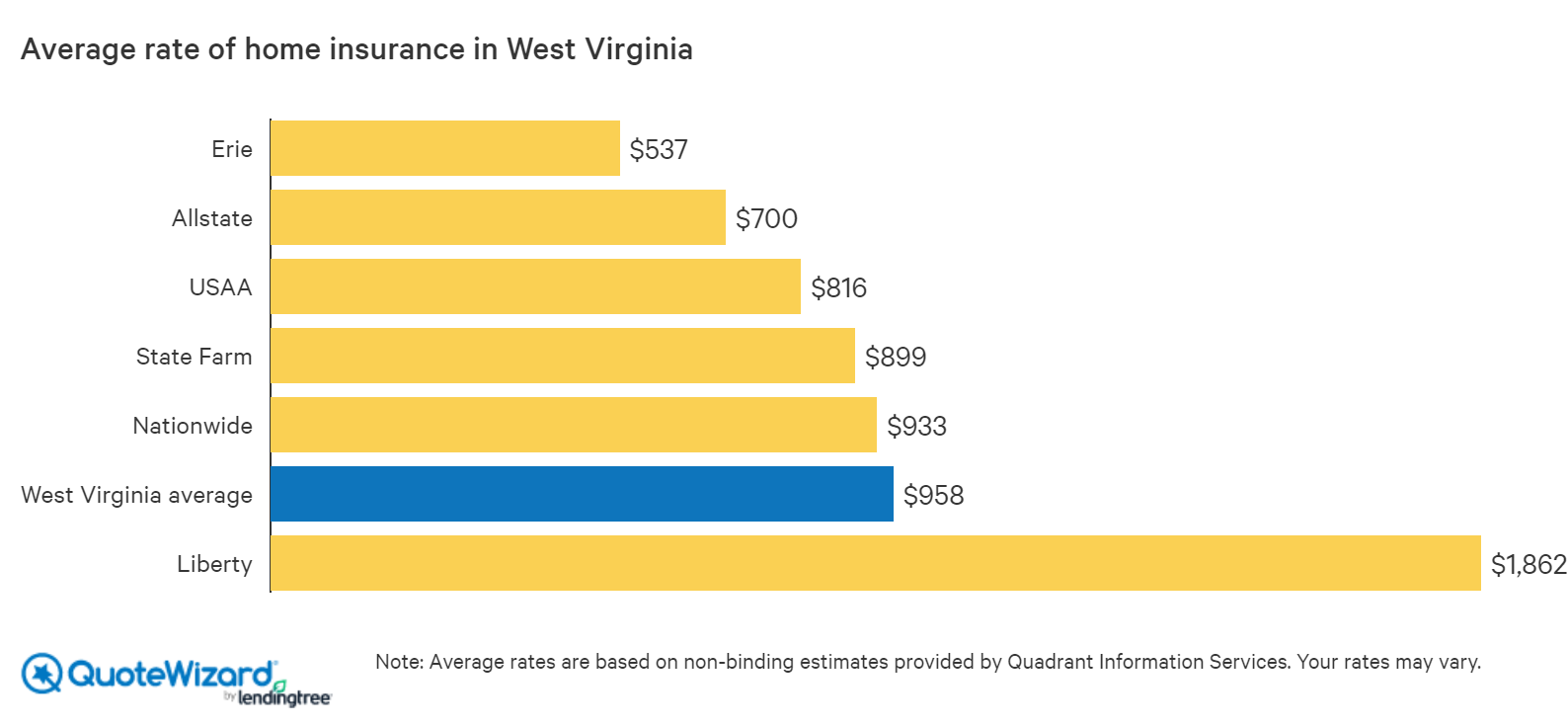 Best homeowners insurance companies in West Virginia
In looking at the home insurance companies operating in West Virginia, Erie, Allstate, State Farm and USAA came out as our choices for top providers. Here's why:
Erie: cheapest homeowners premiums
Erie home insurance costs an average of $537 a year. This is $421 less than the average West Virginia home insurance rate of $958.
Erie also has one of the better bundling discounts in the insurance game. If you combine your car or life insurance with a home insurance policy, you can save at least 16% on your yearly premiums, possibly up to 25%. Also, if you get an Erie home insurance quote anywhere between seven and 60 days before your home insurance policy with your current insurer renews, you may get a further discount.
Erie also received a 5 out of 5 rating for claims service in J.D. Powers' 2019 home insurance study and A.M. Best, a credit rating company that focuses on the insurance industry, awarded Erie an A+ rating for financial capability to pay out on claims. Furthermore, Erie scored a low 0.20 on the National Association of Insurance Commissioners (NAIC) Complaint Index. A low index rating indicates fewer complaints, something all insurers want. The national average is 1.0, so Erie is coming out far ahead of many other home insurers.
Erie has over 12,000 agents available throughout 12 states including West Virginia, making it easy for you to find an agent to provide home insurance for you.
Allstate: runner-up for lowest rates
Allstate has the next lowest premium in West Virginia at $700, $258 less than the state's average home insurance rate. On top of low premiums, Allstate also offers a variety of discounts including:
If you're a new homebuyer or bought a newly built home, you may qualify for a discount
You can get up to a 5% discount for setting up automatic payments
If you switch to Allstate with a zero-claim history, you may get up to a 20% discount
Allstate's score on the NAIC Complaint Index comes in at 0.29. The lower the score on the complaint index, the better the company is at claims resolution. This score is below both the average West Virginia complaint score of 0.32 and the national average of 1.0.
Furthermore, Allstate has over 18,000 agencies nationwide to make finding one near you easy.
State Farm: best for pet owners
Sixty-eight percent of West Virginia households have a pet. Certain dog breeds can be a home insurance risk, as insurers may see a whole breed as a bite risk regardless of how well-behaved and trained the particular dog is. State Farm doesn't consider dog breed when insuring your pet. They won't raise your rates or deny coverage just because your dog is a certain type.
State Farm holds a 4 out of 5 Power Circle rating for customer satisfaction in J.D. Powers 2019 home insurance survey. Also, they have a below-average complaint rate in the NAIC Complaint Index of .20. State Farm's top market share in West Virginia of 25.37% gives a good indication of residents' favor with them.
USAA: best customer satisfaction
Of West Virginia's population, 9.9% are veterans, well above the nation's average of 7% per state. USAA holds a unique spot in the insurance industry in that they provide coverage only to standing and veteran military members and their families. They prove themselves to be the top of the pack year after year with the consistently highest score in J.D. Power's overall customer satisfaction ranking.
USAA also holds a low 0.15 complaint rating in the NAIC Complaint Index. This is over 50% less than the average complaint index among insurers in West Virginia of 0.32. USAA's quality service comes at a low price, as well. They have the third lowest average home insurance rates in West Virginia at $816 a year.
Biggest homeowners insurance companies in West Virginia
Here's a breakdown of the homeowners insurance market in West Virginia:
| Company | Market share | 2019 J.D. Power customer satisfaction ratings | NAIC Complaint Index (lower is better) |
| --- | --- | --- | --- |
| State Farm | 25.37% | 4/5 | 0.20 |
| Erie | 9.44% | 455 | 0.20 |
| Nationwide | 4.54% | 2/5 | 0.29 |
| Allstate | 2.29% | 3/5 | 0.29 |
| Liberty | 2.12% | 2/5 | 0.53 |
| USAA | 1.27% | 5/5 | 0.32 |
Homeowners insurance rates in West Virginia, by city
Due to West Virginia's small geographical footprint, the cities there tend to be in close proximity to each other. This leads to relatively little range in home insurance rates. Martinsburg, W.Va., has the lowest homeowners insurance premium at $809 while Huntington, W.Va., has the highest at $982.
Average cost of home insurance in West Virginia by city
City
Average annual home insurance rate
Beckley
$961
Charleston
$937
Clarksburg
$834
Huntington
$982
Martinsburg
$809
Morgantown
$819
Parkersburg
$922
Weirton
$856
Wheeling
$839
Average rates are based on non-binding estimates provided by Quadrant Information Services. Your rates may vary.
Homeowners insurance rates in West Virginia, by county
Home insurance rates in West Virginia counties fluctuate more than they do amongst its cities. This is largely due to the same proximity issues between cities there. Berkeley County has the lowest average yearly home insurance rate of $810 in West Virginia. Mingo County has the highest at $1293 a year.
Average cost of home insurance in West Virginia by county
County
Average annual homeowner insurance cost
Barbour
$905
Berkeley
$810
Boone
$1,037
Braxton
$928
Brooke
$848
Cabell
$968
Calhoun
$959
Clay
$935
Doddridge
$862
Fayette
$955
Gilmer
$887
Grant
$850
Greenbrier
$854
Hampshire
$854
Hancock
$875
Hardy
$854
Harrison
$865
Jackson
$1,001
Jefferson
$805
Kanawha
$940
Lewis
$867
Lincoln
$1,087
Logan
$1,181
Marion
$858
Marshall
$877
Mason
$998
McDowell
$1,256
Mercer
$1,056
Mineral
$845
Mingo
$1,293
Monongalia
$833
Monroe
$916
Morgan
$846
Nicholas
$887
Ohio
$843
Pendleton
$854
Pleasants
$853
Pocahontas
$959
Preston
$862
Putnam
$897
Raleigh
$918
Randolph
$970
Ritchie
$896
Roane
$946
Summers
$973
Taylor
$871
Tucker
$910
Tyler
$854
Upshur
$893
Wayne
$1,110
Webster
$943
Wetzel
$852
Wirt
$965
Wood
$935
Wyoming
$1,076
Average rates are based on non-binding estimates provided by Quadrant Information Services. Your rates may vary.
Methodology
We compiled quotes for every ZIP code in West Virginia from six of the top insurers. We based our analysis on State Farm, Erie, Nationwide, Allstate, Liberty and USAA. We gathered quotes for a home worth $132,406, built in 1972 and owned by a 59-year-old. These are the median home value, construction date and homeowner age in West Virginia.
We picked the insurers for our study using S&P Global Market Intelligence, which ensured results as localized to West Virginia as possible. The largest subsidiary in West Virginia of every insurer was taken as a representative for the company.
QuoteWizard.com LLC has made every effort to ensure that the information on this site is correct, but we cannot guarantee that it is free of inaccuracies, errors, or omissions. All content and services provided on or through this site are provided "as is" and "as available" for use. QuoteWizard.com LLC makes no representations or warranties of any kind, express or implied, as to the operation of this site or to the information, content, materials, or products included on this site. You expressly agree that your use of this site is at your sole risk.