Compare Home Insurance in Philadelphia
Current and future Philadelphia, PA homeowners: are you getting a good deal on homeowners insurance? There are several factors to consider to find your ideal home insurance policy.
Several factors affect Philadelphia home insurance rates including crime, credit history, and your home. While you cannot control all those factors, it's important to recognize them.
Average Philadelphia Home Insurance Rates
Are you wondering what the average cost of homeowners insurance is in Philadelphia? With data from nearly 1,300 QuoteWizard users in Philadelphia, we created this 'average' house:
2383 square foot home built in 1967
2 story
4 bedrooms and 2.5 bathrooms
Composite shingle roof
To understand the cost of Philadelphia home insurance, we got quotes from top insurance companies using this 'average' house. Keep in mind, homeowners insurance is unique to each person, their house, and their coverage needs. Here are the average rates for a homeowners insurance policy in Philadelphia:
$140/mo.
$1,692 annually
The graph below shows the change in average Pennsylvania home insurance rates from 2011 to 2015, the most recent year the data is available. According to the III, Pennsylvania homeowners insurance rates increased from $744 in 2011 to $913 in 2015, a jump of $169 dollars, or 22.72 percent.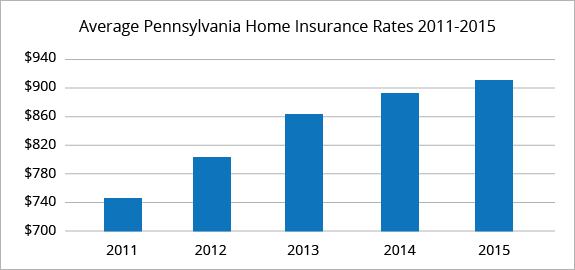 QuoteWizard helps consumers compare quotes from both national insurance companies and local agents. QuoteWizard can help you find affordable home insurance rates near Philadelphia, Pennsylvania.
Last year, many people used QuoteWizard to compare home insurance quotes in Philadelphia, PA from multiple companies.
Best Home Insurance Companies in Philadelphia
Most Popular Insurance Companies
Based on QuoteWizard users in Philadelphia, these are the most popular insurance companies in the city:
Progressive
State Farm
GEICO
Allstate
Nationwide
Liberty Mutual
Farmers
Esurance
AIG
21st Century
Best Insurance Companies
The above list shows the most popular home insurers in Philadelphia, Pennsyvania according to our users. But popular doesn't always mean best.
Our study on the best home insurance companies focuses on top of the line companies. In no particular order, these companies stand out among the rest:
Amica: Best Overall
MetLife: Best for Bundling
Allstate: Best for Local Agents
Hartford: Best for Seniors
State Farm: Best for Pet Owners
Travelers: Best for Flexible Policies
Nationwide: Best Replacement Coverage
Farmers: Best for Eco-Friendly Homes
Liberty Mutual: Best for Quick and Easy Quotes
Auto Owners Insurance: Best Claims Experience
Philadelphia Home Insurance Rate Factors
Insurance companies use a variety of methods to price your home insurance policy:
Your home's age: It should not come as a surprise that older homes cost more to insure. After all, old houses usually need more upkeep, and costly repairs can add up. According to our users, Philadelphia's average house was built in 1967. At more than 50 years old, that's enough to negatively influence your rates.
Previous claims: When you file an insurance claim, your rates go up. If you file multiple claims, your insurer can label you as high-risk. High-risk individuals pay more for coverage, and some insurance companies refuse to cover such individuals. On top of that, claims made by your house's previous owner can hurt your rates. Insurance agents do this their through a C.L.U.E report which is a record of you and your home's claims history. Houses with past claims are more likely to need additional claims in the future.
Your home's replacement cost: When you buy home insurance, insurers assign a replacement cost to your house. This is the estimated cost to rebuild your home. If your home is destroyed, the replacement cost is the amount you receive. Insurers take into account the value of the structure as well as the cost of construction and labor. However, the value of the land itself is not usually factored. Our research shows that the average replacement cost in Philadelphia is about $261,000. Remember: replacement costs can fluctuate alongside construction costs.
Natural disasters: Insurers charge higher rates for home insurance policies in disaster-prone areas. Luckily, Philadelphians don't have many serious natural disasters to worry about. But the city can still suffer from inclement weather. That includes snowstorms, flooding, and even tornadoes. Standard home insurance plans don't cover water damage -- flood insurance is sold separately
Coverage amounts: The more coverage you need, the more your home insurance premium costs. Unlike car insurance, there is no legally required insurance minimum. However, mortgage companies usually require insurance if you took out a loan to buy your house. If your budget is tight, you can settle for a basic policy. It covers the essentials like structure, belongings, and liability. But for people with new homes, nice furnishings, collections of valuables, or large assets, extra coverage is necessary.
Home security and crime: Like most big cities, Philadelphia has issues with property crime. According to the FBI, there were 50,000 total property crimes in the city in 2015. Your odds of suffering from property crime in Philadelphia is 1 in 32. There are steps you can take to pad your premiums by making your home safer.
Credit history: A big factor in the cost of home insurance rates is your credit history and credit score. Your credit is factored in when you buy your house and insurance. It's unfortunate, but if you have bad credit, you're guaranteed to pay more for home insurance. In fact, people with bad credit pay as much as 90 percent more for home insurance compared to people with good credit.
Types of Homeowners Insurance
Some states have state-specific homeowners insurance policy. The most common insurance policies in the Philadelphia, are below:
HO-1: Basic insurance for standard damages.
HO-2: Broad insurance that covers everything in HO-1, as well as falling objects and damages to AC units, pipes, and other household systems.
HO-3: Covers damage from all perils unless specifically excluded, plus unattached structures and liability.
HO-4: Covers belongings and liability for renters.
HO-5: Comprehensive policy like HO-3, but expands coverage for property claims. This is a premium policy.
HO-6: Covers possessions and liability for condo owners.
HO-7: Like HO-3, but for mobile homes.
HO-8: This policy provides similar coverage as HO-3 for older homes.
9 Ways to Save Money on Homeowners Insurance in Philadelphia
There are a variety of steps you can take to lower your home insurance premium:
Raise your deductibles: A fast and easy way to lower your monthly premium is to raise your deductibles. Higher deductibles lead to lower monthly premiums, but they also require more out of pocket costs when filing a claim. There are many things to consider when choosing your home insurance deductible.
Bundle: Staying with one insurance company can really lower your home insurance cost. If you buy multiple insurance policies with one company, you can earn a big discount. By bundling homeowners and auto insurance, you can save 20 percent. Add in life insurance, and you can save even more.
Avoid claims: Insurance is there to help homeowners in case of a major emergency. By avoiding claims, you're less of a liability to your insurance company. On the other hand, filing claims frequently raises your premiums and makes you high-risk. Taking on a high-risk customer is "risky" for insurance companies, so they charge more for coverage. That's why you should avoid filing claims when possible. If the damage is minor, or if you can pay for repairs out of pocket,
Pay your full premium: Paying off a year's premium at once makes your insurance company very happy. It lowers their administrative costs, and they're always happy to get paid ahead of time. That's why many insurers offer a discount for customers who pay in full.
Improve your credit score: As stated before, your credit score can increase the price of your insurance policy. Philadelphia's average credit score leaves a lot to be desired. There are numerous steps you can take to lower your credit score, like reconciling debt and paying your bills on time. If you're able to raise your credit score, ask your insurance company to reassess your premium.
Add Security: Though Philadelphia is relatively safe, property crime is still present. Equipping your house with security systems and alarms can stop burglary, theft, and vandalism. Some insurers will give discounts to homeowners with enhanced safety measures.
Shop around: Shopping for insurance can be a long and involved process. But if you want to find the right policy and save money, shopping around and comparing quotes is the only way to go. If you don't shop around, you don't know what savings and policies are available. Each insurance company has unique pricing methods and offerings. Plus, if you stay with one insurance company for too long, they'll regularly raise your rates because they know you're not likely to shop around. Start saving, compare homeowners insurance rates in Philadelphia today.
Renovate: Remodeling certain parts of your home is surefire way to qualify for discounts. By repairing your foundation, adding new appliances, updating your wiring and plumbing, and more, you can make your home safer and sturdier. In your insurer's eyes, that makes you less likely to file a claim down the road. This is a great idea in Philadelphia, where many houses are on the older side.
Befriend your agent: Having a good relationship with your insurance agent can help you in many ways. Asking your agent to "shop around" for your will make them work to keep you. Plus, many agents might be familiar with discounts that you didn't know about. If you are in good standing with your insurance agent, they work with you to lower your premium.
QuoteWizard.com LLC has made every effort to ensure that the information on this site is correct, but we cannot guarantee that it is free of inaccuracies, errors, or omissions. All content and services provided on or through this site are provided "as is" and "as available" for use. QuoteWizard.com LLC makes no representations or warranties of any kind, express or implied, as to the operation of this site or to the information, content, materials, or products included on this site. You expressly agree that your use of this site is at your sole risk.