Compare Homeowners Insurance In Pennsylvania
The average cost of homeowners insurance in Pennsylvania is $945 a year, which is $270 below the national average of $1,215. To help you get your best rates and the right coverage for your needs, we studied the home insurance market in Pennsylvania to find the best companies. Here's what we found:
How much does homeowners insurance cost in Pennsylvania?
Home insurance premiums in the Keystone State continue to rise every year. Pennsylvania residents can expect to pay $79 a month for home insurance, or $945 a year, which has increased from $913 a year in 2015.
Average cost of home insurance in Pennsylvania
 
Today
2016
2015
Pennsylvania annual average
$945
$927
$913
Pennsylvania price per month
$79
$77
$76
U.S. annual average
$1,215
$1,192
$1,173
U.S. cost per month
$101
$99
$98
Note: Average rates for today are based on non-binding estimates provided by Quadrant Information Services. Your rates may vary. Data from 2015-2016 sourced from NAIC.
Rates may vary between companies, which is why it's always important to compare rates. Here's how quotes from some of the biggest companies in Pennsylvania stack up.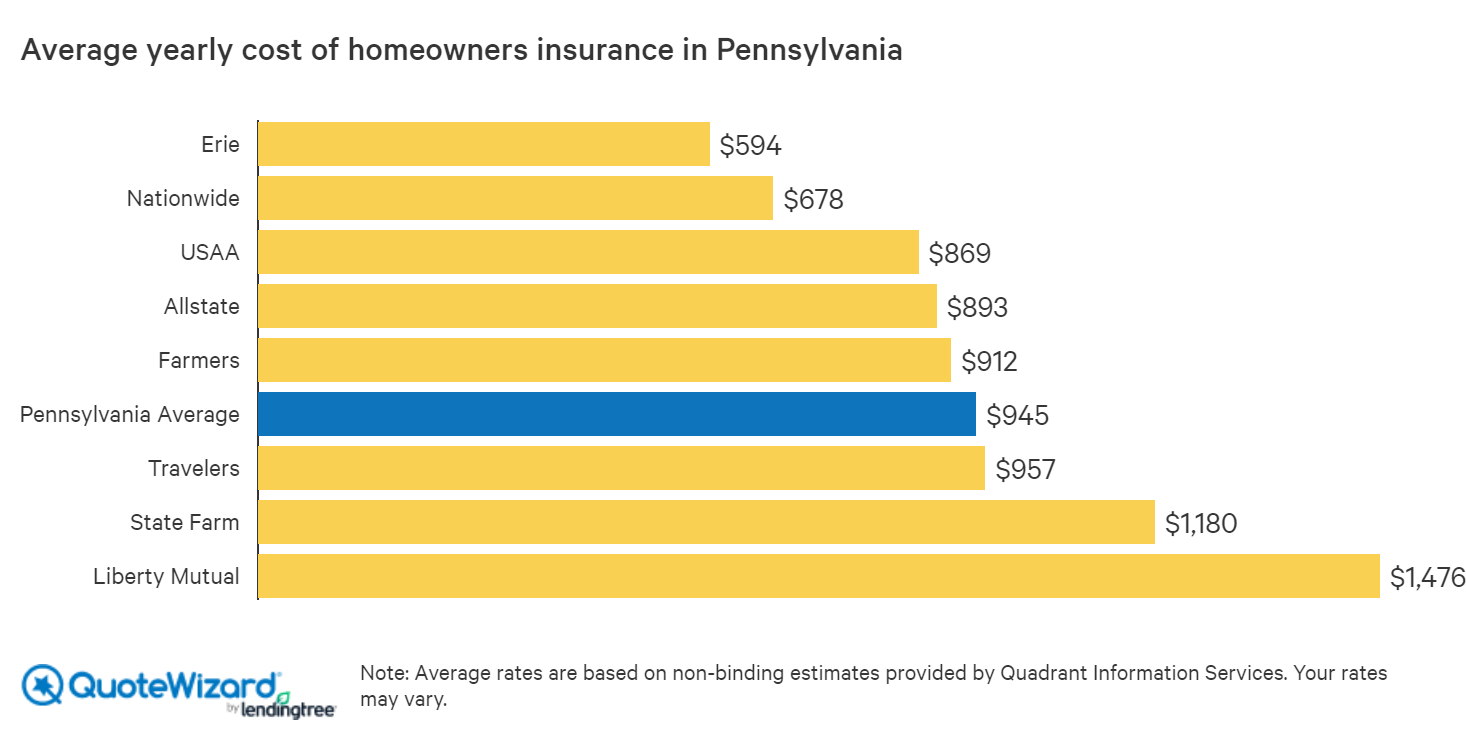 Best home insurance companies in Pennsylvania
Erie, Nationwide, State Farm and USAA stood out as the best home insurance companies in Pennsylvania in our study. Here's why.
Erie Insurance: best value
The homegrown Erie Insurance is our pick for the best value home insurer in Pennsylvania because it offers low rates, has excellent customer satisfaction and provides top-notch coverage. Started in 1925 in Pennsylvania, Erie has grown to be the second-largest insurer in the state, writing more than 15% of all home insurance policies.
Of all the companies we surveyed, Erie had the lowest annual premiums of $594, which is about $350 below the state average. You won't have to sacrifice service to take advantage of Erie's low rates either – Erie's customer service is best in class. Erie earned a 5/5 for overall satisfaction in J.D. Power's 2019 home insurance study, one of only three companies to do so. Additionally, Erie's 2018 NAIC complaint index was 0.16, which is one of the lowest, and therefore best, numbers in the state.
Erie has more than 12,000 agents across 12 states and Washington, D.C., concentrated mainly in the Midwest and Mid-Atlantic. That means most Pennsylvania residents should be able to find a local agent. Erie has the advantages of a small insurer, such as local knowledge and personability, but is still the 10th largest home insurer in the U.S., giving you financial stability and brand familiarity.
Nationwide: our runner-up for cheapest rates
With an annual premium of $678, we couldn't leave Nationwide off our list as an affordable option, even though Erie had the cheapest rates. For Nationwide's low premiums, you'll receive industry standard home insurance coverage, but its customer satisfaction may leave something to be desired.
Nationwide received a "below average" rating for overall satisfaction in J.D. Power's 2019 home insurance survey, with a 2/5. It also had a NAIC complaint index of 0.24 in 2018, which is a respectable number (lower is better). The two largest insurers in the state, State Farm and Erie, had better complaint indexes in 2018, however.
A notable exclusion of Nationwide's standard homeowners insurance policy is guaranteed replacement cost. Guaranteed replacement cost covers you if the cost to replace your home after a loss exceeds your policy limits. We recommend guaranteed replacement cost because it protects you in case you are underinsured for a total loss. Nationwide offers it as an add-on, but some companies include it as part of a standard policy.
State Farm: best for bundling home and auto
State Farm is our pick for the best home and auto bundle in Pennsylvania because its home and auto insurance businesses are well reviewed. J.D. Power awarded State Farm a 4/5 for overall satisfaction for homeowners and a 3/5 for auto insurance in 2019.
We found that State Farm's average annual home insurance rate was $1,180, which is above the state average. State Farm advertises on its website that new customers saved an average of $854 a year when they bundled home and auto insurance, indicating great value for people who switch. Bundling can save you lots of money, but there is never a guarantee. Shopping around is the only way to ensure you get the best price and right coverage for you.
Even if bundling won't always save you money, it simplifies your insurance bill. With both policies under one roof, you'll only be dealing with one company. The bills aren't always rolled into a single payment, but you can always synchronize your payment days.
USAA: best for military service members and their families
USAA is our top pick for military service members, veterans and their families, thanks to its fair rates and high-quality service. In Pennsylvania, we found that USAA had below-average rates of $869. According to the U.S. Department of Veterans Affairs, there are more than 750,000 veterans living in Pennsylvania, or 6% of all state residents, meaning many Pennsylvanians can take advantage of USAA's excellent service.
USAA was one of only three companies to receive a perfect 5/5 in overall satisfaction from J.D. Power's 2019 home insurance survey. Additionally, it had a NAIC complaint index of 0.14 in 2018, which is the lowest index (and therefore best) complaint index we saw in the state. These two factors point to a customer experience well above average.
USAA's coverage is designed to address military members' and veterans' unique insurance needs. For example, USAA covers damage to military uniforms, and personal property protection through home insurance applies in war zones, which is not normally the case.
Biggest home insurance companies in Pennsylvania
Here's a snapshot of the home insurance market in Pennsylvania.
Home insurance companies in Pennsylvania at a glance
Company
Market share
Average annual premium
2019 J.D. Power overall satisfaction rating
NAIC Complaint Index (lower is better)
State Farm
17.7%
$1,180
4/5
0.20
Erie
15.5%
$594
5/5
0.16
Allstate
13.3%
$893
3/5
0.29
Liberty Mutual
8.3%
$1,476
2/5
0.50
Nationwide
7.7%
$678
2/5
0.24
Travelers
6.5%
$957
2/5
0.30
USAA
4.2%
$869
5/5
0.14
Farmers
2.8%
$912
3/5
0.16
Note: Average rates are based on non-binding estimates provided by Quadrant Information Services. Your rates may vary.
For our national rankings, see QuoteWizard's rankings of the best home insurance companies.
Home insurance rates in Pennsylvania by city
Rates in Pennsylvania vary from city to city. For example, Harrisburg residents enjoy rates under $900 a year, while Philadelphians pay over $1,400.
Average yearly homeowners insurance premium by city
City
Average annual home insurance cost
Allentown
$913
Allison Park
$850
Altoona
$904
Bethel Park
$870
Bethlehem
$904
Chambersburg
$868
Chester
$1,238
Drexel Hill
$1,176
Easton
$903
Erie
$914
Harrisburg
$896
Hazleton
$902
King of Prussia
$1,057
Lancaster
$817
Lebanon
$874
Levittown
$1,340
Monroeville
$863
Murrysville
$886
New Castle
$977
Norristown
$1,046
Philadelphia
$1,488
Pittsburgh
$931
Plum
$856
Pottstown
$968
Reading
$894
Scranton
$940
State College
$882
Wilkes-Barre
$911
Williamsport
$867
York
$866
Note: Average rates are based on non-binding estimates provided by Quadrant Information Services. Your rates may vary.
Homes insurance rates in Pennsylvania by county
Here's how home insurance premiums in Pennsylvania's counties stack up.
Average yearly homeowners insurance premium by county
County
Average annual home insurance cost
Adams
$876
Allegheny
$894
Armstrong
$909
Beaver
$916
Bedford
$933
Berks
$891
Blair
$911
Bradford
$914
Bucks
$1,118
Butler
$907
Cambria
$907
Cameron
$942
Carbon
$954
Centre
$891
Chester
$990
Clarion
$953
Clearfield
$940
Clinton
$907
Columbia
$922
Crawford
$971
Cumberland
$882
Dauphin
$894
Delaware
$1,180
Elk
$952
Erie
$926
Fayette
$974
Forest
$970
Franklin
$888
Fulton
$930
Greene
$968
Huntingdon
$934
Indiana
$930
Jefferson
$927
Juniata
$946
Lackawanna
$939
Lancaster
$844
Lawrence
$980
Lebanon
$878
Lehigh
$912
Luzerne
$914
Lycoming
$890
McKean
$937
Mercer
$961
Mifflin
$927
Monroe
$976
Montgomery
$1,050
Montour
$917
Northampton
$905
Northumberland
$929
Perry
$935
Philadelphia
$1,492
Pike
$952
Potter
$924
Schuylkill
$955
Snyder
$928
Somerset
$934
Sullivan
$922
Susquehanna
$946
Tioga
$897
Union
$919
Venango
$938
Warren
$932
Washington
$908
Wayne
$982
Westmoreland
$895
Wyoming
$962
York
$870
Note: Average rates are based on non-binding estimates provided by Quadrant Information Services. Your rates may vary.
Home insurance perils in Pennsylvania
Even though Pennsylvania doesn't have the environmental risk factors of many coastal states, the climate still presents concerns for homeowners and insurers.
Cold and snowy winters
Pennsylvania experiences frigid winters, which can cause pipes to freeze. Homeowners insurance generally covers burst pipes, but not a burst pipe due to neglect, such as failing to heat your home adequately or lack of maintenance.
The entire state of Pennsylvania sees heavy snowfall in the winter, especially in northern cities and communities that have lake-effect snow. Snow accumulation can cause added strain to roofs and tree branches. Home insurance usually covers collapsed roofs and damage from falling trees, but it's best to keep these clear to avoid filing a claim.
In addition to increasing environmental risk to your property, winter weather presents liability concerns. For example, what happens if someone slips on a sheet of ice on your property? The personal liability section of homeowners insurance should cover such an incident, but it's a winter risk to be aware of.
Tornadoes
Pennsylvania averaged almost 18 a year between 2010 and 2018, according to the National Weather Service. However, most of them cause little to no damage, with EF-1 winds of 86-100 miles per hour.
Most home insurance policies cover damage to your property from tornadoes, but there are precautions you can take. For example, make sure your home is free from loose or damaged building components, such as loose shingles.
Floods
A standard home insurance policy does not cover damage from flooding. Most flood insurance policies in the U.S. are written through the National Flood Insurance Program, which is part of FEMA. According to FEMA, the average cost of flood insurance in Pennsylvania is $1,214 a year, putting Pennsylvania in the top five most expensive states for NFIP policies.
No area in the U.S. is immune to flooding. Although Pennsylvania has a lower flood risk, you may be able to find a cheap flood insurance policy through a private flood insurance company, as private companies have more advanced risk models than FEMA.
Methodology
We aggregated quotes for every ZIP code in Pennsylvania from eight of the top insurers. We considered Allstate, Erie, Liberty Mutual, Nationwide, State Farm, Travelers, Farmers (Truck Insurance Exchange) and USAA. The collected quotes were for a home worth $190,137, built in 1965 and owned by a 57-year-old, as these are the median values in Pennsylvania.
We picked the companies for our study using S&P Global Market Intelligence, which ensures results as localized to Pennsylvania as possible. The largest subsidiary in Pennsylvania of every insurer was taken as representative for the company.
QuoteWizard.com LLC has made every effort to ensure that the information on this site is correct, but we cannot guarantee that it is free of inaccuracies, errors, or omissions. All content and services provided on or through this site are provided "as is" and "as available" for use. QuoteWizard.com LLC makes no representations or warranties of any kind, express or implied, as to the operation of this site or to the information, content, materials, or products included on this site. You expressly agree that your use of this site is at your sole risk.