Compare Homeowners Insurance in Chicago
Looking for home insurance in Chicago? Current and future homeowners in Chicago should know the main factors that impact home insurance in Chicago.
First, high crime rates lead to high home insurance rates. In 2015, Chicago was ranked 50th in the US for robberies and 52nd for aggravated assault. Fortunately, Chicago has recently seen a decrease in property crimes.
Second, expensive homes cost more to insure. Since May, housing prices in Chicago have increased by 5.1 percent. That number will jump if Chicago's bid for Amazon's second headquarter succeeds.
There are many steps you can take to get a great Chicago home insurance plan at an affordable price.
Average Chicago Home Insurance Rates
How much is home insurance in Chicago? Using data from nearly 1,300 QuoteWizard users in Chicago, we created this 'average' Chicago home:
1428 square foot home built in 1947
1 story
3 bedrooms and 2 bathrooms
Composite shingle roof
We pulled quotes from top insurance companies for this average Chicago home. Remember – home insurance rates are unique to each person and their home. Your rates can differ from our average Chicago home. This is the average price for a homeowner's insurance policy in Chicago:
Month: $107.50
Year: $1,290
The graph below shows the change in average Illinois home insurance rates from 2011 to 2015, the most recent year the data is available. According to the III, Illinois homeowners insurance rates increased from $822 in 2011 to $1,033 in 2015, a jump of $211 dollars, or 25.67 percent.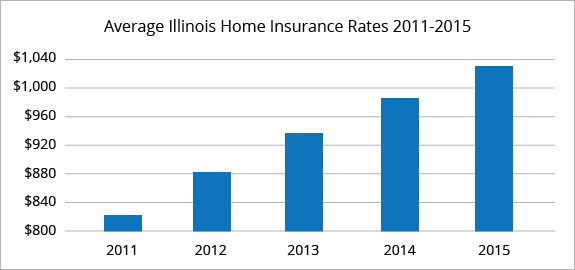 QuoteWizard helps consumers compare quotes from both national insurance companies and local agents. QuoteWizard can help you find affordable home insurance rates near Chicago, Illinois.
Last year, 1,300 people used QuoteWizard to compare compare home insurance quotes in Chicago, IL from multiple companies.
Best Home Insurance Companies in Chicago, IL
Most Popular Insurance Companies
Listed below are the most popular homeowner's insurance companies in Chicago according to QuoteWizard users:
State Farm
Allstate
Geico
Progressive
Liberty Mutual
Farmers
Esurance
Country Financial
21st Century
American Family
Best Insurance Companies
The above list shows the most popular home insurers in Chicago according to our users. But popular doesn't always mean best.
Our study on the best home insurance companies focuses on top of the line companies. In no particular order, these companies stand out among the rest:
Amica: Best Overall
MetLife: Best for Bundling
Allstate: Best for Local Agents
Hartford: Best for Seniors
State Farm: Best for Pet Owners
Travelers: Best for Flexible Policies
Nationwide: Best Replacement Coverage
Farmers: Best for Eco-Friendly Homes
Liberty Mutual: Best for Quick and Easy Quotes
Auto Owners Insurance: Best Claims Experience
Chicago Home Insurance Rate Factors
Insurance companies use several metrics to price your homeowners policy. Two main factors in Chicago are inclement weather and crime. Listed below are some of the most common elements used to decide your insurance rate:
Types of Homeowners Insurance
There are many different type of homeowners insurance. According to the Illinois Department of Insurance, these are the most common:
HO-2: Broad homeowners insurance which only covers perils specifically listed in your policy
HO-3/HO-5: Comprehensive coverage that covers damage from all perils unless excluded. Also covers unattached structures and liability. This is a high-end policy, but it's expensive and not offered by all insurance companies.
HO-4: This insurance provides coverage for renter's property and liability.
HO-6: Coverag for condos. It covers a condominium owner's personal belongings and any alterations made to their unit.
HO-8: This coverage is for older homes. It provides coverage like HO-3 or HO-5 but tailored to fit the home's unique needs.
9 Ways to Save Money on Homeowners Insurance in Chicago
There are numerous steps you can take to lower your home insurance premium:
Raise your deductibles: Many people choose lower deductibles. A low deductible means less out-of-pocket costs for any claims, at the cost of higher monthly rates. If you opt for a higher deductible, your premium goes down. Be aware that there's a lot to consider when choosing your home insurance deductible.
Bundle: Insurance companies give discounts if you buy more than one policy. Consider bundling your homeowners with your auto insurance. You can save between 10 and 20 percent on your premium.
Avoid claims: Insurance should be something you use only in a major emergency. The fewer claims you make, the less of a liability you are to your insurance company. Filing too many claims can earn you the label of high-risk. Because of this, some insurance companies will either increase your premium or drop you all together. Always think twice about whether or not to file a claim.
Pay off your premium: Paying off your premium in full makes your insurance company happy. You can get a discount if you pay for six months or a year's coverage at once. It will also help raise your credit score.
Improve your credit score: As previously stated, a bad credit score will increase your insurance rate. If you pay off your home insurance and loan on time you will build your credit up. That will eventually lower your premium.
Add technology: Crime rates in the city of Chicago are very high. Equipping your home with security and alarming systems can prevent burglary and theft. That can prevent you from needing to make a claim in the future. Insurance companies appreciate consumers that take preventive measures. They tend to discount insurance for homes with security measures.
Shop around: Buying insurance is a long and involved process. But if you really want to save money, shopping around is the best way to go. If you don't shop around you don't know what deals or savings you may be missing. Start saving immediately in Chicago and compare homeowners quotes today.
Renovate: New updates in your home are great. They may seem costly at the time, but your wallet reaps the benefits in the end. Certain home improvements are seen as preventive and make your house a less of risk. That means you are less likely to make a claim in the future.
Be Friends with Your Agent: Building a good relationship with your insurance agent helps you in more ways than one. Asking you agent to "shop around" for your will make them work to keep you. They can find ways to work with you to lower your premium.
QuoteWizard.com LLC has made every effort to ensure that the information on this site is correct, but we cannot guarantee that it is free of inaccuracies, errors, or omissions. All content and services provided on or through this site are provided "as is" and "as available" for use. QuoteWizard.com LLC makes no representations or warranties of any kind, express or implied, as to the operation of this site or to the information, content, materials, or products included on this site. You expressly agree that your use of this site is at your sole risk.