Compare Homeowners Insurance In Illinois
Illinois is home to diverse landscapes and environments, offering busy cities and rural farmland. However, Midwestern weather can change in the blink of an eye, presenting potential home insurance concerns. Here's what you should know about the cost of home insurance in the Prairie State.
Average Illinois Homeowners Insurance Rates
Homeowners insurance premiums in Illinois averaged $1,042 in 2016 – lower than the national average of $1,192. Illinois is in the middle of the pack nationally, as there are 23 states with a lower average home insurance premium.
Illinois Average Annual Homeowners Insurance Rates
 
2016
2015
2014
Illinois Annual Average
$1,042
$1,033
$987
Illinois Price Per Month
$87
$86
$82
US Annual Average
$1,192
$1,173
$1,132
US Cost Per Month
$99
$98
$94
National Rank
28
28
29
Source: National Association of Insurance Commissioners
Home insurance rates in Illinois rose steadily between 2012 and 2016. Rates climbed from $881 in 2012 to $1,042 in 2016, a jump of $161, or 18%.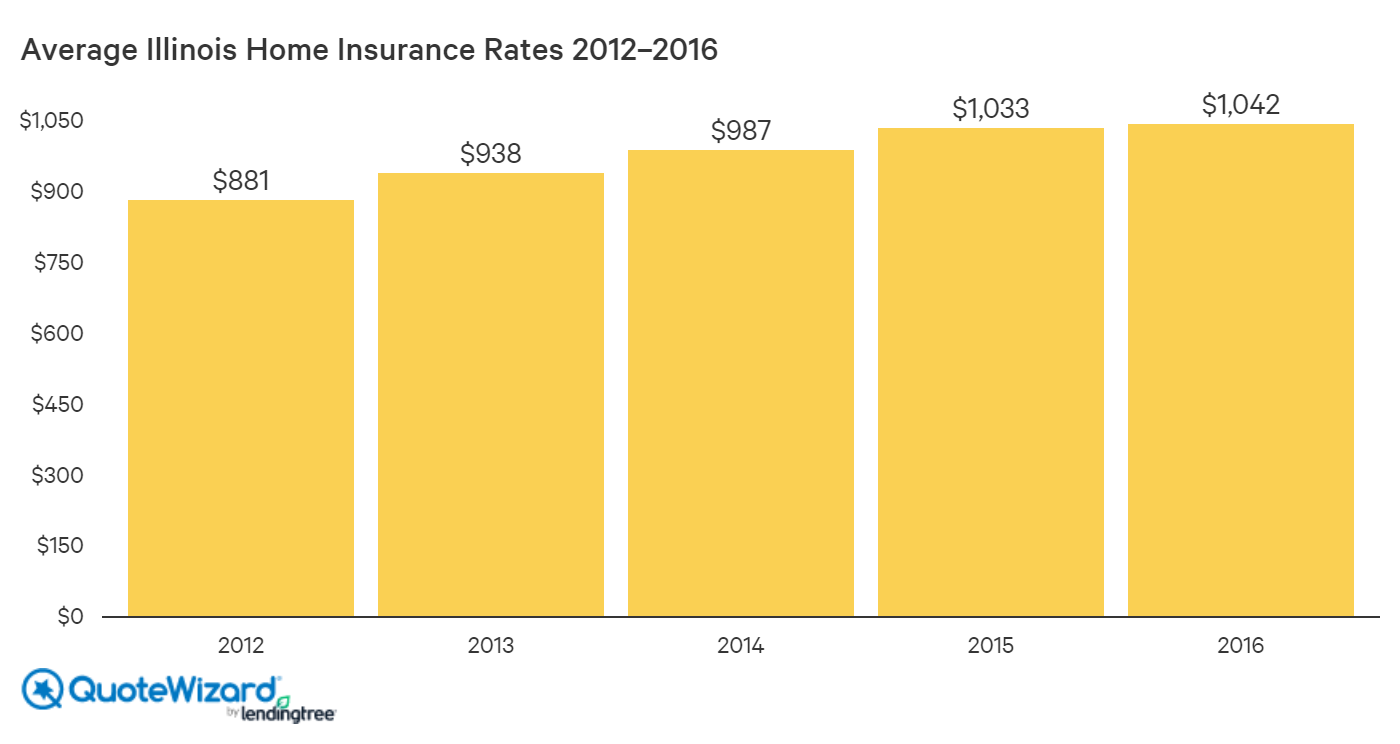 Especially with rising premiums state-wide, it is more important than ever to compare homeowners insurance quotes from multiple companies. Insurers price their policies differently, meaning some policies are below the state average and some above.
Most Popular Illinois Home Insurance Companies
In 2018, these were the six most common home insurance companies reported by QuoteWizard users living in the state of Illinois:
State Farm
Allstate
Liberty Mutual
Geico
Farmers
Progressive
Best Homeowners Insurance Companies in Illinois
The above list shows the most popular home insurers in Illinois according to our users. But popular doesn't always mean best.
Our study on the best homeowners insurance companies focuses on top of the line companies. In no particular order, these companies stand out among the rest:
Amica: Best Overall
MetLife: Best for Bundling
Allstate: Best for Local Agents
Hartford: Best for Seniors
State Farm: Best for Pet Owners
Travelers: Best for Flexible Policies
Nationwide: Best Replacement Coverage
Farmers: Best for Eco-Friendly Homes
Liberty Mutual: Best for Quick and Easy Quotes
Auto Owners Insurance: Best Claims Experience
Illinois Home Insurance Company Market Share
Rank
Company
Financial Strength
Market Share
1
State Farm
32.8%
A++
2
Allstate
10.3%
A+
3
Country Financial
8.4%
A+
4
Farmers
4.2%
A
5
American Family
4.1%
A
6
Travelers
2.3%
A++
7
Liberty Mutual
2.1%
A
8
Safeco
1.7%
A
Source: National Association of Insurance Commissioners
Illinois Home Insurance Rate Factors
There are several factors that play a role in the cost of your homeowners insurance, including the characteristics of your home and its location. Although you can save money on your insurance by updating your house to make it less prone to damage, it is impossible to prevent natural disasters and environmental factors.
Your Personal Rate Factors
All homes are unique and therefore come with their own insurance risks and rates. Here are the primary factors that affect your homeowners insurance rates in Illinois:
Your home's age: As a house ages, home insurance prices typically also rise. That's because major repair issues can arise as a home gets older, making it more prone to needing an insurance claim. Almost 22% of homes in Illinois were built in or before 1939, which is pretty old. If your house is older than average, prepare yourself for higher rates.
The quality of your roof: The quality of your roof can impact whether a disaster causes serious damage or requires only minor repairs. Maintaining your roof with region-appropriate material can be an easy way to drastically cut your insurance costs.
Your home's replacement cost: Replacement cost is how much money it will take to rebuild your home from the ground up. Your dwelling/structure coverage should match your home's replacement cost. A higher replacement cost means higher premiums. However, replacement cost isn't based off your home's market value, but its style and size. For example, a $1 million home in Chicago could have a lower replacement cost than a $500,000 house in Springfield.
Claims History: Claims stay on your record for up to seven years. After making a claim, your premium will probably increase, and it could skyrocket if you make additional claims. That's why homeowners should refrain from filing claims whenever possible.
Pets: As cute as your furry family member can be, they can also raise your homeowners rates. If you own a specific dog breed, you may have a difficult time finding a company to insure your home.
Credit Score: It's a controversial practice, but insurance companies will look at your credit score while pricing your policy, and people with bad credit might pay more for homeowners insurance. Illinoisans are in the middle of U.S. credit scores, ranking as the 24th best average credit score in America, according to Experian.
Illinois Rate Factors
Weather
Insurance risks depend on where you live in Illinois. For example, Chicago has a higher flood risk than cities in central counties, so you may want to consider flood insurance if you are in a high-risk area. However, remember that homeowners insurance does not cover floods. If you're in rural Illinois, prepare your home in case of a tornado. Luckily, tornado damage is covered in most homeowners insurance policies.
No matter where in Illinois you live, you may face one of these natural disasters at some point:
Tornadoes
Flooding
Severe storms
Severe snow storms
According to the Illinois Department of Insurance, you can prepare your home for a natural disaster by:
Taking a complete household inventory
Taking a video recording or photos of your home
Boarding up windows in preparation for a severe storm
Purchasing flood insurance
Property Crime
Property crime rates can impact your insurance premiums, as most home insurance policies cover theft. Illinois has the 34th highest property crime rate in America, with an average property crime rate of 2,011.4 per 100,000 people in 2017.
However, you can earn an insurance discount by taking these steps to protect your home from burglary. Measures include deadbolt locks, security cameras, alarms and more.
QuoteWizard.com LLC has made every effort to ensure that the information on this site is correct, but we cannot guarantee that it is free of inaccuracies, errors, or omissions. All content and services provided on or through this site are provided "as is" and "as available" for use. QuoteWizard.com LLC makes no representations or warranties of any kind, express or implied, as to the operation of this site or to the information, content, materials, or products included on this site. You expressly agree that your use of this site is at your sole risk.