Drowning is the leading cause of death for children under five and the second leading cause of death for people under 14. Many of these deaths happen in swimming pools. Our team of analysts found that between 2018 and 2020, 2,200 people drowned in swimming pools — nearly half of them were children.
Key findings:
Florida, California and Texas have the most pool drownings
Florida, Arizona and Louisiana have the highest rates of pool drownings
707 children under five have drowned in pools since 2018
States with the most pool-related fatalities
Warm-weather states in the south and southwest have both the highest numbers of drownings and the highest drowning rates. Florida, California and Texas have each had more than 225 pool drownings in the last three years alone. Smaller states like Arizona, Louisiana and Georgia have higher rates of pool fatalities.
Pool fatalities in each state
State
Total drownings
Younger than five years old
Five to 14 years old
Alabama
45
22
 
Arizona
113
38
 
Arkansas
25
13
 
California
339
112
24
Colorado
16
 
 
Connecticut
12
 
 
Florida
413
156
24
Georgia
94
34
17
Hawaii
14
 
 
Illinois
52
19
 
Indiana
31
10
 
Kansas
19
 
 
Kentucky
16
10
 
Louisiana
52
26
 
Maryland
22
 
 
Massachusetts
18
 
 
Michigan
35
 
 
Minnesota
19
 
 
Mississippi
33
15
 
Missouri
40
11
 
Nevada
38
 
 
New Jersey
48
11
 
New Mexico
10
 
 
New York
78
19
10
North Carolina
53
22
 
Ohio
58
26
 
Oklahoma
31
16
 
Pennsylvania
48
17
10
South Carolina
29
 
 
Tennessee
39
20
 
Texas
245
100
10
Utah
14
 
 
Virginia
38
10
 
Washington
24
 
 
Wisconsin
21
 
 
Data sourced from the Centers for Disease Control
Nationwide, 40% of pool-related drownings involve a child under the age of five. However, in Kentucky, Oklahoma and Arkansas, that number is closer to 60%. Most pool-related drownings happen in the summer, with 65% of all pool drownings happening in June, July and August.
Between 2018 and 2020, 802 children died in pools nationwide. These states had the highest number of pool-related child fatalities:
Florida: 180
California: 136
Texas: 110
Georgia: 51
Arizona: 38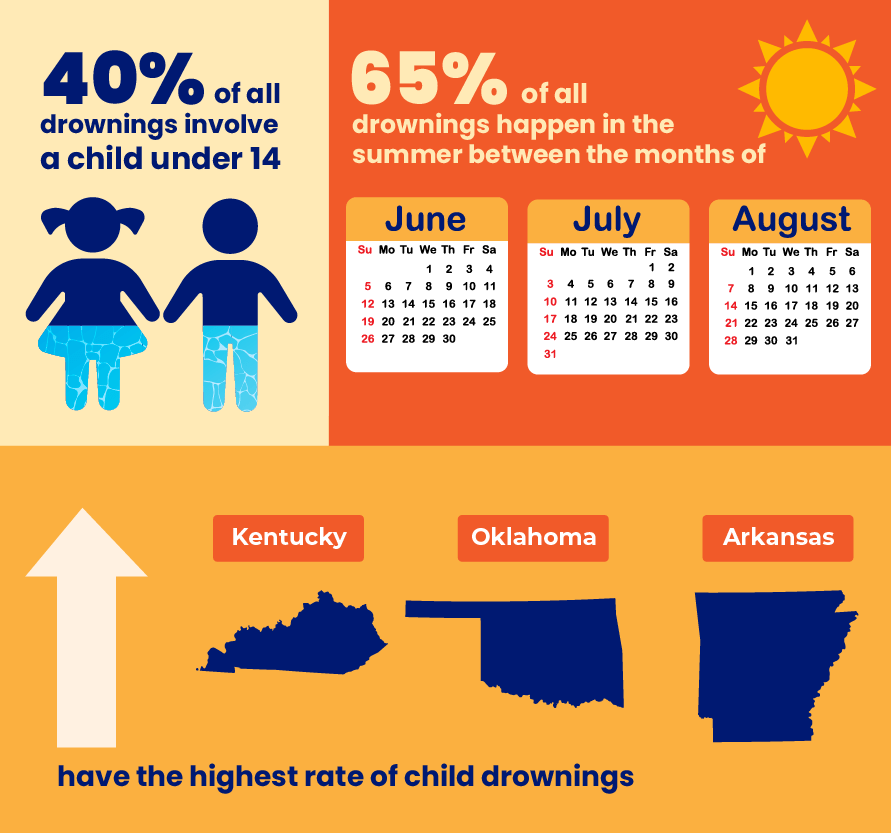 Dangers of drowning injuries in residential pools
Non-fatal drowning injuries can be life-changing. They are also far more common than fatalities. Nationwide, there have been 18,600 non-fatal drowning injuries involving a child over the last three years. In 75% of these cases, the child was under the age of 5.
Around 50% of non-fatal drowning injuries involving a child happened at a residential pool. However, 25% happened at a public pool and 25% happened at an unknown location.
Pool safety tips for homeowners
Homeowners and fellow adult guests can take an active role in preventing drowning related injuries during the summer months. Aside from always keeping an eye out, the following tips are great action items to have top-of-mind while children are playing in the pool.
Designate one person to watch each child. If everyone is watching everyone, no one is watching anyone
Install water barriers around pools and spas (hot tubs)
If a child is missing, check the water first
Have a list of the rules and safety instructions and enforce them at all times with all guests
Know basic water rescue skills like first aid and CPR
Floaties do not prevent drownings
Keep the pool visible at all times. Make sure you can see the bottom and remove toys from the pool when not being used
Insurance coverage to protect homeowners with pools
As much fun as pools are, they pose an increased liability risk to homeowners. The insurance industry describes pools as "attractive nuisances," essentially calling them dangerous fun. Homeowners with pools need to be aware of the levels of liability coverage on their home insurance policies.
What many homeowners don't know is if someone is seriously injured on your property, it's your home insurance liability that covers medical bills and civil settlements. All home insurance policies carry some levels of liability coverage. The standard HO-3 home insurance policy comes with $100,000 in liability coverage. It's recommended that homeowners with pools increase their liability coverage to $500,000 or more. Many in the insurance industry recommend an umbrella policy that grants an individual one million dollars in liability coverage across all lines of insurance, including auto.
Increasing liability coverage on your home insurance policy is simple. Contact your insurance agent or provider and request an increase in liability coverage. Bumping coverage from $100,000 to over $500,000 is only about a 10% to 15% increase on your home insurance premium.
QuoteWizard.com LLC has made every effort to ensure that the information on this site is correct, but we cannot guarantee that it is free of inaccuracies, errors, or omissions. All content and services provided on or through this site are provided "as is" and "as available" for use. QuoteWizard.com LLC makes no representations or warranties of any kind, express or implied, as to the operation of this site or to the information, content, materials, or products included on this site. You expressly agree that your use of this site is at your sole risk.