Good Student Car Insurance Discount
Insuring teens and student drivers doesn't have to cost an arm and a leg. Find out how much a good student discount can lower you or your teen child's car insurance rates.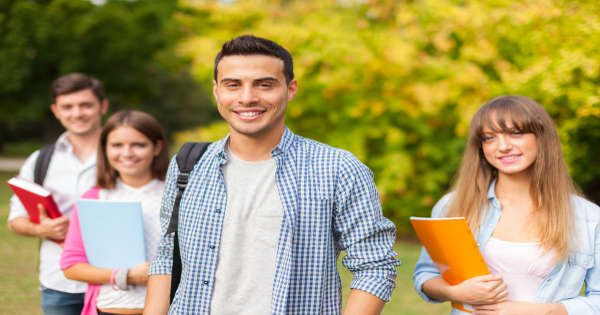 The fact that car insurance is expensive for teen drivers is no secret. However, you can offset these costs. Many discounts are available for younger drivers enrolled in college or high school. You probably know that most insurance companies offer a good student discount for any student maintaining a B average or better. There are also many other ways to save money on a young driver's rates. Read on to learn more.
Good Student Discount
Insurance companies want to reward diligent students for their contribution to the community. Insurers also recognize that students who perform well in school usually get less traffic citations and file less claims. If your child is in a state-recognized high school or college program, their academic performance could spell big savings.
The typical program rewards letter grade averages over a B-, or grade point averages over 3.0. Some insurers like Allstate will even grant better discounts the better the student performs.
College students generally need to be less than 25 years old to qualify. Unaccredited programs may not qualify, either. Ask your insurer for specific details.
Proving Your Student Got Good Grades
Each insurance carrier handles proving academic achievement differently. For most, you can simply mail or fax an official grade report to your auto insurance agent. Some companies may require an official state transcript or proof of attendance, as well.
For home-schooled children, proof of state recognition of your program should work in most instances. You may be able to mail the documentation yourself, or you could be required to have the papers sent directly from a notary or official state office.
Other times, you will need to use some other measure of academic achievement, such as standardized test scores. A student scoring in the top 20 percent for their SAT, ACT, PSAT or AP exams can earn a discount. Sometimes, a discount for good test performance can be applied in addition to the one for earning good grades.
Special Club Discounts
Many insurers grant a discount for membership in certain groups. Alumni in particular are known to get special rates from local insurance offices depending on the school. Fraternity and sorority membership is another commonly-recognized savings criterion.
If your child is a member of any academic or social societies, they are likely to qualify for discounts as well. Boy Scouts, Girl Scouts, Kiwanis and junior Rotary Club members are all examples of clubs that can earn your child a discount.
Being in a merit club, like an honors fraternity, the National Honor Society, Mensa or earning scholarships can also yield discounts.
Add Your Child to an Existing Policy
There are other discounts available in addition to rewards for good grades. The easiest way to save is to simply include your child on one of the parent's policies. Multiple people on one policy saves you money as well as time and effort when it comes time to renew.
Safe Car Discount
A car with advanced safety features like anti-lock brakes or blind spot detection could help your student qualify for lower premiums. Look for vehicle models with top safety ratings to improve your chances. Vehicles with a 5 Star Safety Rating from the National Highway Traffic Safety Administration (NHTSA) are among the safest vehicles on the road.
At the very least, avoid high performance vehicles, convertibles or luxury cars. These types of models all carry the risk of temptation for your child to drive unsafely, at least according to insurers. Claims on these vehicles also tend to be more expensive. Try to stick to safe, economical cars that hold their value well. This will get you the best chance of getting a lower overall premium.
If you want to find out how much your car's safety features can save you,  take a minute to compare car insurance quotes from multiple companies.
Safe Driver Discount
Since many safe driver discounts only take effect if a driver's record goes back three or more years, this type of program may not apply to your young driver. However, several insurance companies have programs that allow you to install monitoring devices on a vehicle's on-board computer. These devices check for factors like speeding, heavy braking or reckless turning. If your child's car reports back data that shows they are a careful driver, your insurance premiums will decrease as a result.
Regardless of your insurer's special programs, stress to your child the importance of driving safely. Any speeding ticket or accident they get into is almost guaranteed to raise your premiums.
Policies for College Students Who Drive Infrequently
When a student attends college, many times they will leave their car at home and drive only on weekends or holiday trips home. In this situation, you should let the insurance company know that the student will be driving infrequently. In fact, many insurance companies have a special classification with cheaper rates for students who only drive cars when they are home from college.
Even if a student will be taking a car with them to college, insurance companies are aware that many students use public transit, bike or walk rather than driving to their college campus every day. Because of factors like these, a student should be able to secure a significant rate cut once they leave home.
Drivers Education Discount
High schools and colleges are not the only "schools" recognized by insurers. Many insurance companies will award hefty savings to students who complete safe driver programs.
These discounts could be as much as 10-15 percent or higher depending on your policy and insurance carrier. The program requirements might be specific, but there are generally hundreds of driver's education programs available, and with affordable prices. Classroom instruction is one component of these programs, but supervised driving time is usually needed to get the full effect of the rate deduction.
Another type of driver education course uses behind-the-wheel experience. These programs teach young drivers how to handle a variety of specific situations with advanced techniques. Many of these courses are taught by or created by professional drivers. While the actual positive effect from these advanced driving instruction courses is still being statistically evaluated, many insurers are already on board with the idea.
Find out what types of courses could help your young driver earn better premiums, and enroll them. If nothing else, the hands-on experience will teach them to be more comfortable behind the wheel and improve their driving skills.
Has your child just completed a safe driving course? Click here to see how much you can save.
Getting Only as Much Insurance as You Need
One reason that car insurance premiums could be abnormally high for your student driver is that their policy has more coverage than they need. For instance, many people insure their teen's vehicle with collision coverage. An alternative could be to find an older vehicle that has a relatively modest value so that you can forego collision coverage and plan to pay out-of-pocket for damages instead. The bottom line is that your student driver's vehicle may not need the same types and amount of coverage as your vehicle(s).
Another facet that often hurts young drivers' premiums is having too low of a deductible. Small deductibles usually end up costing more than they save in terms of rates. Also, filing for small claims frequently will cause your premiums to jump up even higher. Raise your child's deductible and encourage them to drive responsibly to negate the need for extra coverage.
Other Student Insurance Needs
For college students, renters insurance could be a great idea. Students tend to acquire a collection of small, easily-stolen, expensive devices like laptops, tablets, smart phones and other valuable belongings. Students also tend to live in higher-crime areas and in homes without advanced security systems. All of these factors add up to a higher probability of theft while in college.
As long as you are talking to an agent about auto insurance, you could ask about adding an inexpensive policy to protect your child's valuable items. For what typically amounts to around $100 a year, all of their possessions can be covered. Even if the items are out of their dorm room or apartment — in their backpack at a coffee shop, for example — a renters insurance policy still protects their belongings.
While young drivers will inevitably pay more for insurance than older drivers, asking insurance carriers about discounts like the ones in this article can save you a significant amount of money.
References:
QuoteWizard.com LLC has made every effort to ensure that the information on this site is correct, but we cannot guarantee that it is free of inaccuracies, errors, or omissions. All content and services provided on or through this site are provided "as is" and "as available" for use. QuoteWizard.com LLC makes no representations or warranties of any kind, express or implied, as to the operation of this site or to the information, content, materials, or products included on this site. You expressly agree that your use of this site is at your sole risk.