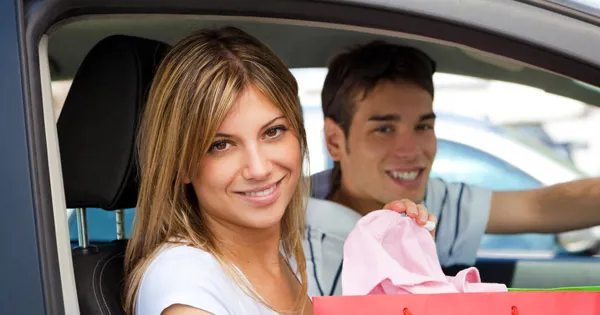 There are some things in life that you can't control. Growing old is one of those uncontrollable things that seems to have power over everything, including your car insurance prices. In fact, age is one of the main factors insurance companies look at when pricing your car insurance policy.
The more years you have under your belt behind the wheel, the less likely you are to get into an accident and submit a claim. At least, that's what insurance companies think. That's why the older you are, the better your rates will be. Until you reach 65, that is. The youngest and oldest drivers pay the most for car insurance, whereas drivers between the ages of 25 and 65 pay significantly less.
Average Car Insurance Rates by Age
We looked at average monthly car insurance rates for different age groups. These are the average car insurance rates by age:
Average Auto Insurance Rates by Age Groups

| Age Group | Average Rate (monthly) |
| --- | --- |
| 18 to 24 | $163 |
| 25 to 34 | $135 |
| 35 to 44 | $140 |
| 45 to 54 | $146 |
| 55 to 64 | $131 |
As you can see, teens pay significantly more for auto insurance than any other age group. Prices decrease drastically when you hit 25 and increase again after the age of 65.
Teen Drivers
Teen drivers cost more to insure. That's because they're new on the road, and it shows. According to the CDC, the risk of car crashes is higher among teenagers than any other age group. Teen drivers ages 16 to 19 are almost three times more likely to be involved in a fatal crash than drivers 20 and older.
These are the leading causes of teen crashes:
Inexperience driving: Most states don't allow teens to drive until they turn 16.. In those first few years, they are inexperienced on the road. That inexperience leads to crashes.
Driving with teen passengers: Driving with other teens is another cause of crashes. It's an easy way to get distracted. Most states limit teens from driving with others under the age of 21 for the first six months of having their license.
Driving at night: Limited visibility at night is an enormous risk for people with less experience on the road in the dark. That's why several states enforce a curfew for teen drivers. In 2016, 49 percent of teen deaths from car crashes occurred between three p.m. and midnight.
Not using seatbelts: Teens have among the lowest seatbelt use than other age groups.
Distracted driving: It's no surprise that cellphones are a big risk behind the wheel. According to the NHTSA, nine percent of teens ages 15 to 19 are involved in distracted driving fatalities.
Reckless driving: According to the CDC, teens are more likely than older drivers to underestimate dangerous situations or not be able to recognize dangerous situations in the first place.
Impaired driving: At all levels of impairment, the risk of involvement in a car crash for a teen is greater than for older drivers.
That's why it's risky for insurance companies to cover teen drivers. The riskier it is for the company, the pricier it is for the driver, or in this case, the driver's parents. It costs an average of $278 a month to add a 16-year-old to a parent's policy. And to buy an individual policy for a teenager? That's an alarming $438 a month on average.
How Can I Save Money on Teen Car Insurance?
Feeling overwhelmed by the price tag on insuring a teen driver? Fortunately, insurers offer a plethora of discounts. There are a few ways to lower insurance rates for teen drivers.
Take a defensive driving course.
Get good grades – most insurers offer discounts for students with a B grade average or better.
Get a safe car. Insurance companies charge less to insure a car with high safety ratings.
Shop around and compare quotes from different car insurance companies. Each company prices their policies differently, so you can find similar coverage for less if you look around.
Bundle your plans. Buying car and home insurance from one company can reduce your premium by 15 percent.
Adult Drivers
Auto insurance prices are lowest for people ages 25 to 65. That's because between these ages, drivers have gained more maturity on the road than teenagers, and don't yet have declining physical abilities like some senior drivers. A lower risk of car accidents from this age group results in low insurance prices. We found that adults in this age range spend an average of $131 to $143 per month on car insurance. But don't get too excited yet-- your rates depend on more than just your age.
These are other factors that will influence your rates during this time:
The type of car you drive: New car models tend to have high-tech safety features like parking sensors and frontal crash warnings. You'll get lower insurance rates if your car has features that prevent a crash, so the type of car you drive has a big influence on your prices.
Where you live: Different areas have different car insurance rates. Most of the time, if you live in a large city or traffic-congested area, your insurance prices will be higher. That's because the more people there are on the road, the more likely a traffic accident is.
How far you drive: If you have a long commute, you'll be paying more than people who only live a few minutes from work. The more miles you drive, especially on the highway, the higher the chances are of being involved in a crash.
Senior Drivers
In 2016, there were almost 42 million licensed drivers over the age of 65 in the US. When you hit the age of 65, your rates will begin to rise. According to the CDC, this is likely due to age-related declines in vision and the ability to reason and remember.
How Can I Save Money on Senior Car Insurance?
Seniors qualify for plenty of senior discounts, and car insurance is no exception. On top of that, many seniors can also benefit from discounts for club memberships.
There are also several steps that many senior drivers already take that improve their safety, including:
High incidence of seat belt use: Among people killed in car crashes, a higher number of older adults were wearing their seatbelts during the crash compared to younger people.
Tendency to drive when conditions are the safest: According to the CDC, older drivers limit their time on the road during bad weather, at night, and on high-speed roads compared to younger people.
Lower incidence of impaired driving: Older drivers are the least likely age group to get behind the wheel impaired. In 2017, six percent of drivers ages 75 and up that were involved in a car accident had a high blood alcohol concentration (BAC).
Unfortunately, even with the measures seniors take for safe driving, they still pay more for car insurance. That's because the risk of being injured or killed in a car crash increases as people age. There are some steps seniors can take to limit their risk of a crash like following a regular activity program, finding the safest driving route, and leaving a large following distance.
How to Save Money on Car Insurance
There's no question- the best way to save money on auto insurance is to be a safe driver. No matter your age: never drive impaired, be extra attentive at night, always wear a seatbelt, and put away your cellphone. Safe driving leads to insurance discounts (and less money spent on mechanic and medical bills)!
But accidents can be shocking and unavoidable. A simple way to find the best deals and save money is to compare quotes from several companies and bundle your insurance. Every company prices an insurance policy differently. You can get the same insurance coverage for much less by shopping around with multiple companies.
FAQs
Q: Do car insurance rates go up with age?
A: No, in fact, car insurance rates go down with age. Teens have the highest auto insurance rates, which drop significantly when the driver turns 25. Rates only increase with age after the age of 65. That's because older people have a higher risk of being involved in a car crash but are still less of an insurance risk than teens.
Q: Does car insurance go down at age 25?
A: Yes, car insurance prices drastically decrease when you hit 25. Adults ages 25 to 65 have the lowest risk of car crashes, which means drivers reap the benefits of their age group. But no matter your age, other factors like crash history, location, and the type of car you drive influence your insurance prices.
Q: What age group pays the most for car insurance?
A: Teens ages 16 to 19 pay the most for car insurance. They are three times more likely to be involved in a car accident than drivers older than 20-years-old. In 2016, people age 15 to 19 represented 6.5 percent of the US population, but accounted for 8.4 percent of the total costs of crash injuries. Insurance companies determine a high auto insurance rate based on those risks.
Q: Why is car insurance so expensive for teens?
A: Teens have a higher rate of car crashes than any other age group. More crashes mean more insurance claims. That's why it's a huge risk for insurance companies to cover teen drivers. It costs $278 a month on average to add a 16-year-old to a parent's policy. To buy an individual policy for a teenager costs an average of $438 a month.
Q: Why is car insurance so expensive for seniors?
A: Car insurance increases once you hit 65-years-old. Senior citizens have a higher risk of age-related declines in vision and the ability to reason and remember. Insurance companies look at those risks and raise rates for seniors.
QuoteWizard.com LLC has made every effort to ensure that the information on this site is correct, but we cannot guarantee that it is free of inaccuracies, errors, or omissions. All content and services provided on or through this site are provided "as is" and "as available" for use. QuoteWizard.com LLC makes no representations or warranties of any kind, express or implied, as to the operation of this site or to the information, content, materials, or products included on this site. You expressly agree that your use of this site is at your sole risk.